We all have our favourite skincare ingredient, be it that 10% niacinamide serum that makes glass skin a reality, or the overnight retinol oil that's worked wonders in slowing down the ravages of time. And while our tried-and-true products are absolutely capable of shining on their own, there are other products and ingredients out there that don't just complement them, but also make them better.
From getting the ultimate sun protection from vitamin C and your sunscreen, to the cocktail that is a lifesaver for damaged skin – here are some of the best skincare pairings that work better together.
Retinol + Hyaluronic Acid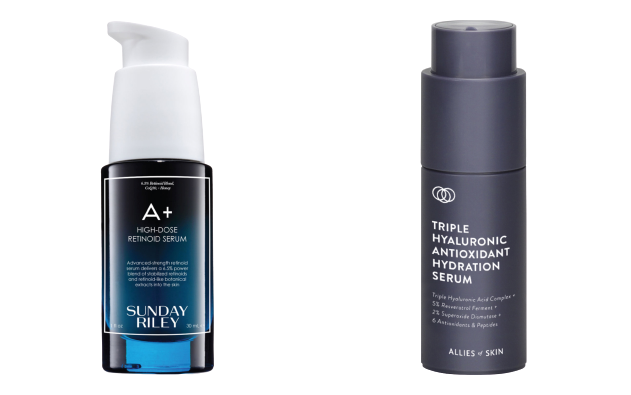 If you don't already know, retinol is a powerful anti-ageing active that aids in your skin cell turnover to give you healthier, smoother, and brighter skin. However, it can trigger dryness and a flaking reaction for some people. On the other hand, hyaluronic acid is a popular moisture magnet that helps keep the skin hydrated and plump.
To balance the abrasive effects of retinol, pair it with a hyaluronic acid product underneath. This way, your skin drinks up all the moisture-boosting and skin renewing benefits.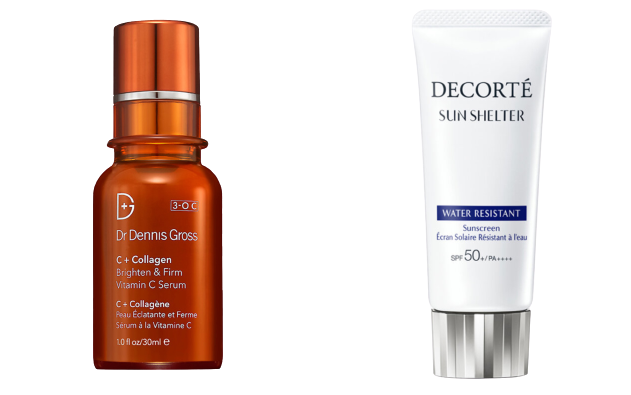 Did you know that using a vitamin C product before applying sunscreen can actually boost your skin's protection against damage from both UV rays and free radicals?
When skin is experiences oxidative stress from pollutants, environmental aggressors, and UV rays, free radicals actually damage and change the structure of your healthy skin cells. A powerful antioxidant such as vitamin C can act as a sort of booster to your sunscreen, doubling up on the protection you already have against photo-damage.
Despite being a great team for smoother and clearer skin, the main issue when it comes to using niacinamide and chemical exfoliants such as AHA (alpha hydroxy acids) and BHA (beta hydroxy acids) is their ability to "cancel" each other out because they work on different pH levels.
Acids typically have a pH between 3.0 and 4.0, while niacinamide clocks in a higher rating between 5.0 and 7.0. When mixed together, the niacinamide will raise the pH of the acid, thus reducing the efficacy of the latter. If your skin pH is too alkaline, it will absorb less of the benefits the acids have to offer. Conversely, the acid also converts niacinamide into niacin, which can cause inflammation and flushing in the skin.
To get the most out of these two actives in your routine, use them at different times of the day. Niacinamide is best applied during the day since it has anti-inflammatory and skin-balancing benefits. Since acids can make your skin more photosensitive and require more time to act in-between higher pH products, these are best applied at night.
Hyaluronic Acid + Ceramides
While hyaluronic acid and ceramide are both great ingredients at retaining the moisture levels in your skin, it's their differences are what make them such a power couple.
Ceramides are lipids that not only moisturise, repair, and strengthen your skin's moisture barrier, it also helps to protect your skin from external aggressors such as harsh weather and pollution. Hyaluronic acid is a a humectant that draws water from its nearest source to help maintain your skin's inner hydration levels. By layering a ceramide-rich product on top of a hyaluronic acid serum or essence, the former will lock in all the moisture and hydration within the skin, while keeping the moisture barrier strong to prevent transepidermal water loss (TEWL).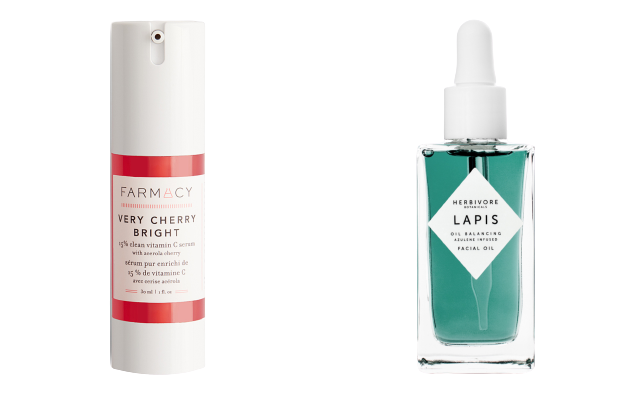 While vitamin C is a great ingredient on its own to help reduce hyperpigmentation and collagen production, when paired together with an oil-soluble antioxidant such as vitamin E, it becomes much more stable, effective, and nourishing.
Both ingredients are heavy-hitters against skin-damaging free radicals, making them an excellent duo when used in your daytime skincare routine before sunscreen. Vitamin E also provides an extra edge since it can penetrate deeper into the skin and preserve the lipids in your face, while keeping your moisture barrier healthy and moisturised.
Avoid: Mutiple acids (BHA/AHA/PHA/LHA) or Benzoyl Peroxide + Tretinoin
Using chemical exfoliants, benzoyl peroxide or tretinoin alone may have their own benefits, from keeping the pores clear to killing acne bacteria, but using them all together is a recipe for disaster and destroyed skin. Each of these actives come with similar side effects such as dryness, peeling, flaking skin, irritation, and inflammation – so can you imagine the kind of damage it can do to your skin?
Just do your skin a favour and don't do it.
Even if you are currently using more than one of these ingredients in your skincare routine, just remember to use only one type (or one stable blend such as AHA/BHA) a day, every alternate day.
Product photos courtesy of their respective brands.