Comfort, luxury and privacy are taken to new heights with new suites featuring zero-gravity seats, virtual windows, and other industry firsts.
First Class travel on Emirates' Boeing 777 fleet just got a whole lot sweeter with the introduction of fully enclosed private suites.
Inspired by the Mercedes-Benz S-Class, these game-changing suites take luxe privacy to the next level with floor-to-ceiling sliding doors and sleek design features in a 40-square-feet space. This fully-enclosed cabin is presented in interiors of soft grey, cream, and champagne for an open, airy feel.
Highlights of this collaboration is seen is design details such as soft leather seating, high-tech control panels, and mood lighting. The Mercedes-Benz experience extends to exclusive on-ground services via complimentary chauffeured rides. First Class passengers will be transported to airport or home in a Mercedes-Benz S-Class.
Here are 5 other standout features introduced for First Class travelers.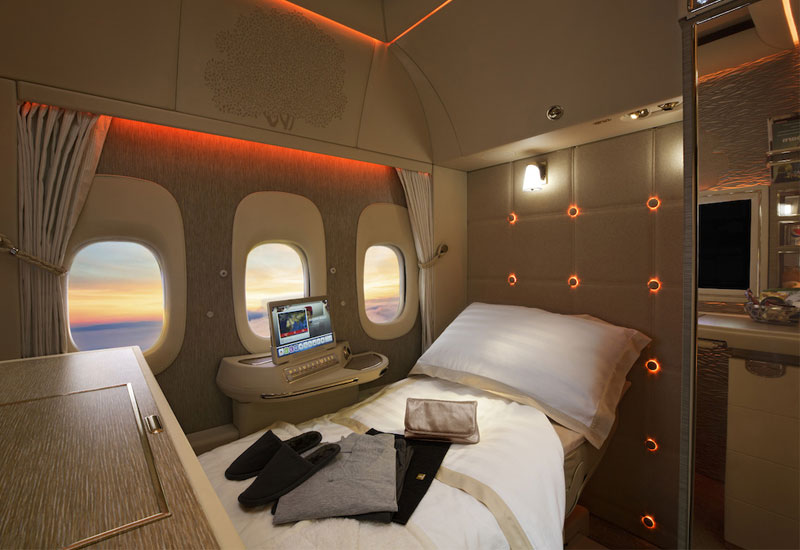 Zero-gravity seat position
Inspired by NASA technology, the soft leather seat can be placed in zero-gravity position for ultimate relaxation and weightlessness. When it's time to sleep, the seat easily reclines into a fully flat bed that still leaves ample space for passengers to move around in.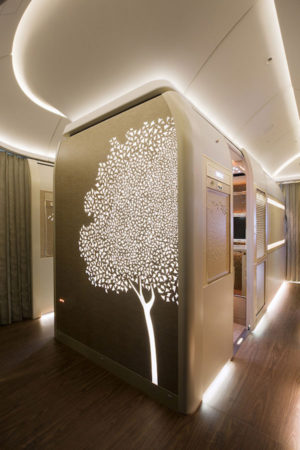 Virtual windows
All middle-aisle suites are equipped with novel virtual windows projecting outside views using real-time camera tech. Alternatively, other suites come with binoculars to explore the view outside.
Room service via video calling
This sort of privacy calls for improved communication systems, which is covered by latest video call function. You'll also be served drinks and canapes with minimal intrusion via the suite's service window.
On-demand entertainment
Over 2,500 channels are available on the private suites' new 32-inch Full HD LCD TV screen, which can also project content from passenger's own devices. Expect only the best viewing experience with exclusive, optimised Bowers & Wilkins Active Noise Cancelling E1 headphones.
Bespoke on-board offerings
Gourmet cuisine is served in the First Class suites, along with any wine, champagne or spirit your heart desires.
Each passenger will also find Emirates' luxury Byredo skincare collection, Hydra Active moisturising pyjamas, and Bulgari amenity kits in their personal inspiration kit in their private suite.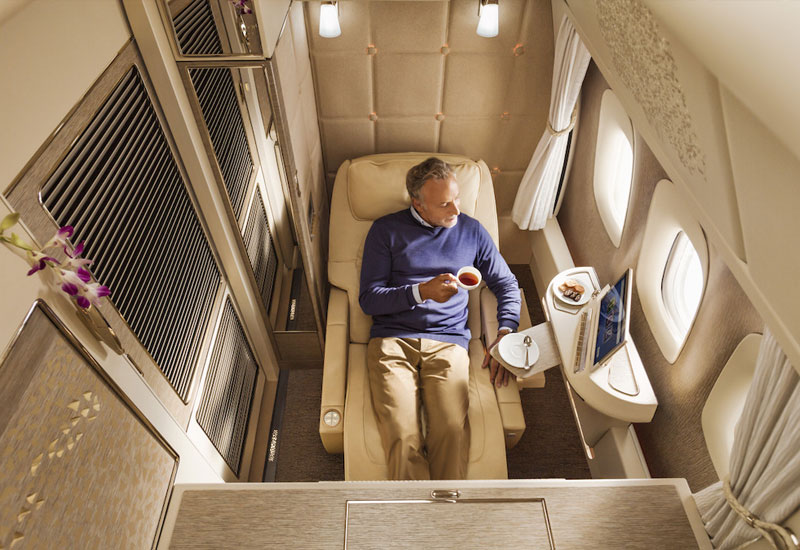 Sir Tim Clark, president of Emirates Airline waxes lyrical of the Merc-inspired First Class suite, saying, "This is the first time an Emirates product has been so influenced by another luxury brand, but it is a natural fit as both Emirates and Mercedes-Benz have the same unwavering commitment to fine detail, uncompromising quality, and a drive to push the boundaries."
Emirates' new First Class suites are part of the aviation leader's multimillion-dollar Boeing 777 upgrade, slated for commercial service beginning December 1 on flights to Geneva and Brussels.
Visit the official Emirates site for more information.
You may also like: Singapore Airlines' new First Class suites might as well be flying hotel rooms