How did gin become so popular? What makes a good gin? Eiling Lim, Malaysia's first independent whisky bottler cum gin producer, tells all.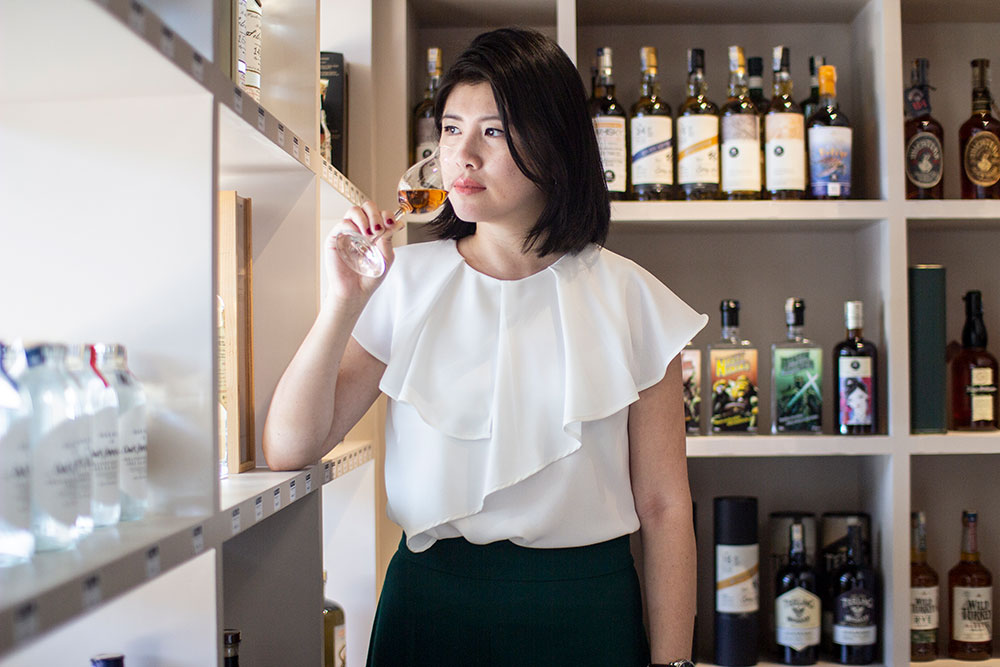 Eiling Lim is no stranger to the whisky and spirits community in Malaysia. Having carved her name as the country's first independent whisky bottler in 2014, Eiling has since become well-acquainted with key industry players including distributors, bartenders, bar owners as well as spirit enthusiasts.
Her professional foray into independent bottling started when she moved to Belgium in 2013 after marrying her husband, Luc Timmermans, who shares her affection for whisky. As with every new phase in life – heightened by the move to a new country with a whole different culture and lifestyle – the answer to the inevitable question of "what am I going to do now?" determined her subsequent course of action.
It was then that Luc, an avid whisky collector and former independent bottler himself, suggested that she bottled her own whiskies.
"I thought it was really a good idea because having been a whisky lover in Malaysia for so many years, it was quite difficult to find whisky that is not commercially produced. I wanted to explore more (whiskies) and the only way to do that was to go into the world of independent whisky bottlings," she tells.
And so she did. The first independent bottling she ever made was a 23-year-old Littlemill that sold out in two days. From then on, she has bottled more than 15 different whiskies, as well as rums and vermouths, under her namesake label.
The spirit of the times
Beginning last year, however, Eiling has diverted some of her attention to another category of spirits: gin.
"One thing I felt about the whisky industry was that it's for a more matured audience who like to enjoy the whisky as it is – so there's not much to play around with. But when I saw how interesting the bar scene is getting in Malaysia, I thought, 'I want to be a part of this'," she divulges.
She references the gin-focused bars that were bourgeoning around KL, from where she developed the inspiration and feedback to produce her own flavoured gins.
"I'm not saying I want to be better than the rest but I want to be different," she clarifies, "They suggested I should go for something local – something to do with my roots in Malaysia."
Cue the Nasty Nangka, Pandan Predator and Gawky Galangal, each made with 17 different types of raw botanicals, including the characteristic flavours of jackfruit, pandan and galangal.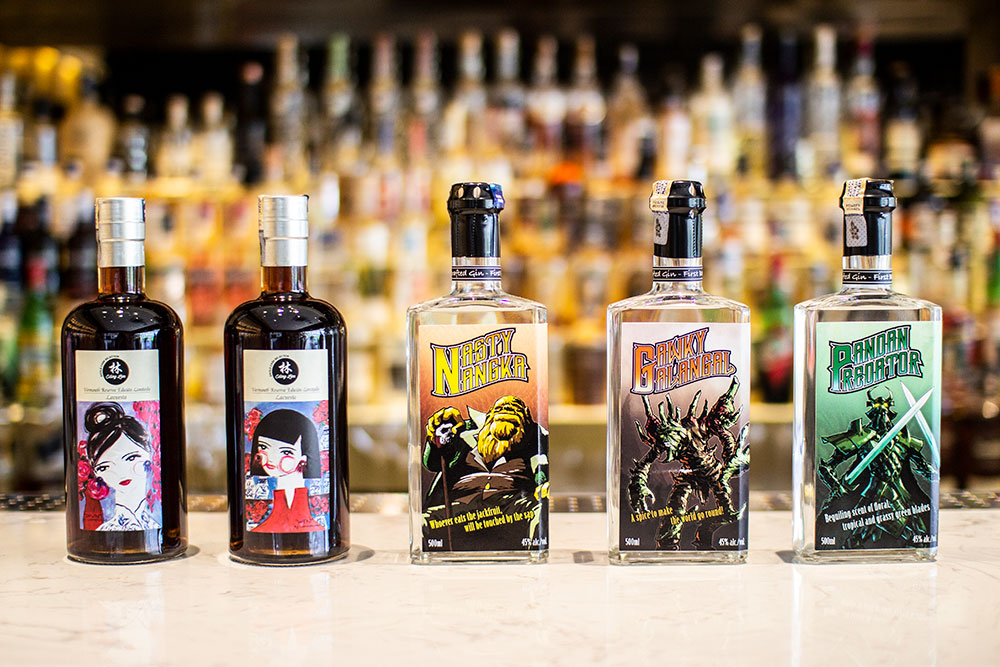 It took her and her husband almost a year to experiment with the flavours; finalise the recipe ("we went to the distillery a few times to taste and even sent some samples to my distributors and bars I work with to get their feedback"); and bottle the gins ("the ingredients are air-freight from this part of the world to Belgium, distilled in Belgium then flown back here"); before they were finally launched late last year.
And the launch couldn't have come at a better time, seeing as the spirit is rocketing in popularity right now. In fact, it's not just a trend in Malaysia – gin has been gaining fans all around the globe too.
"I hate to say it but I think whisky is becoming a very expensive spirit to drink," she comments, attributing it to the fact that the global supply of whisky is unable to keep up with its increasing demand.
"For the younger generation, I wouldn't say they can't afford whisky, but it's more fun for them to explore the gin category because it's lower in price and you get to play with different flavours."
Coupling its versatility with the explosion of the cocktail scene in Malaysia (the number of local establishments in Asia's 50 Best Bars has been increasing every year), gin is debatably the coolest drink to order at the bar today.
The making of a quality spirit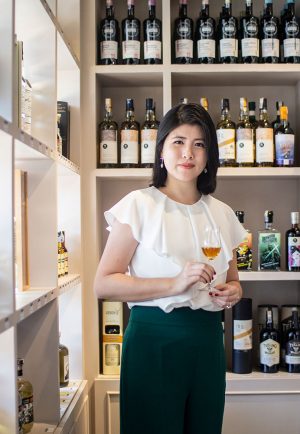 While one of her main focuses currently is to promote her brand of innovative gins, Eiling has never lost her first love for whiskies.
"For me, whisky is the best spirit in the world. I dare to say that because I've tried so many spirits. I find that it has so much depth in its flavour, and also because of its heritage, its provenance and its authenticity," she explains.
"Gin is totally different because it is a colourless spirit. Instead of having to explain the background of the gin, it sells because of marketing and packaging," she elaborates for contrast.
Speaking of packaging though, her gins easily stand out on the shelf for their unique labels. Designed by Tintoy Chuo, founder of Fusion Wayang Kulit, each bottle features an 'evil character' based on the distinguishing ingredient. For example, the Pandan Predator has pandan leaves for swords with a quirky quote on the bottle reading "beguiling scent of floral, tropical and grassy green blades".
Genius, if we had anything to say about it, but she maintains that what is inside the bottle is more important.
"I think as Malaysians, we sometimes fall for beautiful packaging and we forget that what matters most is the quality of the spirit. That's what I'm trying to do – bring in real, quality stuff to the market and I hope that people are willing and adventurous enough to give it a try," she emphasises.
Her priority for quality was why she chose to work with De Cort Distillery in Belgium, run by a distiller named Manu De Cort who uses only fresh, raw ingredients in the distillation process, as opposed to adding flavours and extracts into the gin. To create a more rounded spirit, the botanicals – including juniper berries, cardamom, coriander, orris root and ironheart, to name a few – are steeped for 36 hours and distilled in a Holstein.
The resulting gins, as we can testify after a tasting, are bursting with fragrant, botanical aromas that can be enjoyed on its own with a few ice cubes or with the addition of tonic for a truly refreshing pick-me-up at anytime of the day.
Alternatively, you can try one of Eiling's simple cocktail recipes below.
Nasty Nangka Gin with Jackfruit & Pink Peppercorns
40ml Nasty Nangka Gin
100ml East Imperial classic tonic
2 slices of jackfruit
A few pink peppercorns
Pandan Predator Sour
40ml Pandan Predator Gin
10ml pandan syrup
10ml pandan juice (for the colour)
25ml lemon juice
20ml Aquafaba
Gawky Galangal with Green Apples & Rosemary
40ml Gawky Galangal Gin
100ml East Imperial classic tonic
2 slices of Granny Smith apple
A rosemary twig
Eiling's range of gins is distributed locally by Wholly Spirits. For more information or to purchase the gins, email info@whollyspiritsasia.com or visit the Wholly Spirits Facebook page.
For more information about Eiling Lim's full range of spirits, visit her official website here.
Photography: Gan Yew Chin