This interview is brought to you by Dyson, a global technology brand that rises to the challenge of making a positive difference. Dyson celebrates this year's International Women's Day with the belief that if you look good, you feel good, and can contribute to change in the world that's worthwhile. Look good with Dyson. Visit the official website here to find out more about Dyson hair care technology.
_____________________
Bianca Ong may be young, but she doesn't the allow the doubters and skeptics stop her from becoming the exuberant Director of Ladurée Malaysia.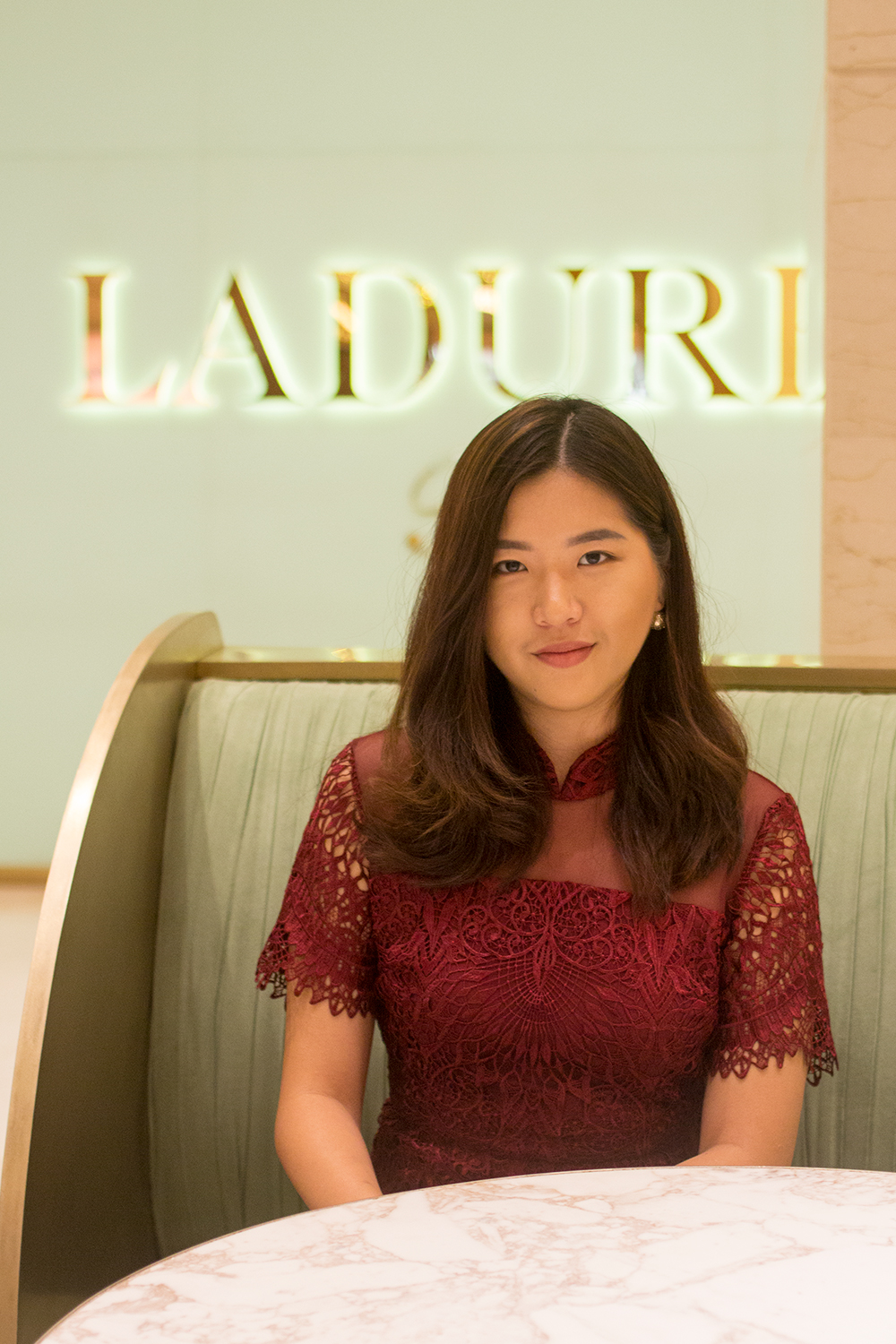 What started with a call from her brother, eventually led the fresh-faced, ambitious Bianca Ong from being a financial writer in Hong Kong to taking the helm as Director of Ladurée Malaysia. Her love for travel, her home country, and all things sweet helped grow the French luxury pâtisserie on Malaysian soil.
"It was a really random opportunity, I would say," Bianca starts off. "He just called me up and said: 'Hey, I'm interested in buying over his brand – would you like to come over and help me?' I was already familiar with Ladurée and it was a brand I really liked, so I just gave it some thought, then told him that I would come over and manage the brand and do my best."
Bianca's love for exploring new cafes and restaurants all over the world was a definite advantage in the preparation for her shift to a new industry. Visiting different hotspots allowed her to take note of upcoming trends in the world of F&B and the industry's direction. Though she may have plenty of experience in good food and treats as a consumer, it's a whole other ballgame when you're the one leading the charge.
Teamwork makes the dream work
Despite the assumption that humility isn't often attached to youths in top corporate positions, Bianca still maintains modesty when talking about her roots in the F&B industry. "When it came to running and managing a restaurant, I had zero experience in operations," Bianca admitted. "But I'm very lucky because I have my boyfriend who has been in the F&B industry for 5 years since he graduated. So he helped me a lot in giving me ideas on how to manage people and handle restaurant operations."
When it comes to leading her team, she credits most of her approach to her former boss in Hong Kong, who practiced a socially healthy work environment and doesn't lead by micromanaging. There's no concern or fight over power, instead she advocates for teamwork. Though women sometimes are often stigmatised with being bossy and demanding, she makes sure that this notion doesn't come into play even if you're in a managerial position.
"It's never about how I'm more superior than you, or you're inferior. We are all together, working on new ideas and suggestions, and discussing how we can do things better."
"I learnt that managing doesn't mean you have to boss them around. We're always a team," she says passionately. "We always work together and try to help each other."
Just because she's a woman doesn't mean Bianca was given a free pass either. Understanding that there will be doubts about a woman – especially a young woman – taking on such an important role, Bianca believes in walking the walk to prove that she's more than capable to take on a new challenge.
"Sometimes people might be thinking: Who's this girl coming in with no experience? Why should I listen to her? But as time goes by it's only the matter of convincing them that we're working together as a team. It's never about how I'm more superior than you, or you're inferior. We are all together, working on new ideas and suggestions, and discussing how we can do things better. It's always an open discussion, rather than I say something and just have to execute it without question."
Bianca's passion for the brand is clearly reflected back when she talks about how she has visited Ladurée stores from all around the world, even before she took over the brand in Malaysia, from Hong Kong and Dubai to the HQ in Paris. During her preparations she had to visit the Paris branch to propose her ideas and be involved in meetings before she was allowed to manage the brand.
Another day, another lesson
When presented with a new challenge, women are able to grab it by the horns and lead the charge, even during tough times. Since Bianca had to pick everything up from scratch, she had to depend a lot on her team and learn each operation from the inside out as quickly as she could.
"Not only don't I have experience in F&B, but also in managing such a huge team. It's very challenging – a learning curve I would say. Everyday I'm learning new things – from how to run floor operations to getting to know the inner workings of the kitchen and pastry lab," Bianca explains. "I had to start from zero, because if you don't understand how that particular department works, it's very difficult to work together with the team."
"In any corporate company or organisation, imagine there's a manager of 4 years – and suddenly this woman who's much younger, without the same background comes in to be your senior. What would you think?"
"The toughest part is not starting out in that industry from the ground up," Bianca expresses. "In any corporate company or organisation, imagine there's a manager of 4 years – and suddenly this woman who's much younger, without the same background comes in to be your senior. What would you think? I was worried that when I first came in people wouldn't be open to the idea – but so far the experience has been very smooth and supportive. I'm very thankful for that."
Bianca also honours her pastry chef, who's had her back in doing Research & Development for new products and flavours. She recalls the time she wanted to work with local matcha brand Niko Neko, and how her pastry chef adopted a "why not?" attitude and went ahead to testing recipes before sending it off to Paris for validation.
She also talks about the different tastes between countries, and how that proved to be one of the more interesting challenges that she had to face, especially when coming up with new ideas and new products for Ladurée.
"It's a lot of understanding and research. The tastebuds in Malaysia, Hong Kong and Paris are all different, and it was a bit tricky to use my judgement at first since I lived in Hong Kong for the past 6-7 years, and had grown accustomed to their tastes," Bianca says. "But that might not reflect the tastes here. We celebrate Ramadan, for example, which they don't, So what should we do during this time? It's a team effort."
The strenuous F&B industry has been known to be more of a "man's job", and women have often had to deal with doubts and criticisms on how they're not physically, mentally or emotionally able to sustain a career in a line of work that could easily take up most of their time. However, that has not stopped women from pursuing their careers in all things delicious and fast-paced, and the past few years have seen more women going for the top roles in F&B – from leading the kitchen to managing the office.
"The people in F&B management in big hotels, or the F&B directors – is always a white man. I don't know why!" Bianca laughs. "But I'm very happy to see more and more women stepping into the industry and getting more recognition. Now whenever I go to events, there are not only more women chefs, but also women in management. And it's not just in F&B, even in Hong Kong there's a lot of women in the finance sector. I also pay a lot of attention to female scientists since I come from a chemistry education background. Society is definitely starting to slowly change and acknowledge the power of women. They're learning that women have the ability to lead and do something great."
Be your best to give your best.
Like any leader who understands the value of having happy and secure employees, Bianca and her team tries to implement creating a comfortable working environment and culture, in order to promote the happiness and wellbeing of her employees. For women, she is more than familiar with the one week or 1-2 days a month when every female will feel more emotional, or will be dealing with the ungodly pains of menstruation. For those who work backend operations, she doesn't impose a rule that one must work in the office, and allows flexibility in working from home, or wherever they wish.
"As long as you it suits you and you can still deliver, that's fine," Bianca says. "I'm not someone who sits in the office. Out of the 365 days in a year, I'm only in the office 2-3 days I think! And when you're in that week of the month, you might not even be feeling well enough to go into the office – so why subject yourself to such discomfort which can affect your performance?"
"I want to see how different people can perform, and in return you actually get more out of it."
She also points out that providing employees with more flexibility in working also allows them to perform at their peak while being exposed to different experiences, which in return would benefit the company in the long run.
"When you work in a variety of environments, whether it's in a nice café that you like, or even in Bali for example, you get more inspiration. I want to see how different people can perform, and in return you actually get more out of it," she explains.
Nowadays, women aren't just tied down to just wanting to be a mother or a career woman, now they have the choice to do both – and Bianca acknowledges that it's a never-ending game of balance for them. She wants to provide opportunities for working mothers who are free to excel in their careers while being able to enjoy their time as mothers.
"Some of my floor staff have kids," Bianca points out. "And when they ask me if they can bring their kid along, why not? If they're having fun and they're safe, it takes this burden off their shoulders from worrying about them, or if they're concerned about not spending enough time with their children."
It's all about the attitude
Bianca believes that age and experience shouldn't play a main factor in picking a good employee, as those are situations she can relate to being a young director in an industry she's never worked at before. However, that doesn't mean she's not selective about who she takes on. Though she understands that experience does play an important role in the hiring process, she always prioritises a good working attitude.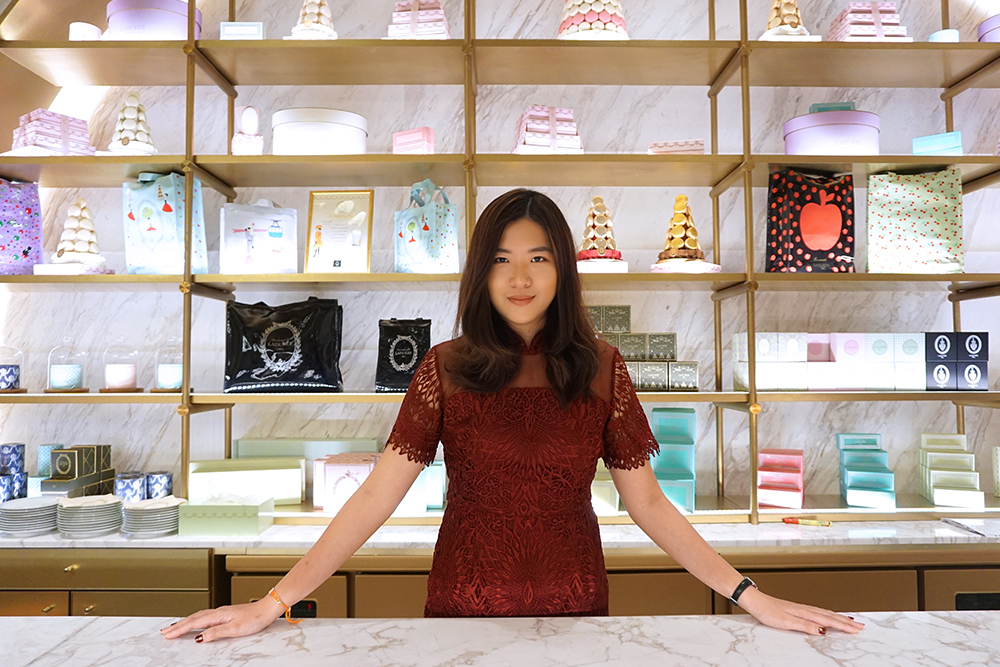 "If you're a fresh graduate but can maintain a positive and good attitude, with a willingness to learn – you can always make something out of yourself. However, if you have experience but are narrow-minded and not open to new ideas, you will be affecting the entire vibe of the team in a negative way. We've come such a long way in approaching the way we work, so if you're not willing to move with the times, you're almost like this huge obstacle in my revolution!" she says with a laugh.
When it comes to taking on new teammates under her wing, she brings them around the company so that they get familiar with the Ladurée brand as well as the people behind it during the first few weeks. Bianca emphasises the importance of them understanding the standards of Ladurée as an international brand.
"They don't just have to understand the standards in Malaysia, but also in Paris," she asserts. "We are a brand that has a very strong and strict SOP, so we can't afford to do anything that could potentially damage the brand. So if I hire someone, I must already have trust in that person. After introductions, I'll give them a project to handle and observe how they run with it – then from there we can see how they can improve if needed."
Sweet moments ahead
When asked about the future of Ladurée Malaysia, a third outlet in 1 Utama by the third quarter is currently in the works. Bianca is also exploring new concepts, the possibility of a restaurant or pop up. She's also especially excited about the R&D, with ideas to launch more localized recipes and products inspired by local flavours, as well as working with local companies like she has done with Niko Neko. Bianca glows with pride when talking about how they developed the Ladurée mooncake in 2019 and its success, as it was something the brand had never done before – and they got to do it first.
"I really want to explore working with more local talents in developing more products," Bianca expresses excitedly. "I truly believe that Malaysia is the number 1 in food, and we should be proud of it. We have to show the world what Malaysia can really do."
Learn more about Dyson and its many products at the official website here.
(Photography: Anson Siau)