One of the most common skincare mistakes is thinking that you have dry skin when your skin is actually dehydrated.
"What's your skin type?" can sometimes be a tricky question to answer. After all, our skin may change over time depending on the climate of the country we're living in or travelling to, our diet and lifestyle habits and the products we incorporate into our skincare routines (more on this later).
One of the most common skincare mistakes, however, is thinking that you have dry skin when your skin is actually dehydrated. Yes, there's a difference – and slathering on more moisturiser when you have the latter may not necessarily be the best solution.
Read on to discover the differences between dry and dehydrated skin, and what products to use for each skin condition.
What's the difference?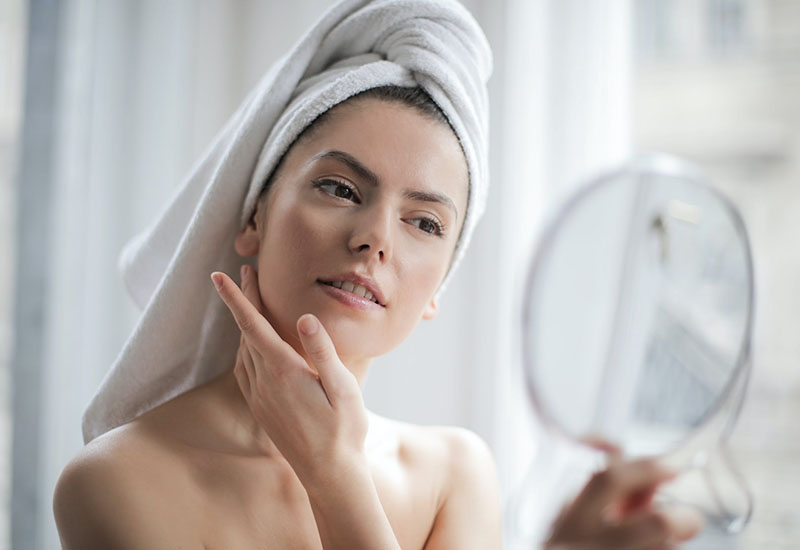 The primary difference between dry and dehydrated skin is that the former is a skin type whereas the latter is a skin condition, which can even be experienced by those with oily or combination skin.
A skin type tends to be more permanent and is largely associated with genetics that control the sebaceous glands on the face and body. Fewer oil-producing glands cause drier skin, whilst more cause oily skin.
On the other hand, a skin condition is more dependent on factors such as those mentioned at the start of this page: the weather, diet, hormonal changes, medication and lifestyle.
Accordingly, another key difference is that the former lacks oil or lipids (keyword: moisture) whereas the latter lacks water (keyword: hydration). The oil deficit causes dry skin to look flaky and scaly and feel rougher to the touch (it's the same with scalp lacking hair oils, so you're likely to have dry skin if you have dandruff). The skin may also loose suppleness elasticity faster than other skin types over time, leading to wrinkles and fine lines.
In contrast, water deficiency causes dehydrated skin to look dull and feel tight, resulting in fine lines and wrinkles appearing where you don't usually have them. It may also cause congestion, as the glands will produce more oil to make up for the lack of water.
How to treat dry skin?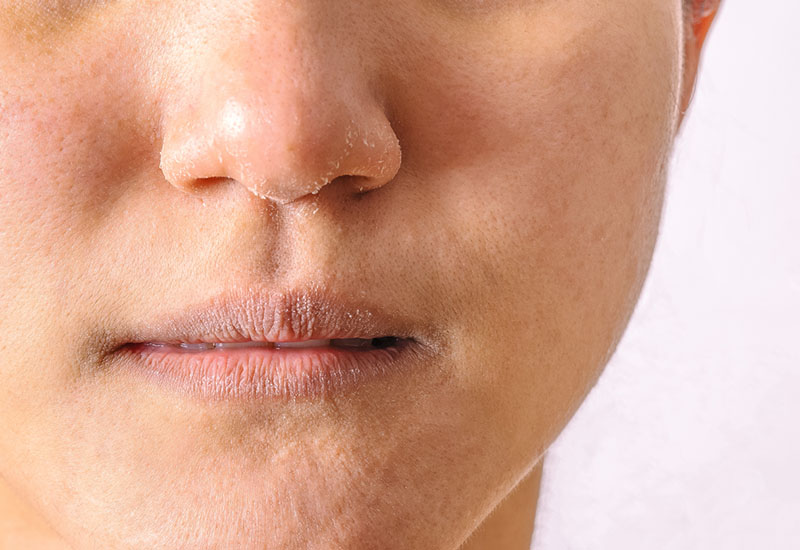 Since dry skin is something you're born with, you can't exactly fix it, but you can diminish its signs. Unlike dehydration, which comes and goes, what you're really doing with dry skin skin is to have proper maintenance so you don't strip it of oils it already lacks.
Use oil-based makeup removers/cleansers
Avoid facial wipes and foam-based cleansers as these will only strip your skin of natural oils and aggravate your skin further. Instead, opt for oil-based makeup removers and gel or cream cleansers that won't leave your skin feeling tight and 'squeaky clean' after.
Look for non-comodegenic oils and shea butter
Plant oils such as jojoba, squalane, rose hip and tea tree are amazing for giving your skin a burst of moisture, without clogging pores. Shea butter and ceramides are other dry skin-loving ingredients that help prevent water loss and strengthen the skin's moisture barrier.
We repeat: never. This step is crucial to seal in moisture and all the benefits of the products you may have applied before moisturising. Opt for heavier moisturisers and night creams as opposed to gel formulations for longer-lasting moisture.
To replenish the oils that your skin needs, try adding a face oil into your skincare routine. These act as emollients to lock in moisture and prevent irritation from dryness.
For those with severely dry skin, you may want to consider taking dietary supplements like omega-3 fish oil and vitamin E to prevent water loss and inflammation.
Try the following skincare products for dry skin (swipe left for more):
How to treat dehydrated skin?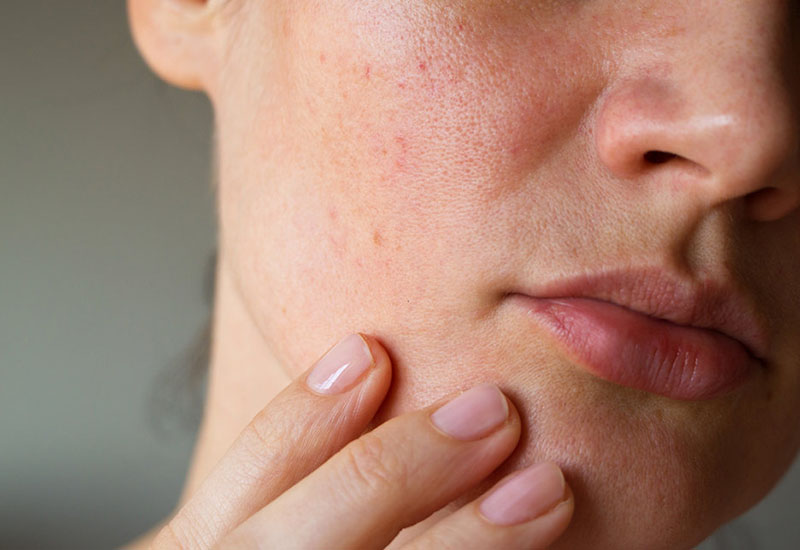 Both dry and oily skin types (or combination) can experience dehydrated skin. The good news is, you can treat this concern by modifying your skincare routine and implementing good lifestyle habits. Here are a few tips:
If you're already drinking the standard 8 glasses per day but still have dehydrated skin, drink more. If you don't, definitely drink more. It seems obvious, but the solution to poor hydration is simply to stay hydrated.
Hyaluronic acid is your best friend
Hyaluronic acid (HA) already exists in the skin, but most of us need help to produce more in order to make up for water loss throughout the day. Thus, look for products with a higher concentration of HA (between 1% to 2% is ideal).
Look for hydrating ingredients
Besides hyaluronic acid, check product labels for ingredients like glycerin, AHAs (citric acid, lactic acid and glycolic acid) and propylene glycol, which provides a boost of water to the skin. Natural ingredients like aloe vera, cucumber and honey are also great for delivering hydration. (See our skincare glossary here for more examples)
For a quick, refreshing pick-me-up throughout the day, carry a facial mist with you – preferably formulated with one of the hydrating ingredients above!
Consider getting a humidifier
Being in air-conditioned rooms all day can cause water to evaporate from the skin faster. If you find that your skin gets irritated and dry by mid-day, consider investing in a humidifier to keep the air moist and slow down water loss.
Try the following skincare products for dehydrated skin (swipe left for more):
Images: Pexels and respective brands