Simple, eternal, and opening into the sea: Diptyque's irresistible summer rendezvous' third incarnation is an invitation for us to slow down and settle into the pace of summer. A perfumed interlude suitable for spending some alone time pondering and reconnecting with nature. 
For its Summer 2023 Collection, Diptyque delves into the concept of distinctive Mediterranean fragrances emphasised as olfactory reminiscences of the landscapes of Italy, Provence, and Greece, where Diptyque founders Yves Coueslant and Desmond Knox-Leet valued the unadorned beauty. The Maison's never-ending wellspring of inspiration was again underlined in this summer collection.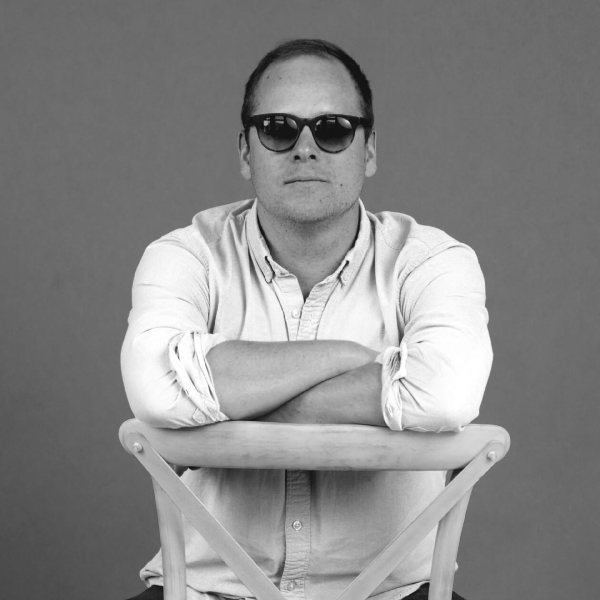 For this season, Diptyque teamed up with American artist Erik Winkowski, who loves to depict his distinctive style in a combination of animation and collage, electrifying and sculpting its painted pieces, to further visualise the concept of Diptyque 2023 Summer Collection. His creative digital compositions show a series of pictures from Mediterranean nature, creating a humorous, stunning, and vivid impression. 
Eau de Toilette – Ilio (100ml)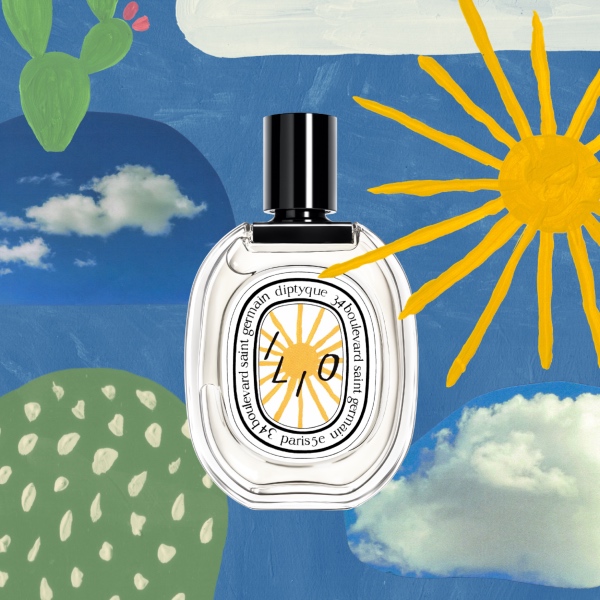 Taking its name from Ilios (the Greek word for "sun"), Ilio is a bottle of summer itself – a whiff of balmy air cut across with seductive smells from flowers and fruit trees. Ilio lightens and refreshes the mood for summer, adding notes of bergamot, iris, and jasmine as it unfolds to reveal prickly pear, an emblematic, unorthodox fruit from the Mediterranean basin. 
Winkowski's design gives an unconstrained vitality to the hues of the sea, sun, and regional plants, embracing the essence of the Mediterranean location with an enthusiastic gesture.
Candle – Citronnelle 
Two limited edition Citron-nelle candles celebrate lemongrass, another iconic summer aroma renowned and treasured for its acidic coolness and mosquito-repellent characteristics. One traditional candle and its bigger counterpart, the latter totally ornamented with Erik Winkowski's drawings. These candles, enhanced with flowery and green elements, will be the perfect compliment to summer afternoons spent al fresco after dark.
Body Spray – Citronnelle & Geranium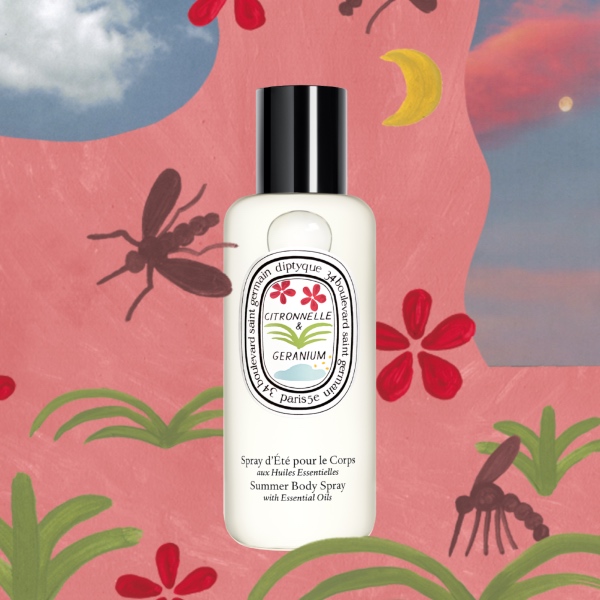 Diptyque has created a body spray based on essential oils of lemongrass, geranium, and lemon eucalyptus, all of which are proven to repel insects. The product also represents the Maison's spirit: it is both utilitarian and appealing, blending the useful with the pleasure. Softened with flower notes and a musk finish, this summer body spray is likely to become an essential item for the season.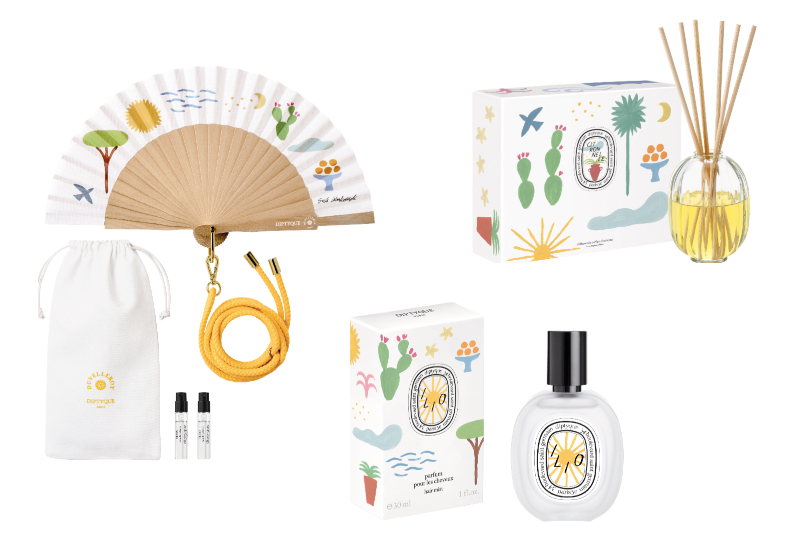 To round up the collection, Diptyque refashions the ultimate summer gesture with an item perfect for hot days: a fan ready to be scented with the accompanying sample of Ilio eau de toilette. The fan, which represents solitude and peace with nature, is embellished with themes from the collection and was created in partnership with Duvelleroy, a Parisian company of artisan fan-makers founded in 1827. 
You may also add a limited-edition Ilio Hair Mist and Home Fragrance Diffuser 'Citronnelle' to your home collection. Ready to use whenever you're in dire need of a short, refreshing Summer breeze. 
The Diptyque x Erik Winkowski Slow Summer Collection is now available worldwide.