While laksa stands as one of the dishes that's quintessentially Malaysian, it's also one that transcends styles and regions.
The late Anthony Bourdain once called Sarawak laksa 'Breakfast of the Gods', during his visit to Kuching, Sarawak in 2015. This is just one of many testaments to how amazing a bowl of laksa can be.
Derived from the Sanskrit word 'lakshah', which means 'one hundred thousand', Laksa isn't just a humble dish that's commonly served at local hawker stalls and night markets. It's a celebration of different cultures, bringing together various contrasting flavours to live in delicious harmony. It's not only an amazing culinary feat, but also one of the best Malaysian comfort foods to tuck into.
However, laksa isn't just limited to a single recipe or region. In fact, this delightful concoction also boasts several variations throughout Malaysia, highlighting different ingredients or styles depending on the region. Today, we celebrate 8 styles of laksa that you can find in Malaysia, and what makes each of them unique in its own right.
Nyonya Laksa

One of the most popular (and probably one that's considered the original) versions of laksa is Nyonya laksa – or laksa lemak, which features a creamy coconut-based broth that boasts tantalising flavour from chicken bones and prawn shells. This sweet, savoury, and spicy Peranakan recipe combines influences from Malay and Chinese culture, and is commonly eaten with a mixture of yellow noodles and vermicelli. It features toppings and garnishes similar to that of curry laksa, but with the addition of hard-boiled eggs.
KL-lites can get their Nyonya laksa at Limapulo on Chow Kit, and if you're taking a day trip to Melaka, seek out Nyonya Delights Homestyle Cooked Food at Tanjung Kling.
Laksam

This unique reinvention of laksa is this specialty dish that's more commonly found in the states of Kedah, Kelantan, and Terengganu. Laksam consists of thick, flat, white rice flour noodles that have been rolled up and cut into segments to create bite-sized noodle rolls. The noodles are served in a thick, full-bodied white gravy made from boiled fish and coconut milk. It's garnished with chilli sambal and limes, and sometimes even served with quail's eggs. Due to the gravy's consistency, laksam is traditionally eaten with the hands.
Get your hands on a delicious plate of laksam at Kedai Laksam Telur Puyuh Best Kelar in Pasir Mas, Kelantan, or Restoran Hatinie in Shah Alam.
Sarawak Laksa

This crimson-hued dish boasts a soothing heartiness that's owed to its creamy, savoury broth. The base is made with up to 20 ingredients, including sambal belacan, coconut milk, tamarind, galangal, lemongrass, and garlic, resulting in a highly aromatic soup that you can't stop slurping. Vermicelli noodles is the carb of choice to have with this soup, and is topped with prawns, shredded chicken, and omelette strips.
From Bangsar to Sea Park, Aunty Christina's Sarawak Laksa is still hard to beat. If you want to follow in the foot steps of Anthony Bourdain, hit up the famous Choon Hui Café, or pay a visit to family favourite Poh Lam Laksa at Chong Choon Café.
Laksa Johor

If you like your laksa with a Western touch, laksa Johor is the one for you. Instead of using rice or egg noodles, this dish uses spaghetti (every Italian nonna just rolled over). Its gravy is similar to that of Penang asam laksa, which combines dried prawns, fish such as mackerel or kurau (threadfin), lemongrass, and tamarind in a coconut milk base. Instead of Genovese basil, this spaghetti dish is garnished with daun kesum (Vietnamese coriander), cucumber slices, and served with sambal belacan.
Residents of KL can get a taste of laksa Johor from Adu Sugar Restaurant in Bangsar. If you find yourself up South, then try the dish at Selera Johor in Plaza Larkin.
Penang Asam Laksa

You can't leave Penang without tucking into one of its most famous dishes – asam laksa. Its complex fish broth is sweet, tangy, spicy, and packed with umami. Its primary flavour profile comes from from the shredded ikan kembung (mackerel), shrimp paste, and asam (tamarind). Other flavouring components include turmeric, mint, pineapples, lemongrass, shallots, and chillies to enhance the dish.
If you're in Penang, you can try out The Famous Assam Laksa at Ayer Itam, or if you're city-bound then Seapark's O&S Restaurant or Gerai Lum Kee at Medan Selera Section 14 deserve a visit.
Curry Laksa

Also known as curry mee, this coconut-based laksa is bursting with bold flavours and a thick yet velvety curry soup that's perfect for rainy days. This indulgent version is usually served with yellow egg noodles or bihun. Its toppings include prawns, sliced fish cakes, cockles, bean sprouts, sambal, and fluffy bean curd puffs that soaks up all that rich curry soup. If you find yourself in a non-halal eatery, you can even find slices of char siew or congealed pork blood for bolder palates.
You can't go wrong with the iconic curry laksa from the Madras Lane hawker stall, which was listed in the Lonely Planet 2018 Ultimate Eatlist as the second best eating experience in the world.
Fried Laksa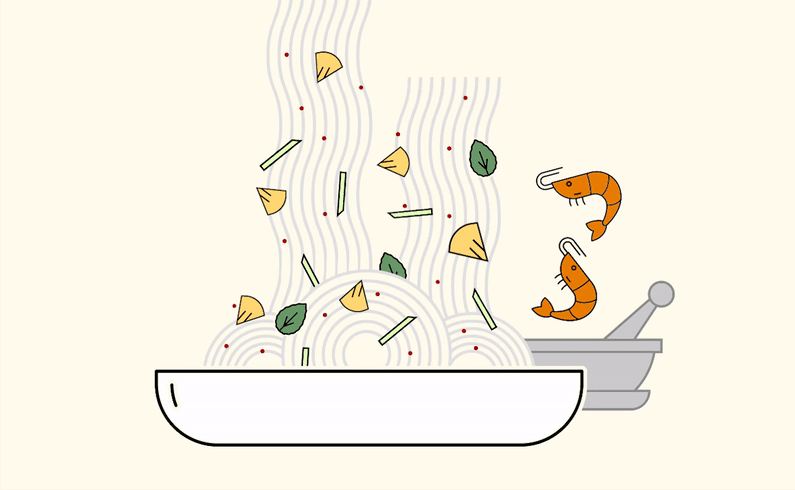 What if you're craving laksa, but make it fried? This dry version of asam laksa features delightfully chewy noodles that have been tossed in tangy, spicy laksa paste and savoury shrimp paste. It's everything you love from the soup version, but with more bite and more robust flavours.
Try a plate of fried laksa for yourself at Well Cook Gourmet at SS14 Subang Jaya.
Laksa Kedah
Those who enjoy the bright flavours of asam laksa but in a more toned down version will surely delight in a bowl of Kedah Laksa – also known as Laksa Utara. It has more or less the same ingredients, but also utilises additional local herbs and vegetables. This includes ulam raja, daun selom, and pucuk gajus. For extra depth and spiciness, otaku dang (prawn paste), coconut sambal, and cili padi (bird's eye chillies) may also be added.
Try out the unique flavours of Laksa Kedah for yourself at Laksa Utara Special at Bandar Sri Permaisuri, Kedah Asam Laksa at Taman Wawasan, or Laksa Utara Jitra Mai at Section 13, Shah Alam. For a hidden gem, Laksa Tepi Sungai in Kampung Piew, Alor Setar serves up this specialty with a serene view.
Illustrations by Anson Siau