Old meets new just as casual dining meets Asian-inspired cocktails inside Concubine KL, the new bar to hop into in the Chinatown neighbourhood.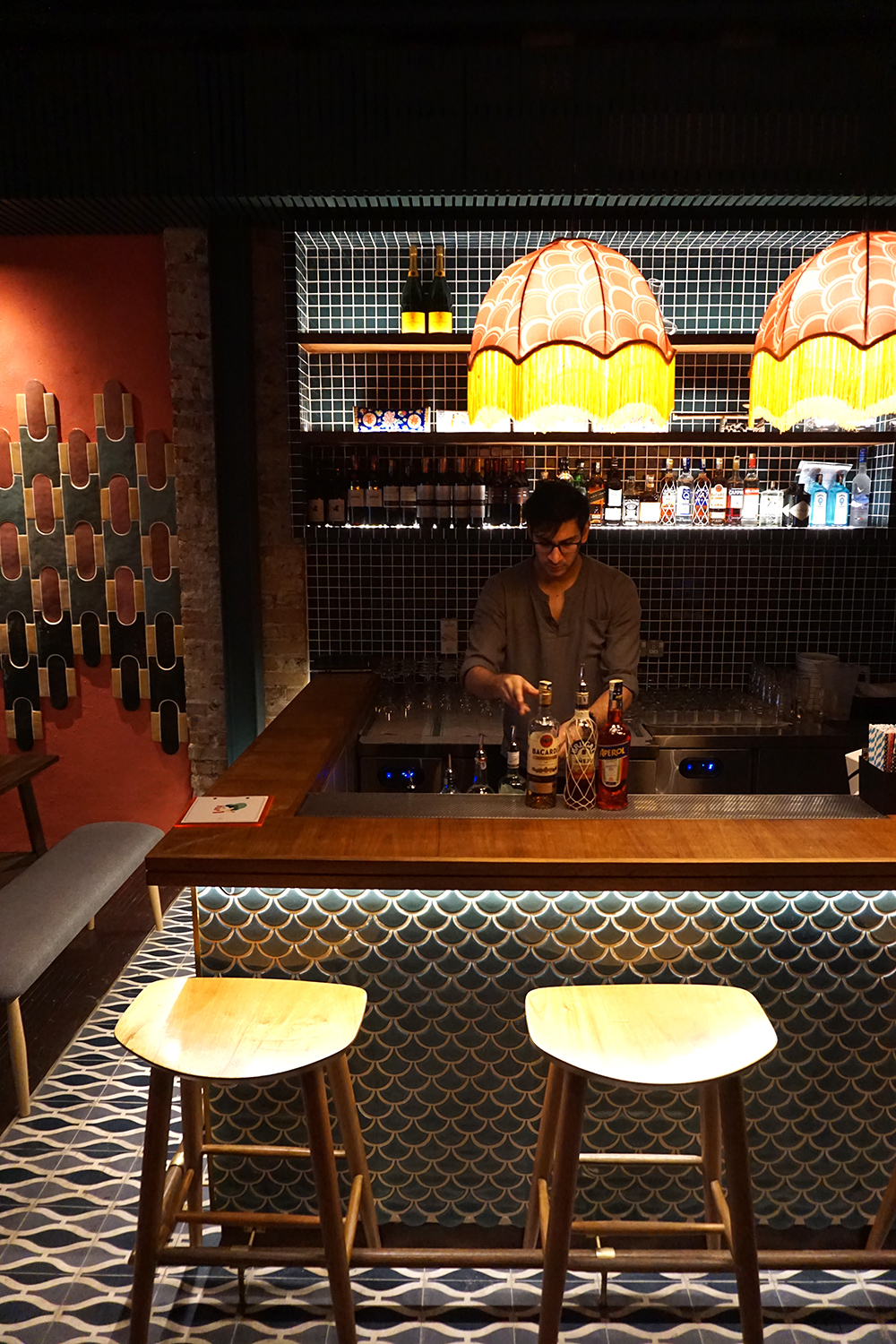 In case you haven't noticed, there has been a revival in the heart of KL's Chinatown of late and it's due in part to a certain new bar in town. If you've heard of a quaint alley called Kwai Chai Hong (or rather, seen it pop up on your Instagram feed), then you might have an idea of what we're referring to.
Introducing Concubine KL, previously a pop-up bar occupying the aforementioned revived heritage lane, now a double-storey cocktail bar with a respectable food menu to boot. Note the interesting choice of name, given the history of its neighbourhood where drug addicts, gang lords and prostitutes had once rendezvoused.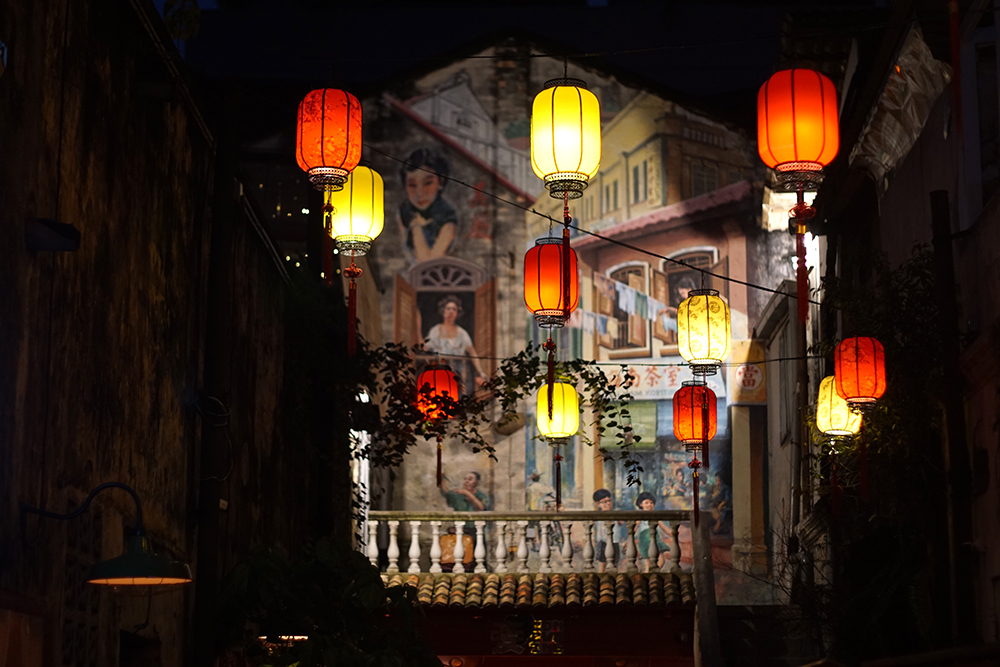 "The name concubine was actually inspired by figures of a select group of women who played a pivotal role in shaping China's dynasties back in the day. There were concubines who, in a way, kicked butts," said Andy Yap, co-owner of the establishment.
"But far from portraying concubines in that era, we are moving towards portraying women empowerment and modern women who are a lot more confident, strong-willed and rebellious."
Step through its electric blue doors and vivid yellow entrance (juxtaposed against the timeworn architecture along Jalan Panggong) and you'll get a better picture of its concept.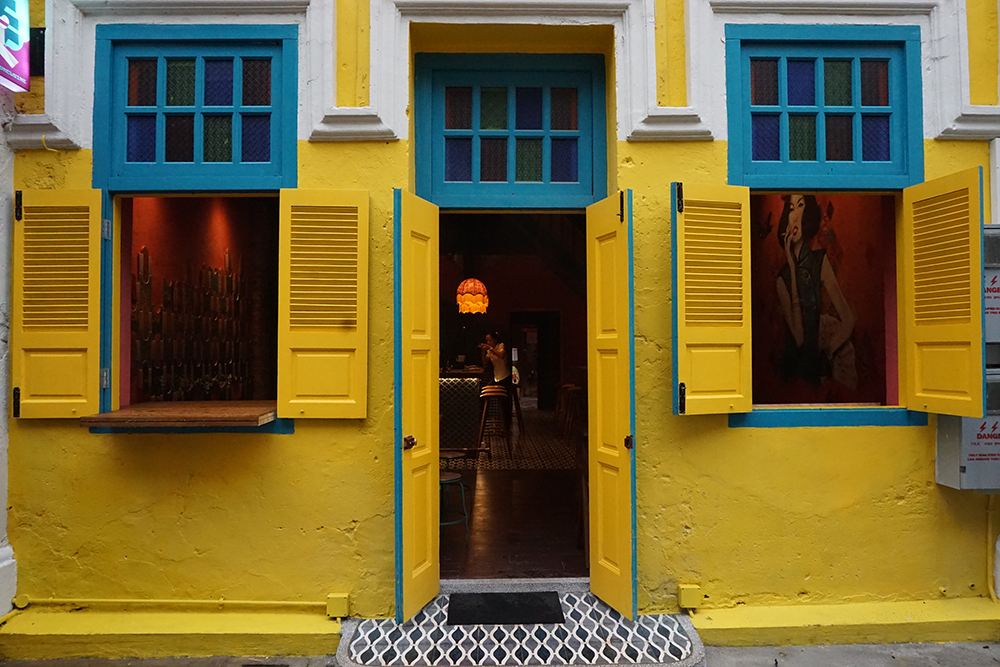 Where old meets new
A larger-than-life mural of a sensual yet defiant woman dressed in a cheongsam meets the eye upon entering. The interiors on the ground floor present a clash of contemporary and traditional elements such as its striking red walls, colourful tiled floors and wooden furniture. It all exudes a decidedly Asian nature, with modern touches shining through hints of a storied past.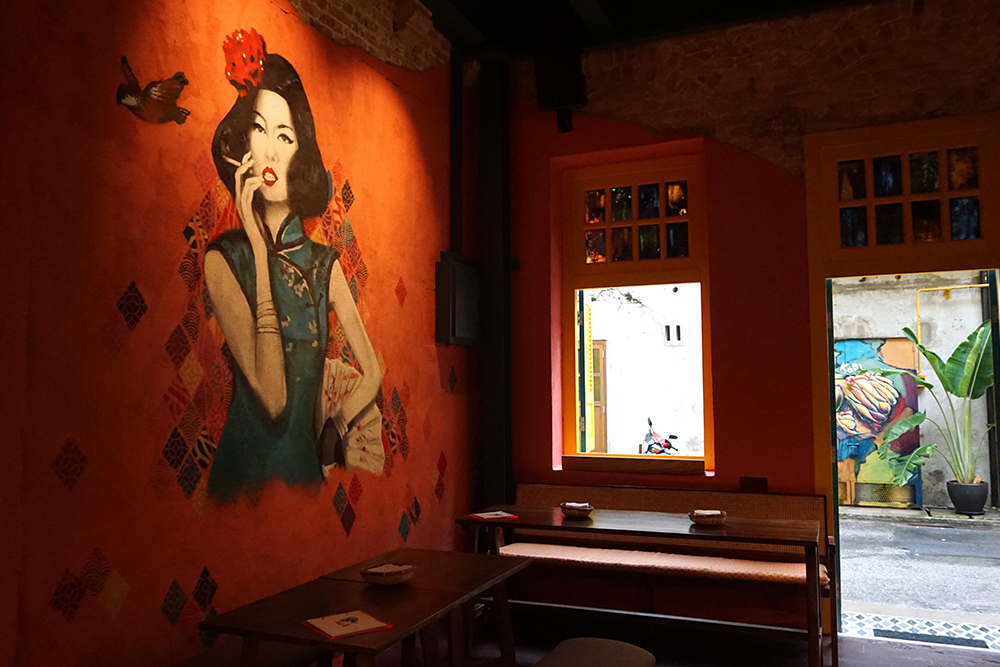 "Our overall concept is very oriental," Andy echoes our first impressions of the place. "Being in a heritage building, we think the structure of the place speaks for itself. But we want to give it a contemporary twist and make things funky."
Upstairs, it's a different experience altogether. The main bar area has a more mysterious allure, featuring dimmer lighting and warmer interiors. More murals of modernised concubines colour the walls, giving the space an unmistakably oriental touch.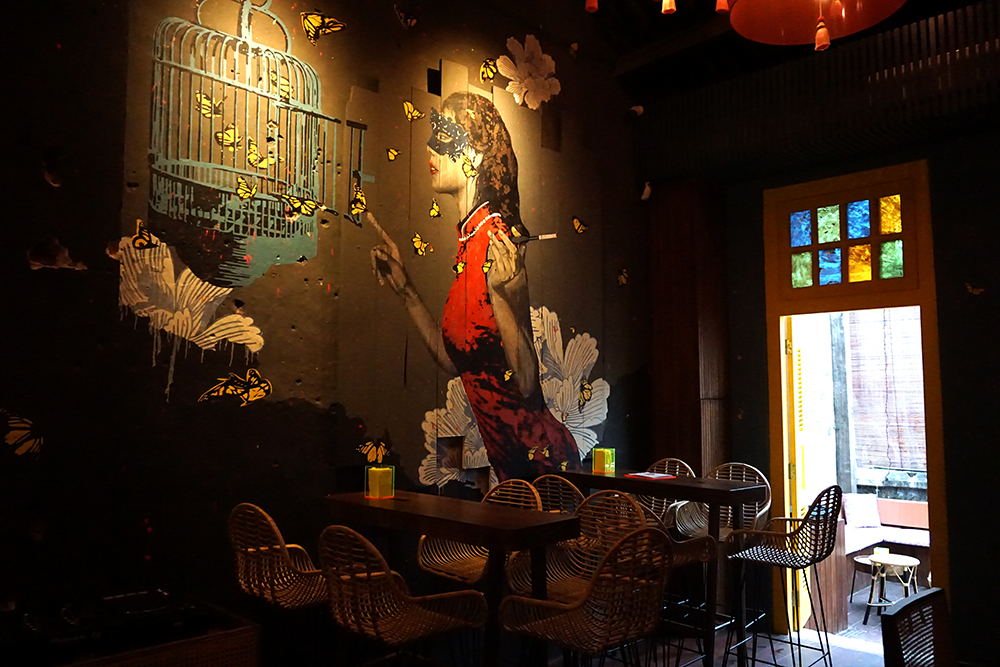 For those who prefer to dine and drink outdoors, the balcony offers a laid-back setting topped with a glimpse of the hip and happening Kwai Chai Hong below. Andy highlights that the al fresco space has been refurbished from its preceding residential home using salvaged timber, as part of Concubine's commitment to sustainability.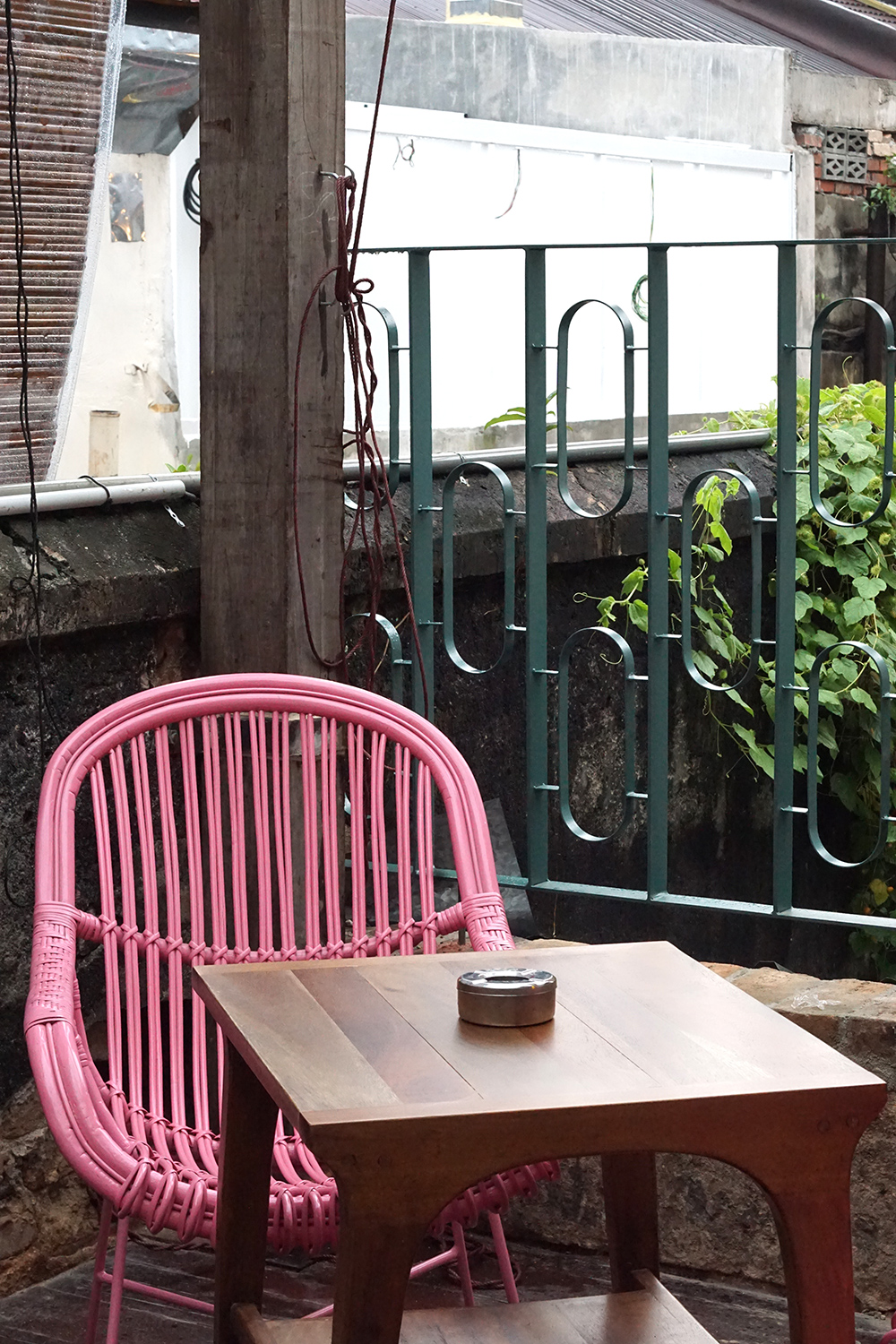 Asian-inspired cocktails and tapas
Besides the interiors, both the food and drink menus echo an Asian identity. Underscoring this is the selection of signature cocktails, each of which feature at least one local or Asian ingredient.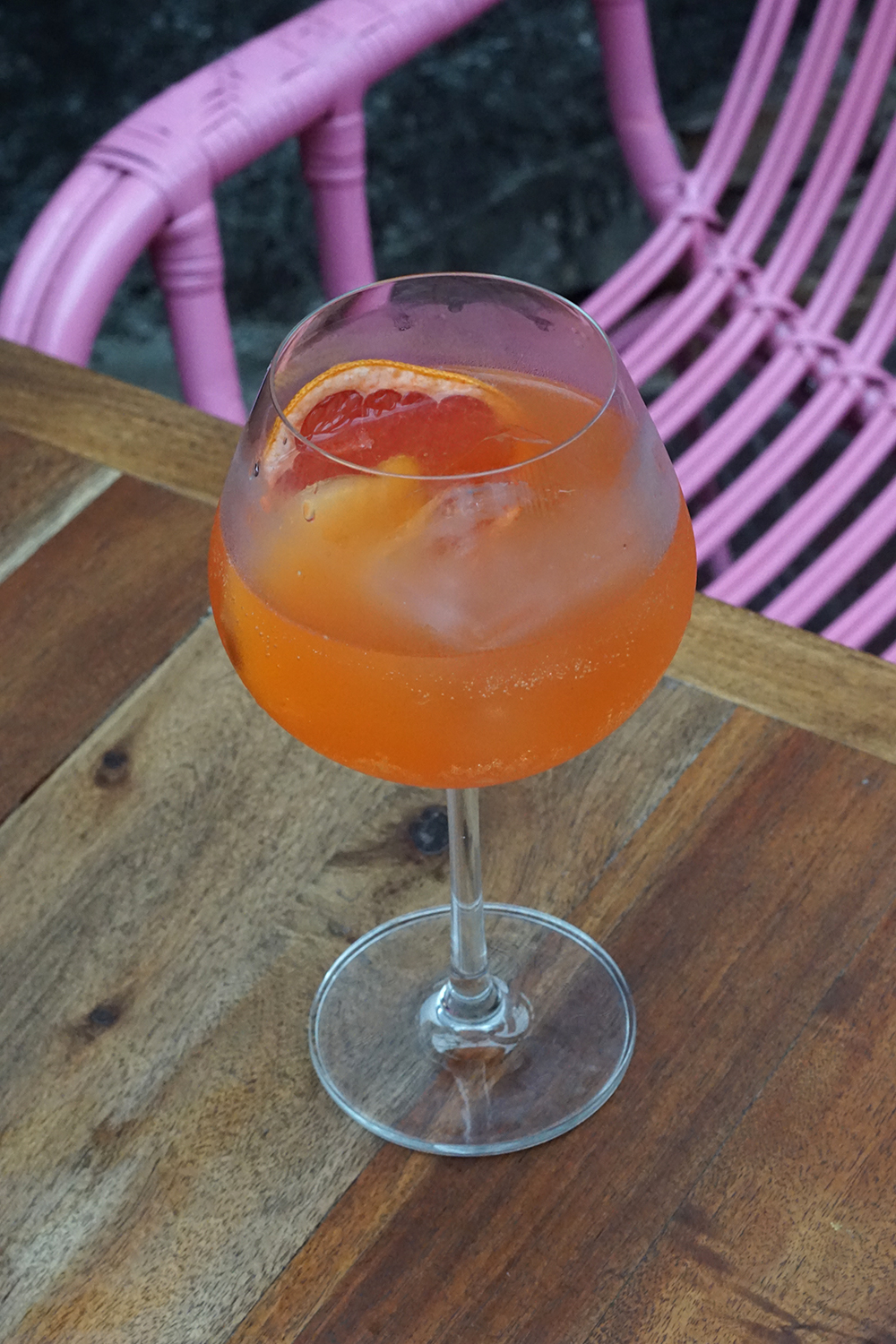 Take our first cocktail, for instance – an aperol blend with bunga kantan cordial, fizz, grapefruit and ginger. The ginger torch flower is the star of this drink, adding a slightly piquant taste to the bittersweet Italian aperitif. The grapefruit also lends a semi-sweet and sourness that leaves a delightful, invigorating zest.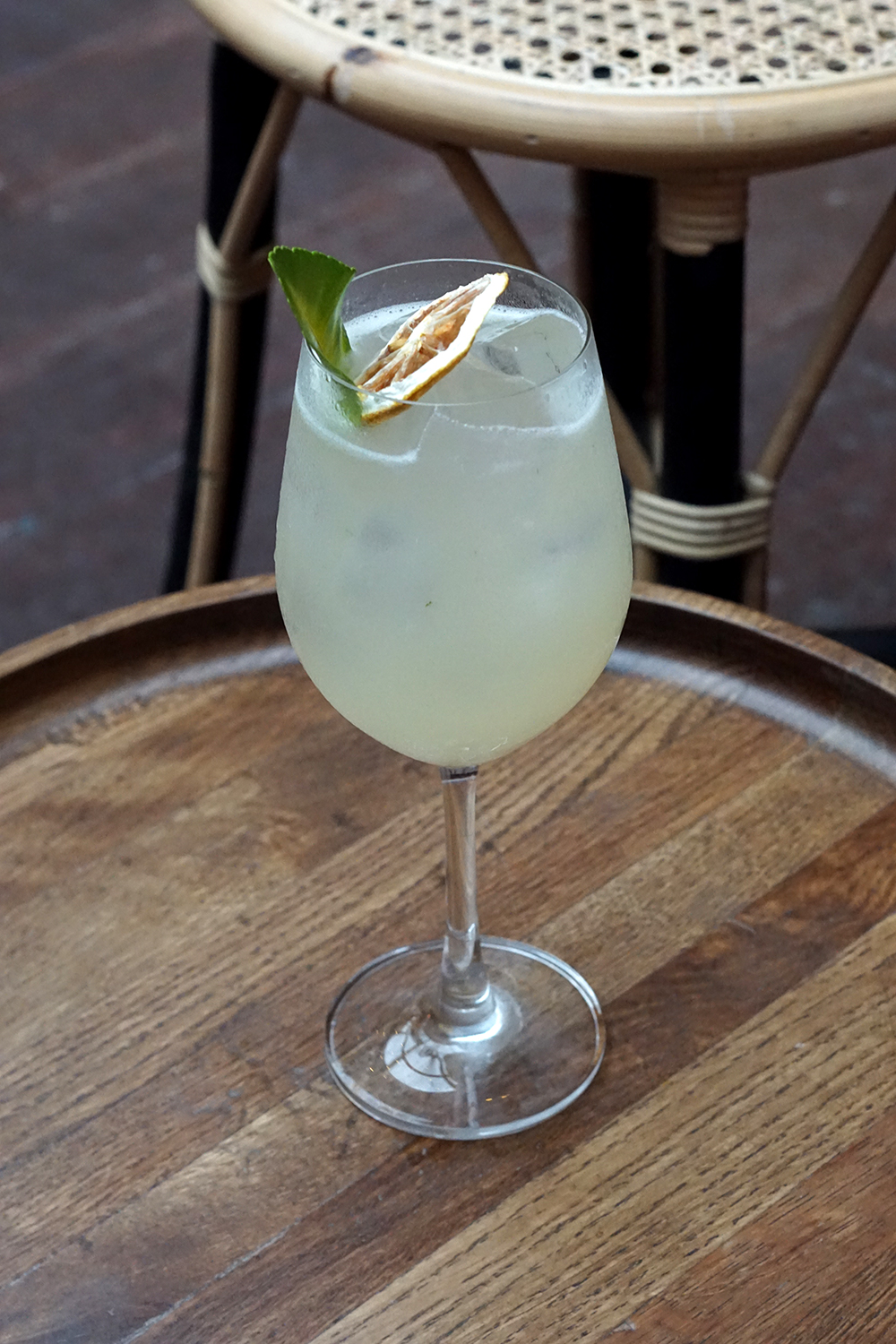 Our next drink is Concubine's take on the classic yuzu spritz: a gin-based blend of yuzu, lime and soda, topped with kaffir leaf. Its crisp, tart and refreshing flavours make it an easy pick-me-up option on a hot day (or any day, really). Though not on the menu yet at the time of tasting, we've got word it'll be added in soon (or you can put in a special request with the bartender).
Fans of rum-based cocktails will not be disappointed with the nutmeg-centred option. Made with plantation pineapple rum, Bacardi 8, pineapple cordial, assam powder, nutmeg soda and lime, the innovative concoction packs a stronger punch than the former two, but is still smooth (or dangerous) enough to leave you wanting another.
Don't worry if you've skipped dinner before paying a visit, food portions here are sizeable enough to fill you up. Here are some worthy picks to enjoy with your round(s) of drinks.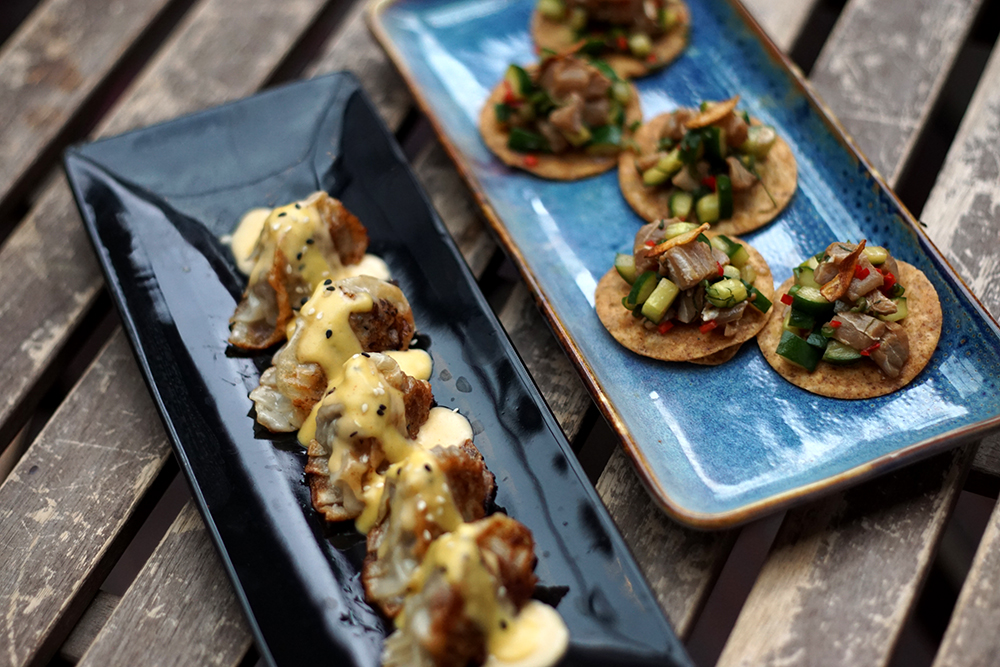 DBL cheese burger gyoza & Tuna tostada
DBL cheese burger gyoza & Tuna tostada
Imagine McDonald's double cheeseburger, but with a juicier patty, a crispy dumpling skin in lieu of buns and the perfect amount of cheddar to match the size of the patty. That's the dbl cheese burger gyoza for you – and it puts the former to shame. On the other hand, the tostada is a great pick if you're looking for a quick Asian fix. Expect well-seasoned slices of raw tuna served with avocado, shisho, yuzu, cucumber and avocado in bite-sized goodness.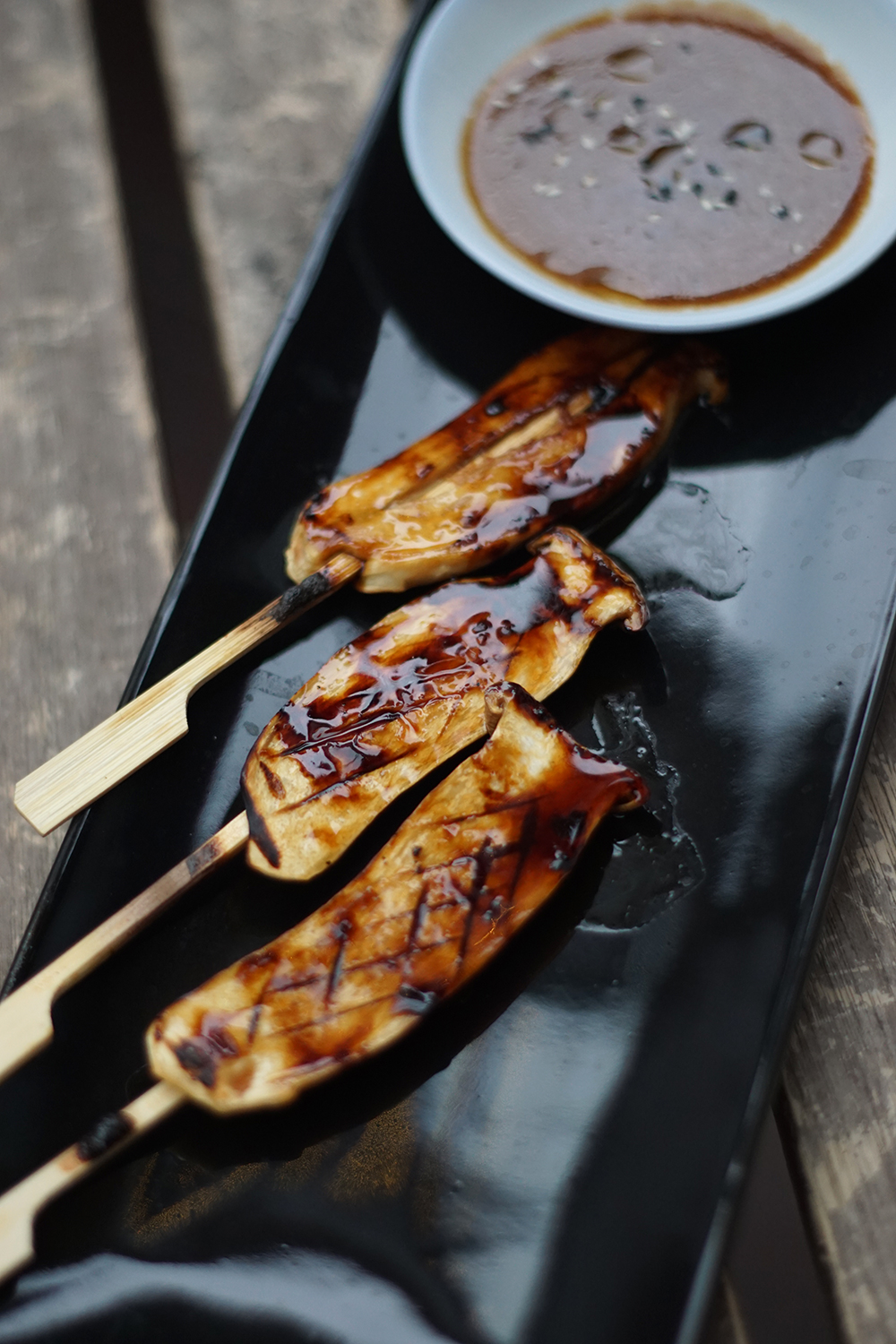 Eryngii mushroom
Eryngii mushroom
Sometimes, an unassuming dish can prove a delectable surprise and this skewer of mushrooms certainly is the case. The mushroom itself is chewy, earthy and full of umami-ness, but the pungent truffle dip elevates it to heaven in our mouths. We only wish there are more mushrooms to go with it.
Green tea smoked lamb rack
Green tea smoked lamb rack
Big eaters will appreciate this lamb dish, which comes in generous proportions for its price. Flavours are no less restrained, with the ras el hanout adding spiced aromas to the meat and the creamy aubergine and miso puree cutting through its fat. Unfortunately, our lamb arrived slightly overcooked. But considering that the kitchen team is still finding its footing (note that our visit falls before the bar's official launch), it's worth a second try when we return.
(swipe left for more)
Location: Lot 2, Jalan Panggong, 50000 Kuala Lumpur
Opening hours:
Tuesdays to Thursdays & Sundays – 5.00pm to 1.00am
Fridays and Saturdays – 5.00pm to 2.00am
Photography: Anson Siau