Christopher Nolan is the master of non-linear storytelling depicting ambiguous themes and morality, using grandeur to strip humanity down to its very core.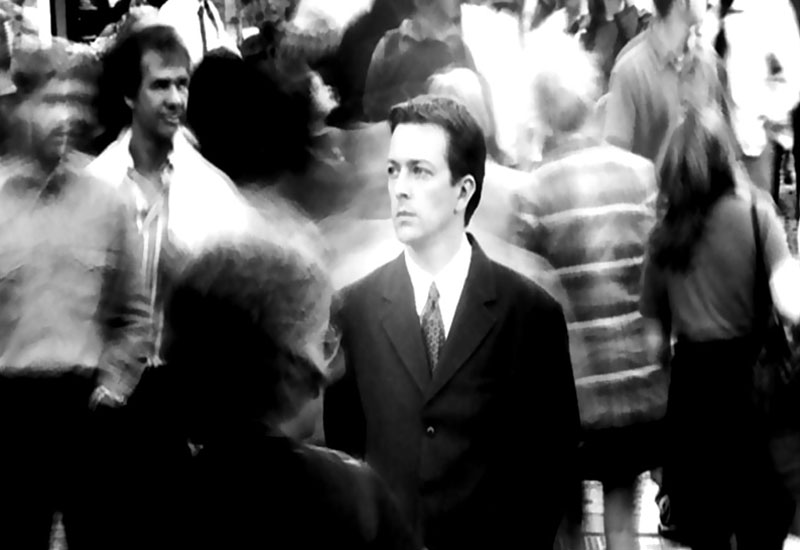 When it comes to the cinematic study of the human condition, few do it as well as Christopher Nolan.
Garnering a massive following over the past decades, he is the master of non-linear storytelling depicting ambiguous themes and morality, using grandeur to strip humanity down to its very core. His movies are testaments to timeless movie-making; a cacophony of lights, sights, and music that create an intensely suspenseful atmosphere.
The team he works with is key to Nolan's numerous successes. Cinematographers Wally Pfister and Hoyte van Hoytema, wife and co-producer Emma Thomas, brother and writer Jonathan Nolan, and legendary composer Hans Zimmer are some of the names known to work on many of his projects.
We loved his latest release Dunkirk, so it's an opportune time to take a look at our favourite flicks that continue to stand the test of time. Watch them in chronological order to see the evolution of Nolan's creativity and skill.
Following (1998)
Here's where it all began – a low-budget film noir that took over a year to complete. Nolan filmed this on black-and-white 16mm film, so scenes were rehearsed repeatedly for the weekend shoots (all cast members had 9-5 jobs) for which they could only get 15 minutes of footage at a time.
Following was a first glimpse into Nolan's cinematic style, including a propensity for compelling, multi-layered storytelling. It tells of a writer who shadows strangers around in the name of research, until he gets entangled in a web of theft and deception. Three time periods in the movie are distinguished by the protagonist's appearance, and the use of available lighting caused heavy shadows, which lends to the noir feel of this crime drama. Nolan had a hand in writing, photographing, editing, and producing his full-length debut.
Memento (2000)
Imagine experiencing a mentally torturous short-term memory loss following an attack in which your wife was murdered, which is also the last thing you remember. All you have to guide your frenzied search are Polaroids and tattoos. That's the premise of this critically-acclaimed movie, following which Nolan first started gaining widespread recognition.
Memento is one of Nolan's finest displays of timeline mastery: one story line moves forward in time (filmed in black and white) while the other unravels the mystery backwards (in colour). Each work to tell parts of the story in his typical slow-burning exposé fashion, colliding at the end to piece the puzzle together.
The Prestige (2006)
Nolan shows us just how magical moviemaking can be with this tale of two magicians' battle of wits. It carries on the themes of loss, grief, and revenge from Memento, bringing to life an undeniably human story painted on the tapestry of an incredible world where your eyes may often deceive.
As we begin to recognise by The Prestige, Nolan doesn't play by any sort of rules when it comes to narrative, plot, timeline, or characters. He manipulates all of these in a grand magic show of his own, growing suspense and mystery with a fine mix of great talent and timing.
The Dark Knight (2008)
In retrospect, none but Nolan could inject the fresh darkness and drama that made The Dark Knight Trilogy stand out as a superhero franchise. There's little dispute that of Batman Begins (2005), The Dark Knight (2008), and The Dark Knight Rises (2012),  the sequel was a standout. Fondly remembered for Heath Ledger's evergreen performance as The Joker, one of the most memorable villains of our time who put Batman through gruelling psychological and physical tests – the perfect entry point for Nolan's brand of storytelling.
Nolan has always had a finger on the pulse, and when faced with the mammoth task of a superhero trilogy, pulled it off with such timely finesse. In The Dark Knight, we see Batman and Nolan both rising to technological challenges: Batman with his gadgets, and Nolan with growing flair for fast-paced action and stunts.
Inception (2010)
Even those unfamiliar with this director's work would have taken notice by now. Inception is widely memorable for its breaking down of imaginative boundaries through the most aptly fascinating medium – dreams (within a dream within a dream). Bringing together a stellar cast that showcased the serious acting chops of Joseph Gordon-Levitt and Ellen Page, Leo DiCaprio plays a thief of secret thoughts running away from a dark past. Naturally, this past returns to haunt him just as his team attempts thought-inception on a high-profile client.
Clever action and a highly original storyline come together throughout the six-country shoot, allowing Nolan to play with movie structure and timeline in an outright, visible manner. It's no secret that it was a huge feat even for him – in fact, Nolan put the idea for Inception aside to direct two Batman movies and The Prestige, preparing himself to tackle this complex project. The result? Sheer cinematic brilliance.
Interstellar (2014)
Nolan shows just how far he's willing to explore with this interstellar story of human survival. Told in a gorgeous sci-fi interpretation, this one is a pure visual and psychological treat. Nolan used practical, miniature and digital effects in creating cinematic magic that firmly places Interstellar on top of the list of movies about space.
Another great thing about this flick is the web of issues it tackles: the overarching theme of interplanetary quest for survival is supported by the desperation of a father who leaves his life on earth behind. He joins a team of astronauts chosen to travel through a wormhole in search of our planet's saving grace, making Interstellar the story of a father's sacrifice, above all.
Hoyte van Hoytema replaced Nolan's trusty cinematographer Wally Pfister for this movie, earning his spot in the team with professional, creative skill that left us in awe, and sparked notable interest about the science of wormholes.
Dunkirk (2017)
We're finally at the modern peak of Nolan's career, for which Dunkirk is the perfect canvas. Told in three different time periods on land, sea, and air, it brings to screen the harrowing realities of war in the 1940 Nazi invasion of France, when Allied soldiers retreated to Dunkirk.
Shot for IMAX, Dunkirk provides an auditory and visual experience that places viewers right at the forefront of battle. We see desperate soldiers jump off ships, catch fire in an oil slick, get trapped in a hull and slowly submerge at the mercy of German soldiers' 'target practice'.
Hans Zimmer's musical touch creates a soundtrack that is the bedrock of Dunkirk's big-screen appeal, utilising trademark ticking technique on the Shepard tone for building intensity. Oh, and Nolan? Executing heart-racing sequences and tying them together like a pro, he's managed to capture suffering and strife in juxtaposition with breathtaking landscapes shot in all their natural glory. Let's not forget that coordinating production and crew of that scale is a commendable feat in itself.