Each year, Chopard unveils its Red Carpet Collection, a selection of Haute Joaillerie creations developed from the union of its limitless imagination and its unmatched jewellery mastery, as a result of its official collaboration with the Cannes Film Festival. Co-President and Artistic Director Caroline Scheufele selected the subject "Chopard Loves Cinema" as the inspiration for the collection for the 75th anniversary of the Festival. She created 75 pieces of jewellery as an epic narrative that was influenced by the film, from its allure of black and white to its dazzling modern colours. This profusion of creativity is based on her own filmography, from which some of the most exquisite works are displayed during Paris Haute Couture Week.
Recently, Chopard displayed the gems from its Red Carpet Collection during Haute Couture Week in Paris (4–7 July 2022). This collection of 75 Haute Joaillerie pieces honours the skill and imagination of Chopard's jewellers and is cultivated by the gourmet and varied tastes of the Maison's tireless Co-President and Artistic Director, Caroline Scheufele.
Caroline Scheufele, a dedicated admirer of the seventh art, has created jewellery freely inspired by movies that have left a lasting impression on her, much like a film director.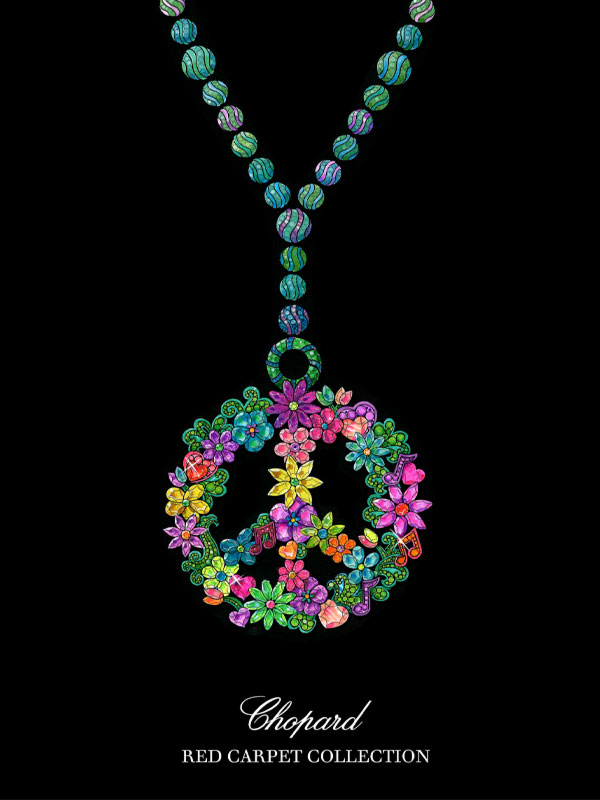 Chopard, a jewellery brand with its headquarters on Place Vendôme, offers a selection from its Red Carpet Collection, which includes necklaces, earrings, and bracelets made from distinctive gemstones. A long necklace with a "Peace and Love" pendant is adorned with flowers made of sapphires, amethysts, tsavorites, and garnets. A striking diamond necklace features a 70-carat pear-shaped fancy pale brownish yellow centre stone.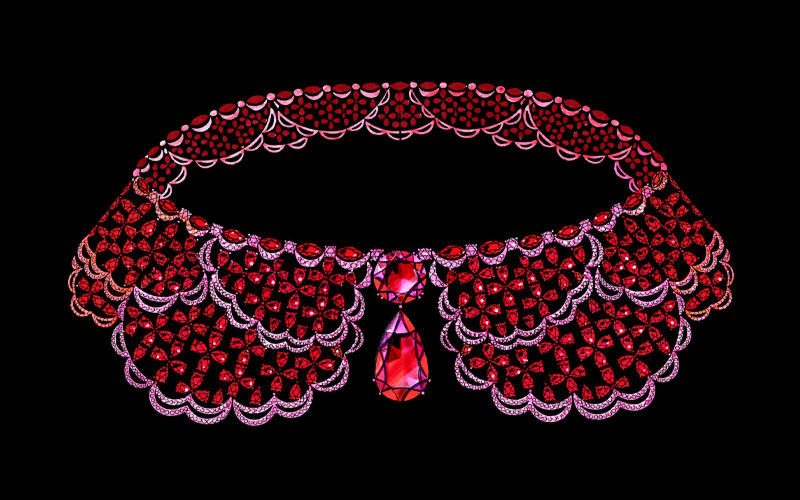 A commanding necklace made of pink sapphires and rubellites shapes the wearer's appearance into a claudine collar. This design gives a daring and modern spin on a fashion classic with its lacework of pink stones and careful craftsmanship. Similar to how this pair of earrings boosts a regal bearing with a total of 35 carats of pear-shaped diamonds set in long pendants.
Among the other jewels in the Red Carpet Collection is a pair of titanium earrings with a hue that gives the appearance that the yellow diamonds, sapphires, and amethysts arranged in a rosette are floating in the air. The collection also includes a set of rose and white gold earrings with a gold design sculpted by the Maison's artisans, as well as a cuff bracelet whose assortment of kunzites, sapphires, amethysts, and tanzanites creates an enchanted garden around the wrist.