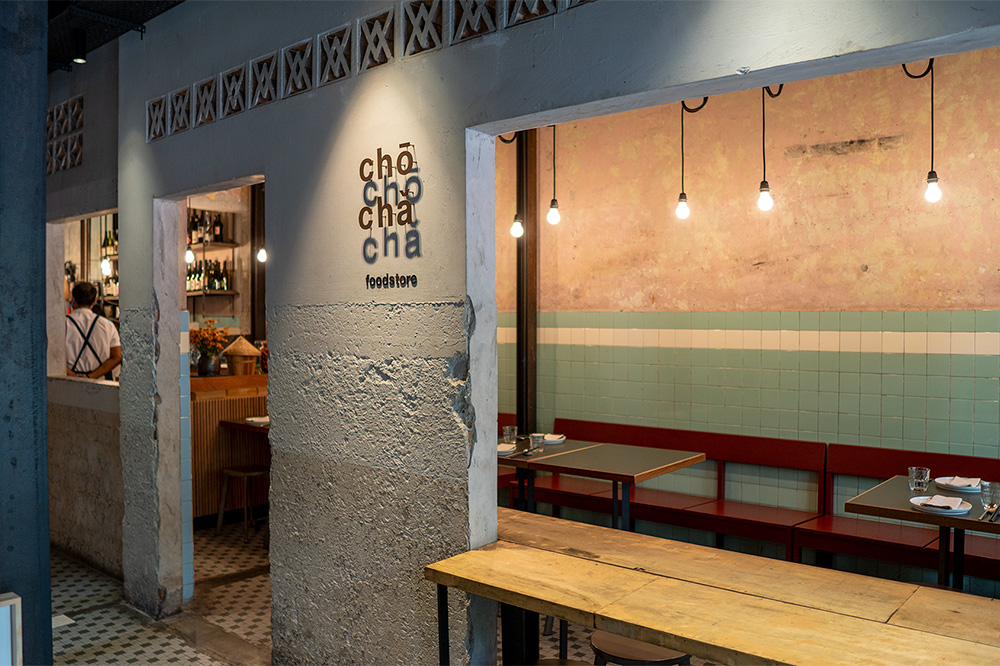 While it's fairly easy to pass by Chocha Foodstore on Petaling Street, you wouldn't want to miss what this restaurant dishes out.
Known for its rustic, casual setting and creative dishes, Chocha is a humble eatery that places a large importance on using the best local produce has to offer and constant innovation. Most KL-lites will associate Chocha with its CFC (Chocha Fried Chicken or Cincalok Fried Chicken) from its early days, and while it was a fantastic run, the widely-loved dish has been retired to make way for new creations.
According to Chef Mui Kai Quan – who currently heads the kitchen at Chocha – letting go of crowd favourites may be a bold move, but it's also a reality that many have to accept – all in the name of encouraging culinary creativity and exposure to different dishes to Malaysians. The Johor native brings with him 10 years of experience from all over the world, from London's Ledbury to Oslo's Maaemo. He also shares Chocha's goal in respecting local ingredients and turning them into memorable dishes that can easily contend with foreign delights, making him the ideal captain to lead the culinary team.
In this review, we're digging into dishes from Chocha's 12th edition menu. A quick browse sees some interesting starters and sharing plates that range from cured and fermented dishes to heartier options, sweets, and a pretty good selection of natural wines and cocktails from Botakliquor. They also have a separate lunch menu, which includes a 2-course set option where you're free to choose between having a starter and a main, or a main and a dessert for RM65 per person.
"It takes so much work to debone them," Chef Mui sighs with a quick gaze to the heavens, but later expresses that at the end of the day, it's a labour of love that contributes to the effort in encouraging nose-to-tail eating, as well as highlighting ingredients and cuts that don't get much of the spotlight.
A key player in sustainable eating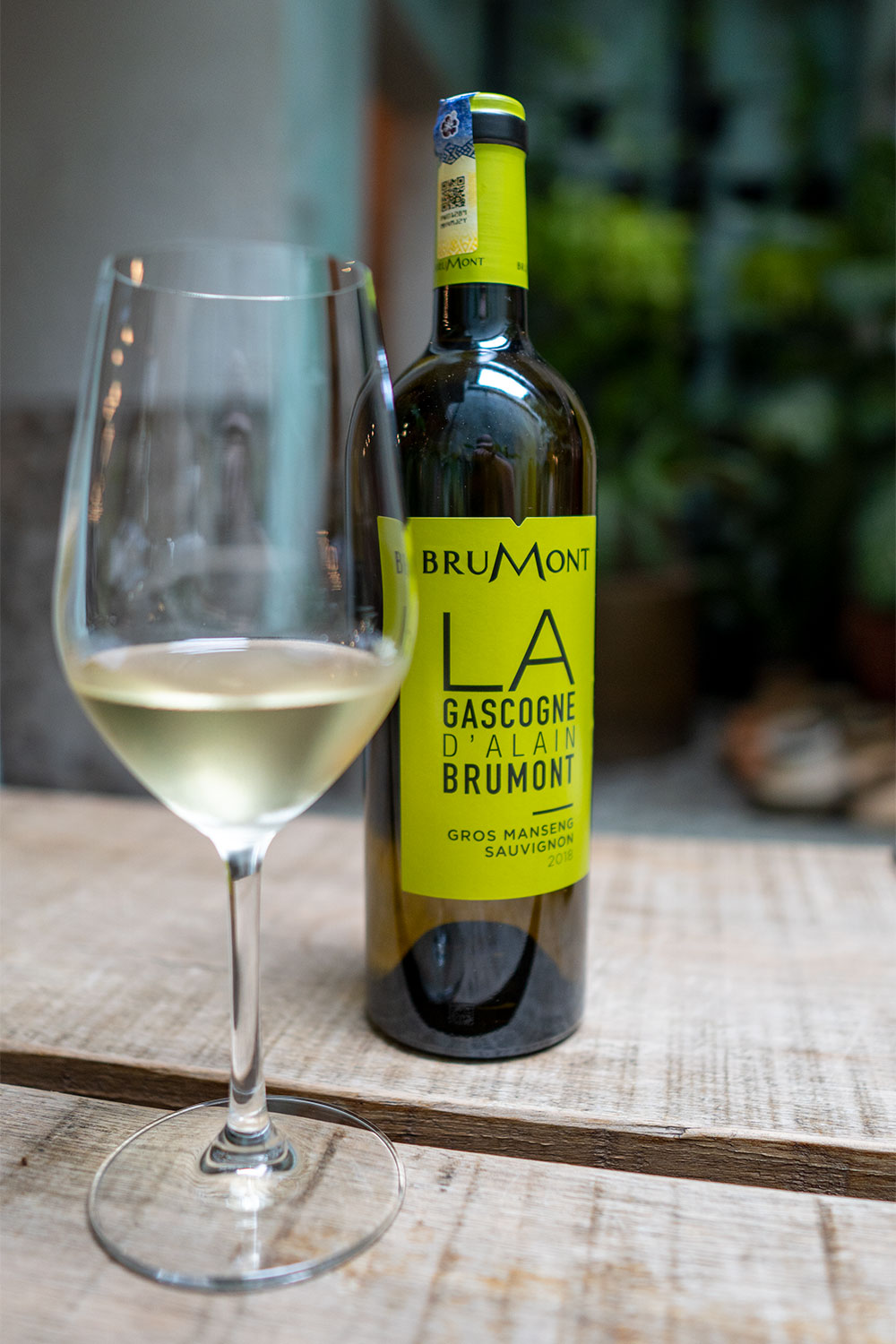 To whet the appetite, we are served a glass of Gros Manseng-Sauvignon Blanc from Brumont 'La Gascogne D'Alain Brumont'. A light and airy white that's perfect for carefree all-day drinking, it presents a sweet and floral bouquet on the nose. The first sip immediately introduces a burst of citrus notes – lemons and grapefruit – as well as hints of green apple, mint and pear. A touch of brine adds complexity to the wine, and its fresh, floral quality lingers long on the palate.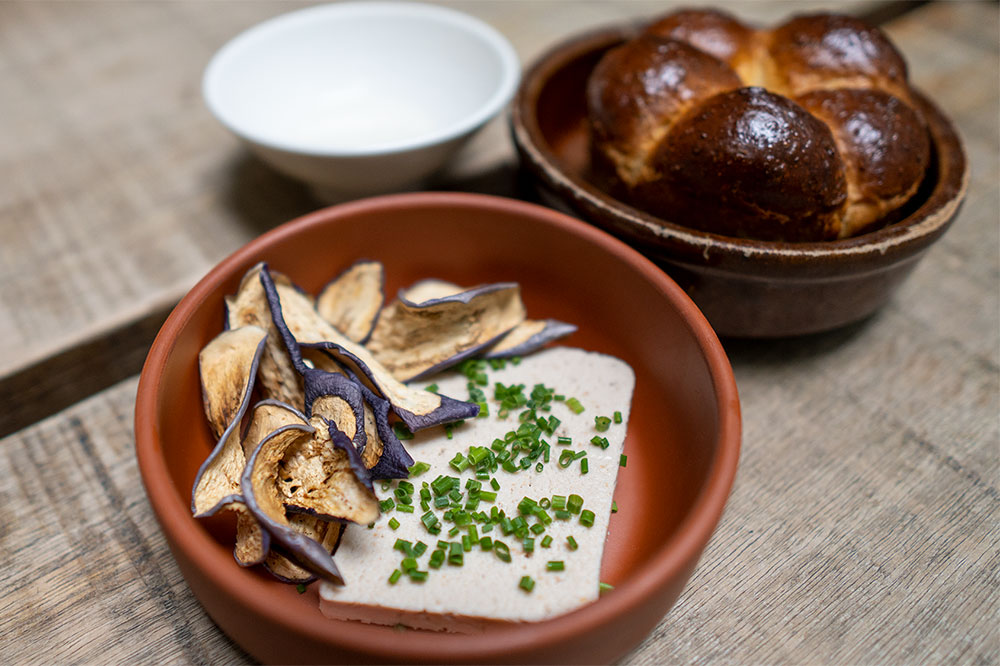 Chef Mui bridges the sweet spot between fluffy dinner rolls and crusty European loaves with Coconut Bread and Fermented Coconut Oil. A thin and pleasantly crisp crust houses the plush, fluffy crumb which immediately releases a puff of fragrant steam. Its subtle sweet nuttiness proves to be highly addicting, with or without the rich coconut oil. The bread is also a fantastic carrier for the Mackerel Pâté, a rich, salty, and unctuous blend of smoked tenggiri that's originally served with dehydrated eggplant chips.
One of the ways Chef Mui practises sustainable eating is by using the whole animal – and not just parts that are commonly beloved and consumed. A shining example is fried Chicken Feet – golden and glistening from the soy caramel glaze it is dressed with, and peppered generously with white sesame seeds. While the sun has set on the widely-loved CFC, it begins a new era with this crunchy, sweet, sticky, and delightfully chewy snack.
"It takes so much work to debone them," Chef Mui sighs with a quick gaze to the heavens, but later expresses that at the end of the day, it's a labour of love that contributes to the effort in encouraging nose-to-tail eating, as well as highlighting ingredients and cuts that don't get much of the spotlight.
A spotlight on fresh and high-quality produce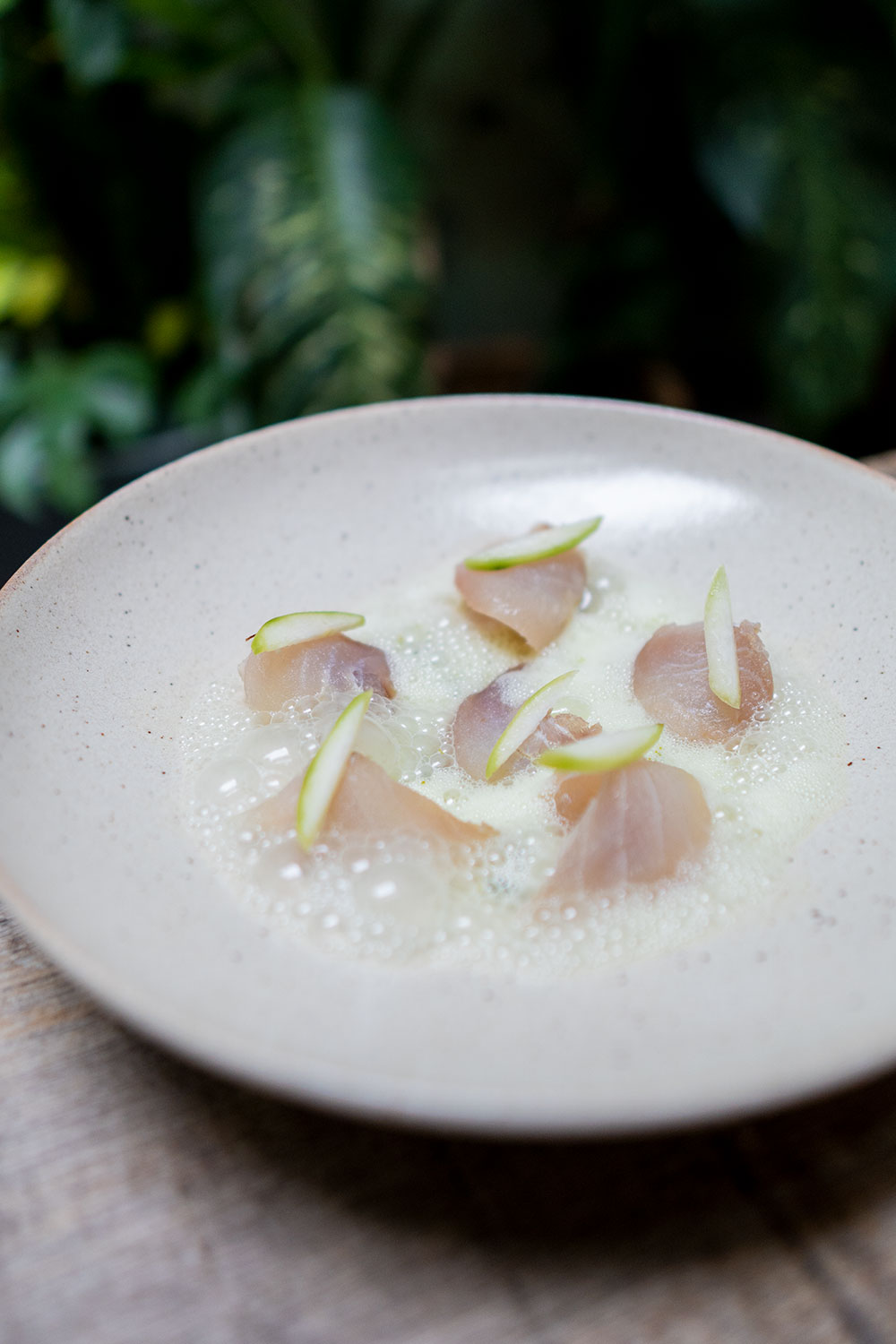 We then move onto lighter dishes, first with the Cured Long Grunt, which carries a firm, supple texture and a clean sweetness reminiscent of jenahak. The fish is nestled in a cloud of kedondong foam speckled with japaleño vinaigrette, which adds a fruity and spicy kick.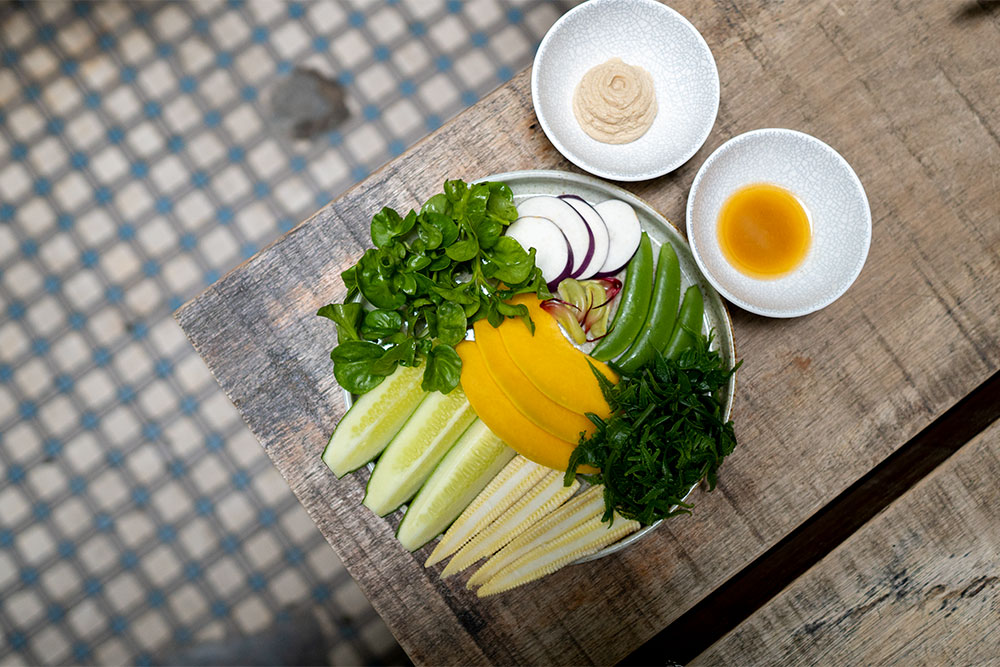 While crudités are more often enjoyed at home with heaps of herby cream cheese, Chocha's medley of local vegetables – from cucumber batons to eggplant rounds – puts a creative spin by serving them with jackfruit seed cream and cincalok dressing. While the latter is a personal favourite for its velvety texture and mouth-watering savouriness, the jackfruit seed cream makes for a surprising dip thanks to its mild flavour and almost menthol-like quality.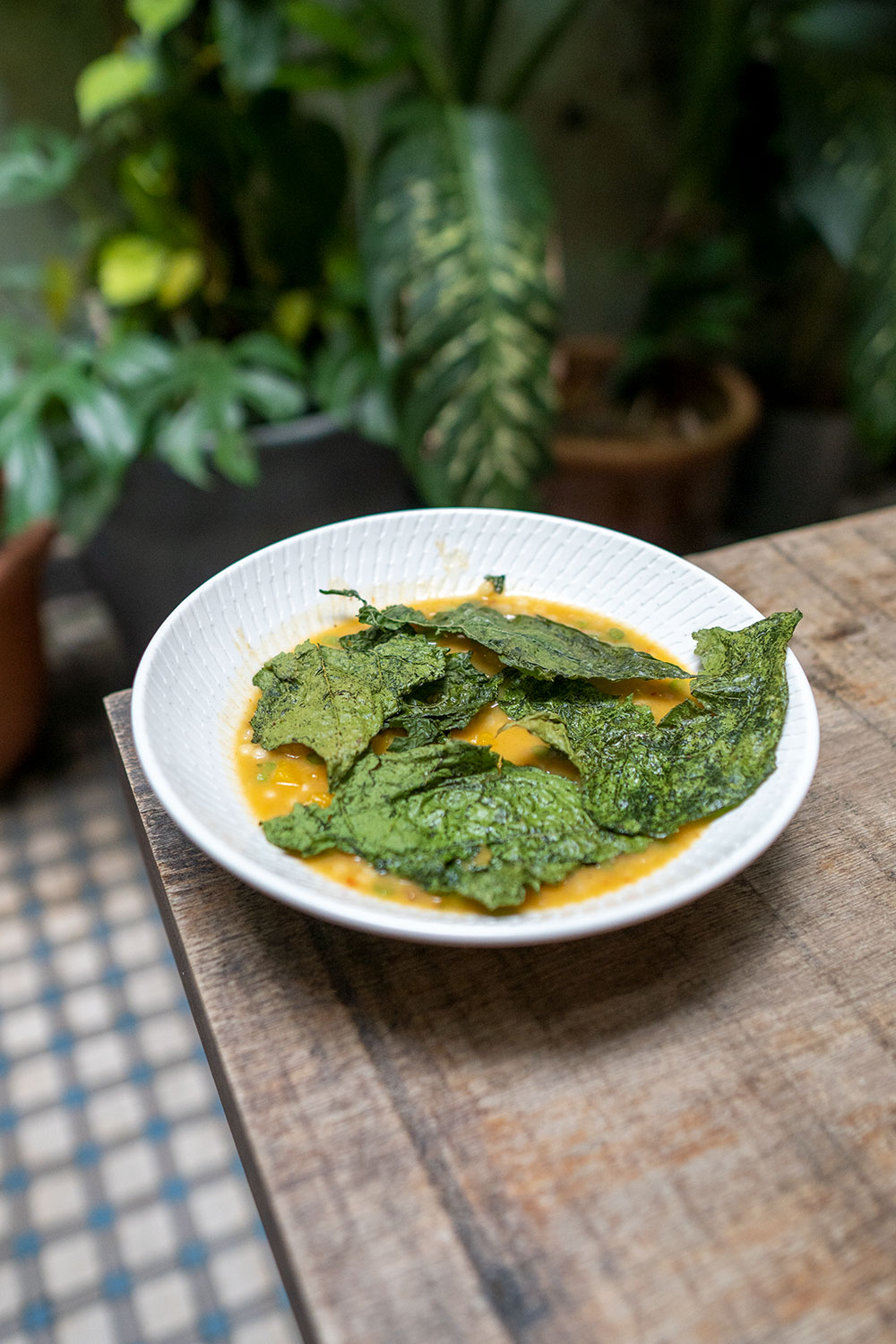 The Job's Tears and Pumpkin Porridge proves itself as one of the highlights, which elevates a heartwarming dish with tempoyak. Those who are wrinkling up their nose at the thought shouldn't knock it until you try it – as the scent of the fermented durian is very subtle, and it adds a unique and complex sweetness that will leave you licking the bowl clean.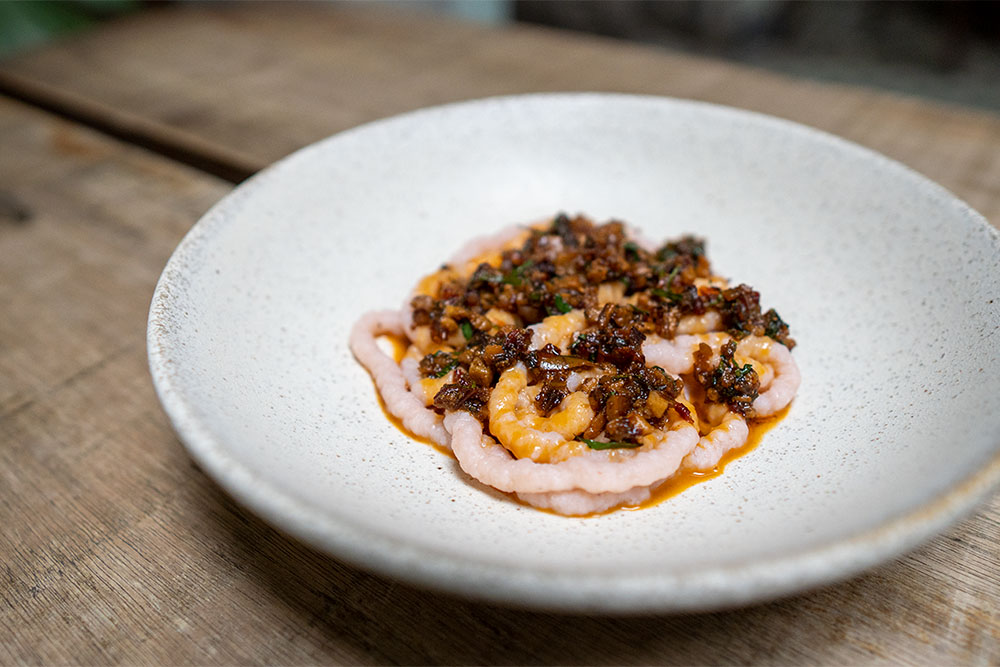 Following such a comforting dish is the bold and spicy Prawn Noodle. Toss it up with the smoked fish roe and X.O butter to fully enjoy the umami bomb this dish offers. Since the noodles themselves are made completely of blended prawns, there's a bounciness and supple texture that's fantastic for some gratifying slurping.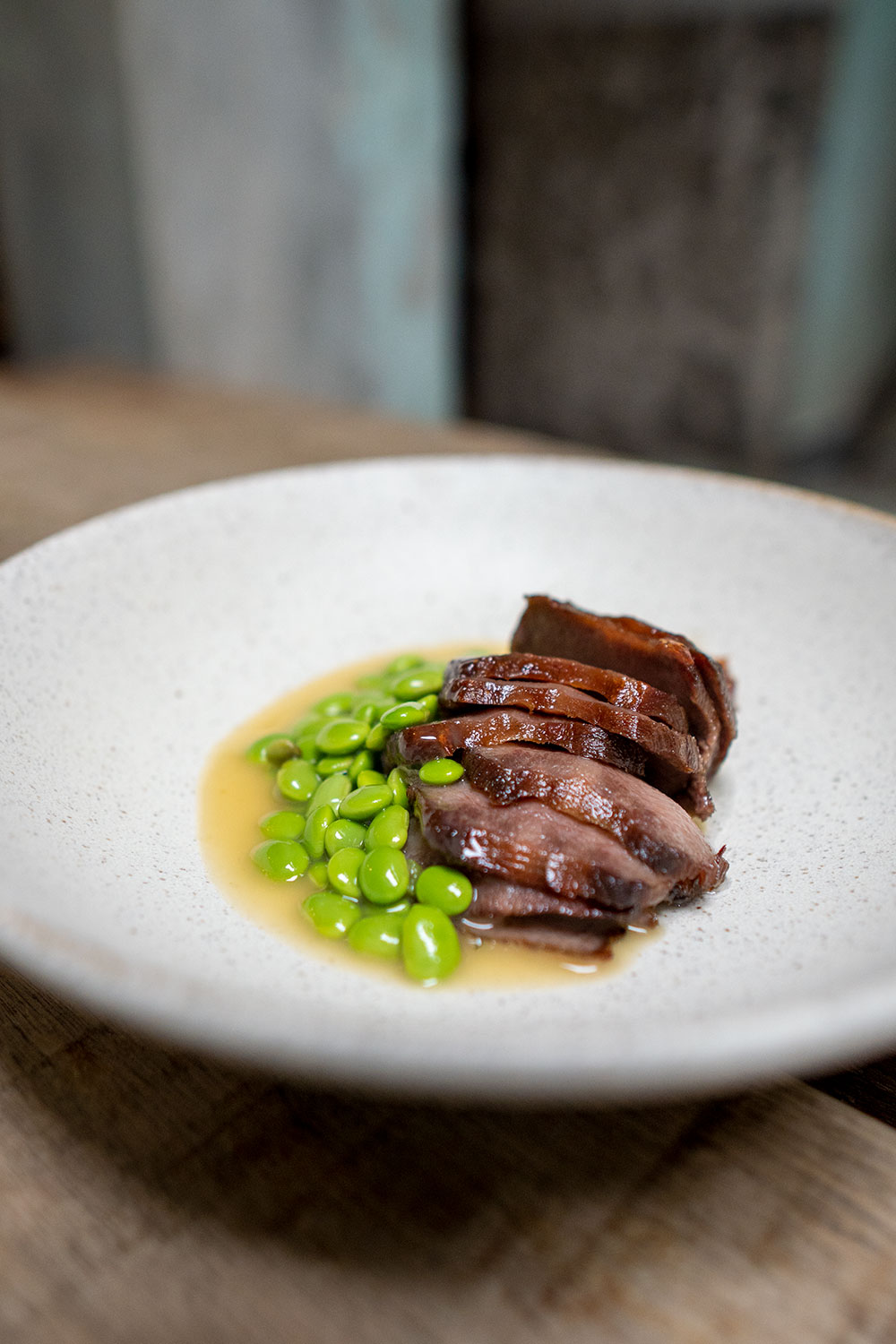 We revisit the concept of nose-to-tail eating with the slow-cooked Beef Tongue that's also been lightly grilled, bringing a contrast in textures between the slight crust on the outside and the melt-in-your-mouth tender flesh. More adventurous palates will certainly enjoy the deep, almost musky flavours in this dish, which is refreshed with a side of edamame.
The last of the savoury plates comes in the form of a generous cut of Winter Melon that's been braised in dried shiitake broth to impart deep, rich umami into the usually refreshing gourd, with Chinese celery infusing a touch of freshness. A unique take on the herbal, medicinal soups that the Chinese elderly would whip up when we become sickly, it leaves us reinvigorated and reenergised despite our overstuffed bellies.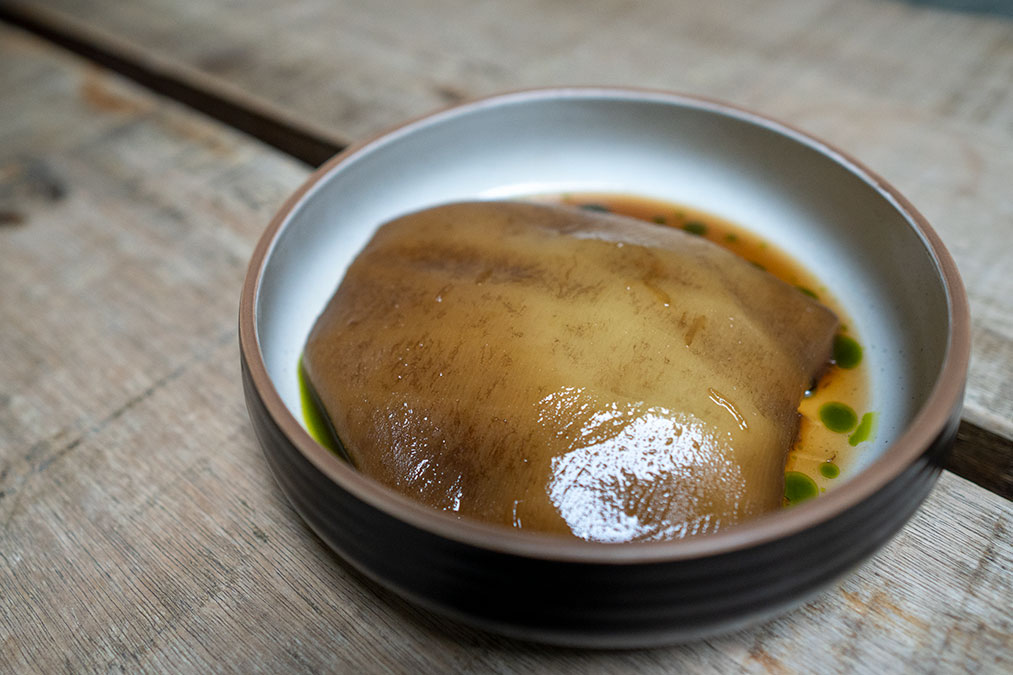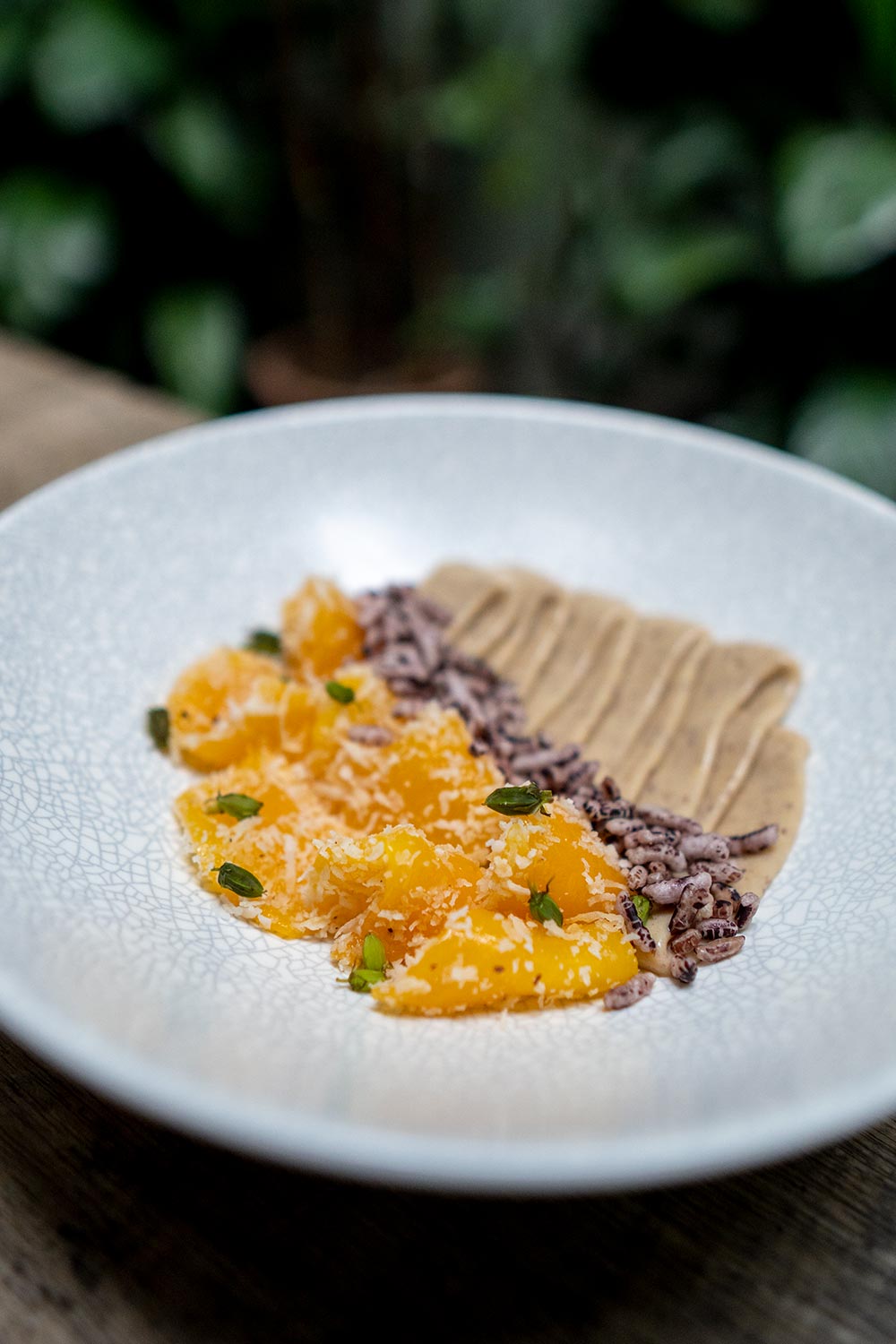 There are currently only two dessert options on Chocha's menu, and the one we get to dig into is a Black Pulut Custard. Mildly sweet, sticky, and fragrant, it's a simple yet elegant treat that pairs beautifully with the crispy puffed rice and red jackfruit that's been rolled in dried coconut flakes. It's also a great dessert if you're not a fan of overly sweet things or would like something light at the end of a hearty meal.
If you're looking for an establishment that truly represents "Modern Malaysian" or "Modern Asian" cuisine, Chocha is definitely not one to sleep on. With its unique take on familiar dishes and ability to elevate the simplest of ingredients, it's easy to find yourself visiting this place over and over again, while inspiring the spirit of evolution. It's a must-visit in our books, and has definitely cemented itself as a restaurant that can make you feel both at home and as if you're on an adventure.
Chocha Foodstore is located at 156, Jalan Petaling, 50000 Kuala Lumpur. CMCO Opening hours are 12pm – 3pm for lunch, and 6pm – 10pm for dinner, from Tuesday to Sunday. Reservations can be made by calling +603 2022 1100 or via UMAI. Follow them on Instagram @chochafoodstore for menu updates. 
Photography by Anson Siau.