When it is a party thrown by Olga Iserlis, you best be sure to sit up and pay attention because it's definitely going to be more than just a party.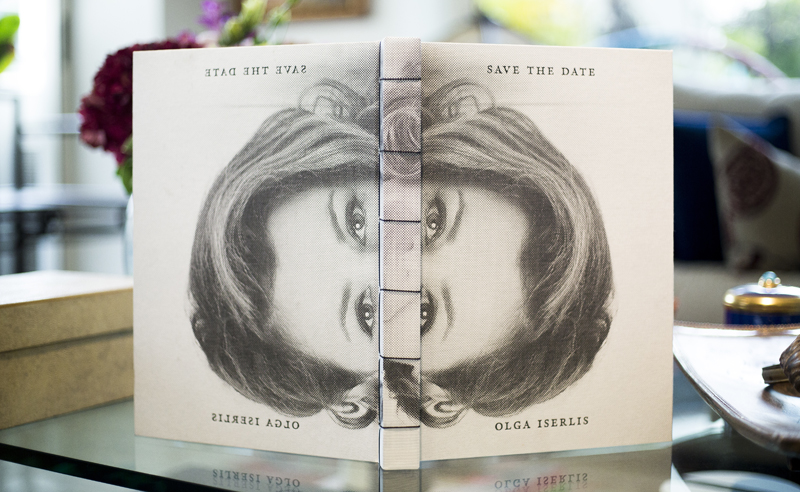 "Olga is a true magician!" say the words in all-caps font, printed front and centre on the first few pages of the heavy, cloth-bound, hardcover book. "She knows how to create unforgettable experiences and does it effortlessly!"
They are none other than the forewords of fashion designer extraordinare Diane von Furstenberg for her friend and  event planner Olga Iserlis, whose life and times have most recently been immortalised in her new coffee table book titled 'Save the Date'.
In our humble opinions, any occasion is a good one to throw a party; unfortunately, not all parties are worth the occasion. However, when it is a party thrown by Iserlis, you best be sure to sit up and pay attention because it's definitely going to be more than just a party.
"I create celebrations," tells the Singapore-based events coordinator. "All my events are celebrations of life, people and creativity."
Said celebrations of life include, among others, the Valentino Retrospect Exhibition in 2010, an occasion Iserlis calls her "bat mitzvah of fire".
Go for broke
The year was 2008 when she got news of Mr Valentino's retirement and with it, the plans for the presentation of his final collection.
Led by her love for the designer's works and an unexplainable courage to just reach out and try her luck, she got in touch with the House of Valentino in Rome and proposed a possibility of bringing a slice of his maestro to Singapore. Her foresight paid off and the Singapore Valentino Retrospective was materialised, leading the way for many other charity balls and high-octave events that would secure her name as one to watch in the Singapore social scene.
Collaboration with names like Food from the Heart Foundation and the Singapore Repertory Theatre are among other notable feats in her portfolio. The echoing success of some of the more recent Singapore Fashion Weeks, launch of Singapore Freeport, the ultra-high-end art storage facility in Changi and Grand Prix galas for watch brands like Audemars Piguet are also brought about by her two hands.
One of the reasons for her Midas touch could be her fearless philosophy to "go for broke".
As limited as venue choices are in Singapore, she never compromises on the final wow factor. Case in point is the Jean Paul Gaultier Fashion Show. She convinced everyone to layout the runway on Singapore's Cavenagh Bridge, a 260-feet suspension bridge built circa the 1870's.
"Where better to showcase the streetwear-inspired couture, with its sidewalk to catwalk aesthetics, than on a bridge surrounded by the oldest and best-preserved architectural gems of Singapore?" she asks.

Boredom, bagels and balls
Like her most outstanding events, her journey that brought her here is one equally driven by determination and a refusal to be ordinary.
Political instability in her hometown of St Petersburg, Russia, saw 15-year-old Iserlis and her mother making a new life for themselves in New York in 1979. Despite speaking little English, she insisted on helping to make ends meet with odd jobs as a 'may I help you girl' at a dry goods store.
'My upbringing would have a tremendous effect on my life," she regales. "Although I was born into a family of doctors and engineers, I was taught to value the arts and culture. I attended a music school and learned to play the violin and piano for 10 years. My parents and I went to the theatre and the symphony, visited museums and entertained relatives and friends, many of whom were known artists and musicians."
In the mid-1990's, she arrived with her husband in Singapore when the project he was working for with Standard Chartered Bank in London was transferred to the Singapore office.
The life of a stay-at-home expat wife left her bored, so she landed herself a position in the finance department of Mount Elizabeth Hospital, before opening the doors of a small pastry shop selling bagels in Orchard Road. It became so wildly successful that it earned her the nickname 'Bagel Lady'.
Upon selling the establishment to a local F&B company, she started getting more involved in charities where throwing fundraising balls were the norm. Starting out doing delegated tasks, she soon came to realise this – throwing events – was something she didn't mind doing for the rest of her life.

"I like to work with a blank canvas"
Today, she sees what she does as more than just a job. Events are her outlet for creativity and her way of keeping her mind sharp and spirit light.
"I have always wanted to do something creative, and creating unique experiences for others gives me the outlet I have always been looking for," she says. "Stamina and hard work have enabled me and kept me going on my creative and life journey."
More importantly, these parties of hers have also given back to her as much as she had invested in them. "I love it most when my guests are enjoying themselves, conversations are flowing naturally, and there is good energy and ambience," she tells.
When selecting which gigs to take on, free rein on execution heralded by a few basic requirements is all she asks for.
"I like to work with a blank canvas. The client brief to me is just a set of basic information on date, venue and reason for hosting a party. I never compromise on my standards – I prefer to have a say in every creative element that would go into the projects that I am involved with," she divulges. "My best works have been with clients who were on board as a member of the team. When we have equal stakes in the success of our joint undertaking, we can discuss our vision, philosophy and requirements."
Above all else, she reminds us all to have fun and go all out with whatever we have in mind. "It's all theatre wizardry," she reminds us. "It will all come off and life will return to normal after the ball."
Looking for tips to throw your most rocking party yet? Here are Iserlis' 5 pointers.
Imagine yourself as a guest, and think of what you would like to have and enjoy at the party.
Think about a few important and special elements to enhance the party. At times, less is more, so concentrate on quality rather than quantity.
Never run out of drinks.
Ambience and music are important elements, don't underestimate these.
Enjoy yourself, and welcome guests whole-heartedly with a smile and delight.
Learn more about Iserlis via her coffee table book 'Save the Date', now available for sale at:
Singapore
Louis Vuitton Store at Marina Bay Sands
Marina Bay Sands Gift Shop
ArtScience Museum Gift Shop at Marina Bay Sands Vanilla Home
Beauty Candy Lifestyle Partners & Mucciaccia Gallery
Books Kinokuniya Singapore

London
Partners & Mucciaccia Gallery
Rome
Partners & Mucciaccia Gallery
Indonesia
The Sanchaya- Bintan, Indonesia
Soon to be available at Amazon.com.
They are limited to only 1,500 copies worldwide and are priced at SGD$88 each.