At Café Bistrot David, don't expect the best of the best. Expect real food by one passionate chef David Chin and his team, and you'll experience comfort food the way he would have it.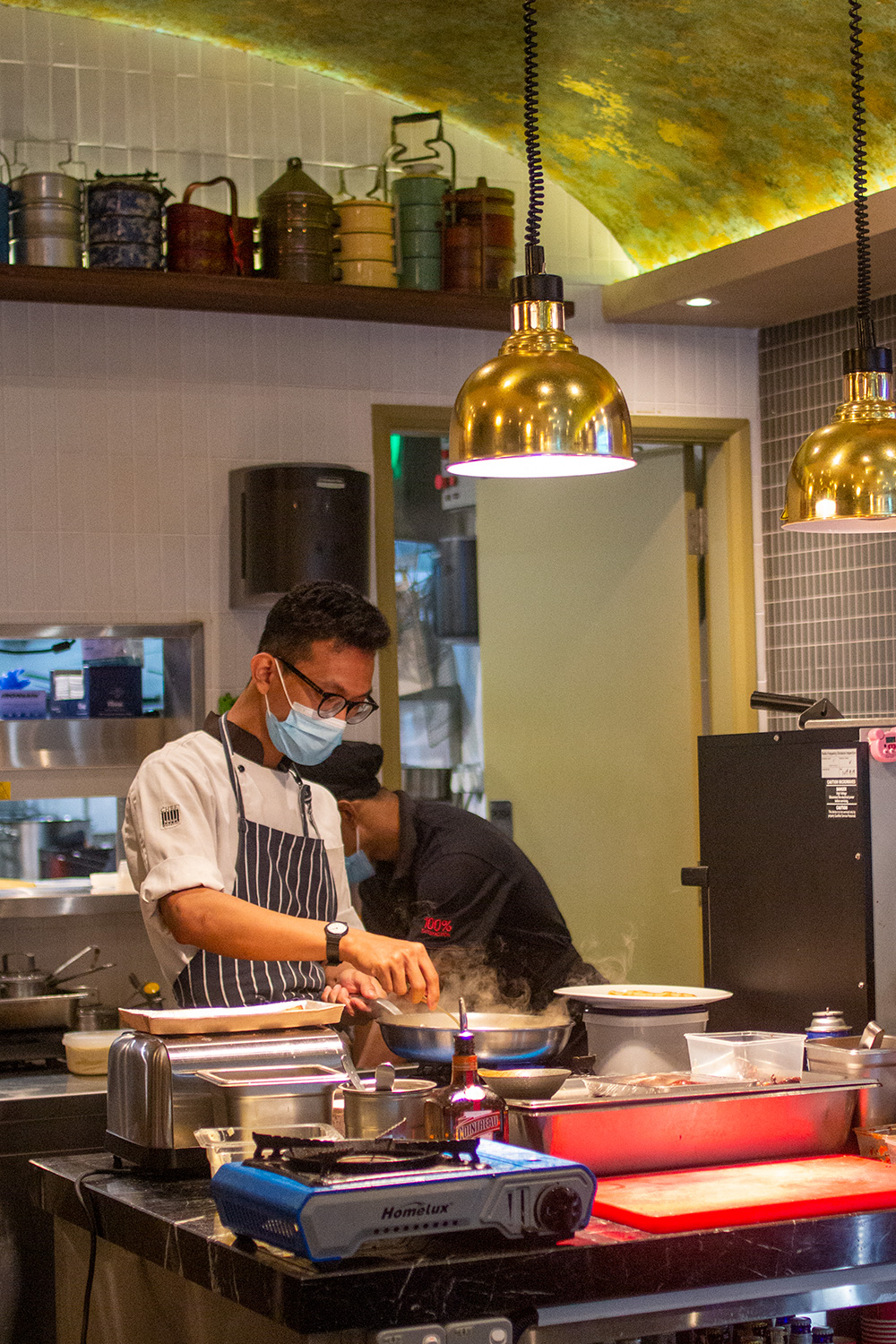 After 30 years of working in the cut-throat culinary industry, you'd think David Chin would be relishing every moment of his years in hard-earned retirement. But 5 years in and the veteran chef has returned to the scene – brows furrowed and back bowed to tend to a churning pot in the open kitchen during our first visit to Café Bistrot David one fine evening.
It was a full house then, so we decided to drop by again for lunch on a Thursday afternoon to steal a few minutes of the chef-patron's time. The restaurant is almost as occupied, but David kindly avails himself to join us at our seats. He looks slightly spent from a recent work trip and the morning's work. Yet, there's an eagerness in this voice as he launches into the context of his latest establishment.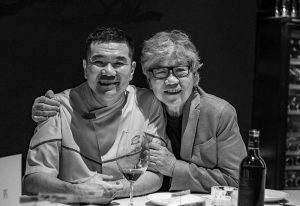 "One day as I was walking by this area," he regales, referencing the harried shop lots along Jalan Aminuddin Baki in TTDI, "I saw this place [was vacant] and thought maybe, just maybe, I'll open up a pie shop. Something simple lah."
"Then Darren said to me: 'Dad, if you want to do something, do it nicely. Let's make this your swan song,'" he goes on, betraying an affectionate look that hints at the kind of father-son relationship the two distinguished chefs share.
One thing led to another and the idea evolved into something "five times" more – in terms of both budget and the scale of the business. Is he happy with the outcome though? Without hesitation, he replies: "Yes."
A visual feast of nostalgia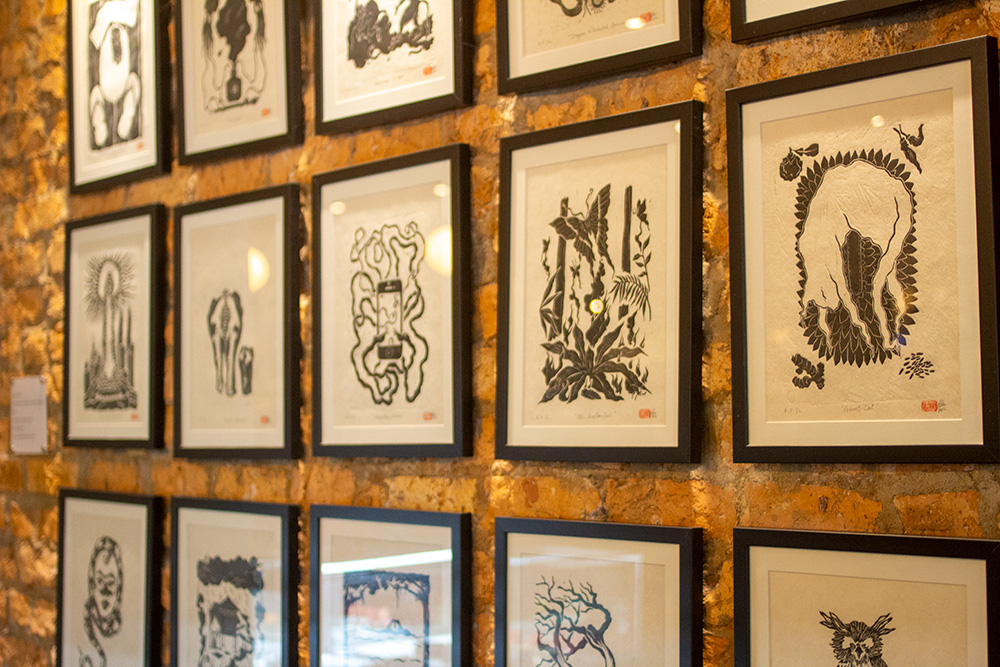 From the moment you step into the bistro, you can tell there's been a lot of thought put into the setting. Tall arched ceilings frame the space, with half of it covered in bricks to exude a rustic charm. The section above the bar cum chef's table area is washed in a brushed metallic blue finishing, adding a hint of sophistication. It all feels quite European-inspired.
Linocut prints of flora and fauna are stacked up against one wall, which David fondly attributes to his daughter, visual artist Sharon Chin. Elsewhere, a collection of black and white portraits accentuate the interiors' nostalgic ambience – photographed by SC Shekar, whom David considers a good friend.
"Dad, if you want to do something, do it nicely. Let's make this your swan song."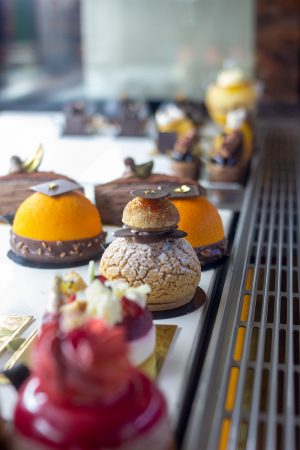 One may not be able to tell these things by appearance, so we count ourselves lucky to hear it first-hand from the man himself. If you're one to appreciate such personal anecdotes, we recommend taking the counter seats for higher chances to catch the chef for a conversation. All the more because they set the prelude for what to expect from the menu.
Speaking of, don't deduce this bistro's cuisine by its interiors. Yes, the Petit Gateaux, Classic Crepe Suzette and The Bread Basket (which starts our meal) suggest French leanings; but how then would one make sense of the roast duck and curry ramen?
The only logical explanation: it's not defined by any cuisine – it's simply David's style of cooking and eating, the way he likes his food.
Real food by passionate people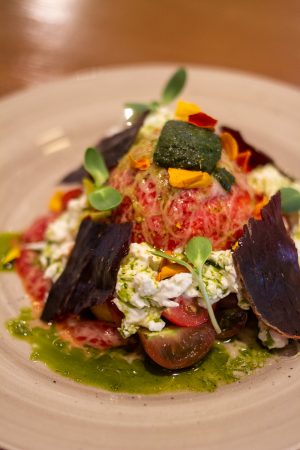 A burrata inspired by Bref's kicks things off after a side of sourdough bread. To differentiate his version, the sardine is substituted with crispy beef cecina to contrast the soft creamy cheese and accompanying stracciatella. Chitose heirloom tomatoes from Cameron Highlands, extra virgin olive oil and sourdough toast further balance the well-rounded dish with different textures and sweet and sour notes.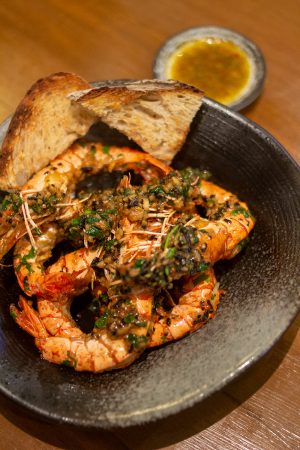 Tiger prawns find us next, bathed in a blend of garlic, parsley and kombu butter sauce with a splash of white wine. Fresh and bursting with aroma, the prawns are delicious as is – but dipping them into the nam jim (Thai chilli sauce) offers even more to shout about, especially for fans of spice. And David certainly is one.
The initial plan to start a pie shop isn't disregarded, as there's a section on the menu dedicated to his signature gourmet pies. Digging into the fish option, we're rewarded with a hearty mix of cod, halibut and Norwegian smoked salmon housed within a perfectly crumbly pastry shell. It's served alongside creamy mashed potatoes, mushy peas (hints of mint and coriander lighten the blend of canned French peas and anchovies here) and a thick fish emulsion that's remarkably flavour-packed without being too cloying. The gravy truly makes the dish one not to be missed.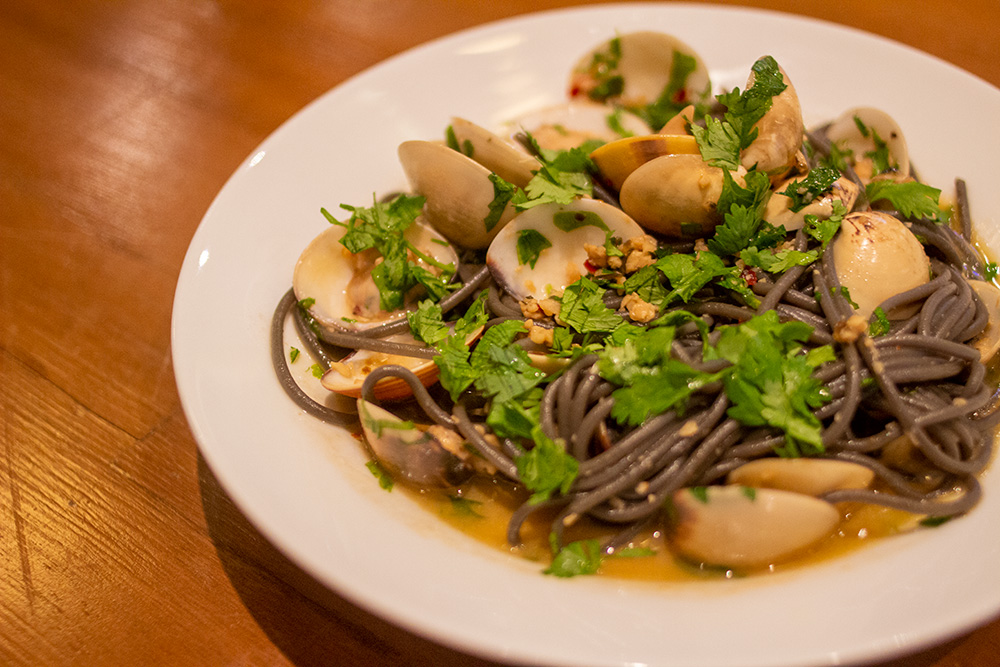 Our unintentional seafood trail continues with the Squid Ink Pasta Vongole, in which generous portions of fresh Sabah clams are marinated with garlic kombu butter for a juicy, mineral and buttery delight. The pasta isn't as umami as we'd like, but the broth of clam juice and white wine topped with cilantro and chilli flakes makes up for it with sweet, fragrant aromas that we can't stop helping ourselves to.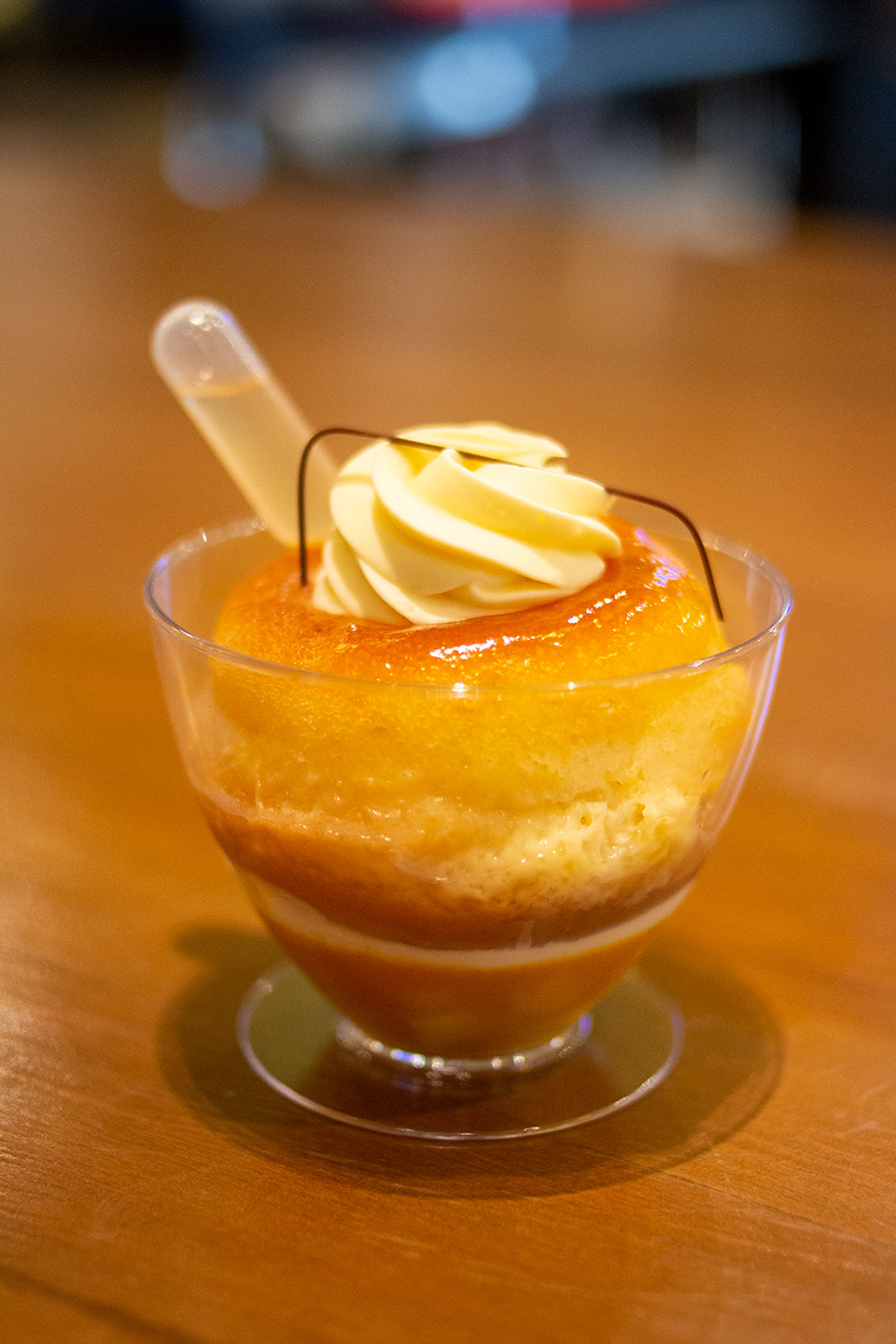 For dessert, we settle for the only alternative since we had the Classic Crepe Suzette on our maiden visit: the Classic Rum Baba. We are told it is made to arrive flaming on a pan, but no thanks to new SOPs due to COVID-19, we'll have to save the theatrics for another time. The sponge cake itself stays classic as its name suggests, consisting of sponge cake soaked in rum, mango and passionfruit puree, mascarpone and more rum in a mini pipette. After the heady dishes we've had, this decadent treat rounds it all off to leave us with sweet dreams for our afternoon nap. Or maybe that's the rum's doing…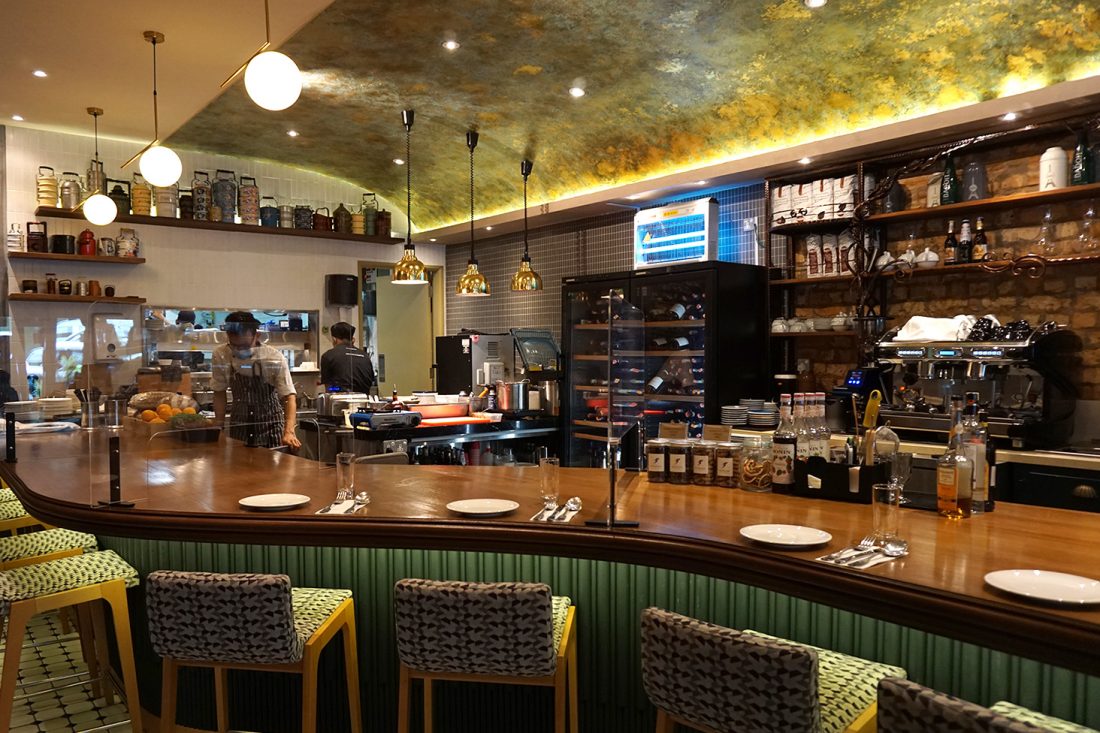 At Café Bistrot David, don't expect the best of the best. Expect real food by one passionate chef David Chin and his team, and you'll experience the joy of comfort food the way he would have it.
For reservations and enquiries, call +60377320332, email info@cafe-david.com or log on to the official website here.
Location: 135, Jalan Aminuddin Baki, Taman Tun Dr Ismail, 60000 Kuala Lumpur
Photography: Anson Siau