Awareness will lead to prevention, and prevention is better than cure.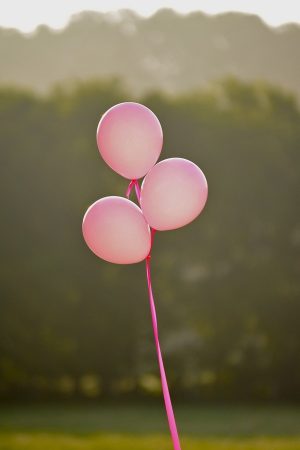 According to the Breast Cancer Welfare Association Malaysia, 1 in 20 women in Malaysia has a risk of getting breast cancer in their lifetime. Early detection of this disease is one of the best ways to contain its damage and treat it.
This alarming statistic is the reason there is Pink Ribbon month, in order to bring awareness to this disease.
In honour of increasing awareness of breast cancer, we've put together a list of ways that you can do your part to bring some light onto this issue, and to help a good cause. Creating a bigger buzz around such diseases will encourage women to get themselves checked. Prevention is better than cure.
Pink Afternoon Tea
Shangri-La Kuala Lumpur is collaborating with jewelry brand Bowerhaus to organise a special Pink-Themed Afternoon Tea event, complete with personalised Clover of Hope Pink Brooches – to raise funds for Breast Cancer Welfare Association (BCWA). Falling under the hotel's Pink October Awareness initiative, the Pink Afternoon Tea is  part of the effort to raise awareness on breast cancer and the importance of early detection. The Pink Afternoon Tea's menu is a specially curated selection of delectable savoury and sweet treats, made by theHotel's pastry team,headed by Chef Fariza. Among the indulgences are Salmon Choux Bagel with Watercress and Ikura, Garlic Shrimp and Avocado Crostini, Babaganoush on Beetroot Blinis, Pomegranate and Feta Cheese (vegetarian), Beef Pastrami Pinwheel with Sauerkraut and Mustard and Greek Tzatziki Chicken Salad with Mini Brioche. Some of the sweet treats that can be found on the tea stand include Petite "Queen Margaret" Handbag Cremeux, Pinky Candy Macaroon Lolly, Royal Jasmine Strawberry Charlotte, Red Framboise Sphere Velvet, Pink and Red Lipstick Praline, Forever Love Shape Praline and Strawberry Cupcake Fantasy.   Shangri-La will channel a sum from the Pink Afternoon Tea sales to BCWA. The Clover of Hope Pink Brooches will be available while stocks last. Pink Afternoon Tea is priced at RM190 nett for 2 pax. Guests can add two glasses of Sparkling Prosecco Wine for only RM310 nett for 2 pax. Call 03-2074 3900 for reservations and any further information, or you can visit their website here.
Date: Throughout October 2019
Family & Friends Charity Walk 2019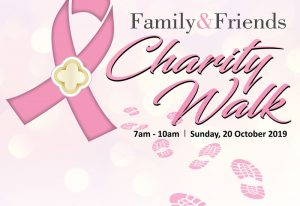 Shangri-La Hotel,Kuala Lumpur will be joining hands with Traders Hotel, Kuala Lumpur and CEPT to organise a Family & Friends Charity Walk to raise funds for Breast Cancer Association Welfare Malaysia (BCWA). It is expected that 300 participants including hotel guests, associates and their families, as well as cancer survivors will join the 5 km city walk to raise awareness of breast cancer. BCWA will also be offering a complimentary breast check session inside the MURNI Mobile Clinic – a service which will available to all participants and hotel guests from 7 am until 12 pm. Light refreshments will be provided before and after the event and there will even be entertainment for the kids! A short Zumba class will also be conducted by Suraya of Fitmania after the event. Click on to Shangri-La's website here for more information.
Date: 20th October 2019
The Pink Afternoon Party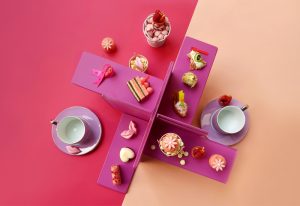 W Kuala Lumpur's Woobar is also on board the breast cancer support bandwagon, teaming up with the Breast Cancer Welfare Association Malaysia (BCWA) to raise funds for the spread of awareness of breast cancer – with a specially curated hi-tea set. The hi-tea set named "The Pink Afternoon Party" consists of  a pink-coloured medley of sweet and savoury dishes, such as Inari Sushi with Sakura Denbu & Trout Roe Pearls, Smoked Eel Custard with Caviar and Pink Tapioca Cracker, Earl Grey Tea Opera, Rose Lychee Macaron and Cape Gooseberry Scones. What a menu. The Pink Afternoon Party is priced at RM208++ for 2 pax and is available from throughout October 2019 from 3 pm to 5 pm everyday. RM20 from every purchase of a hi-tea set will be donated to BCWA, to support the cause.  For reservations, please contact 012 347 9088. Click on to the hotel's website here for further information.
Date: 1st-31st October 2019.
Pink drinks at Bar Trigona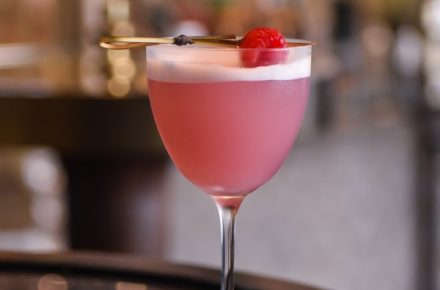 In honour of Breast Cancer Awareness Month or Pink October, the Four Seasons Hotel Kuala Lumpur is planning to attend a series of pink-themed promotions with the aim of raising awareness and funds for the Breast Cancer Welfare Association Malaysia (BCWA). If you enjoy an alcoholic beverage, this suggestion is for you. Sip some Pink Drinks at the Four Seasons' Bar Trigona, featuring the Pink Ribbon cocktail which is a mix of vodka, homemade vermouth, peach liqueur and ginger ale, while the Charlotte mocktail is a blend of cranberry juice, yoghurt, lime and grenadine. Priced at RM55 and RM 35 nett respectively, an RM 5 donation will be made to BCWA from each drink purchased.
Dates: The whole of October 2019.
Visit Four Seasons' website, for more information.
Pink Spa Day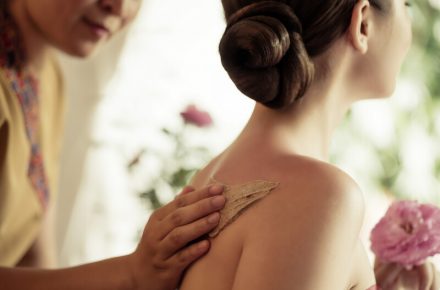 What better way to give back to society than by enjoying a Spa day? The Four Seasons Hotel is offering a carefully designed spa package that marries indulgence and healing into one lovely offering. Guests are invited to enjoy a revitalizing foot soak that is designed to ease stress and fatigue. This will be followed by a pink Himalaya energizing scrub and back massage targeted at those stubborn knots and niggles – leaving you feeling refreshed and recharged. The spa package is priced at RM360 per person, with RM10 being a donation to BCWA.
Date: The whole of October 2019.
Click here for more information.
October Afternoon Chari-Tea
The Banyan Tree Kuala Lumpur has teamed up with the National Cancer Society Malaysia (NCSM) in conjunction with Breast Cancer Awareness Month to present "October Afternoon Chari-Tea" which is a unique spin on afternoon tea which will be located at Altitude on level 53 of the hotel, to the backdrop of Kuala Lumpur's skyline. There will be many treats involving the colour pink, featuring a variety of classic, savoury and sweet favourites for the palate. 10% of all proceeds from tea time treats will be channelled towards National Cancer Society Malaysia for the sponsorship of women from low-income households to undergo mammogram screening at NCSM centres. This event is priced at RM98 nett per person and guests who wish to indulge further may also opt to pair their tea with a glass of Moet & Chandon Rose Champagne or a glass of Cassiopera Rosato Rose, at an all-inclusive nett price of RM198 and RM143 respectively.
Date and time: Available daily for the month of October between 2.30pm to 4.30pm.
Visit Banyan Tree's website for further information.
Wear It Pink: Pink Bazaar
Pantia Hospital Kuala Lumpur is organising a fund-raising bazaar called 'Wear It Pink: Pink Bazaar' from on the weekend of October 4th. Held at Lobby A of Pantai Hospital, visitors will spin the wheel to stand a chance to win prizes and a free Breast Self-Examination Demonstration. The bazaar will also have booths with handicrafts, plants, food, drinks and more. Proceeds from the bazaar will go to Breast Cancer Welfare Association, National Cancer Society of Malaysia, Breast Cancer Support Group Segamat and Cancerlink Temerloh. Participants can purchase bazaar coupons during the event or it can be purchased in advance from Block A, Level 9, Pantai Hospital Kuala Lumpur.  Tax exemption receipts will be given for every RM100 spend in a single receipt.
Date and time: 4th October (10am – 5pm) and 5th October (10am-1pm) 2019.
More information on the bazaar is available here.
Wacoal Pink Ribbon Awareness Ride 2019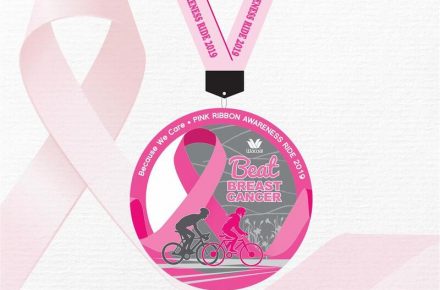 You can now even ride a bike for a good cause! The Wacoal Pink Ribbon Awareness Ride 2019 is a 25 km long fun bike ride beginning at Central Park Bandar Utama, Petaling Jaya. The event happens on a yearly basis and is done to create awareness for breast cancer during this special month. The slogan is "Because We Care" is a message warmly spread every time these bike riders come out to support breast cancer awareness. There is even a Best Dressed Bike Prize worth RM1,000 to be given away! The registration fee is RM45 and includes a T-shirt, a medal, a meal and a goodie bag.
Date and time: 6th October 2019. Arrival of participants will be at 6.00am while flag off is at 8.00am.
You can purchase tickets for the ride here.
(Photos: Respective brands)