Cocktails made with rum are highly popular and among the most refreshing drinks in history. Nothing beats a cool mojito to conclude the day or sipping a pina colada while on a tropical vacation. Thanks to their brilliant inventors, rum cocktails are available in a wide range of flavours and are often ideal for drinking and celebrating any event. If you're not familiar with rum cocktails, you should check out our guide to rum cocktails to familiarize yourself with these iconic drinks.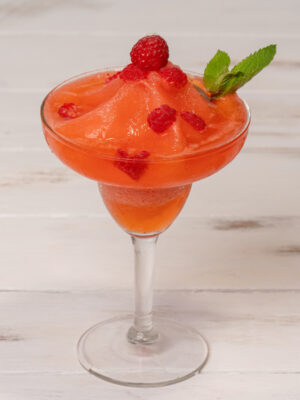 Daiquiri: One of the most popular rum drinks, the daiquiri, is credited to an American mining engineer during the Spanish-American War. rum, lime juice, and simple syrup are all you would need to make a daiquiri. Another famous daiquiri cocktail is the strawberry daiquiri – a blender drink of puréed whole strawberries, rum, cane sugar and lime juice.
Rum and Coke: Often known as the Cuba libre, it is a highball drink made with cola, rum, and in some cases lime juice. Coca-Cola is typically used as the cola's main ingredient, and light rum like Bacardi is used as the alcohol. The cocktail first developed in Cuba in the early 20th century after its independence during the Spanish-American War. Following that, it gained a following in Cuba, the US, and other nations. According to Bacardi, rum and coke is the second-most popular alcoholic beverage in the world. 
Hurricane: It is a sweet alcoholic drink made with rum, lemon juice, and either passion fruit syrup or fassionola. It is traditionally served in the tall, curvy eponymous hurricane glass. It was developed at the renowned Pat O'Brien's bar in the 1940s and has since become New Orleans' signature drink. 
Mai Tai: A classic cocktail consisting of rum, Curaçao liqueur, orgeat syrup, and lime juice. It is one of the signature drinks of tiki culture. In the 1950s and 1960s, the Mai Tai gained such a following as a drink that it was offered at several establishments, particularly those with a tiki theme. A traditional Mai Tai is a powerful, tart cocktail with rum flavour that comes through strongly and finishes with a hint of orange and lime taste.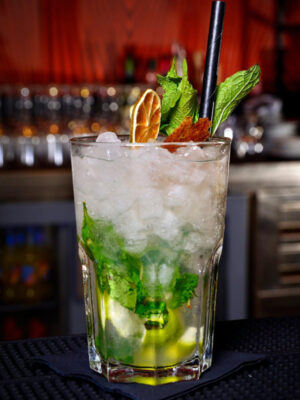 Mojito: One of the most cooling beverages you'll ever have the pleasure of drinking. Rum, mint, lime, sugar, and soda are the only components needed for this simple beverage. The mojito is a well-known summer beverage because of its blend of sweetness, citrus, and herbaceous mint characteristics that are meant to go well with the rum. A very well-liked beverage, it was frequently cited as author Ernest Hemingway's preferred beverage.
Dark n' Stormy: A highball cocktail with dark rum, ginger beer, and lime garnish that is typically served over ice. Simple syrup and lime juice are frequently added as well. Barritt's Ginger Beer and Gosling Black Seal rum were used to create the first Dark 'n' Stormy. The drink, according to Gosling Brothers, was created in Bermuda soon after World War I.
Jungle Bird: The original Jungle Bird recipe includes generic dark rum, Campari, pineapple juice, lime juice, and simple syrup. The drink is a balanced blend of sweet, tropical rum and just the proper amount of bitter Campari flavour. It is also said that the earliest confirmed Jungle Bird cocktail recipe dates back to 1978 at the former KL Hilton's Aviary Bar on Jalan Sultan Ismail in Kuala Lumpur.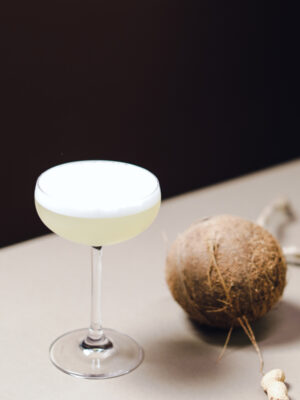 Pina Colada: Rum, cream of coconut, coconut milk, and pineapple juice are the main ingredients in the pina colada cocktail, which is typically blended or shaken with ice. A wedge of pineapple, a maraschino cherry, or both may be used as a garnish. Rupert Holmes' 1979 song "Escape (The Pina Colada Song)," which became a global smash hit, helped the drink become famous all over the world.
Cable Car: Tony Abou-Ganim invented the drink known as the "Cable Car" in 1996. It honours the Starlight Room in the Drake Hotel in San Francisco and is a contemporary take on the traditional Sidecar. Captain Morgan Spiced Rum, orange Curaçao, and lemon sour are typically used in the mix, which is also usually finished with a rim dusted with cinnamon sugar. It is a tart beverage that perfectly complements curacao's sweetness.
Rum Swizzle: A rum-based cocktail often called "Bermuda's national drink". To make a Rum Swizzle, you will need dark rum, light rum, pineapple juice, orange juice, and falernum or grenadine. Icy drink mixtures with rum, later identified as Rum Swizzles, have been mentioned in literature in a variety of locations since the mid-18th century. Today the Rum Swizzle is often associated with The Swizzle Inn of Bailey's Bay, Bermuda, which is known as "the home of the Rum Swizzle".