This solves qualms about finding the nearest ATM machine when you're running out of cash and/or carrying a wallet full of debit and credit cards everywhere you go.
By 2050, Malaysians could very well be going out with nothing but a mobile phone or gadget in hand – and maybe a cardholder carrying an identity card and driver's licence, but that's about it.
Our vision of a cashless society is no longer just that, but a growing representation of the present and future reality of businesses. This dovetails with the rising trend of e-payment, also known as digital payment or contactless payment, which basically allows consumers to make payments online or via a mobile application.
There are various types of e-payment services today, including e-wallets, internet banking, electronic fund systems, electronic cash systems and online stored value systems. Arguably the most convenient of them all is the e-wallet, which stores partner credit, debit, prepaid and loyalty cards in a single application so you can pay bills or purchase items from one place.
It's as simple as it sounds: open the app and tap your phone on a contactless terminal or scan the QR code at the payment counter for in-store payments; or select the biller code on the app for online payments. This solves qualms about finding the nearest ATM machine when you're running out of cash and/or carrying a wallet full of debit and credit cards (not to mention additional loyalty cards) everywhere you go.
Here are 9 e-payment services available in the country to get you started.
Alipay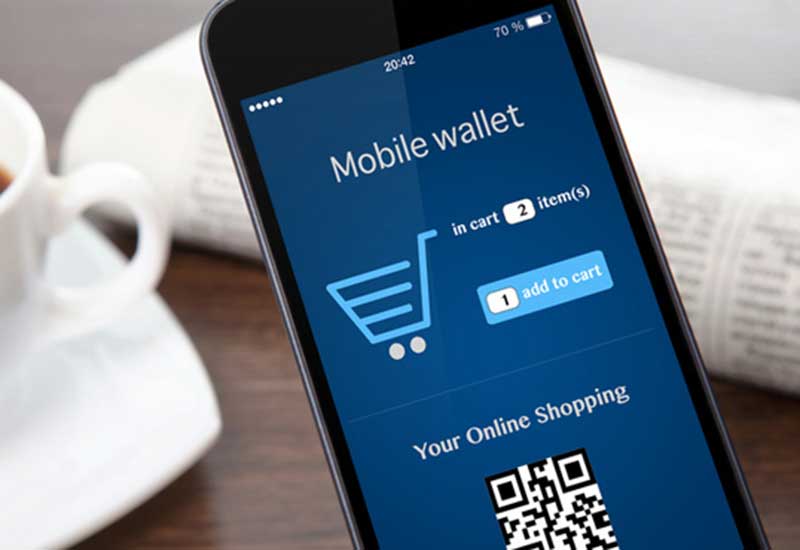 Launched in China in 2004 by the Alibaba Group and its founder Jack Ma, Alipay is one of the world's largest mobile and online payment platforms. It was introduced to Malaysia in May last year and is currently operated by an affiliated Ant Financial Services Group.
Alipay is accepted in over 18,000 merchants nationwide including all 7-Eleven and Starbucks outlets, as well as merchants in KLIA and KLIA2. A list of food and beverage outlets at Resorts World Genting, Awana Skyway station, SkyAvenue station also accept Alipay as a mode of payment. However, only Maybank, CIMB and Public Bank cards can be used with the app in Malaysia at the moment. The Alipay app is available on the the Apple App store and Google Play store. W alipay.com
Boost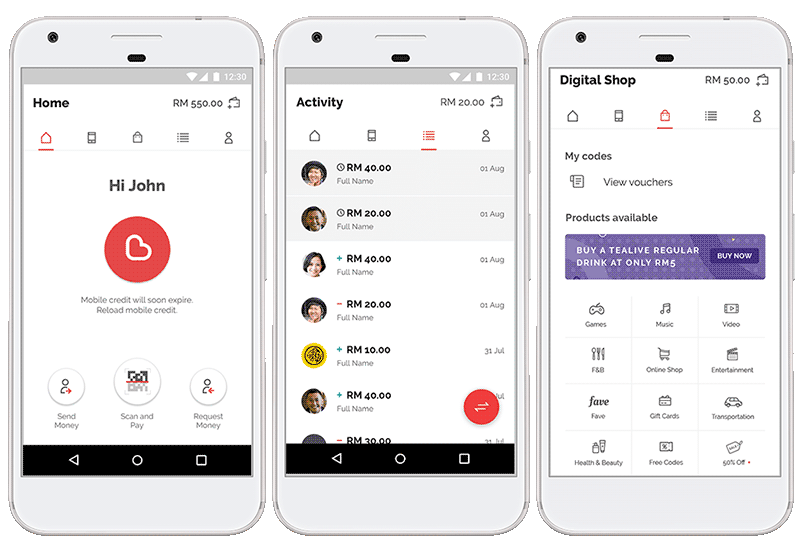 Developed by Axiata Digital Services Sdn Bhd, Boost started its course as a loyalty program using a prepaid system in January last year. Through the Boost app, users were able to collect loyalty rewards, send and receive e-vouchers, and transfer or receive money. Since October last year, it added a new mobile wallet feature targeting three categories of merchants.
The largest category, accounting for about half of its 5,500 partners, are cash-based merchants such as food trucks, hawkers and other small eateries. The second category involves more established merchants such as cafes, restaurants and retailers with payment systems that are tied to point-of-sales (POS) terminals. Both categories require users to scan a QR code and authorise the payment via a PIN code. On the other hand, the third category comprises online merchants like Zalora, Lazada and Shopee. The Boost app is available on Apple App Store and Google Play store. W myboost.com.my
CIMB Pay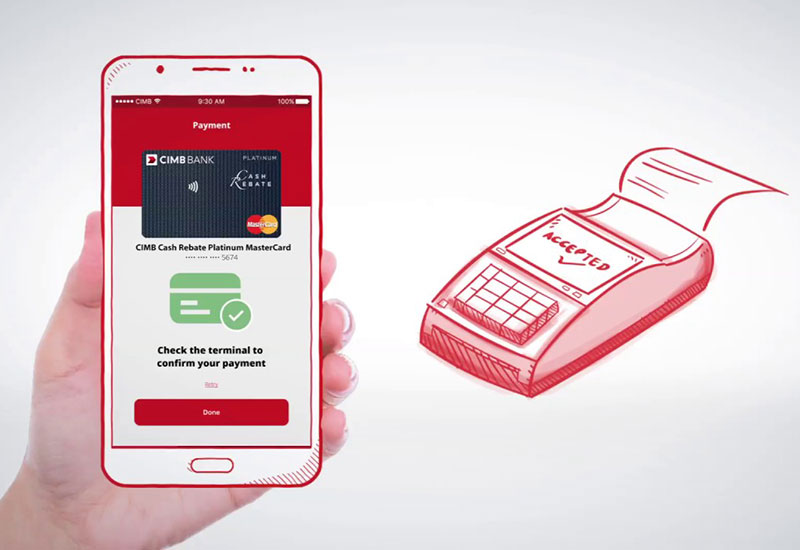 Practical for those who make transactions mostly with CIMB Bank cards, CIMB Pay works seamlessly for in-store and online payments. The former only requires users to launch the app with a PIN code or fingerprint and tap on Mastercard Contactless or Visa payWave terminal to make a payment; while the latter functions like most conventional online payment systems.
However, the CIMB Pay only works with Android devices with NFC (Near Field Communication) technology and running on Android 4.4 or higher. Available exclusively on the Google Play Store. W cimbbank.com.my
FavePay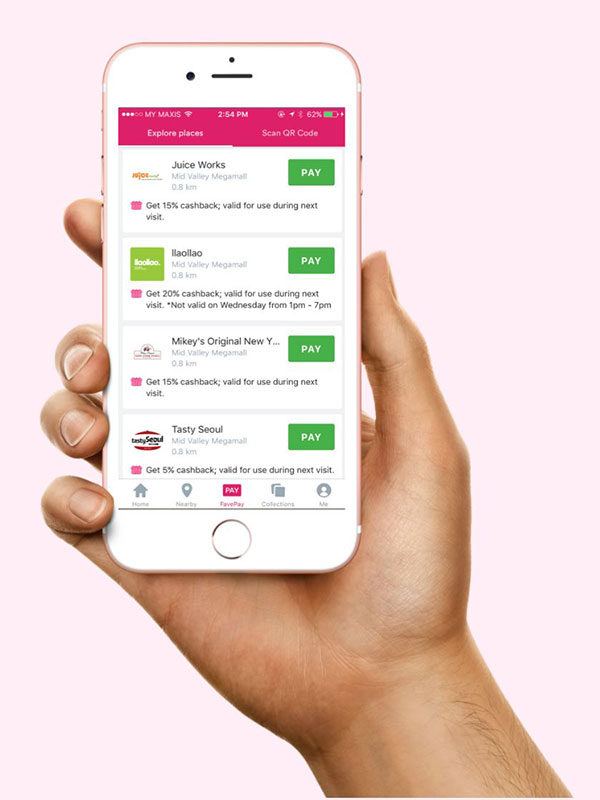 Deals and cashback service provider, Fave (formerly Groupon) launched its mobile payment feature in September last year. Due to the nature of its business, FavePay functions slightly differently compared to others on this list. On top of offering simple and efficient mobile payment services, every payment via the app entitles users to special deals, discounts or cashbacks.
FavePay announced a 200% transaction growth in Q1 this year, with more than USD$10 million (approximately RM40 million) transactions made using the platform since its launch. It is also available in Singapore and Indonesia, with plans to expand to the rest of the region. The FavePay app is available for download on the Apple store and Google Play store. W myfave.com
GrabPay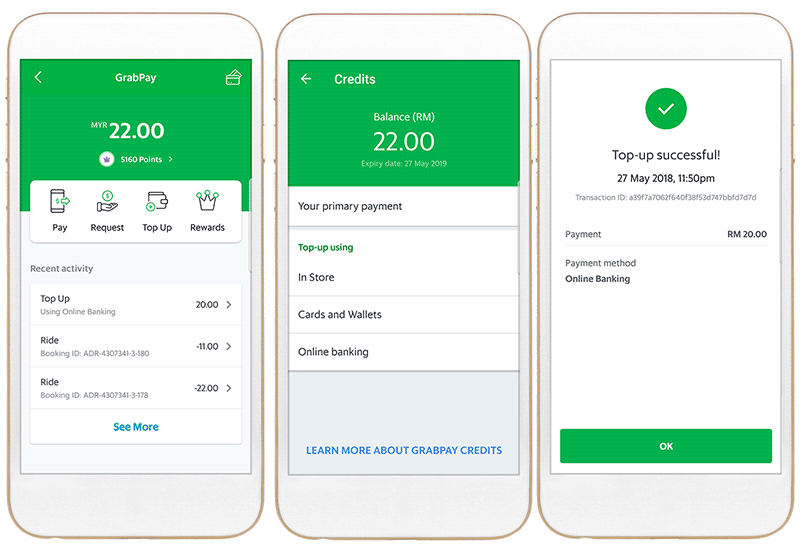 Initially, GrabPay was a means for Grab users to enjoy cashless payments for their rides through a debit or credit card. Last month, the ride-hailing company launched the GrabPay mobile wallet and GrabPay Credits in Malaysia, offering a wider scope of e-payment services in partnership with local service providers.
Currently, GrabPay can be used to make transactions at 500 merchants, mostly comprising F&B outlets. The company hopes to double this number in the next two months, as well as expand its partnerships to encompass the public transportation industry. It has also introduced a new a peer-to-peer fund transfer feature, whereby users are able to transfer money via phone numbers (an upgrade is required for this function). The new features have been integrated into the existing Grab application, available on both Apple store and Google Play store. W grab.com
MaybankPay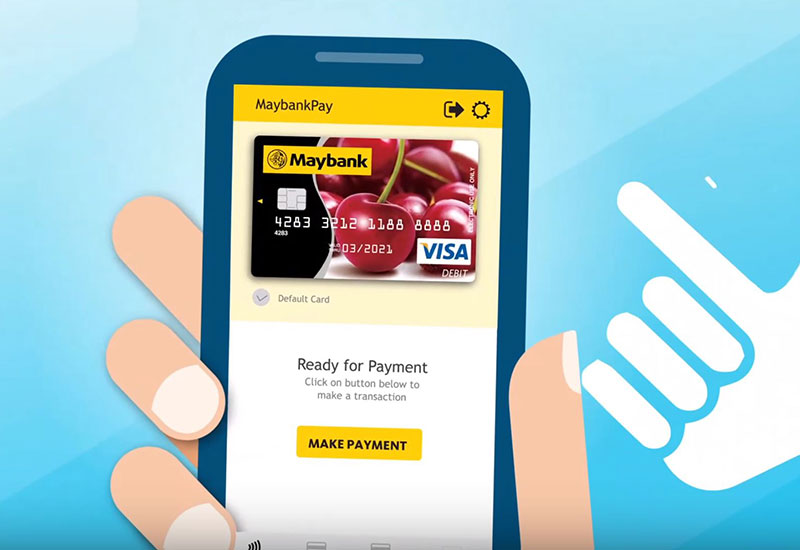 MaybankPay essentially functions like CIMBPay, except it only works with Maybank debit, credit and prepaid cards. It was the pioneer of mobile wallets from banking firms here in Malaysia, despite the slower adoption rate back then.
Also like CIMBPay, the Maybank Pay app only works with Android devices with NFC (Near Field Communication) technology and running on Android 4.4 or higher. Available for download on the Google Play store. W maybank2u.com.my
Razer Pay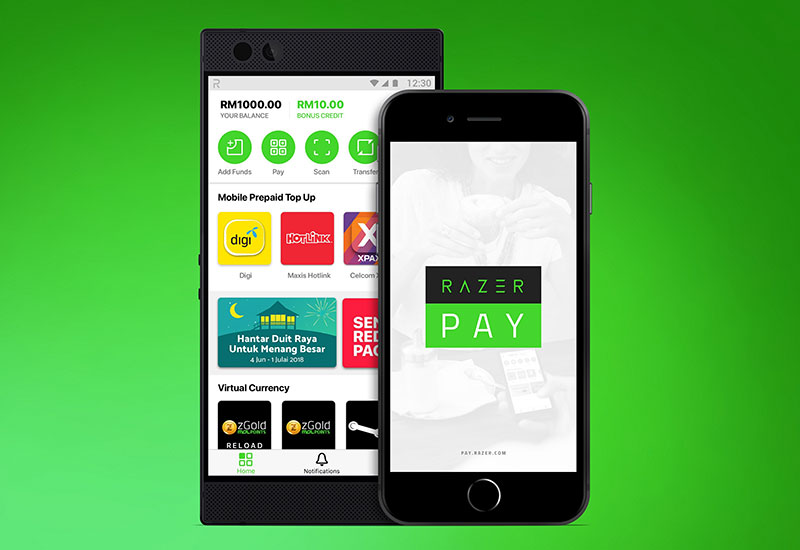 Latest to join the list is Razer Pay, the product of collaboration between Razer, the world's leading gaming hardware company, and Berjaya Corporation Berhad. Unveiled just last week, Razer Pay can be used at over 6,000 Berjaya Group outlets, including 7-Eleven, Starbucks, Wendy's, Kenny Rogers, Cosway, Singer, 99 Speedmart and more. Besides that, users can perform instant prepaid mobile top ups and transfer funds to existing bank accounts, plus send or request funds to other users.
Razer Pay boasted what could be the speed record for e-wallet adoption in the region – 300,000 users signed up on the platform within 48 hours of its roll out. This, in part, could be due to the incentive of RM10 bonus credits upon downloading the app and additional donation of RM10 by Berjaya to Tabung Harapan when users make a transaction at its participating outlets (now until 31st August only). Available for download on the Apple store and Google Play store.  W pay.razer.com
Samsung Pay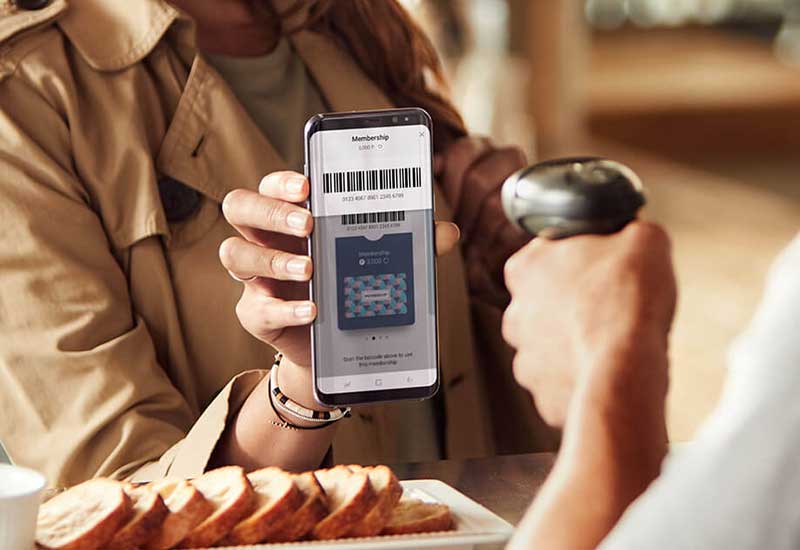 Samsung mobile phone (Android 6.0.1 or higher) and Gear S3 users have enjoyed e-payment services for years now, despite a slow adoption rate locally. The way Samsung Pay works is slightly different – it uses a technology called Magnetic Secure Transmission (MST) and Near Field Communication (NFC) to make payments at contactless terminals nationwide.
The Samsung Pay app follows an easy 3-step process: scan your fingerprint or iris and enter a pin to authorise and verify your identity; snap a photo of your debit and credit cards or scan the barcode on your loyalty cards; and enter the necessary card details to start making payments. The Samsung Pay app is available on Google Play and Galaxy Apps. W samsung.com
Related:  The Samsung Galaxy S9 may be the most expensive – and last of its series
Vcash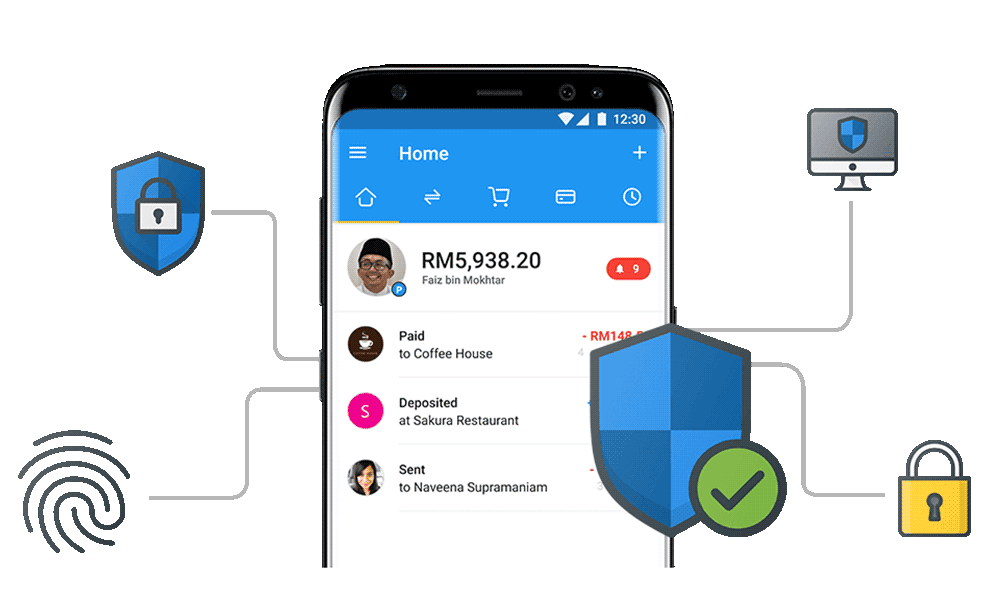 Initiated by the venture building arm of Digi Telecommunications Sdn Bhd, Vcash goes beyond the function of a mobile wallet – offering not only digital payment services, but also bill sharing with friends, prepaid credits and instant transfers to any Malaysian phone number. On top of that, the application allows users to pay their bills via the JomPay and Online Banking features assimilated into the app.
Vcash is now accepted at over 300 merchants including Manhattan Fish Market, Life Juice, New York Steak Shack and more. The vcash app is available on the Apple store and Google Play store. W vcash.my
Images: Courtesy of respective service providers