Keep your immune system up with these comforting, easy-to-tackle recipes at home.
We're halfway through the third week of MCO, and let's face it – some of us are feeling the days blur together and our bodies getting more sluggish. Our bodies are feeling worn out and are in dire need of some nourishment.
Now we've already shed some light on some of the most important nutrients to keep your immune system flourishing, but how does that translate in a meal? Eventually even the routine of constantly ordering in your food can bore us, so why not try making use of the time you have at home and whip up a meal? We've got 3 super easy recipes for you today, that aren't just great for satisfying your appetite, but are also a powerhouse for your immune system.
Cucumber Salad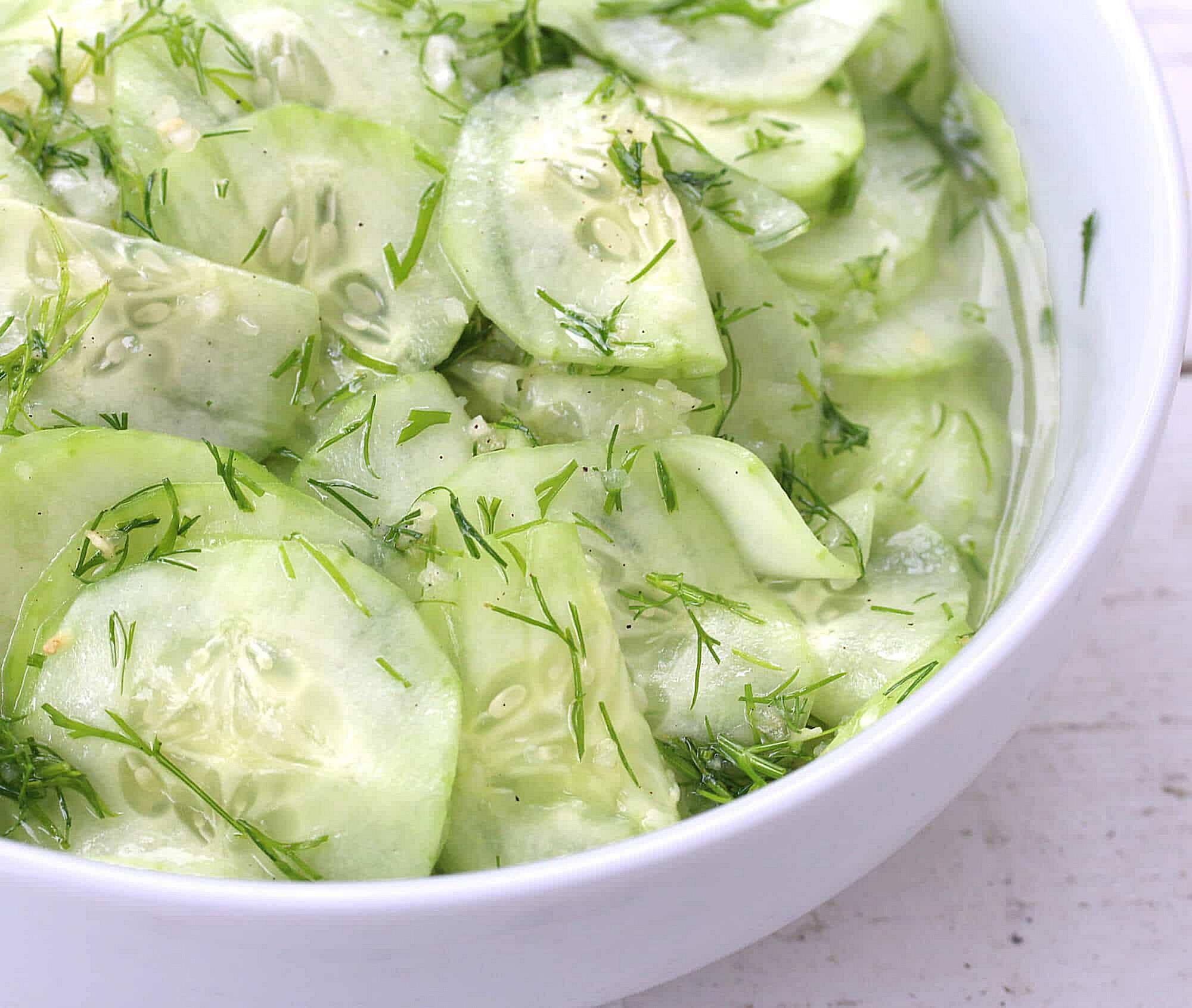 Cucumbers are more than hydrating and revitalising gourds that can double as the occasional eye mask, they're also incredible immunity boosters thanks to them being rich in potassium, magnesium, Vitamins C, B1, B2, B6, and zinc.
This can be eaten straightaway at room temperature, but allowing the cucumbers to chill and marinate for at least an hour will help allow the flavours to meld together better. And it just seems more sensible to have a refreshing cold salad in Malaysian weather!
Ingredients
4 Cucumbers, thinly sliced

1 small white onion, thinly sliced

1 cup white vinegar

1/2 cup water

3/4 cup white sugar

1 tablespoon fresh dill, or to taste
Directions
Toss the cucumbers and onion together in a large bowl.

In a saucepan over low to medium heat, combine the vinegar, water, and sugar. Bring to a gentle boil, and let it cool before pouring over the cucumber and onions.

Gently stir in the dill, before covering and refrigerating until cold.
Grilled Salmon with Green Beans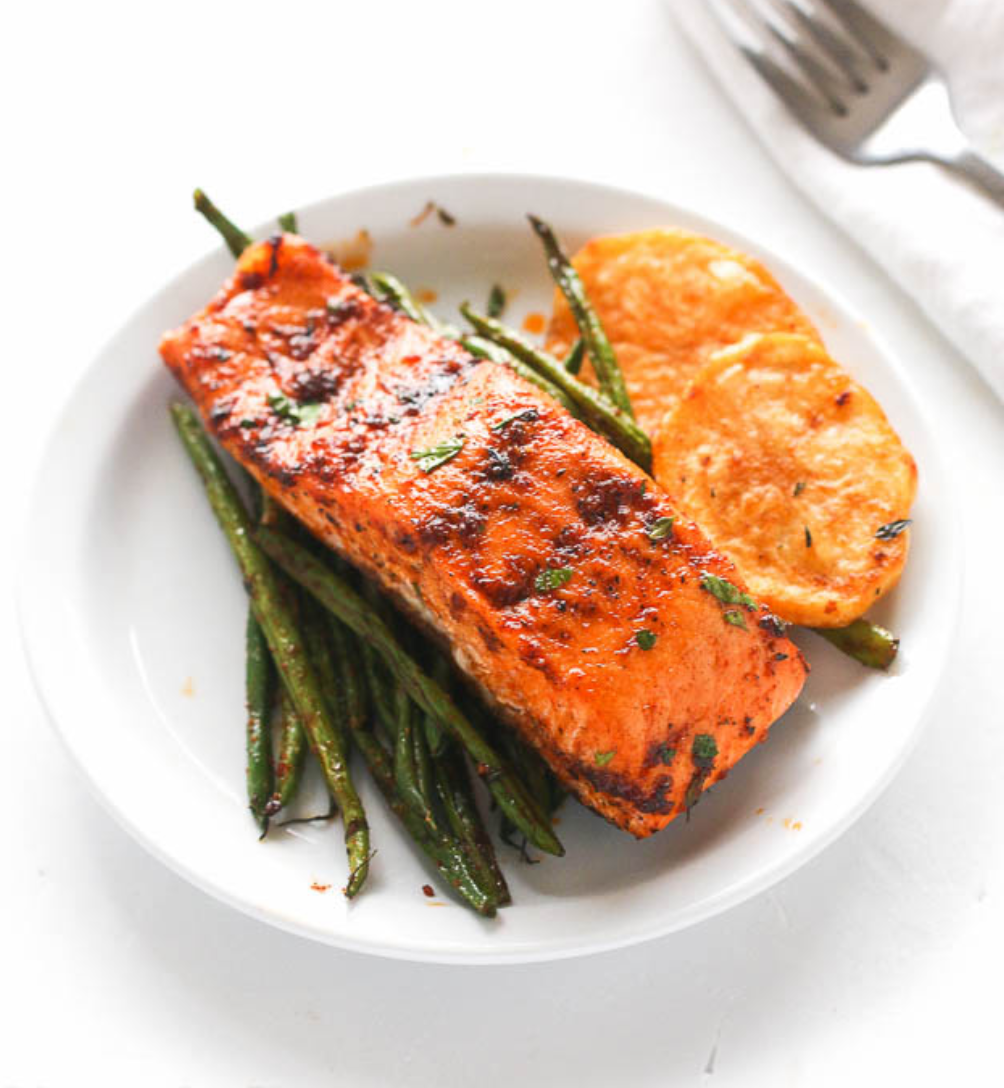 We already know that salmon is a powerhouse of nutrients that can help improve our immune system functions while having anti-inflammatory effects, due to its rich content in Vitamins A and D, Selenium and Omega 3 fatty acids.
Serve it with a side of green beans with lemon and garlic, and you'll get the perfect lunch or dinner dish that's incredibly nourishing and delicious. Green beans are an excellent source of fibre, carotenoids, flavonoids and lutein that can help fight free radicals. It's also known that garlic and lemons are great for their antibacterial and antiviral properties.
For the Salmon:
200-250 grams Salmon, preferably with the skin on

1/4 teaspoon dried rosemary

2 tablespoons of olive oil

salt and freshly ground pepper

1 lemon wedge
Directions:
On medium-high heat, coat your pan with olive oil.

Sprinkle flesh side with rosemary, and season with salt and pepper according to your liking. Lightly squeeze lemon juice over the salmon.

Place salmon skin-side down onto the pan and cook for about 4 minutes per side until it flakes with a fork. The timing can vary depending on the thickness of your salmon, but try to avoid cooking for more than 6 minutes on one side.
(Tip: for an extra kick of flavour, try rubbing the salmon with some olive oil and paprika.)
For the Green Beans:
1 packet or roughly 200-250 grams green beans, washed and ends trimmed

2 tablespoons olive oil

1 tablespoon of butter

3 large garlic cloves, minced

1 teaspoon red pepper flakes

1 tablespoon lemon zest

salt and freshly ground pepper
Directions:
Blanch your green beans by cooking them in a large pot of well-salted boiling water for 2 minutes (or until bright green and tender-crisp in texture), before draining them and shocking in a bowl of ice water to prevent overcooking.

Heat oil and butter over medium heat in a pan or heavy skillet. Add garlic and red pepper flakes to sauté until fragrant (approximately 30 seconds). Add the beans and continue to sauté until coated in the fats and heated through – should take about 5 minutes. Season with salt and pepper to taste and stir in lemon zest before serving.
Bone Broth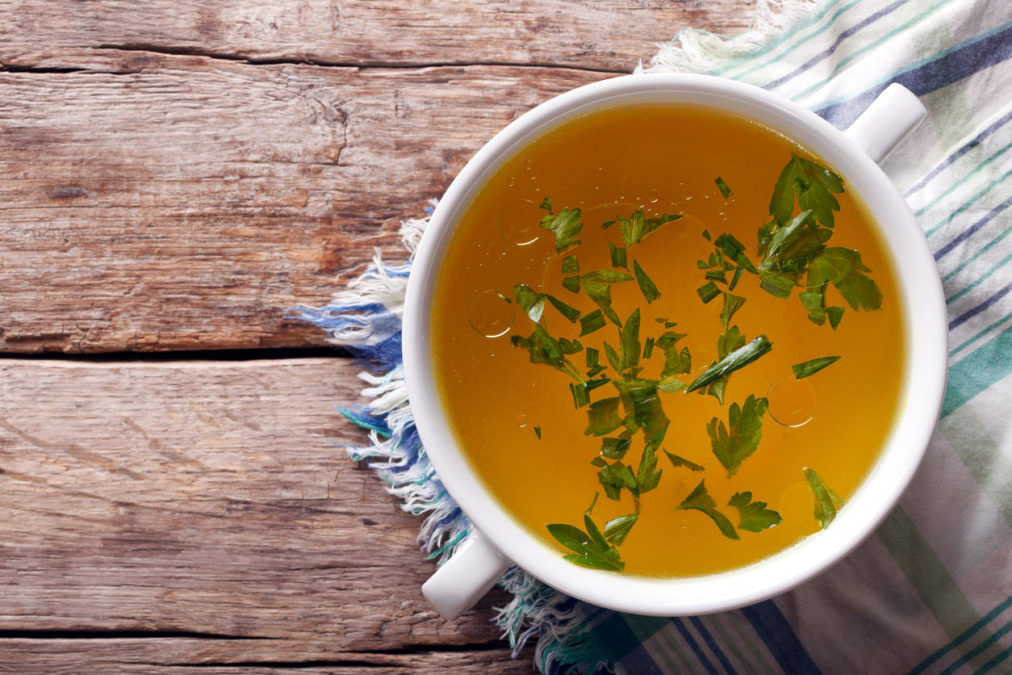 Whether you need it as a soothing warm drink to sip on, or as a stock for stews, bone broth is hands-down one of the most essential recipes you need in your culinary arsenal. It's packed with calcium, magnesium, potassium, phosphorus and a medley of other trace minerals to help keep your bones and joints healthy. Its reputation as an immunity booster is also known thanks to it containing Vitamins A, K2, zinc, iron, manganese and Omega 3 and Omega 6 fatty acids.
Bone broth can be frozen, or if you need it quick during the week, it can last up to 7 days in the refrigerator.
Ingredients:
3 unpeeled yellow onions, quartered

6 chunks of ginger

2 bay leaves

2 whole heads of garlic

1 whole chicken that's been broken down into parts

1kg mix of chicken bones and chicken feet

salt and freshly ground pepper for seasoning

2 tablespoon fish sauce (more or less to taste)
Directions:
Roast onion, garlic and ginger at 200°C for 30 minutes until the the skins are browned. This helps to deepen the flavour of the broth while lending a rich colour.

Put the bones, chicken bones, chicken parts, and aromatics into a stockpot and cover with cold water.

Bring to a boil and skim any scum that rises to the surface. Simmer until the chicken is cooked (should take about 25-30 minutes) before removing the chicken and transferring it to a plate to shred the meat.

Return the chicken bones to the stockpot and let it simmer for 5-7 hours.

Strain the broth and cook over high heat for 15 minutes to reduce and concentrate the broth. Stir in the fish sauce to taste.