While it's largely a tribute, the new Rolls-Royce Silver Ghost is bolder, better, and a lot more silver.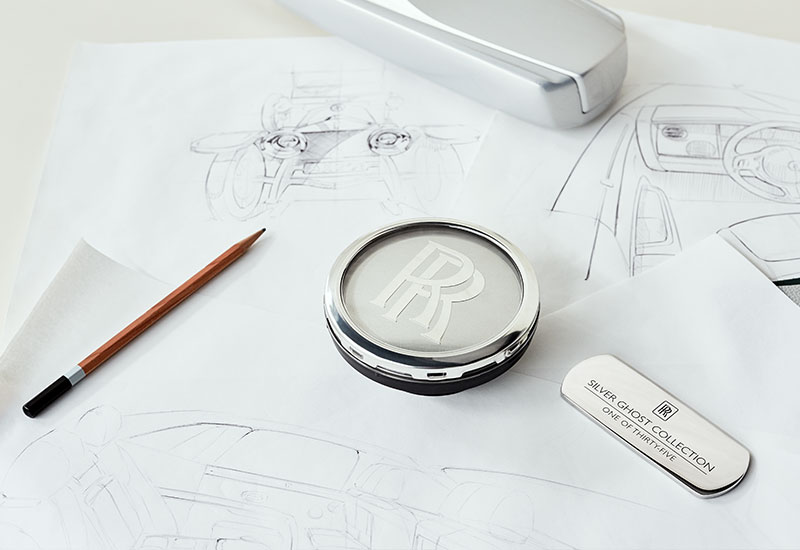 Rolls-Royce was already ahead of its time in 1904, when Sir Henry Royce's 'Silver Ghost' went 14,371 miles non-stop. The Hon. Charles Rolls and Clause Johnson set the long distance endurance record with a 40/50 hp chassis and 4/5 seater touring body.
Johnson, managing director of Rolls-Royce Limited at the time, recognised the car's silent, suave strength and selected it for several high-profile competitve trials since that feat.
This year, Rolls-Royce is paying homage to this classic witha special release: 35 models of the 2018 Rolls-Royce Silver Ghost Collection. The Goodwood team has updated Silver Ghost's most outstanding features to match its luxury status today, including:
Identity stamps
The iconic Spirit of Ecstasy stands proud in solid sterling-silver, dwelling on a black-gold plated collar with copper inserts. The new Silver Ghost Collection also bears the registration plate of the original, Hallmark of AX201. This is an honour the British Assay office does not afford easily.
Metal Fineness and Assay Office town marks also accompany the eponymous 'RR' badge.

Hand-crafted exclusivity
Bespoke work has always been at the core of Rolls-Royce. From the Cassiopeia Silver exterior to a pure silver coachline, it exudes the finess of carefully-honed speciality. Black painted grille veins harkening the original Silver Ghost stands loud and proud, contrasting fully-polished wheel centres engraved with 'SILVER GHOST – SINCE 1907'.
Regal details
In another nod ot the parent model, the new Rolls-Royce Silver Ghost opens up to Forest Green leather interior. New silver elements add a regal touch, including silver-tipped leather, delicate silver onlay, and a solid silver ingot bearing the engraving 'Silver Ghost Since 1907'.
Even the famous Rolls-Royce umbrellas get an upgrade with silver-coloured binding and open-pore Tudor Aoak handle (engraved, of course).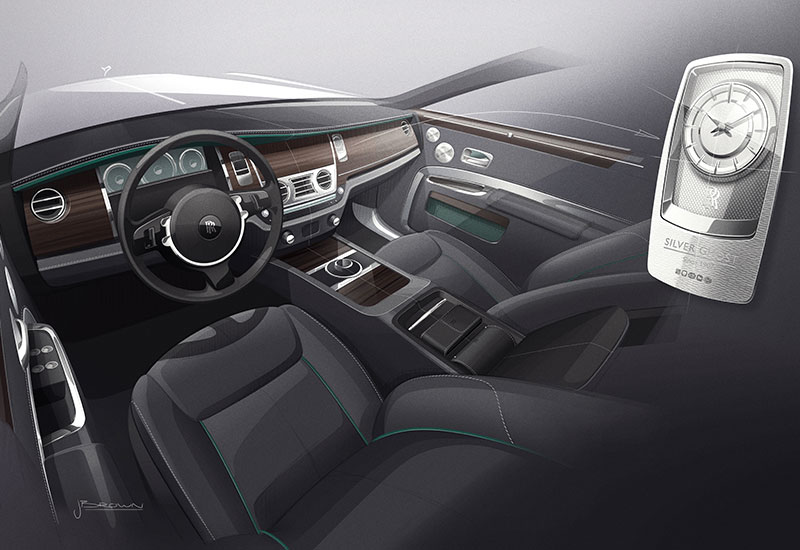 Bolder aesthetic
A tribute is for naught without innovations that reflect its evolution. For these 35 models, the most striking difference would be the bold, sculpted facade. The Ghost's menacing grill frame is pushes forward with a stronger sweep back into the front wings, while its deep-set grill vanes and redesigned front bumper lend dynamism and symmetry.
This is one Ghost deserving of more than a second look – but don't let the new 21-inch wheels spook you.
Technological advancements
Clearly, the Phantom's record for most silent car in the world isn't stopping Rolls-Royce. The new Silver Ghost is better padded with dampening materials that work with the new acoustic film fitted in between glass layers of the side and rear windows.
The new most-silent car supports an exciting new multimedia entertainment system that responds to natural speech. To make the deal sweeter for your driver, navigation is also improved in 32 countries thanks to Real Time Traffic Information.
For more on all things Rolls-Royce, visit the official site.
Related: Rolls-Royce Cullinan, the 4×4 named after a diamond