The new Phantom elevates the Rolls-Royce experience with revolutionary architecture, top-quality materials, and class-leading innovative features.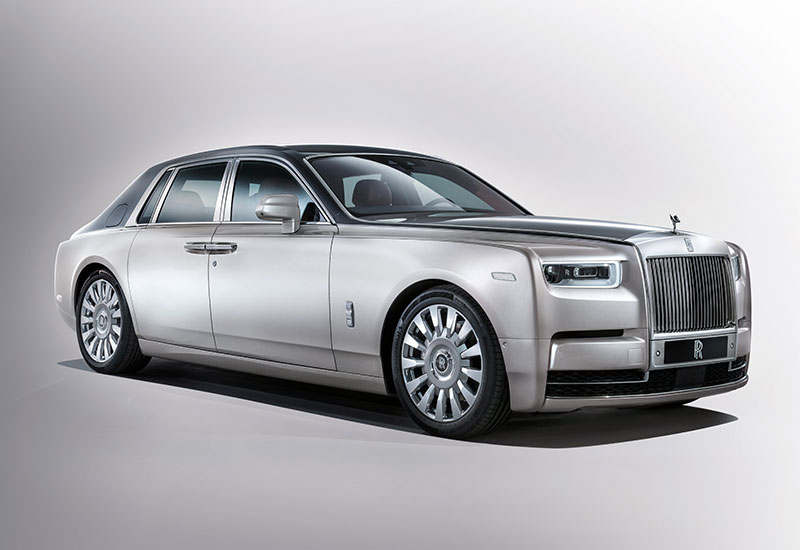 Ladies and gentlemen, announcing the latest addition to the Great Eight: the eighth-generation Rolls-Royce Phantom.
While the Phantom VII's spaceframe architecture was a solid starting point, Rolls-Royce aspired to elevate the build of this luxury car not just in this latest model, but also in all future coachbuild projects – and the result has proven nothing short of stunning.
Architecture of Luxury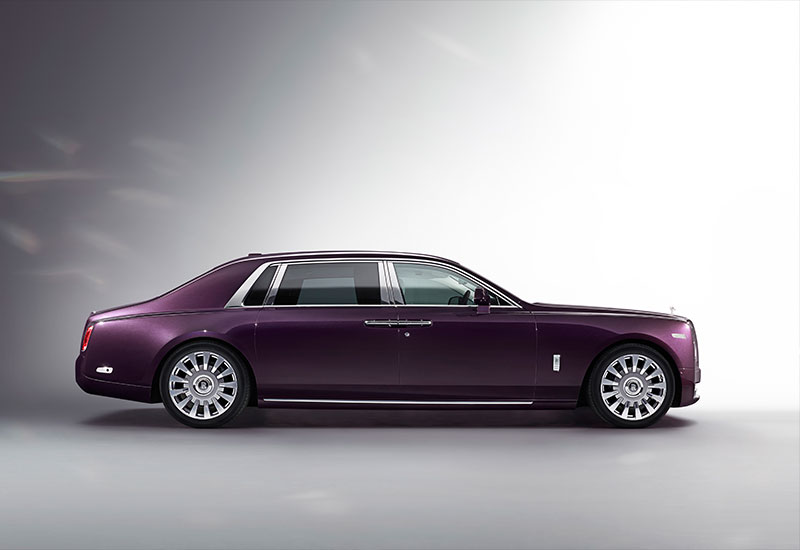 "The side view design theme of Phantom recalls the elegance of Phantom V. By separating the front wing line from the waist line, we introduce a sense of movement and this line circles back under the car inferring a lighter, fleetness of foot." - Giles Taylor, Rolls-Royce Motor Cars' director of design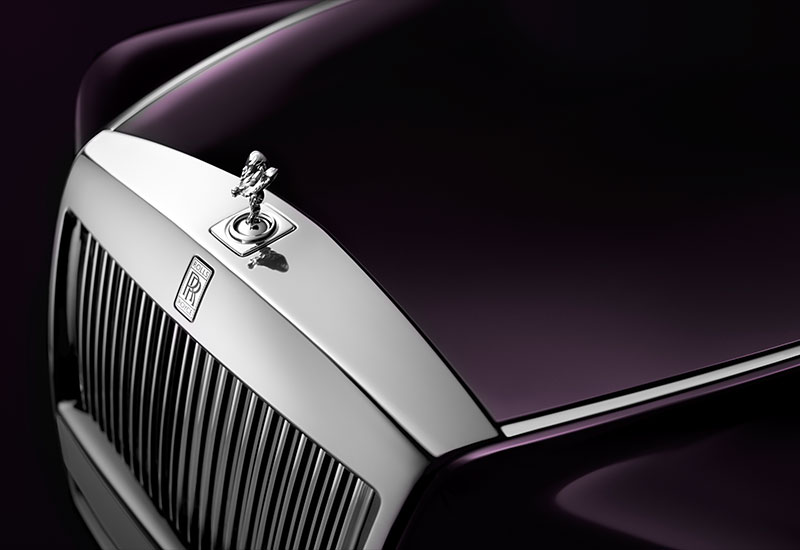 The latest stainless-steel portrait grille is seamlessly integrated into the surrounding bodywork, producing a cleaner, clearer, modern design.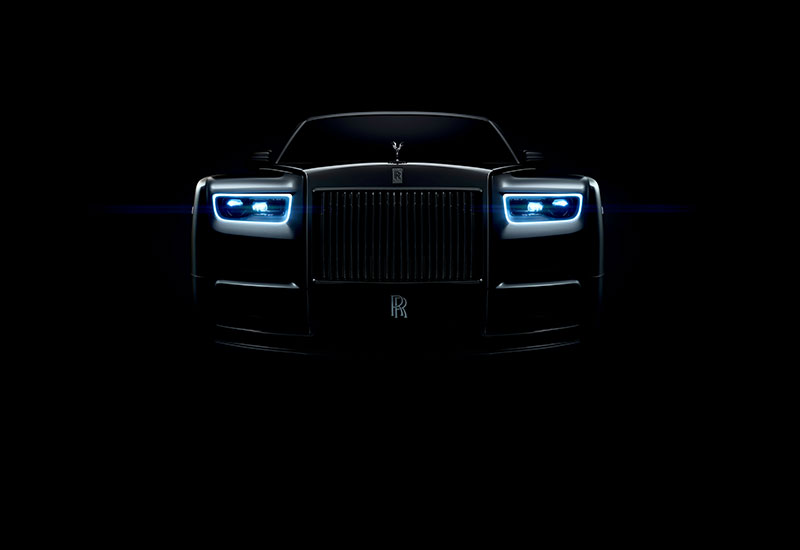 Fresh and frosted headlamp design incorporates advanced laserlight system that casts light 600 metres down the road at night.
(swipe left for more)
The new Rolls-Royce is the first to bear the carmaker's latest all-aluminium spaceframe, bidding goodbye to monocoque construction once and for all. As a result, the new Phantom is lighter, quiter and stiffer from a 30% more rigid body, which improves agility and ride comfort. Combined with the best-in-class high comfort chassis with self-levelling air suspension system, this beast promises effortless ride and handling and optimal vibration comfort performance.
Additionally, new four-wheel steering, double-wishbone front axle and 5-link rear axle deliver enhanced agility regardless of driving conditions.
Silent machine with a reinvented V12 heart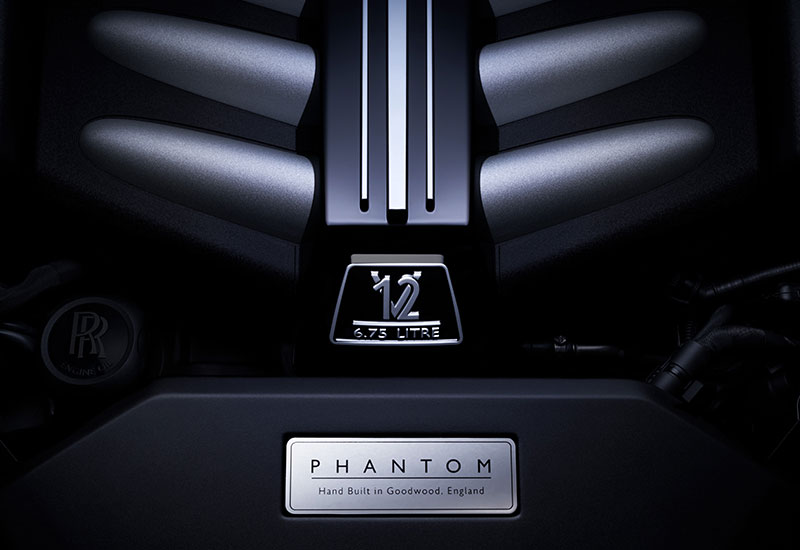 Rolls-Royce also presents the most silent car in the world in the new Phantom, thanks to 6mm two-layer glazing all around the car and more than 130kg of sound insulation. High absorption layers within the headliner, doors and boot cavity have further aid insulation and reduced reverberation. Let's not forget the innovative Silent-Seal tires, reducing overall tyre noise by 9db for a more pleasant drive.
At the Phantom's heart is an all-new 6.75-litre V12 powertrain replacing the previously naturally aspirated engine. It employs twin-turbo chargers for a low-end torque output of 900Nm at 1,700rpm, delivering 563bhp or 420kW power with a Satellite Aided Transmission and ZF 8-Speed gearbox combo.
Design elements define luxury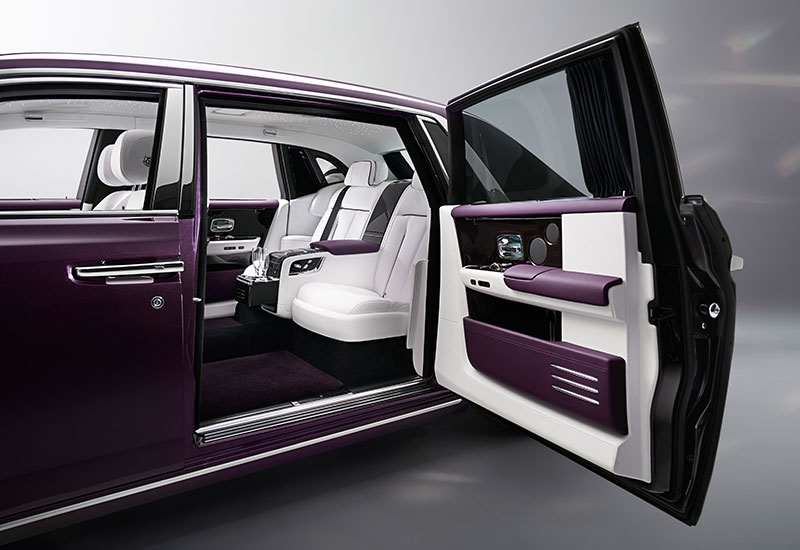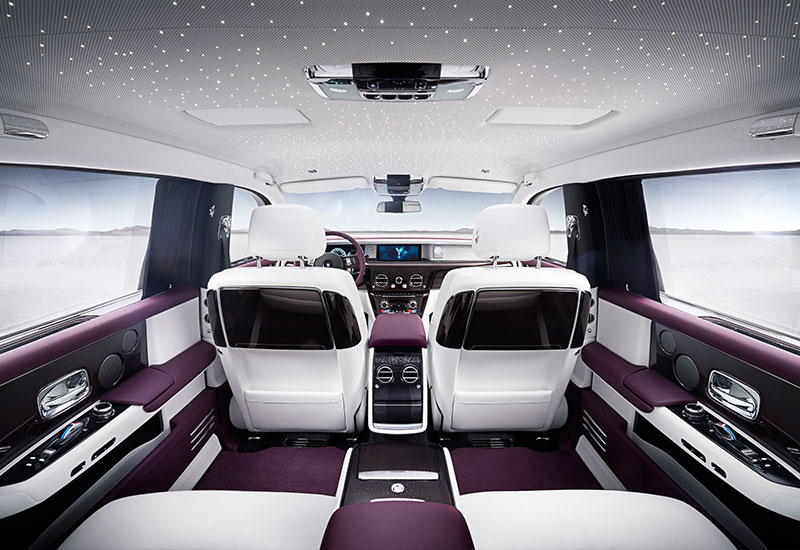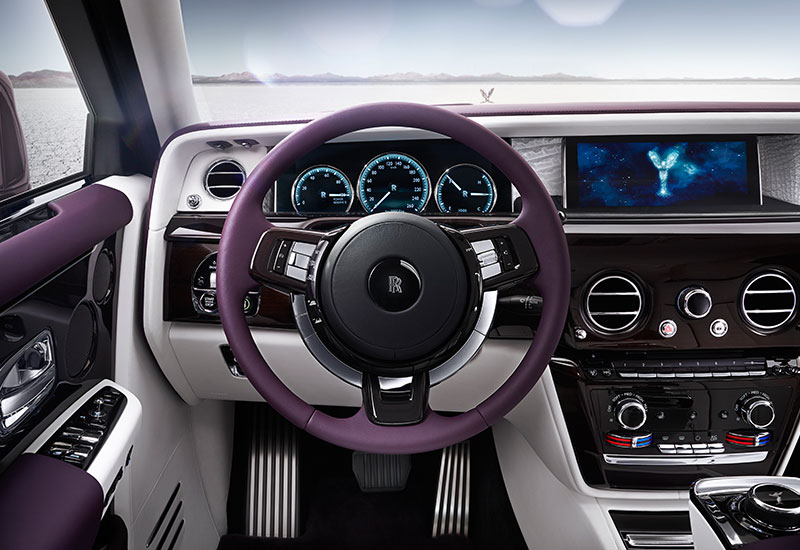 (swipe left for more)
The new Phantom's Central Nervous System connects and controls what is Rolls-Royce most technologically advanced intelligence systems yet. This includes Alertness Assistant, a 4-camera system with Panoramic View, all-round visibility including helicopter view, Night Vision and Vision Assist, Active Cruise Control, collision warning, pedestrian warning, cross-traffic warning, lane departure and lane change warning, an industry leading 7×3 high-resolution head-up display, WiFi hotspot as well as latest navigation and entertainment systems.
Behind the front seats, we see wood paneling akin to the famous Eames Lounge Chair of 1956 (a classic symbol of artful luxury), hiding Rear Picnic tables and Rear Theatre Monitors that are deployed and retracted with the touch of a button. At the centre console lies trademark elegance in drinks cabinet with whiskey glasses and decanter, champagne flutes and coolbox. Details down to the position of the seat controls to the angling of seats are considered to make the design as intuitive as possible.
The Gallery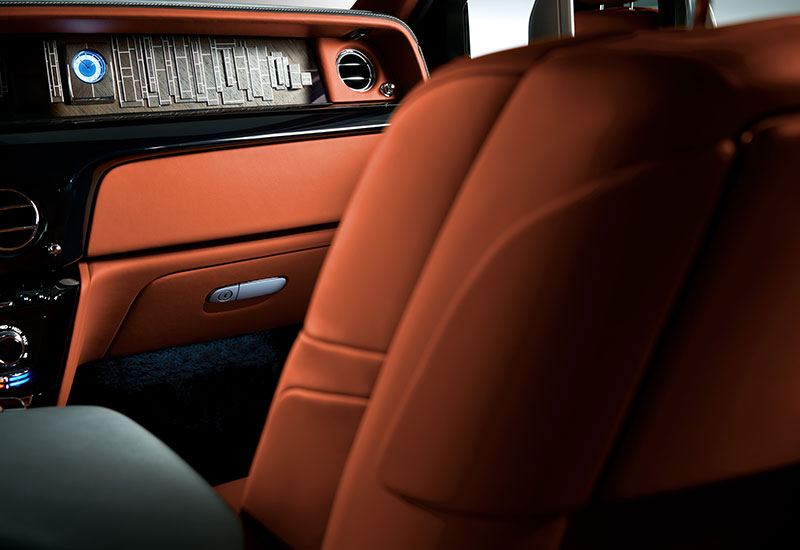 Rolls-Royce takes luxury aesthetic one step further in the latest Phantom with The Gallery: a space within the symmetrical instrument panel area to display specially commissioned pieces of art. Explaining the inspiration behind this concept, Taylor says, "In the 18th century, miniatures were highly fashionable and valuable items of art that allowed their owners to carry images of their loved one with them wherever they traveled. I really loved that idea of taking your art with you, when travelling, and so I acted on it and now our clients will be able to do the same."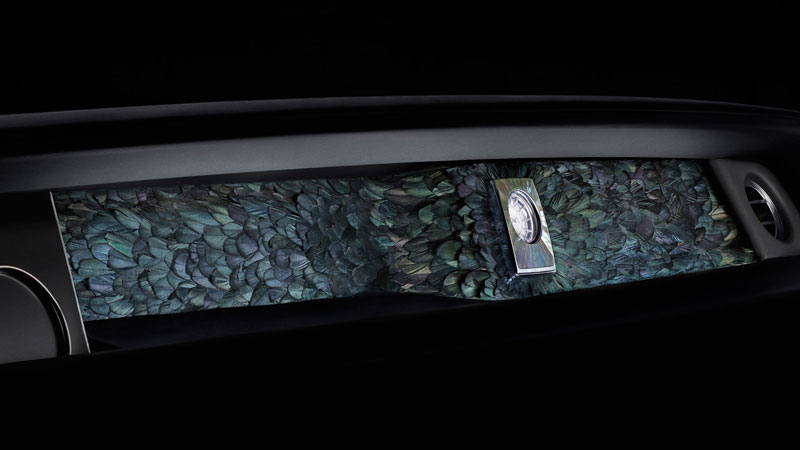 Iridescent feathered creation
Iridescent feathered creation
By Swiss studio Nature Squared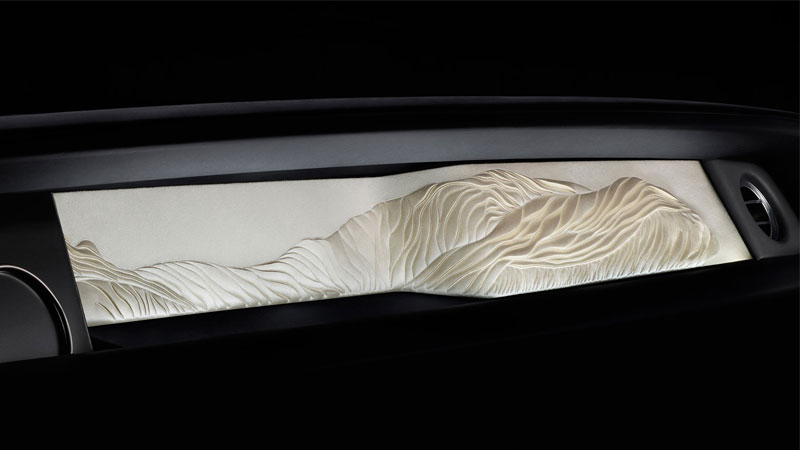 Abstract, sculpted silk applique based on the Rolls-Royce hood ornament
Abstract, sculpted silk applique based on the Rolls-Royce hood ornament
By British artist Helen Amy Murray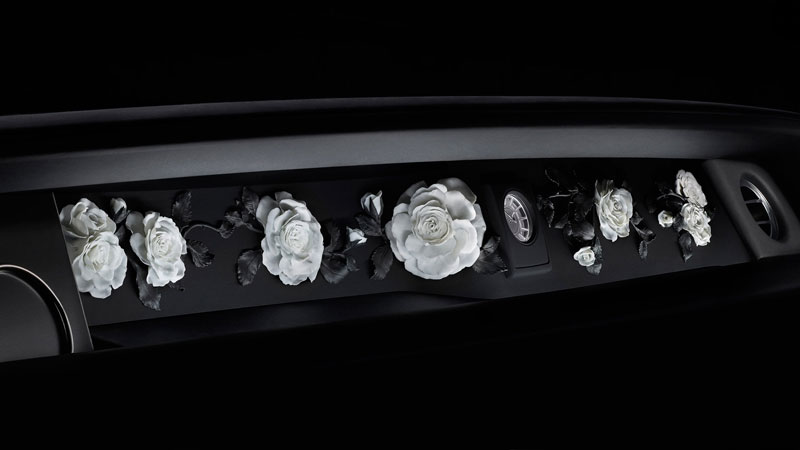 Stem of fine porcelain roses
Stem of fine porcelain roses
Hand-made by world renowned porcelain manufacturer Nymphenberg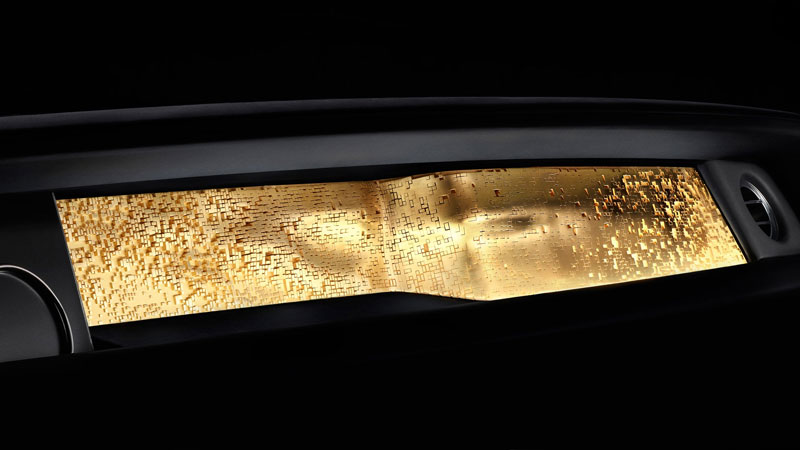 Gold-plated 3D-printed map of an owners DNA
Gold-plated 3D-printed map of an owners DNA
By German product designer Thorsten Franck
(swipe left for more)
The dashboard is enclosed in toughened glass, dressed up with chrome digital dials and 12.3-inch TFT colour displays with LED backlight communicating information on speed, power reserve, fuel, temperate levels and more to the driver. There is also a retractable central information screen and a analogue clock providing the loudest sound you can hear in the new Rolls-Royce Phantom.
Explore this luxury automobile on the official Rolls-Royce site.
Images courtesy of Rolls-Royce.