Show your support for your favourite local bars while shaking up your #StayHome routine with William Grant & Son's 1887 Virtual Bar.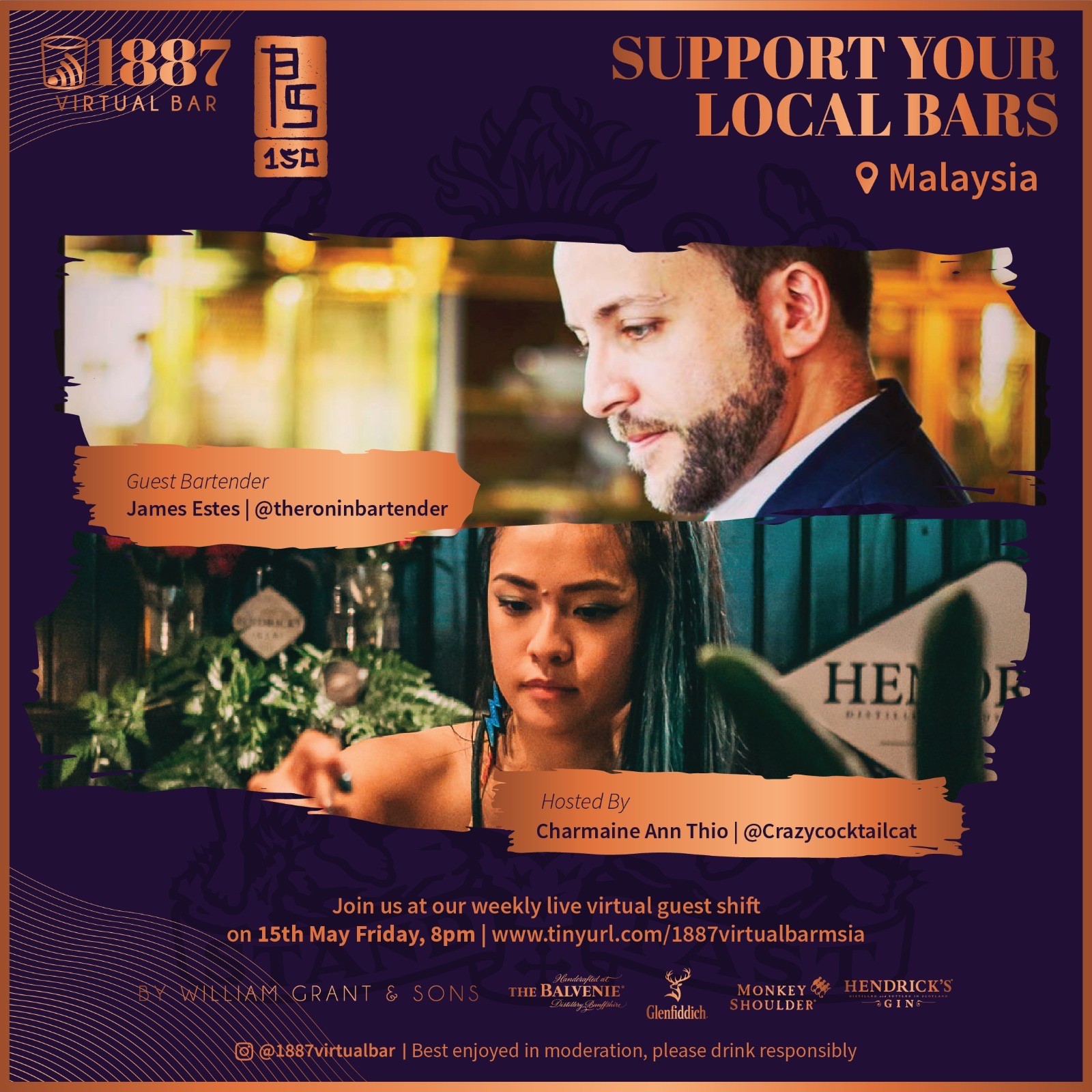 It's not just your favourite neighbourhood eateries and fancy restaurants that have been hit by the COVID-19 virus, but also your go-to haunts for your weekend bar-hopping. Instead we've had to settle with boozy deliveries to help us get through the week.
Fortunately, the William Grant & Sons (WG&S) family is looking to shake up your quarantine routine with the opening of 1887 Virtual Bar, the distiller's first-ever virtual bar that was created in support of the local bartending scene during the pandemic.
The virtual bar was eponymously named after the year WG&S was founded, and will feature weekly guest shifts hosted by bartenders from your favourite watering holes, accompanied by Charmaine Thio and Brett Bayly, the regional brand ambassadors of Hendrick's Gin and Glenfiddich. Here, aspiring mixologists (or people needing to kill time at home) can see bartenders chat about their bar concept, menu inspirations, and cocktail demonstrations. 
"These are uncertain times for everyone and more than ever, it's important that we support one another. With 1887 Virtual Bar, the William Grant & Sons family hopes to help our extended family in the local bartending community to stay 'open' – both virtually and in real life," said Satya Sharma, the Managing Director for Southeast Asia of WG&S. "We're in this together, and we're fully committed to supporting our local bar partners, which is why we'll also match the public's donations dollar for dollar. We hope the community in Malaysia will tune in and take part."
1887 Virtual Bar will kick off its first shift via video conferencing app Zoom on the 15th May 2020 at 8pm with a guest shift by James Estes, bartender at PS150. It will then be followed by David Hans, who helms the bar at Three X Co on the 22nd May 2020 at 8pm. WG&S ambassadors and local bartenders from some of your beloved local bars will also make appearances to help mix things up.
Aside from tuning in, consumers can also play their part by making a donation to support their favourite bars by purchasing a digital cocktail off this menu. Each partner bar will showcase four drinks on the ticketing platform and consumers will be encouraged to make a donation to the bar by purchasing a cocktail. Consumers who made the purchase will then be able to redeem their chosen cocktail at the bar when it opens. Every contribution counts, and WG&S will match the value up to RM2000 per bar, standing in solidarity with the local bartending community.
Don't forget to mark your calendars as 1887 Virtual Bar will be making its grand debut on May 15 at 8pm, and can be accessed via this Zoom page.
If you own a local bar who's also interested in being a part of the 1887 Virtual Bar can also register their interest here.
For updates on the guest line-up, you can check out the Facebook or Instagram pages of 1887 Virtual Bar, Glenfiddich SEA, Hendrick's Gin SEA, Monkey Shoulder SEA, or The Balvenie SEA.
Photos: Willian Grant & Sons.
Featured photo: @ps150kl on Instagram.