Whether it's a beautiful trunk for artists to store their watercolours, or one made specially for a skateboard – here are some of the most unique trunks from the house of Louis Vuitton.
When we were sixteen, we were battling the horrors of puberty or attempting to play truant at school. When Louis Vuitton was sixteen, he made the life-changing decision to become a master at trunk-making.
Granted, circumstances were different back in 1837 Paris, when teenage Louis Vuitton started off as an apprentice for Monsieur Maréchal. Back then, horse-drawn carriages, boats and trains were all the rage while baggage was simply being thrown about like it was nothing. Travellers required the skills of craftsmen to help them pack and protect their most precious items and necessities.
It wasn't long before Louis Vuitton became a treasured craftsman at Monsieur Maréchal's atelier, and his career in the artisanal industry of custom-designed boxes and later on, trunks – as per his client's wishes. And as success demands expansion, his skills eventually led to the opening of his atelier in Asnières – specialising in leather goods and special orders for discerning clients all over the world. Today we take a look at the top 10 of the most unique and iconic Louis Vuitton trunks throughout history, from dainty music boxes to DJ trunks: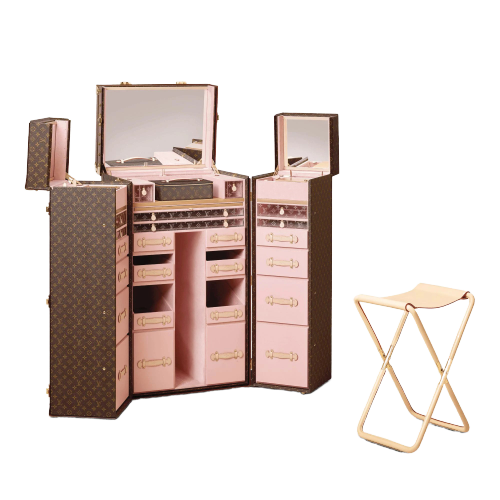 Malle Coiffeuse
Malle Coiffeuse
The Malle Coiffeuse trunk was made in dedication to beauty addicts who neither skimp nor compromise on their daily routine. It embodies the encounter between historical trunks know-how and contemporaneity. It sports 3 mirrors, open-and-closed compartments, wooden trays, and perspex drawers for the ultimate portable vanity. The trunk is also lined with Rose Ballerine microfiber for an enhanced feminine look.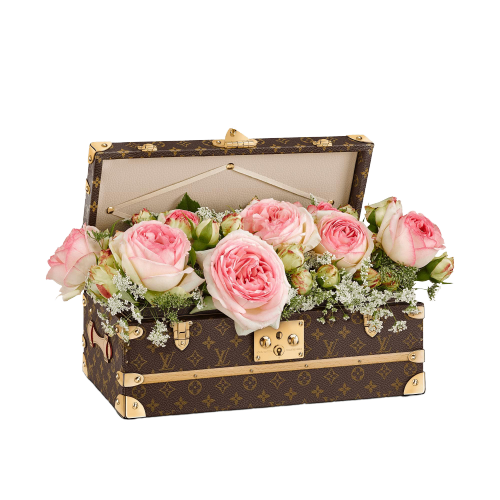 Malle Fleurs
Malle Fleurs
Created for their affluent clients with a green thumb, the Malle Fleurs is probably the most romantic piece in the history of Louis Vuitton trunks. It was designed in the 1910s with a water-resistant metallic tray and Vuittonite lining, specially implemented so that flowers, water, and soil can be put in the tray without damaging them.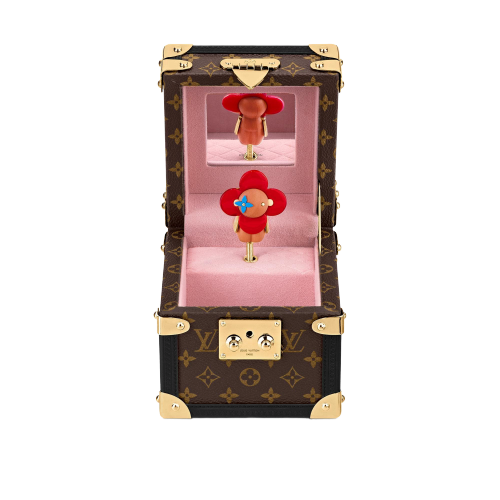 Vivienne Music Box
Vivienne Music Box
This poetic mini-trunk that's coated in Monogram canvas opens up to reveal Louis Vuitton's adorable Vivienne figurine dancing to music. It makes for a sweet and delightful gift, that can also be used to store delicate and precious trinkets.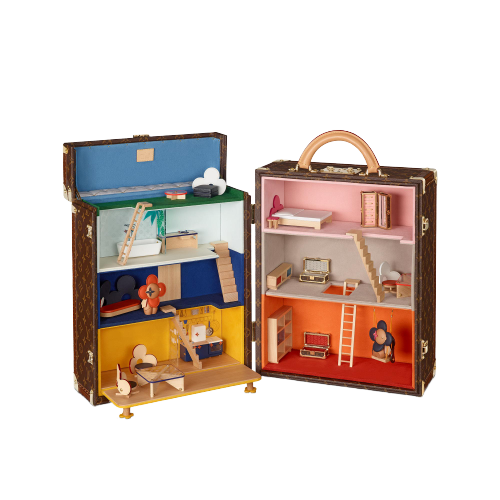 Malle Maison Vivienne
Malle Maison Vivienne
The Malle Maison Vivienne was designed as a collection piece to enrich the already exceptional collection of Louis Vuitton's Hardsided pieces. The iconic Louis Vuitton Courrier Lozine and Wardrobe trunks were identically reproduced in miniature versions to highlight the craftsmanship of the maison. The trunk houses a Monogram canvas box that was designed with dedicated storage to protect its habitants during travel. One Vivenne doll can be secured with a strap on top of the box, while the other can be placed in the box.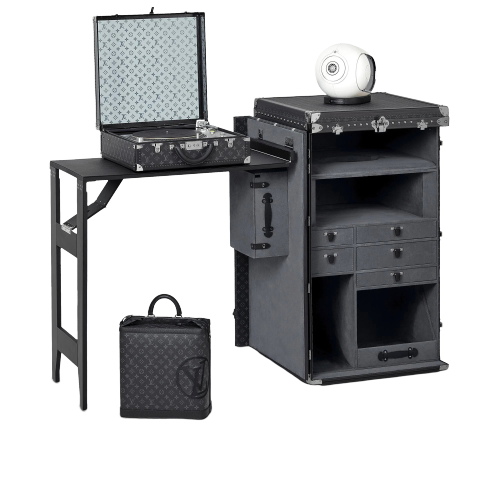 Malle DJ Trunk
Malle DJ Trunk
Louis Vuitton has a history of accompanying those passionate about music for decades - from the Stradivarius Violin Case in the 1930s to the Cruise 2017 Boombox. The Malle DJ Trunk was designed in collaboration with connected speakers pioneer Devialet, marking a new step for the Maison. It enables modern-day composers to travel with the necessary equipment, such as the Phantom, turntable and vinyl recordings, mixer, computer and headphones.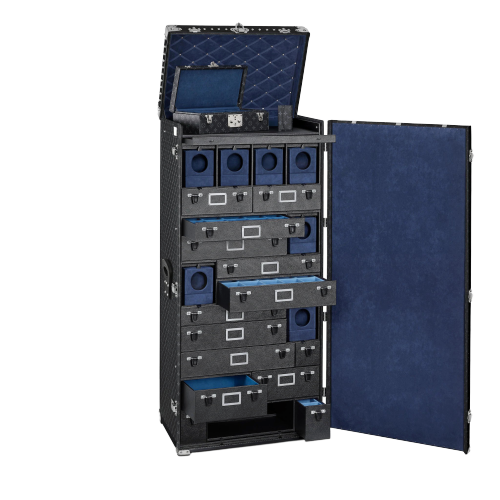 Malle Horlogère Eclipse
Malle Horlogère Eclipse
The Malle Horlorgère Eclipse was made for passionate timekeeper collectors in mind. It opens itself as a secretaire, revealing porthole cases and drawers to host precious pieces such as spare watchstraps, ancient and iconic watches, cufflinks, and other accessories.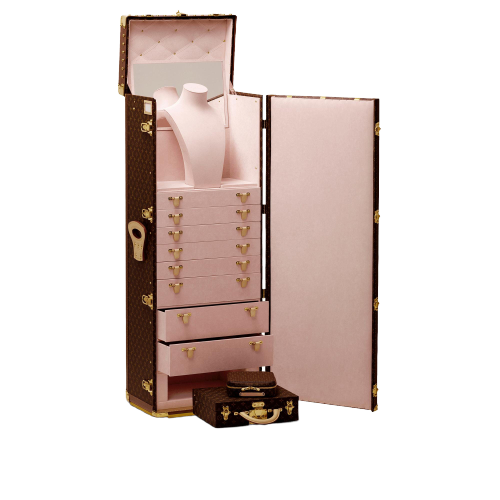 Malle Vendôme
Malle Vendôme
Louis Vuitton imagined a sophisticated yet sumptuous trunk to celebrate the opening of the new Louis Vuitton boutique on the famous Place Vendôme - also known as the birthplace of Parisian jewellers. Despite its sturdy exterior, the soft pink-toned interior complements and enhances the fine beauty of high jewellery pieces.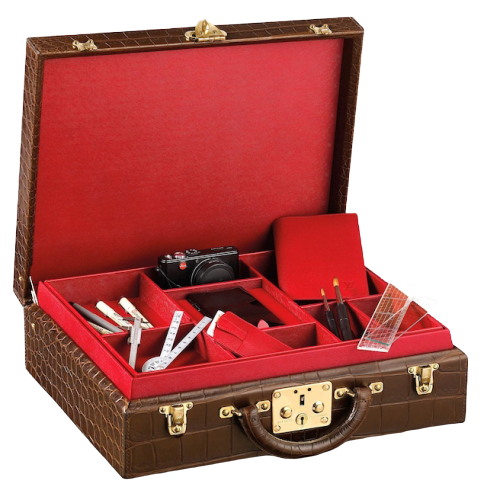 Boite À Aquarelle
Boite À Aquarelle
For the romantic artist on-the-go, this beautiful watercolour box sports premium alligator-style leather with a wooden frame. It's easily portable with a handle, and protected by brass corners and locks. The interior is also separated into different compartments to allow artists to segregate and organise their materials.
The Secretaire Vin & Thé Wan Dechuan
The Secretaire Vin & Thé Wan Dechuan
This exclusive and innovative trunk was developed in collaboration with one of Taiwan's oldest tea houses, Wan Dechuan. It was made specially to host degustation elements for a unique paired tea and wine ceremony, honouring the two's long-lasting recollection of flavours. In this particular trunk, a Dom Perignon P3 is paired with a sparkling Taiwan tea, and an iconic Cheval Blanc with high mountain Oolong tea.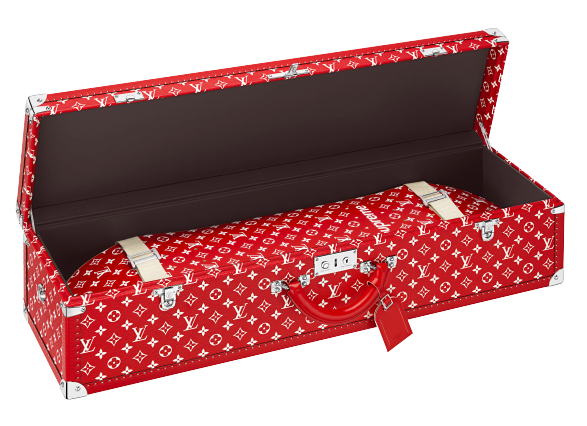 Boite Skateboard
Boite Skateboard
This one's for all the hypebeasts out there - the Boite Skateboard was a collaboration piece with the American skateboarding and clothing brand Supreme. It's fashioned out of canvas in Monogram Rouge, and celebrates the fusion of the NYC street style with Louis Vuitton's classic heritage. And in case you're wondering - yes, there's a skateboard included.
(Swipe left for more)
Photos: Louis Vuitton