Clue: The World Cup trophy is only 44 years old, while the FIFA championship has been going on for twice as long.
As the world awaits the ultimate moment of victory at FIFA World Cup 2018, you may be surprised to learn that the FIFA World Cup Trophy that we know today only goes back as far as 1974.
Its 36.8 cm tall-frame is made of 18-carat gold and set on a malachite green marble base. The base is meant to match a football field, but what football players all over the world yearn for is a spot right below it – where every World Cup champion gets their nation's name engraved.
The World Cup trophy is credited to Italian artist Silvio Gazzaniga, who describes his handiwork as such: "The lines spring out from the base, rising in spirals, stretching out to receive the world. From the remarkable dynamic tensions of the compact body of the sculpture rise the figures of two athletes at the stirring moment of victory."
This version is now safeguarded by FIFA itself. Every four years, it is sent to its Italian manufacturing hub GDE Bertoni for touch-ups. GDE Bertoni also makes the coveted trophies of the UEFA Supercup, UEFA Europa League, and UEFA Champions League.
At an estimated $20 million, the value of the original World Cup trophy means FIFA isn't taking any chances on its security. That's why it doesn't travel much these days – a brass copy is made for every World Cup, so winners get to keep their trophy (and matching medal, of course). The original remains with FIFA.
Only winners are allowed to touch the cup. That's why it's usually in a glass case on trophy tours.
Only eight countries have had the privilege to lift the trophy, the most recent being Germany. The tradition of lifting the cup started in 1958, while Brazillian captain Hilderaldo Bellini was trying to create a better photo opportunity for journalists.
Since this is the second version of the champion's trophy, you may be wondering what became of the first. The Jules Rimet trophy, as it was called, was fashioned from 35.6 cm-tall gold-plated sterling silver.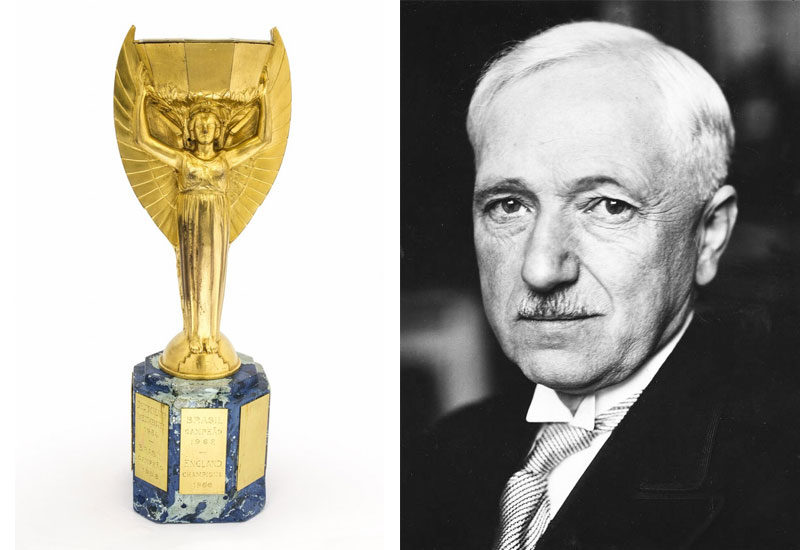 It was a sculpture of Nike, Greek goddess of victory, raising a cup above her own head. FIFA commissioned it from French sculptor Abel Lafleur.
The Jules Rimet trophy was stolen in 1983 from Rio de Janeiro. At this time, it belonged to three-time champions Brazil, who won it in 1970. It was never found, but Brazil has since gone on to win the cup two more times.
Believe it or not, that wasn't even the first time the trophy was in danger. It was stolen in England and recovered a week later by a dog sniffing around in a hedge. When Italy had the trophy in World War II, it had to be hidden from Nazis in a shoe-box.
What a colourful history befitting one of the world's favourite symbols of victory.
Source: FIFA
Recommended for you: 5 World Cup moments that prove the beautiful game is for everyone