Named after the  founder of GlenDronach, James Allardice, this bottle is an exceptional sherried single malt of a natural tawny colour courtesy of the finest Spanish Oloroso sherry casks.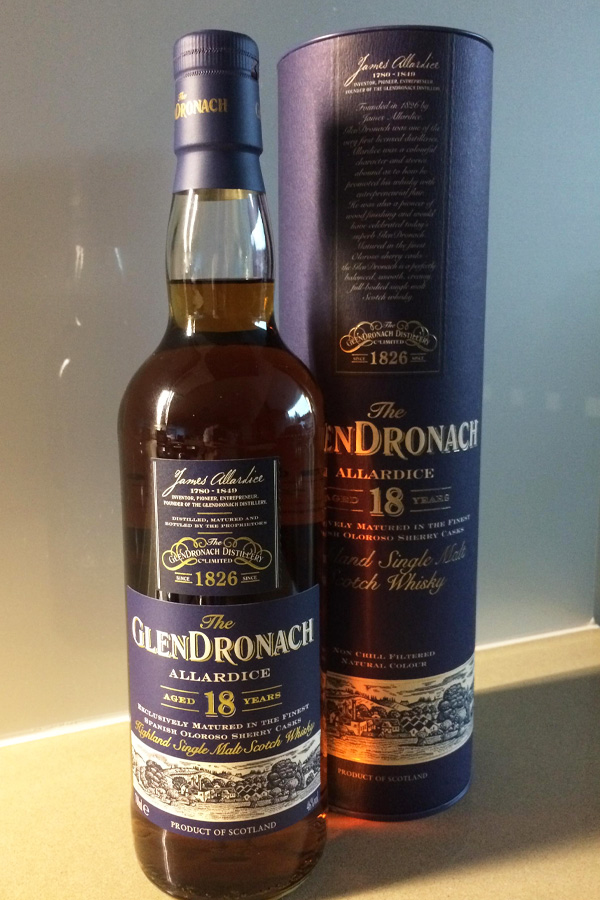 I first came across this bottle by chance a couple of years ago. I had money to spare, was overly-enthusiastic about trying a new whisky and the GlenDronach 18 years came highly recommended.
After some reading, I was impressed that this lesser known whisky is said to be able to give the Macallan 18 years a run for its money.
Background
The GlenDronach Distillery has been creating the finest richly sherried single malts for nearly 200 years, although its first labelled bottle was only released in 1968. An independent buy-over gave the distillery the freedom to rekindle the reputation of GlenDronach, which it did in April 2009 with its famous 12, 15 and 18 year-olds, re-launched as the GlenDronach Core Range. Since then, its portfolio had expanded to include those with some interesting wood finishes, excellent single cask bottlings and fantastic additions to the core range.
This GlenDronach 18 years, in particular, is named after the renowned founder of the distillery, James Allardice. An exceptional sherried single malt, it is non chill filtered and of a natural tawny colour courtesy of its time in the finest Spanish Oloroso sherry casks. Bottled at 46%, expect a sublime richly sherried malt that is, on many notes, unforgettable.
With the whisky being such a rarity in the market, I decisively snapped up a couple of bottles of the GlenDronach 18 years and hurriedly rushed home to begin the tastings.
First pour
Visually, it has a dark amber colour and it looks to have syrup-like consistency. On the nose, it initially gave wonderful fruity and sweet aromas. I went in for seconds and got a very rum-like hit followed by raisins. At that point, all that came to mind was rum and raisins – in other words, just lovely. At the third time of asking, the notes I got were orange-like jam. At this point, I have been lost in the aroma for a good 10 minutes, it was very addictive.
The first sip I took hit me with a lot of heat. It was warm, it was spicy and it was sweet. As I let it sit in my mouth for a bit longer, the warmth became more vibrant and I picked up loads of spiced dates and raisins. The consistency was, as per my first impression, thick and syrupy. And as I swallowed, those fruity spices and warmth continued to linger a good while and, towards the end, I began to encounter a nice orangey chocolate feel. I continued drinking and enjoying it this way until I finished my first dram.
Second pour
With the second dram, I added a little bit of water. To my surprise the spice or sweetness didn't mellow at all, although the whisky did become slightly smoother to drink. The initial syrupy consistency loosened and became less viscous. As I let it linger in my mouth, those rich spicy fruity flavours turned into a lighter spice and gave more of an orangey chocolate flavour. Throughout all this, the whisky remained ever so warm and wonderful.
To this day, the GlenDronach 18 still remains as one of my favourite whiskies of all time. I can only describe this whisky as some sort of spiced-raisin-orangey-chocolaty goodness that will make anyone happy. If you're looking for a bite to go with it, I would recommend it with 70% dark chocolate or any decent milk chocolate.
Cheers!
Learn more about GlenDronach's whiskies at the official website here.