The Loft is exclusively for the airline's Upper Class guests and features all the amenities to make it a cinema-like drink and dining experience.
Virgin Atlantic's newest A350-1000 aircraft took to the skies for the first time last month and among its upgrades is the airline's new in-flight social space called the Loft. As its name suggests, it is a lofty social space where guests can go to enjoy a range of cocktails and dine on Mile High afternoon tea while they plug in their Bluetooth devices to a 32-inch touch screen monitor where they can watch their  favourite films or even enjoy views from the tail-cam.
It is exclusively for the airline's Upper Class guests and features all the necessary tech amenities needed to make it a cinema-like drink and dining experience, complete with seat belts in case there's turbulence! There are a total of 8 Bluetooth audio jacks so guests can watch content together, and the space can accommodate a total of eight people.
The space is a design collaboration between  Virgin Atlantic and London based Factory Design, and is manufactured by AIM Altitude in Bournemouth.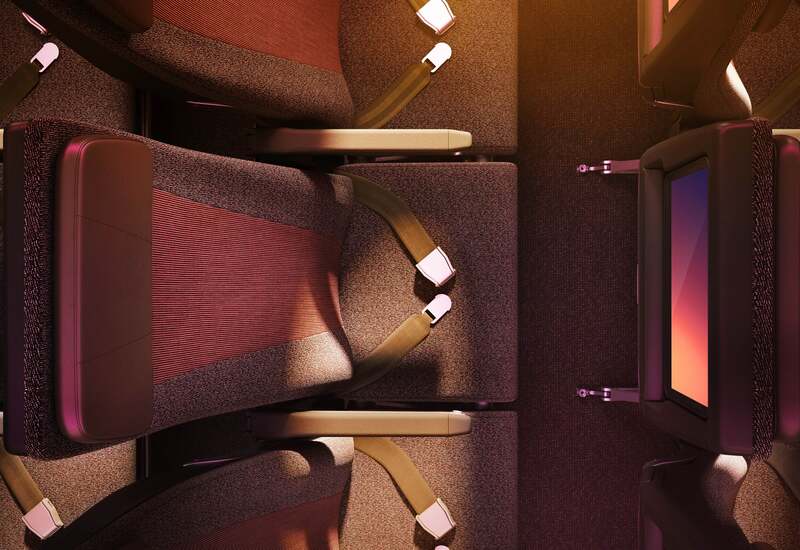 Besides the addition of The Loft, Virgin Atlantic has also upgraded its Upper Class cabin with the airline's largest in-flight entertainment screen to date. At 18.5 inches wide, the entertainment unit in its newly revamped Upper Class Suite is built for both comfort and luxury so customers can sit back and catch a film or watch the live tail-cam, as they connect their devices to the screen via Bluetooth.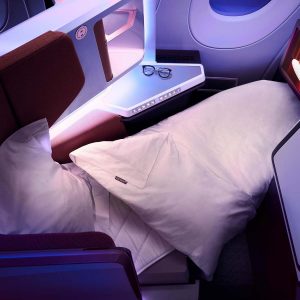 The Upper Class Suite  has 44 seats in a  1-2-1 configuration that can recline into a fully flat-bed position for heightened comfort. Another new addition to this airline's business cabin is its new leather seats which were previously beginning to wear.
The A350's Premium and Economy cabins are also offered upgrades in both space and comfort with luxurious leather seats. Premium guests will enjoy 56 seats with a generous 7-inch reclining space for maximum comfort and legroom. Meanwhile, Economy boasts 235 seats that are 17.4 inches wide each and a USB port at every seat. Both cabins have larger in-flight entertainment screens, at 13.3 inches wide in Premium and 11.6 inches wide in Economy.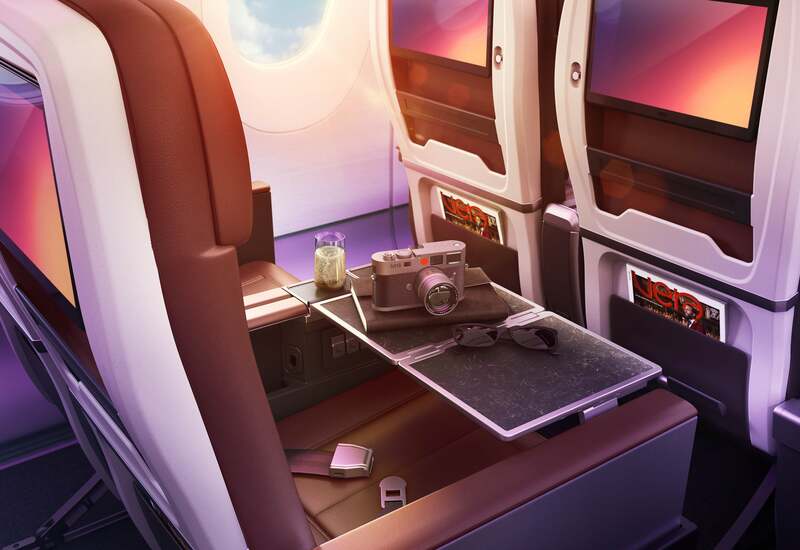 Besides having upgraded entertainment screens and upgraded seats, the A350 is also equipped with high-speed wifi and the personalised service of Virgin Atlantic's world-class Cabin Crew.
The aircraft made its maiden flight between London and New York last month. Virgin Atlantic has said that it has ordered 12 pieces of the A350-1000 to the tune of USD4.4 billion and expects to receive all of them by 2021.
(Photos: Virgin Atlantic)