Norway's southern coastline will soon boast Under, an ecologically-cooperative underwater eatery with an ocean-floor restaurant and subdued champagne bar.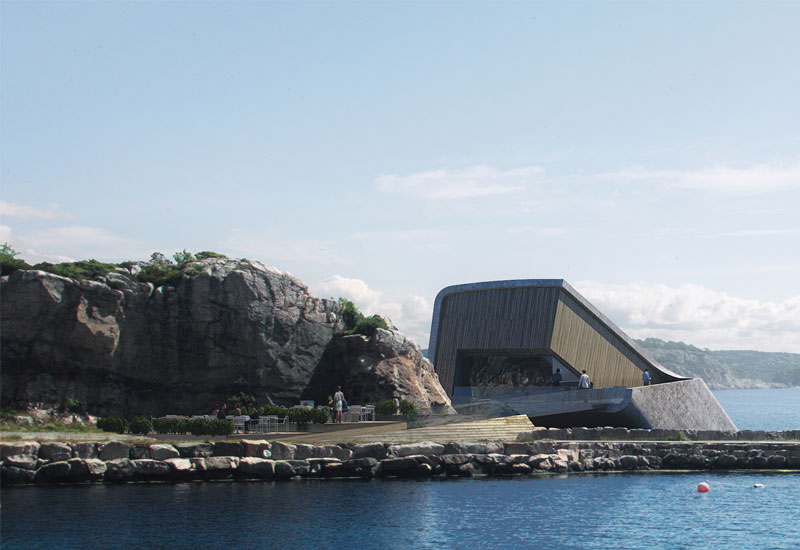 As far as exotic dining experiences go, we've explored land and sky at length – but the great blue sea is arguably the least chartered. Now, Europe will make its first mark in the underwater dining scene with Under.
Set in the southern coastline of Norway near Båly, renders of Under incline it will look like a concrete structure tipping into the sea.
Under is designed with an ecological role that minimises damage on geographic and aquatic nature. The concrete shell invites the formation of a mollusc community, eventually forming an artificial mussel reef that rinses the sea to attract more marine life to the area. These strong concrete walls are also incredibly thick to withstand pressure.
Research terms will be invited to study the changing marine behaviour and fish biology of this restaurant-turned-reef.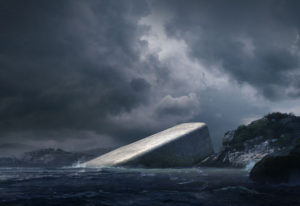 The five-metres-Under restaurant is designed by Norwegian firm Snøhetta. Snøhetta was also responsible for the Norwegian National Opera and New York's National September 11 Memorial Museum Pavilion. Its latest project has been described as a 'sunken periscope', with a 13-feet acrylic window offering an intimate view of the the seabed and all its creatures.
Guests will experience three floors of aquatic wonder (cleverly, also known as Under in Norwegian). From the lobby and cloakroom, they will descend into the a subdued champagne bar marking the point of separation between shoreline and ocean. Finally, the restaurant will lie on the seabed with two long tables and several smaller ones allowing guests to dine with the fishes. Under will seat 100 diners at full capacity.
"One of the benefits of this building is how it links nature and land, and how you can come safe from the land and in a very dramatic way go down through this concrete tube to the nature at sea level, and experience what normally is not experienced," said Rune Grasdal, the project's lead architect.
To this end, the design team used natural materials and colours, as well as good lighting to create a welcoming area where guests will not feel claustrophobic.
Once Under is open in February 2019, Norway will join the Maldives, Israel, and UAE (Dubai) as the only locations in the world with these underwater eateries.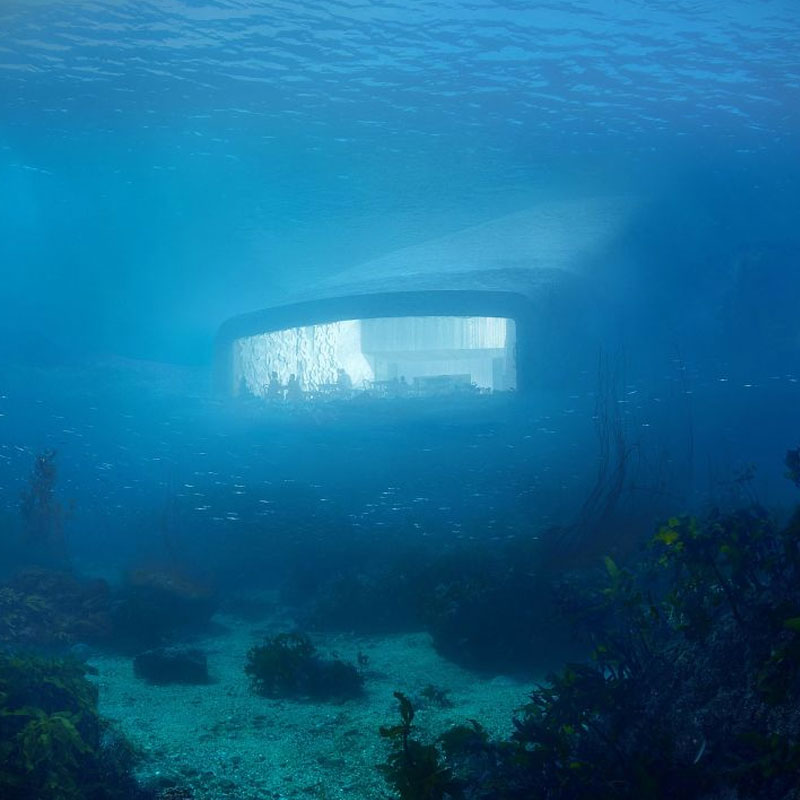 Check out more on the Under project here.
Images: Snøhetta