The flagship X is BMW's candidate for the uber SUV throwdown. A little late to the party, or perhaps right on time?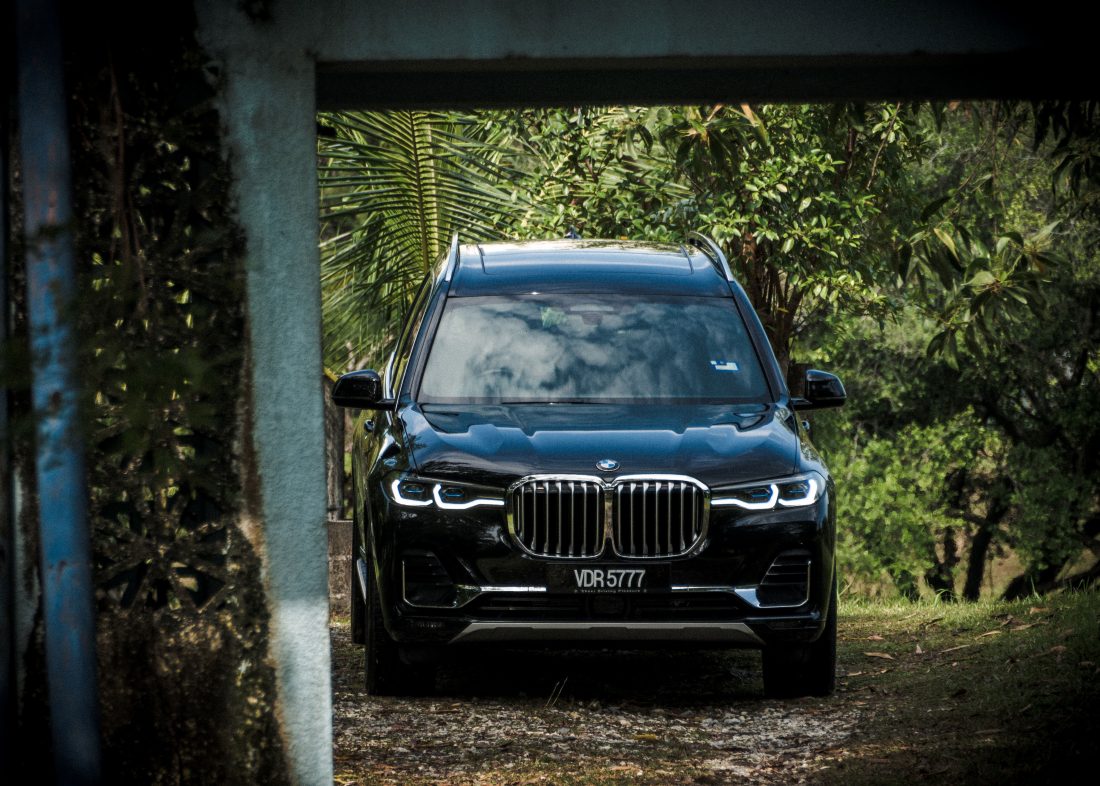 BMW is quite familiar with creating segments, but now it steps into a fairly crowded ring with the X7. A car that was destined to square off with the Mercedes-Benz GLS and give pause to the individual poking about a Porsche Cayenne or Range Rover – this is nobody's idea of a walkover. And yet, it was already prepared. You see, this isn't a larger X5, this is a 7 Series jacked up on stunning 21-inch Y-spoke wheels. Look at the face, if you're sceptical.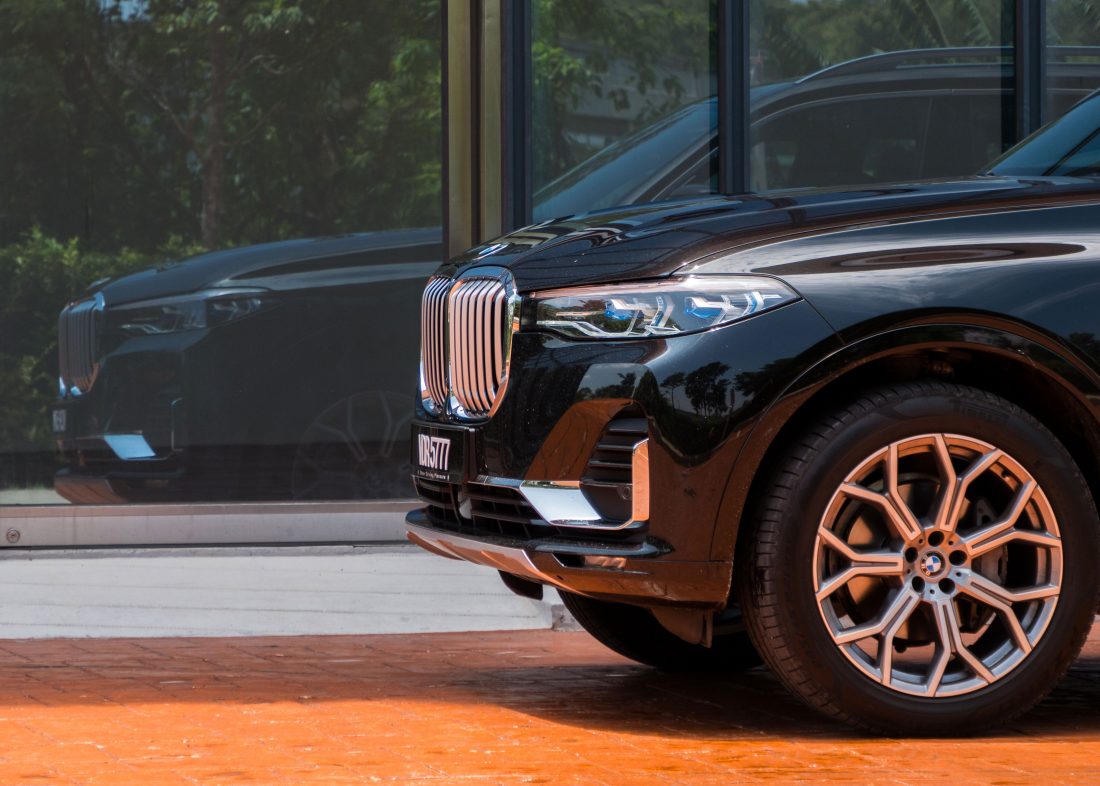 In Malaysia, the sole launch variant is the xDrive 40i Design Pure Excellence. It comes with a 3-litre straight-six transferring power through BMW's xDrive all-wheel-drive system, three rows of seats in a cavernous cabin, and cutting-edge bells and whistles galore. Perhaps not beautiful, but imposing? Definitely.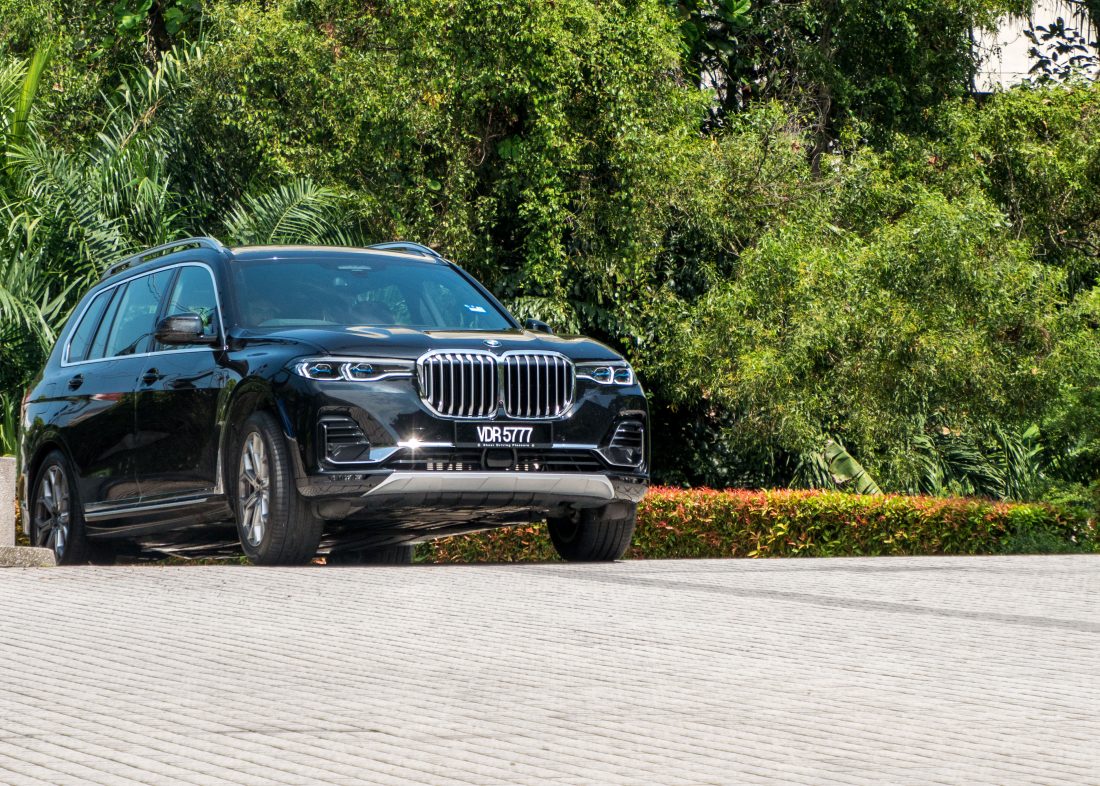 As an all-new model line, no one is going to recognise it as an X7 from the off. One glance at the gaping, upright kidney grille and however and there will be no mistaking its provenance. This is a fantastic benefit of what has been a thoroughly divisive brand design element of late. Set on a bigger face this time around, however, and the grille fits perfectly.
Time to go for a spin.

The Drive
The reality is that as time passes, you have to reach ever further upwards, both in specification and price, if you want 6 cylinders sitting in a neat row in your BMW. In 40i flavour, it is buttery smooth and for the most part, operates in the background like an acoustic band at a black-tie dinner.
Until, of course, the host tells them to liven up proceedings.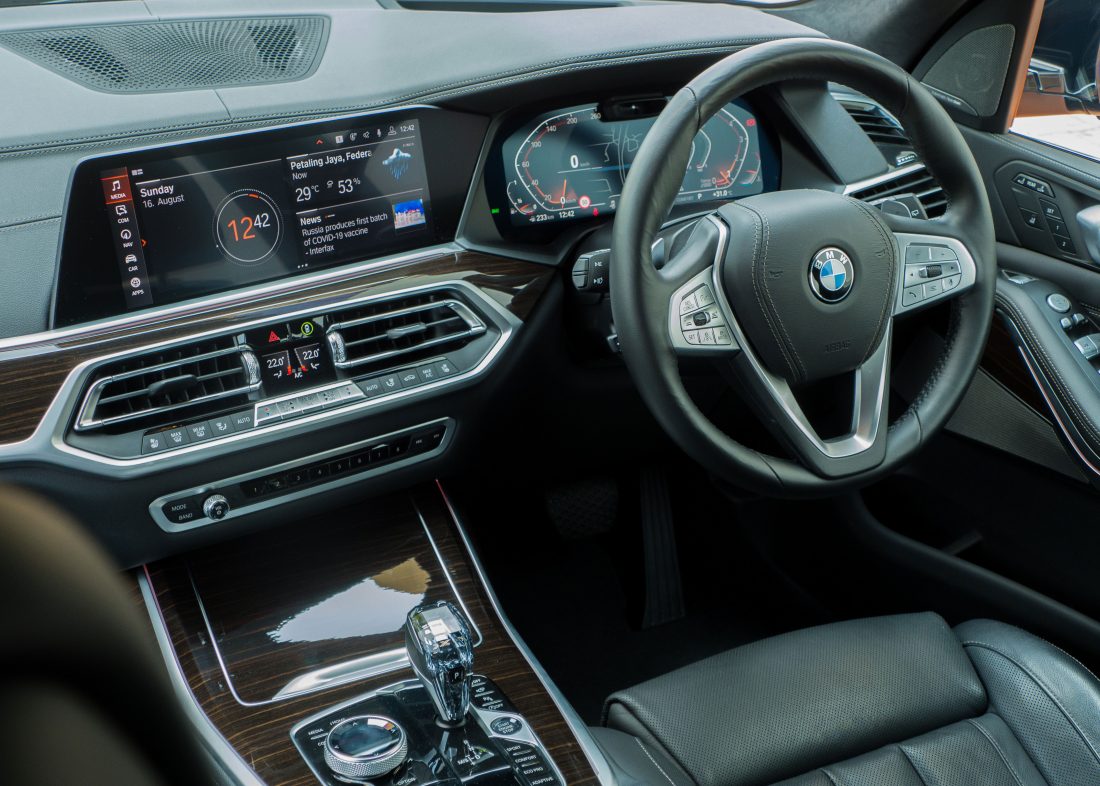 The X7 does the century sprint in 6.1 seconds. For comparison, a base Porsche Cayenne needs 6.2. An imperceptible difference, but it is worth noting something like that. Especially since the X7 tips the scales at over 2.3 tonnes. This is the only performance comparison that makes sense, by the way. So, step on it in the X7 and it will drop gears and shoot off in a hurry, where the reality of its kerb weight will only hit when its time to stomp on the brakes.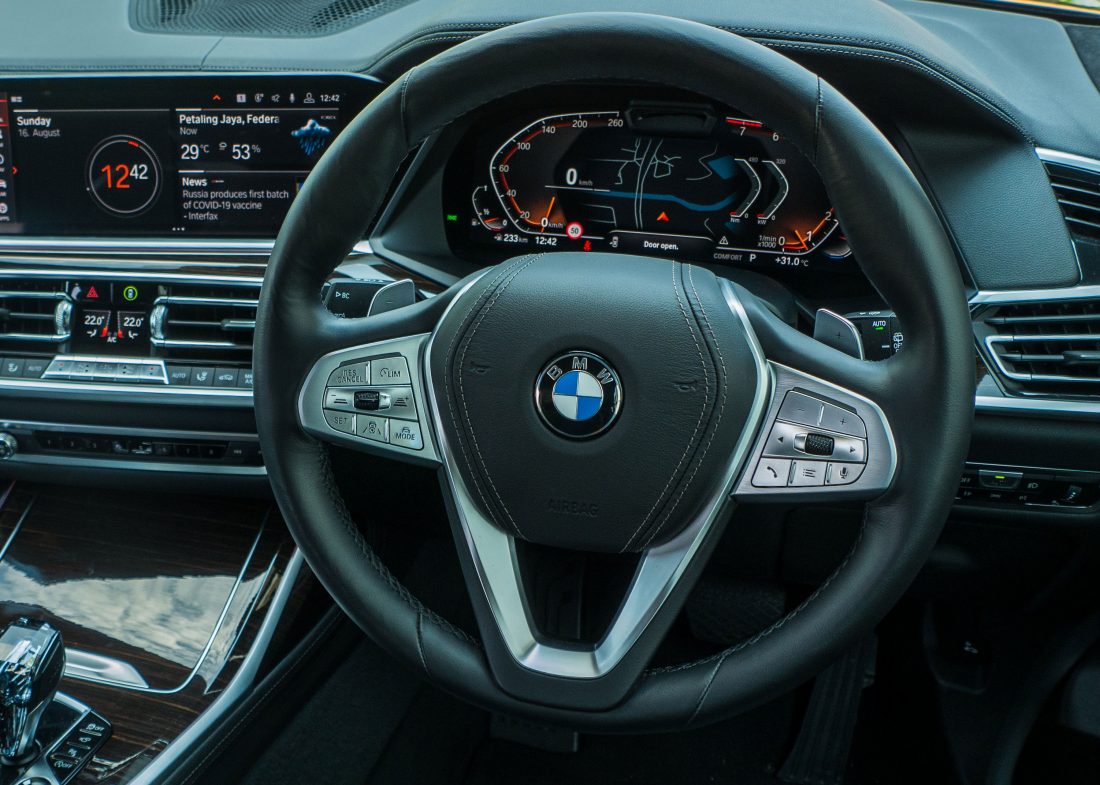 It may seem strange to start this section with acceleration, but this is still a BMW. If the driver is not entertained, nothing else will matter. You may not want to chuck it into corners because of, well, physics, but it will keep you planted. The X7 is the first application of active anti-roll stabilisation in a BMW X vehicle.
In the rear and because of the sheer length of the wheelbase, these shenanigans at the helm will mostly escape you.

The Experience
As per the 7, find here a speckling of knurled controls, brushed aluminium and a delightfully angular crystal gear knob. You don't touch it often, obviously, but it's an event when you do. This is not your typical BMW, whatever that means.
The X7 has a selection of Experience Modes and a program called Caring Car, all of which provide some combination of HVAC, music and lighting to unique ends. The latter, Caring Car, has two options: Vitalize and Relax. Simply described, Vitalize wakes you up with pulsing fan speeds for the air-conditioning and upbeat tunes, while Relax winds you down for the rock glass of Dalmore Cigar Malt, Partagas optional, waiting for you at home.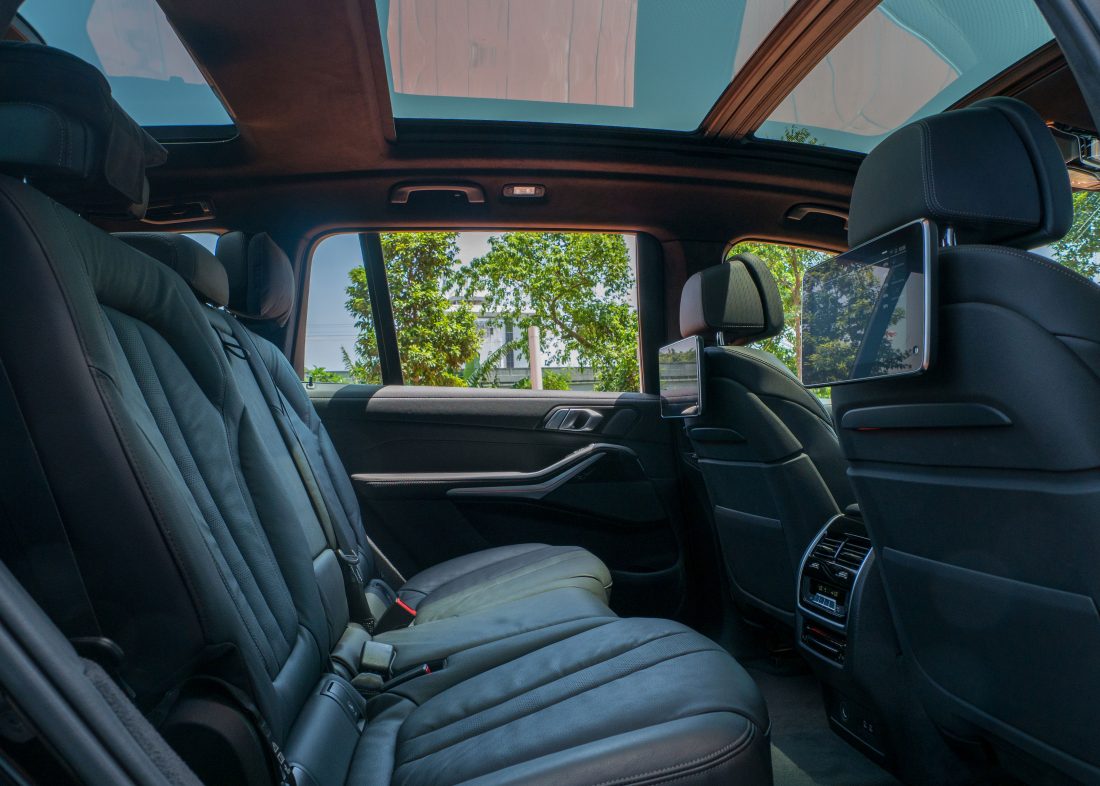 All around, you would be hard-pressed not to be put at ease by the supple Vernasca leather. Adding to the sense of space are the large, almost vertical windows and illuminated panoramic glass roof. Set the mood with 16 speakers of crispy Harmann Kardon and you're in less of a car and more of a lounge.
That's not to say the interior is perfect. The confluence of mechanical and digital is a little jarring in places, such as the temperature display next to the vents. You wouldn't accuse BMW of not doing enough, but you may get a sense that this does not come as naturally as making a driver-focused machine out of something so colossal and stately.
In the back, the boss or the boss's children will find plenty to do with twin 10.2-inch touchscreens.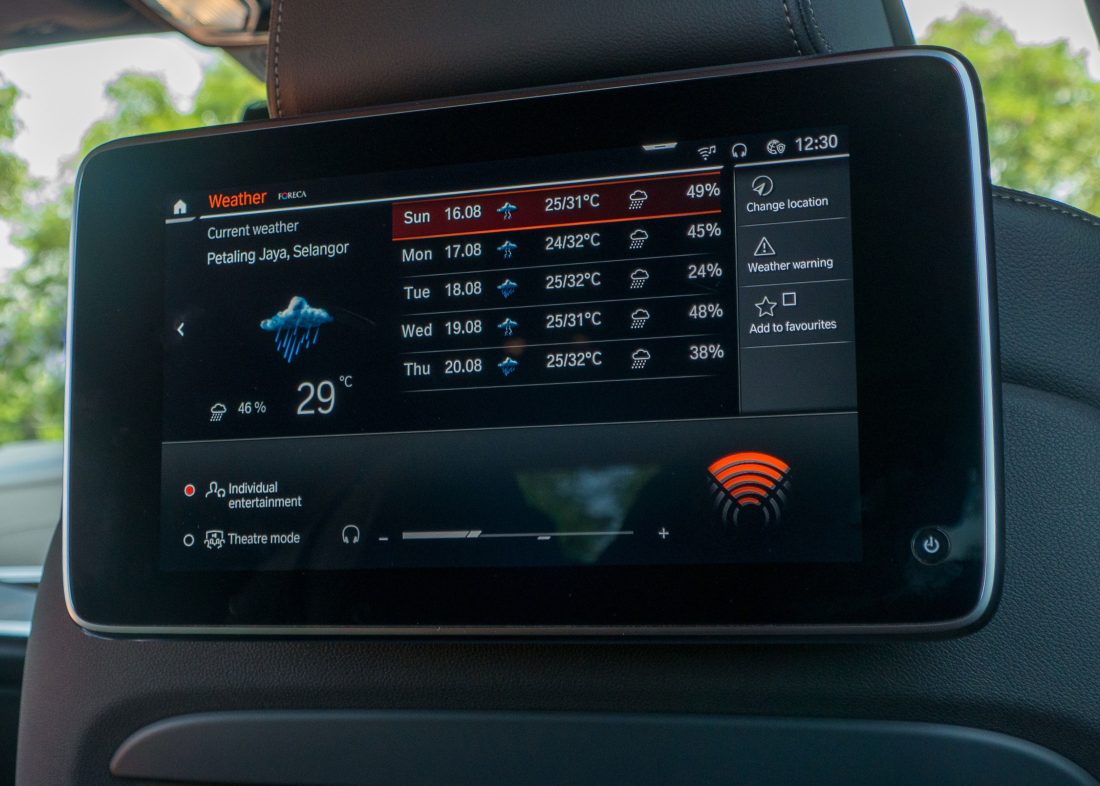 The Verdict
So what do we have here? Easy. The 7 Series of our times.
BMW agrees at least in part, calling it the 7 Series of SUVs. I'll take it a step further, and call it how I see it. SUVs are no longer a trend, they are mainstream. And perhaps the latest iteration of the 7 Series needs to have a commanding height and all-purpose ability.
The X7 in itself is impressive, a laudable first foray into a segment that takes no prisoners. Refined, accoutred, capable – a confident proposal. If you are camp Munich and love the 7 Series but wish it rode (much) higher, then an X7 is exactly what your garage needs.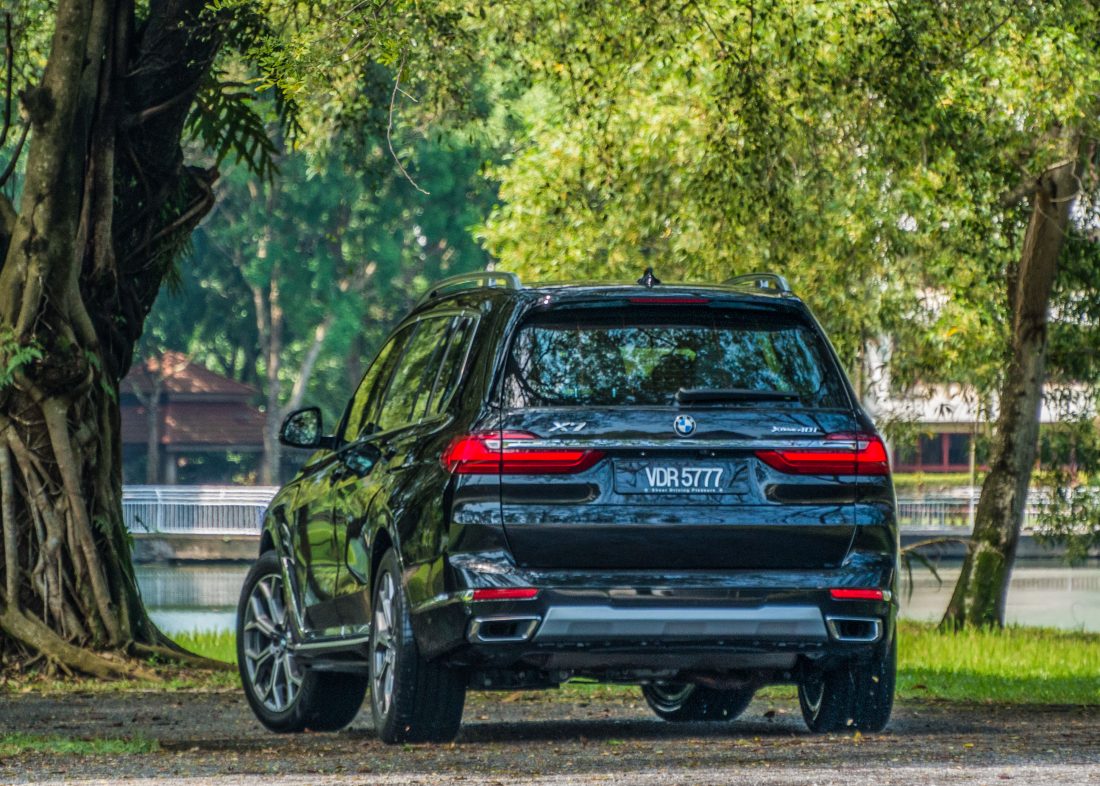 The BMW X7 xDrive 40i Design Pure Excellence is available from RM888,888 on the road without insurance (RM861,847 with sales tax relief). For more information, log on to the official website here.
(Photos: Subhash Nair)