During these difficult times, livelihoods have been affected, businesses are disrupted and dreams, diminished on a global scale. FirstClasse, in collaboration with Newswav, wants to help provide some much needed publicity to local businesses going through tough times with this latest #SupportLocal series. Visit our #SupportLocal page for more information.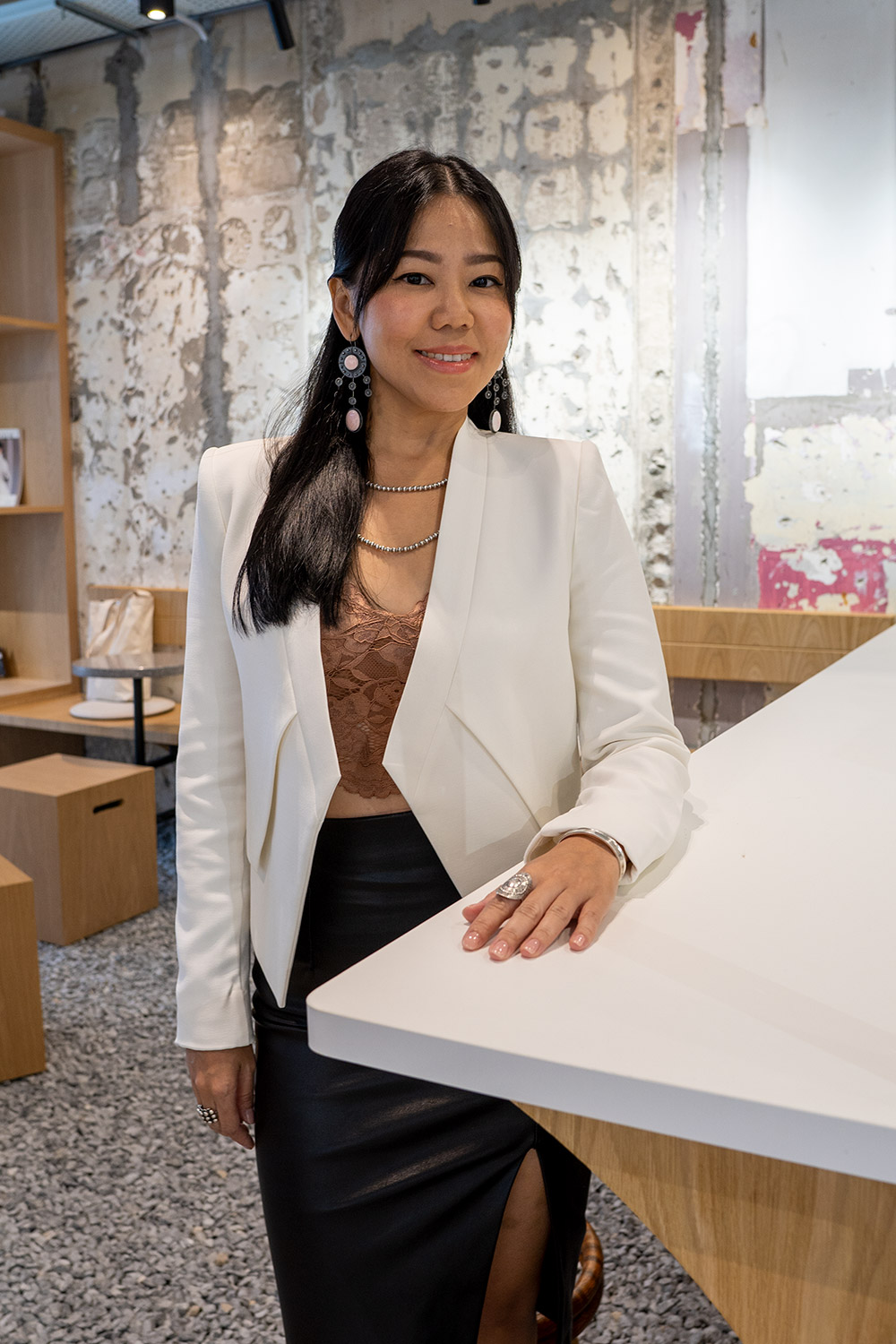 It all began when Tiffany Teoh realised after travelling across Southeast Asia, that she could not find the silver tribal jewellery that she coveted in Malaysia. It was then when she decided to transform her longtime passion for silver handmade jewellery into a business, and unveiled Hill to Street in 2018.
"Take Thailand for example, there are so many beautiful tribal jewellery but I can't seem to find it here and that's how Hill to Street came about," Tiffany tells, sporting a pair of the delicate Shakti drop earrings from her latest collection. "I wanted to bring hill tribe jewellery to everyday street style wear. That's how the name came about as well – Hill to Street. It means hill tribe to street style."
Turning passion into fashion
Despite always having a fondness for jewellery, Tiffany actually hails from a corporate background, carrying with her 13 years of experience that was mostly spent in the sales and marketing division of the F&B and hospitality industry.
"I have always been crazy about silver jewellery, and I especially appreciate handmade jewellery. That's why I decided to learn how to design and make them as well," she expresses passionately.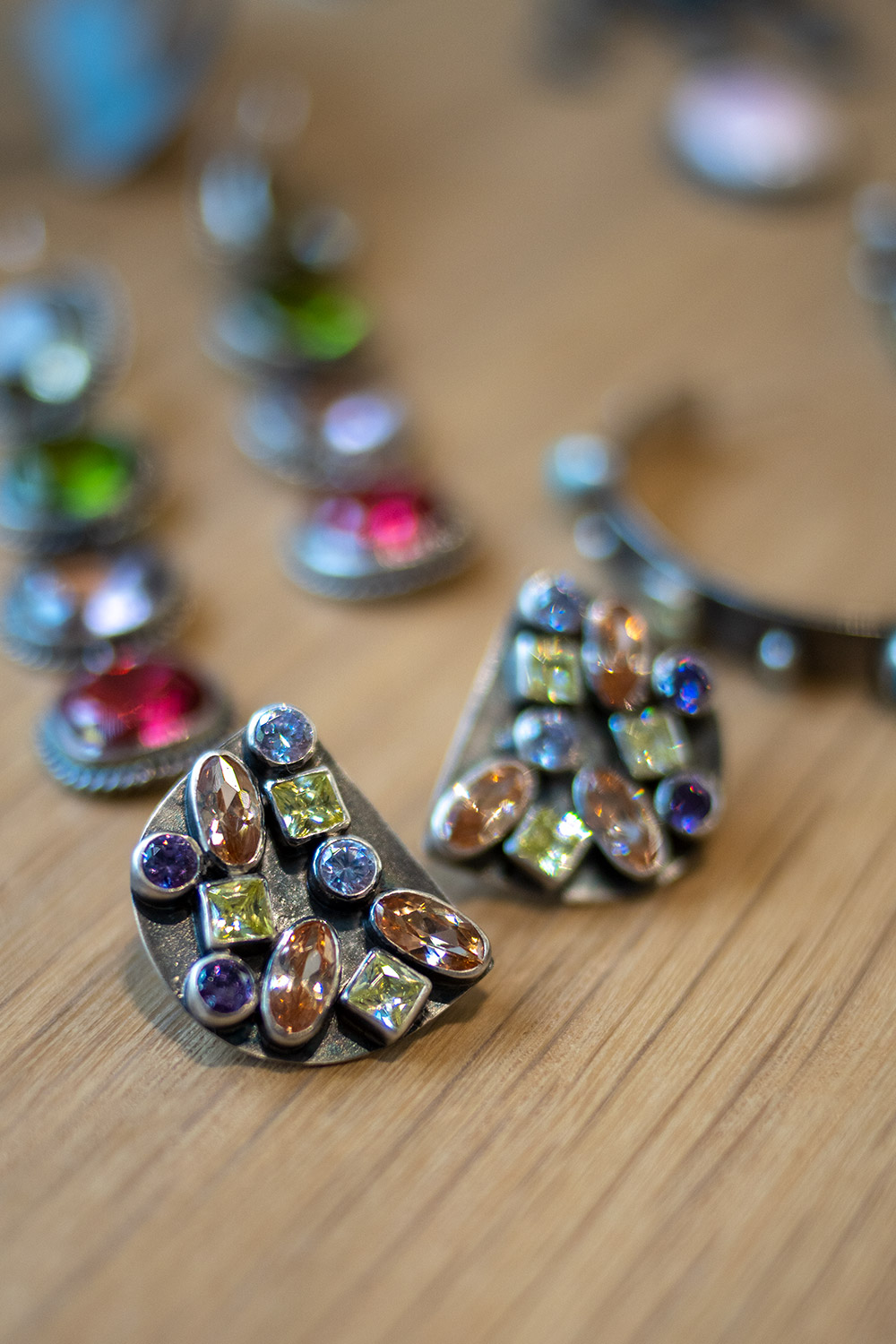 Prior to starting her business, Tiffany took up a metalsmith course from the Lucy Walker studio in Bangsar, learning the ins and outs of jewellery-making from soldering and texturing. Though the first offerings under Hill to Street were actually unique curated pieces that she found through her past travels, before expanding her range to include jewellery that she designs and then sends to her home-based factory in Indonesia. If time and inspiration allows, she also designs and creates her own pieces, which can be found under the By Hui collection.
"I love to play with fire!" she jokes, recalling her studio days. "To this day I still go back to the studio in Bangsar to do fire work or soldering."
All that's bold and silver
The Hill to Street jewellery are crafted from a mix of pure silver and sterling silver 925. The former is used for its softer texture and malleability, which allows a lot of the designs to be adjusted slightly or gently bent accordingly for the most comfortable fit.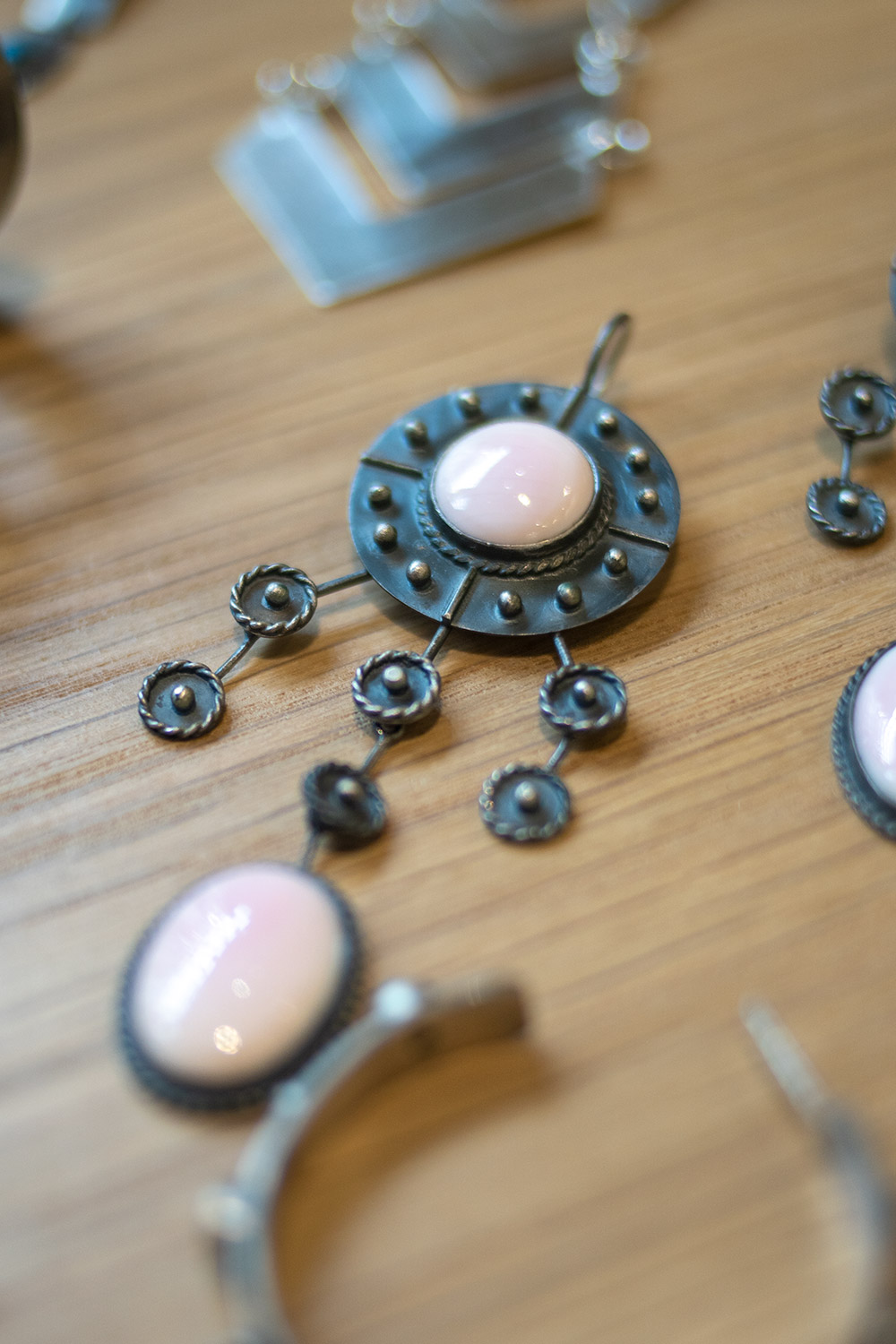 "If you see a lot of weaving or more intricate designs, we tend to use pure silver because it's easier to handle," Tiffany points out. "Sterling silver, on the other hand, is harder because there's a higher mix of alloys in there. For the Hill to Street x ANUJA collection for example, since we used precious stones and glass stones, we selected sterling silver instead of pure silver because we needed a stronger base to hold the stones together."
While today we're more used to seeing minimalistic and dainty demi-fine jewellery such as simple gold chains and understated rings, Tiffany states that Malaysia is slowly seeing a shift to appreciating statement and tribal pieces more now. It just needs the right exposure and education.
"You even see upcoming collections from big designers with these bold pieces, it's definitely coming back on trend. Minimalist is always going to be there, because it's minimalist," she says. "When it comes to silver, it's everlasting and easy to match for dressing up and dressing down. The response has been excellent since we started. We're just lacking the right education and availability, that's why no one really wears it or talks about it. But right after we launched, we had people showing interest in pure silver and handmade silver jewellery – they just love it!"
Hill to Street is also more than just a label offering tribal jewellery, but pieces that infuse the traditional and ethnic aesthetics into contemporary pieces.
"It's not fully tribal, but it's modern tribal," Tiffany explains. "It's not so tribal that you can only wear it with traditional clothing, but it's your everyday street style that you can mix and match with anything. I also think it just has so much more character than just a simple dainty necklace. Think of it as your statement piece, but with a tribal essence."
Tiffany also points out the higher price point in selling pieces made of pure silver and sterling silver. Most commercial silver jewellery in the market most of the time typically use more affordable material such as copper or brass, and dip or coat them in gold or silver – which allows a lower price point.
"We do have a gold-plated collection, but under the gold it's sterling silver – not brass or copper which are relatively cheaper. Once the gold wears off, it's the sterling silver you're actually paying for," Tiffany explains.
While she's certainly not turning down the idea of releasing a gold collection, Tiffany continues to profess her true love for silver jewellery. In cases where clients want a warmer option to her jewellery pieces, she does offer gold-plating services for her existing pure and sterling silver pieces.
The latest collection to hit the Hill to Street label is made in collaboration with local yoga guru, Anuja Ananthan. Colourful, ethereal and undoubtedly tribal, the collection honours the indomitable spirit of the feminine, comprising of six earrings, a cuff bracelet, and a choker necklace. Aptly named Embrace the Goddess in You, the collection brings coloured stones for the first time to Hill to Street, which usually sports carvings and detailed techniques to show off the beauty of silver.
"I actually met Anuja at a market during our soft launch, and I specifically told me PR agent that I wanted Anuja because of her whole look and style," Tiffany recalls fondly when asked why she chose Anuja as her muse. "I wanted someone to represent Malaysia who also appreciated silver and the look of tribal jewellery."
"I was like 'yeah I want to do it!' when she approached me, because I love silver jewellery and share her love for tribal jewellery," Anuja adds excitedly. "We wanted this to be a festive collection in-line with Deepavali and Christmas, that's why you can see it's a very colourful collection. We played with coloured stones for this collection which is a first for Hill to Street, and we really sat down and brainstormed on each and every piece and just bounced all sorts of ideas off one another."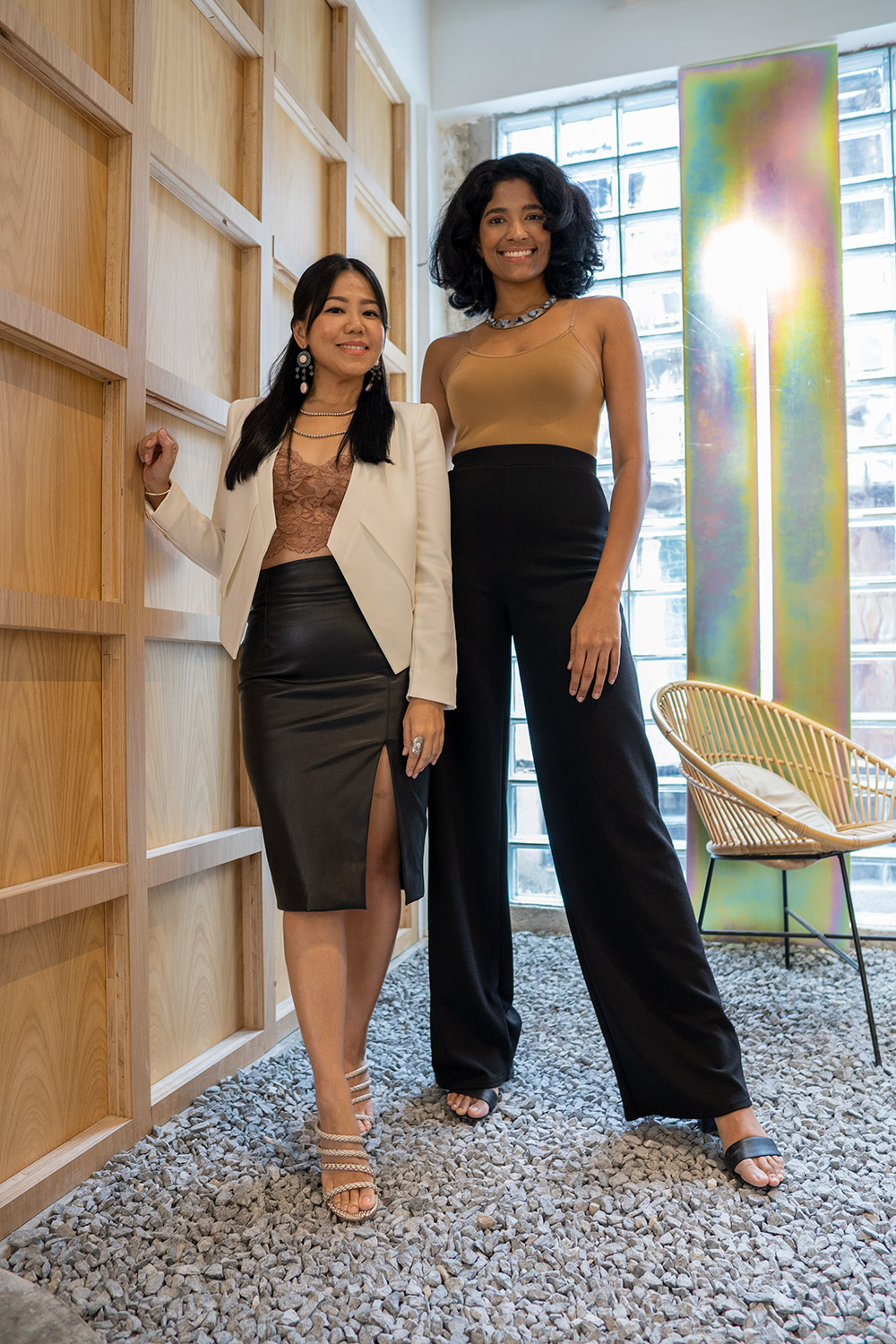 Each piece in the Hill to Street x ANUJA collection is given a unique name that pays tribute to the many characters and personalities of women. The Maitri drop earrings mean "friendliness and loving kindess" in Sanskrit, while the Imara bracelet takes from the Swahili word to mean "strong, resolute, or grounded". The collection also nods to the extension of Anuja's style and personal expression, evident in the Anuja hoop earrings, which feature her birthstone, the peridot.
"This collection is made for the modern day, multifaceted woman," Anuja explains. "Whether she's a career orientated woman or a stay-at-home mom, it's just a collection for everyone. We want to play with the woman's delicateness and strength. Even if partnerships we have to be fluid yet strategic. It's basically an ode to the feminine."
You don't need to be a professional craftsman to realise how the small details in jewellery-making require a great amount of patience, attention, and skill. However, the greatest challenge for Tiffany in her jewellery journey is material sourcing.
"We can't really source the materials and tools we need in Malaysia yet, so I hope that the industry will grow enough one day so we can get easier access," Tiffany tells. "In other countries, their startup cost is much lower than ours because they can easily get what they need. Even for our silver we have to source it from Thailand or the U.S., and our stones from Indonesia."
While Hill to Street jewellery continues to be handmade in her Indonesia-based factory and Tiffany's home studio, she does look forward to the day when she'll be able to open a workshop of her own locally.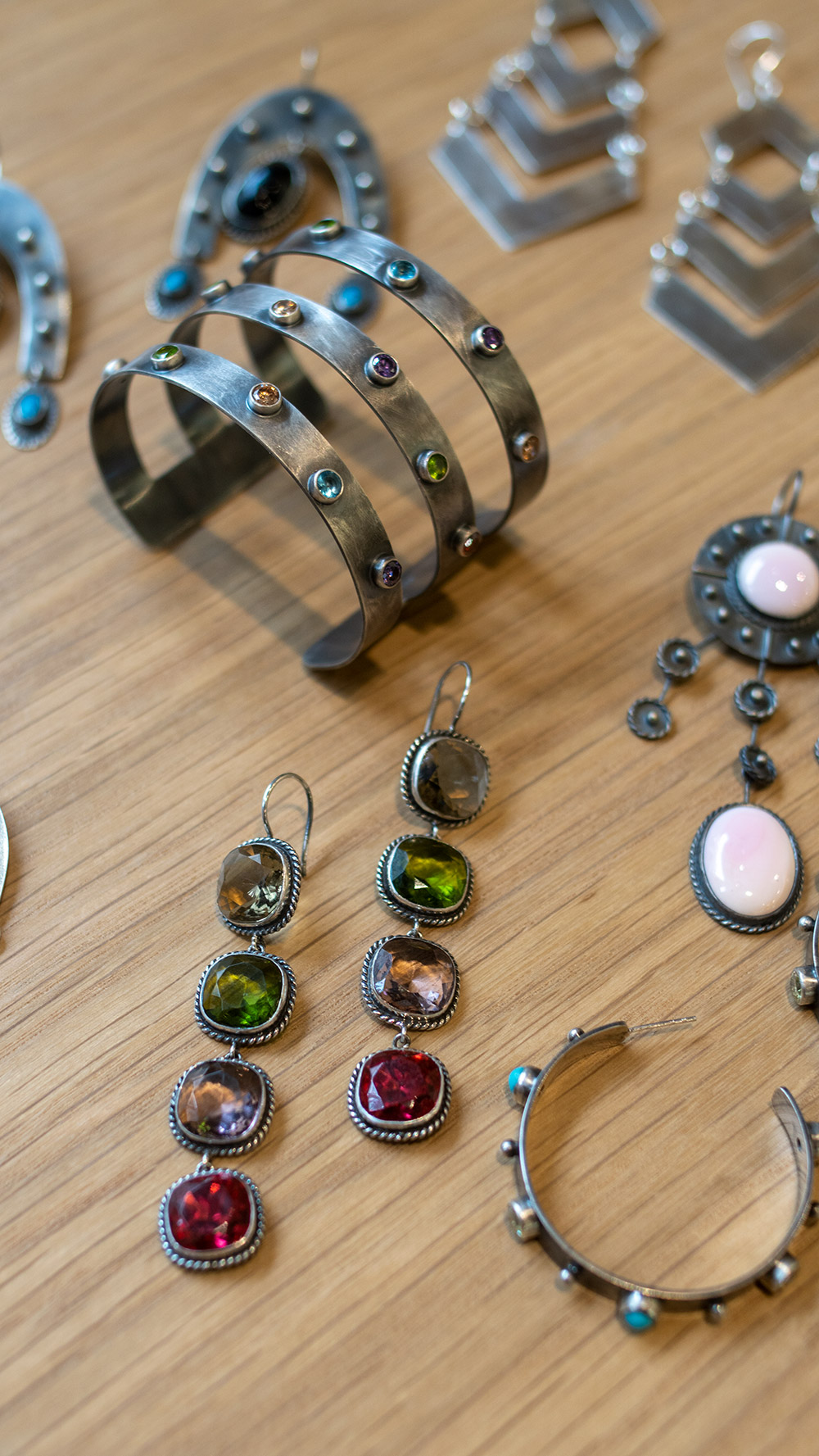 "One thing I'm very passionate about is that I hope one day I'll be able to open a shop here where I can have the artisans working right at the back of the shop," Tiffany expresses enthusiastically. "Then I'll be able to take custom orders there, so clients can just walk into the shop, design together with us and then get the pieces made right then and there. It's my dream, it can happen, definitely!"
Check out the entire Hill to Street jewellery collection, including the collaboration with Anuja on their website here, or follow them on Instagram @hilltostreet for more updates.
Photography by Anson Siau.