From soft shell crab rojak to chocolate lamb, Ruyi & Lyn catapults the concept of fusion and innovation in the local food scene to a whole new level.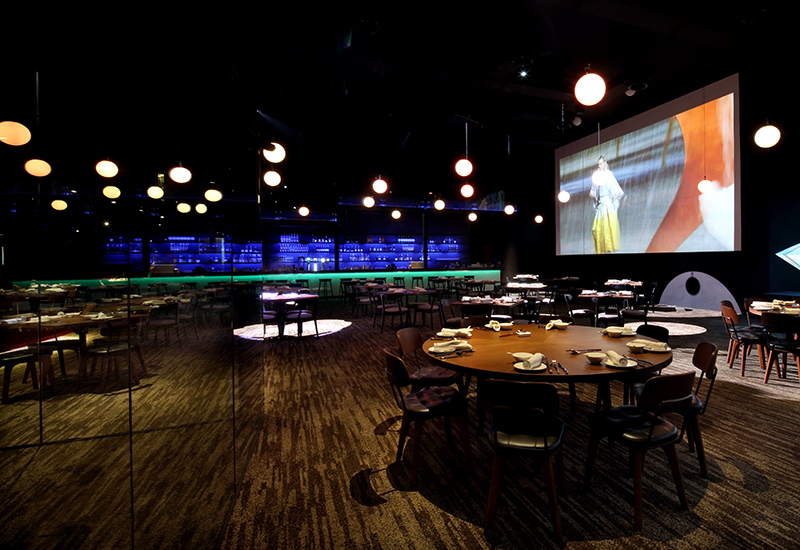 Ruyi & Lyn is no stranger to the KL food industry, transforming the way we look at Chinese cuisine with its creative fusion dishes since its launch in June 2015.  Its signature 'Ruyi's sushi' – a combination of Hainanese chicken rice, nasi lemak, and mango sticky rice in sushi form – is a compelling testament to their spiralling success.
Probably what keeps customers coming is the fact that they add or modify their menu every three months or so, chief innovator and executive director Lyn Siew says. With all the hype before, we are naturally curious to savour what the restaurateur and executive chef James Ho have carefully curated for a new menu launched last week.
Here are the highlights:
Crispy shiso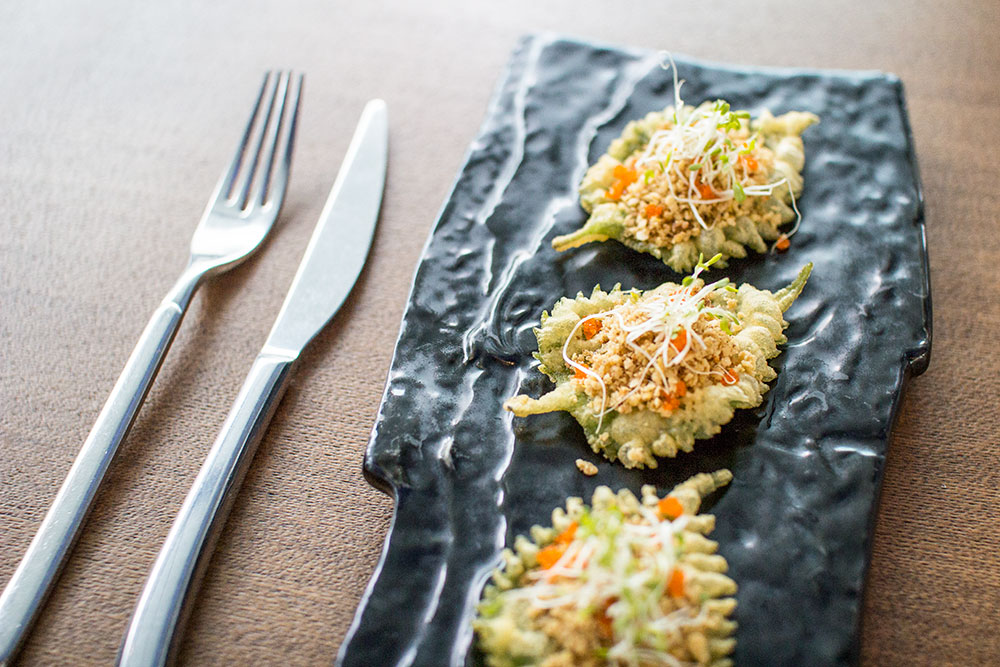 When we are first presented with this plate of Chinese tapas, we are immediately intrigued by the unique blend of ingredients set before us. According to Lyn, the shiso leaf is typically used as herbs or condiments in Japanese dishes, but her chefs were inspired to convert it into a dish on its own. Served deep fried and topped with fried oats and ebiko, the result is an addictive, crunchy snack fused with the sweetness of oats and the fragrance of shiso.
Soft shell crab rojak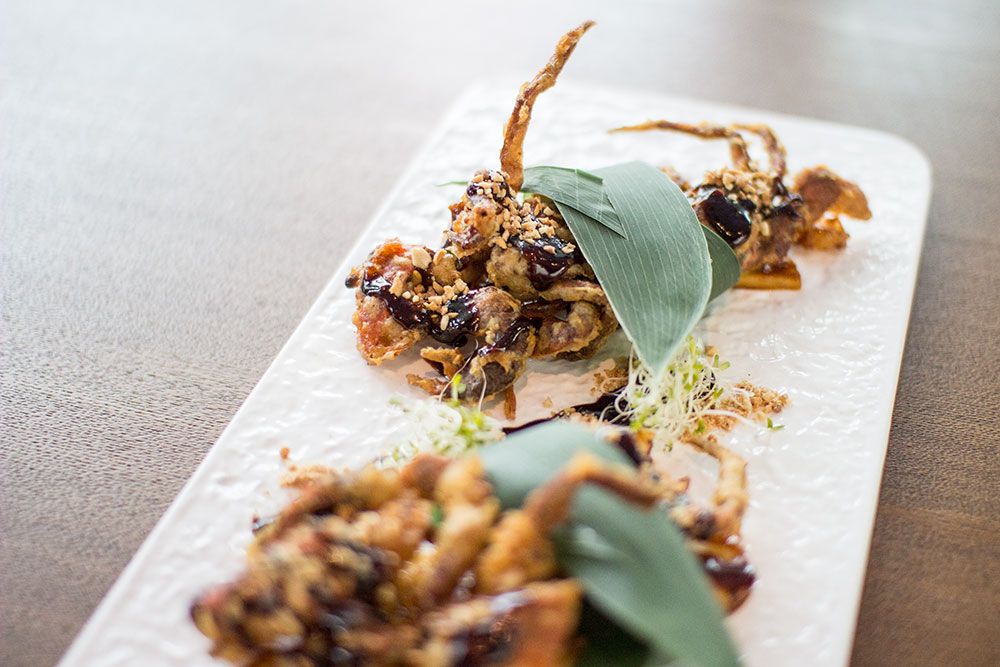 While 'soft shell crab' and 'rojak' are two familiar foods, we never thought the two can marry. As weird as it sounds, it tastes surprisingly scrumptious. The rojak sauce is just the way we like it – not too sweet nor too sour, not too thick nor too diluted – and it delightfully complements the golden crispy crab which is cooked to crunchy perfection.
Hehe Haha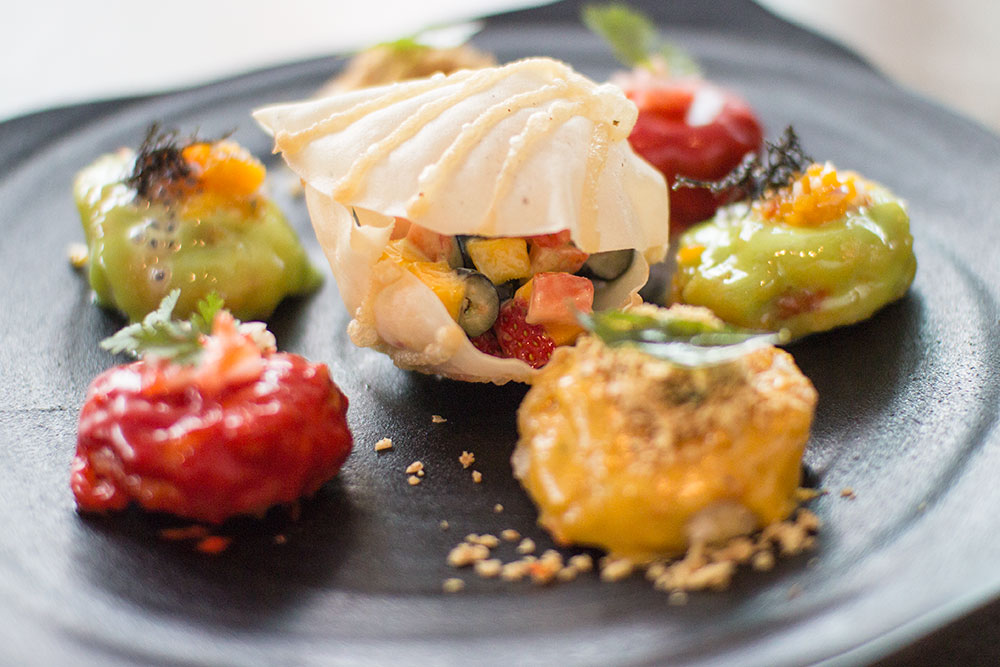 The sound of this dish alone puts a smile on our faces; the taste of it only widens it further. This aesthetically pleasing traffic-light-coloured dish comprises a trio of thick, juicy deep fried prawns coated in creamy salted egg sauce (our favourite!), wasabi mayo (minus the spice), and sweet raspberry jam. In the middle of the plate, a clam-shaped cracker unveils a fresh fruit salad resembling pearls, which adds just the right amount of sweetness and acidity to the dish.
Chocolate Lamb

It's unfortunate that the lamb has cooled to room temperature by the time we get a taste of it as we are already swamped with so much food. Regardless, this pan seared lamb chop served with bittersweet dark chocolate sauce is not for the faint-hearted – you'll either love it or hate it. We personally have mixed feelings about the combination though Lyn mentions that it's one of her favourite new additions.
Bloody Mary's Pasta

To be honest, we aren't the biggest fans of this tomato-based drink but we decide to give it a try because everything else has exceeded our expectations. Unfortunately, it didn't change our minds though we must admit it makes a good pairing with the butterfly pasta, mixable into the cocktail for good fun!
Tipsy Cendol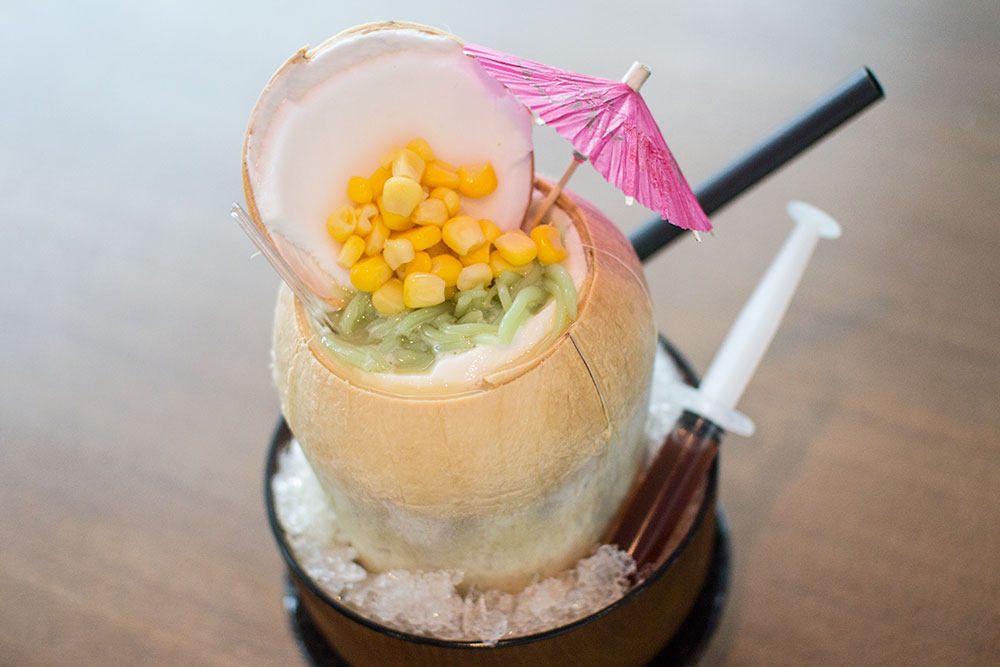 True to its name, this playful cocktail adds a mischievous kick to an all-time Malaysian favourite dessert, cendol. Arriving in a coconut shell, it has the usual sweet corn and milky coconut cream sans red beans and green jelly, plus a hint of rum (or maybe two). We love that the house-made gula Melaka is served in a syringe, allowing us to control the sweetness to our liking. The cocktail ends our meal on a sweet note and a packed punch.
If you're left to wonder what other innovative dishes they have to offer, here's the full menu (swipe left to see more).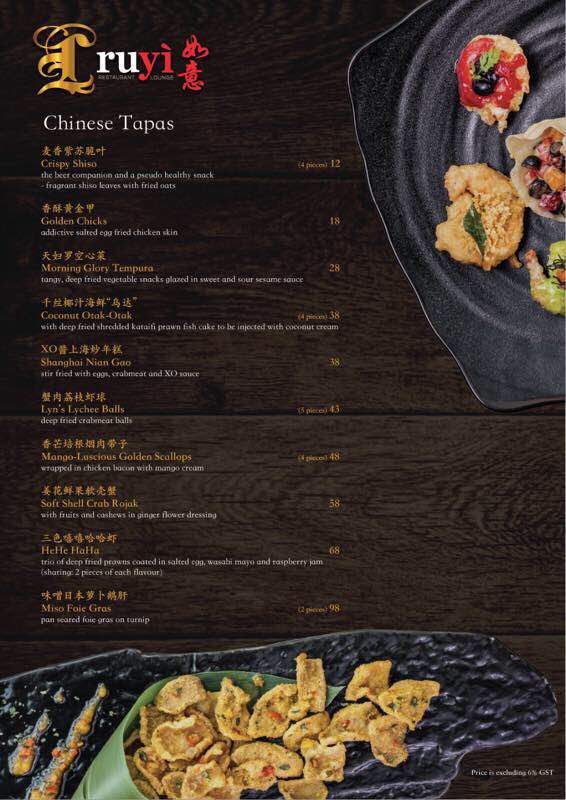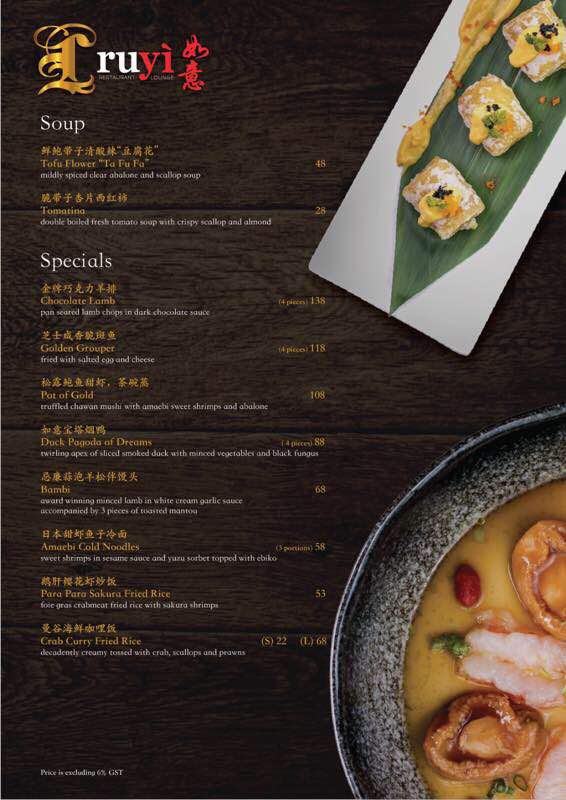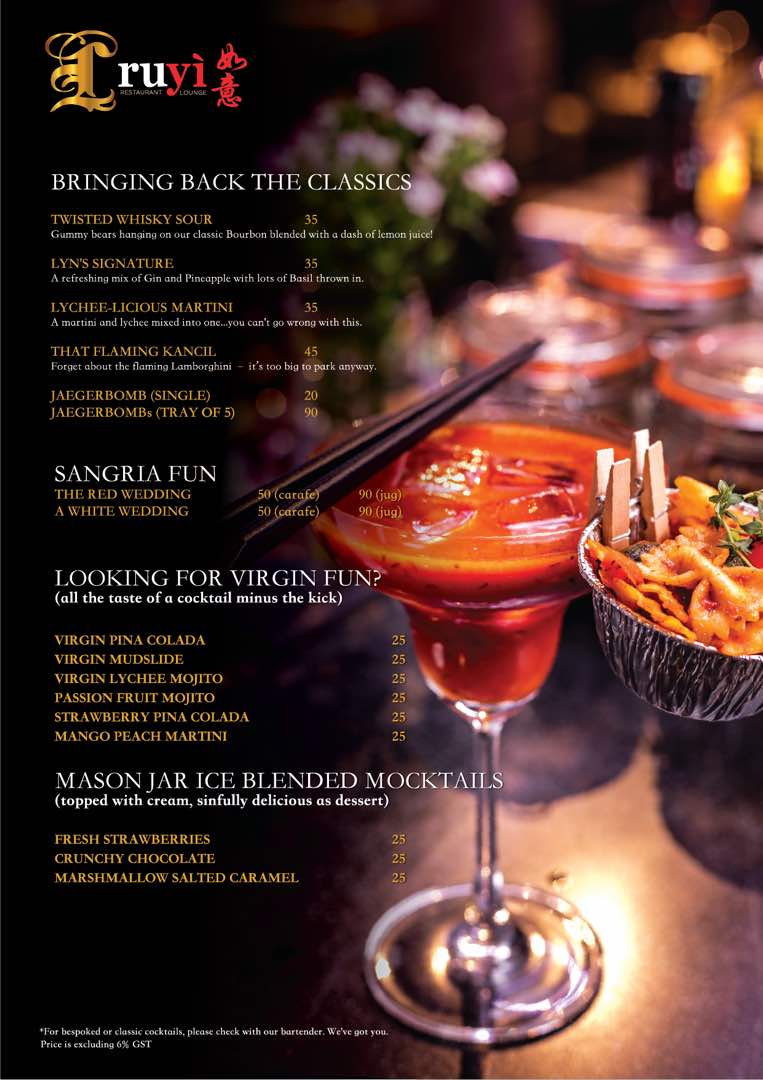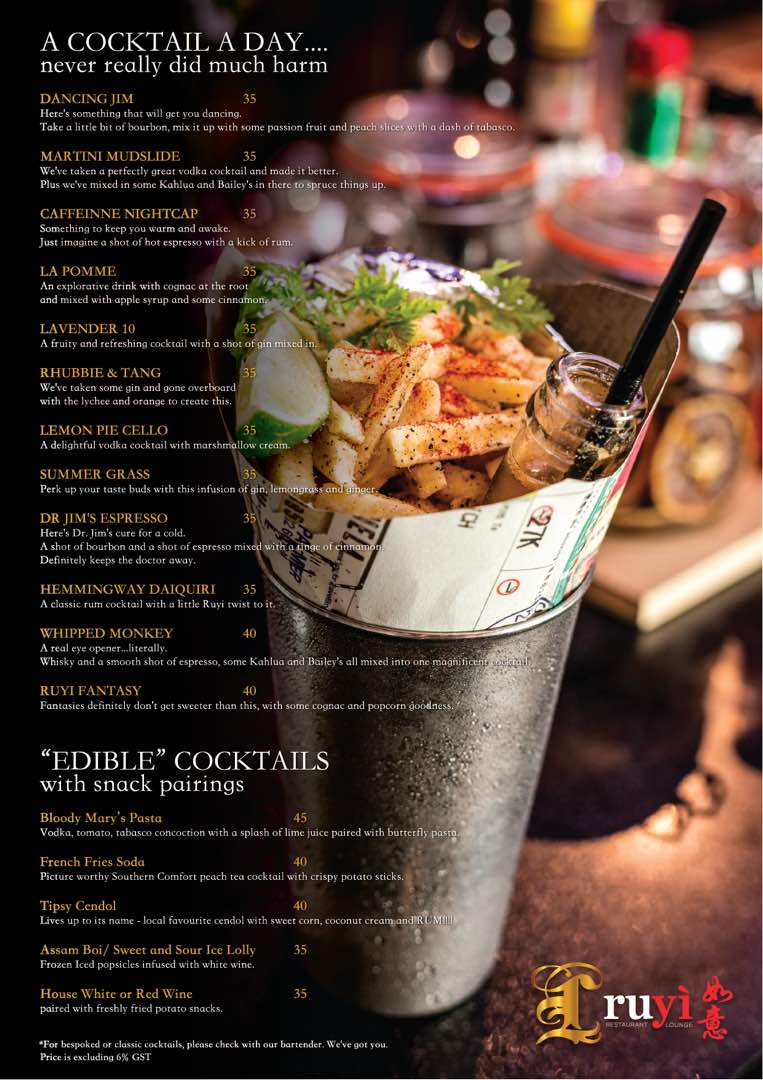 For reservations or inquiry, call +603-2083 0288.
Address: 4th floor, Bangsar Shopping Centre, 285, Jalan Maarof, Bukit Bandaraya, 59000 Kuala Lumpur
Website: www.ruyiandlyn.com
Opening Hours:
Restaurant
Sunday – Saturday: 12pm – 3pm (Last order @ 2.30pm)
Sunday – Saturday: 6pm – 12am (Last order @ 11.00pm)
Lounge
Sunday – Saturday: 12pm – 3pm (Last order @ 2.30pm)
Sunday – Saturday: 5pm – till late
Photography: Yew Chin Gan