It  is a whole lot of fun, serviced by top notch amenities and young, dynamic staff, jazzed up with bold style.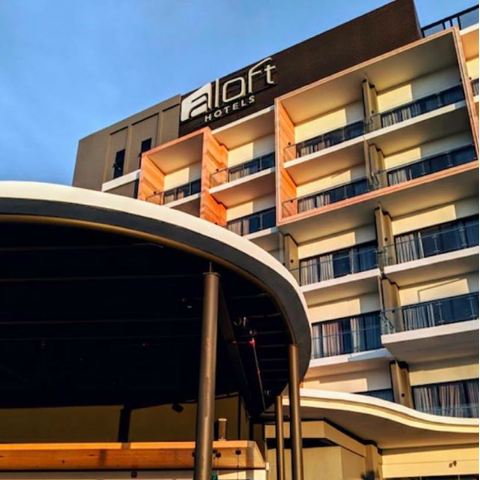 The tale of Aloft Hotels is an inspirational one.
Birthed as a spinoff of the world-renowned and very exciting W Hotels Group (no kidding, Aloft used to have the words "A Vision of W Hotels" in its very name) it quickly gained a market following and broke off from its older sister's shadow to hold its own in the hospitality scene. It's elbowed its way to the forefront so much so that it is now proud to stand grand and colourful in Langkawi Island with a beautiful stretch of the popular Pantai Tengah beach all to itself.
On 17 November, 2018, Aloft Langkawi Pantai Tengah opened its doors to the sunny island, offering beachgoers and watersports buff a breath of playful dynamic fresh air to match the spirit of the beach destination.
Is it worth a visit? We say yes.
Stylish, Sassy , Savvy
When it comes to resorts, Langkawi isn't short of them. But when it comes to a place the younger crowd (we're trying hard not to use the term millennials, FYI) will feel truly at home, those who have been will attest that there aren't many. The lovers have the Ritz-Carlton; the families have the Westin; the posh has The St Regis.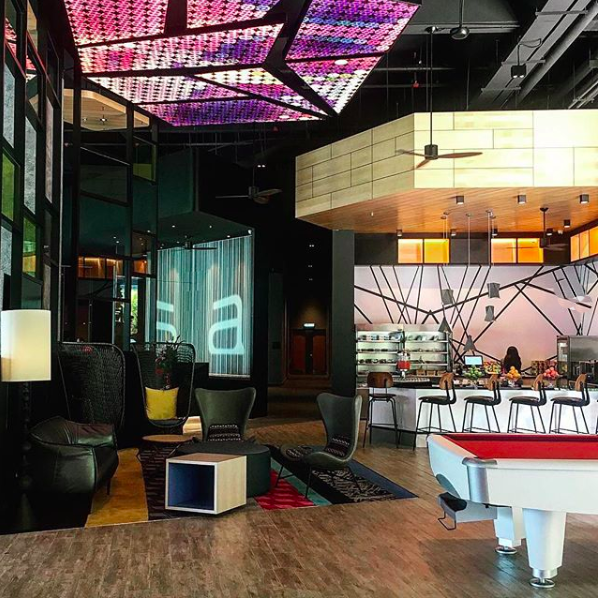 Aloft fills this in-between gap of the uppity resorts and rough-it-out backpacker lodges that are aplenty in Langkawi. It reinvigorates with its tagline of 'Stylish, Sassy, Savvy' with modern touches, vibrant colours and a refreshing open air concept that tells you from the get-go to embrace your Bermuda shorts and flip flops.
The first thing that greets you here is a row of computers. We take that back. Smiling ushers serving welcome drinks are the first, but the second thing that'll catch your eyes are a row of computers. They're free for all guests to use to whether you need to check in on social media, log off the work email or print your boarding passes, et cetera.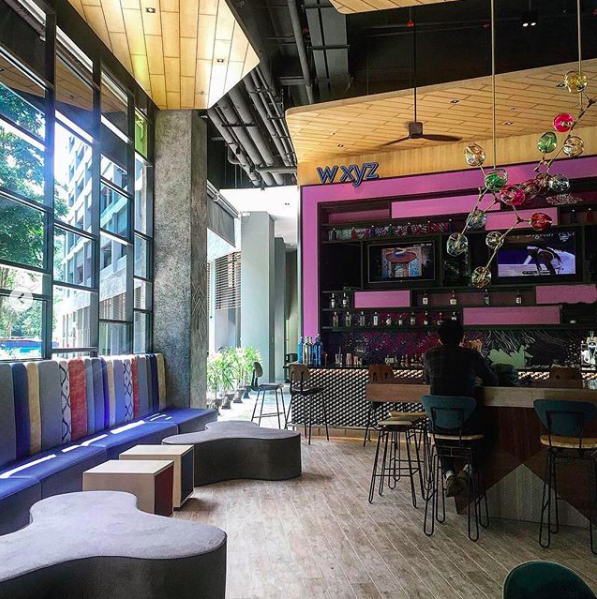 Right by it is the 24-hour Re:Fuel Bar signature to every Aloft Hotel where refreshments are available all around the clock to match the on-the-go lifestyle of the Aloft traveller. Next to it is the Re:Mix lobby area complete with pool table, cocktail lounge chairs and a stage where the Live at Aloft Hotels programme will come to life once a month to shine the spotlight on local usical talents. These are capped off with the stunning W XYZ Bar where you can enjoy a tipple or two while connecting with friends old and new.
Tech-savvy and comfortable
Then there are the rooms, which again is way ahead of the technological curve. You'll notice there are no card slots because who manually activates the electricity in their rooms anymore? Certainly not Aloft.
Passive Infrared (PIR) motion sensors detect any activity in the room and turns everything on from the moment you open the door. Inactivity of 15 minutes disconnect it in return for environmental sustainability.
Rooms here come with a choice of sea view or rainforest view. The sea view rooms come balconies opened up to with floor-to-ceiling glass sliding doors for uninterrupted views. It's beautiful, indulgent and breathtaking; the only downside is perhaps the need to be careful that the sliding doors are shut tight because opened at the slightest millimetre and the electricty gets cut off too. Just a small downside to such state-of-the-art facility.
A delicious Nook
Langkawi is known for its food as much as its beaches and the best of its local fare headlines Aloft's sole dining establishment, Nook. Breakfast, lunch and dinner are served here with a view of the hotel's infinity pool overlooking the Andaman Sea.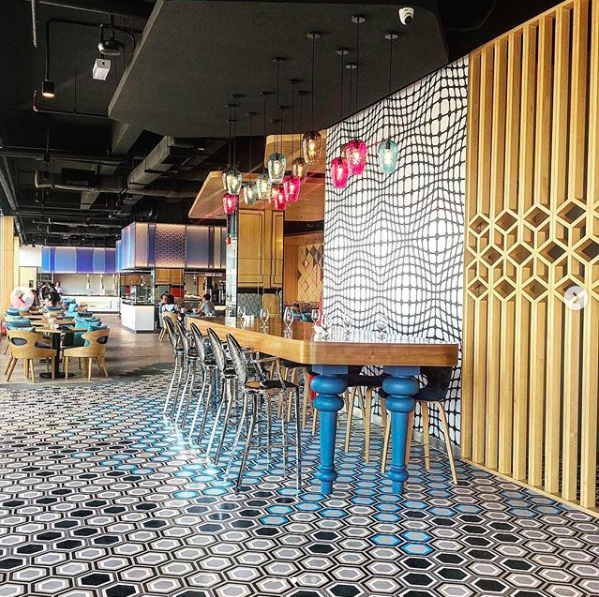 While there is a good mix of Western and Asian, it gets the Asian right, particularly the nasi lemak which sambal doesn't hold back on the spice, and the Sarawak Laksa, a trademark Aloft has come to be known for doing well.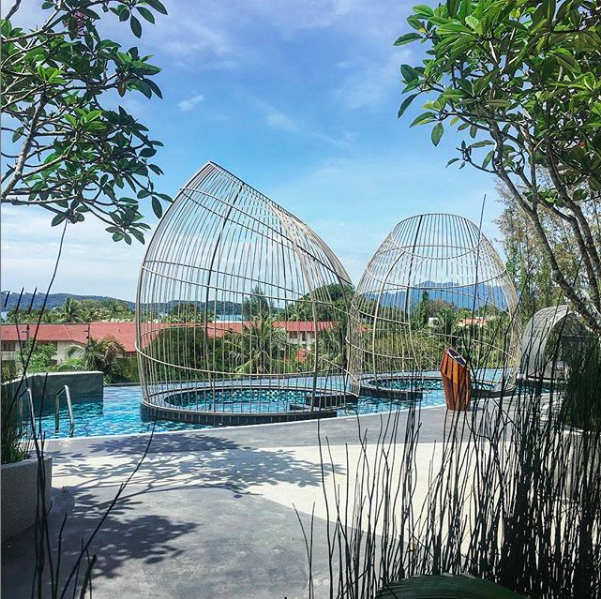 At night, groups can opt for a Hidang Style dinner too, and have local dishes prepared for a sit-down sharing-style dinner over rice. Malaysian heritage dishes shine here, like chicken curry and kerabu salads alongside stir-fried vegetables and stewed meats, all done with a Northern Langkawi touch.
Young, strategic and dynamic
All the above is conveniently situation a short 5-10 minutes' drive from the island's top beach and watersports hub, as well as duty-free stores. The prized Pantai Cenang itself is just minutes away by foot. If you're looking for a strategic place to stay for easy access to the rest of the island, it's not going to get any more central than here.
The core of the hotel is to cater to the fiercely independent lifestyles of the new generation. It hasn't got the full works of a fine dining restaurant or spa, but that's not what its target audience wants, anyway. It has the basics for a great stay and it does the basics well. It  is a whole lot of fun, serviced by top notch amenities and young, dynamic staff, jazzed up with bold style.
It's "Different. By Design."
Log on to the official website here for more information or to book your room.