Meet the new all-electric Porsche Taycan, unveiled for the APAC region at a Star-Wars-themed premiere in Singapore last week.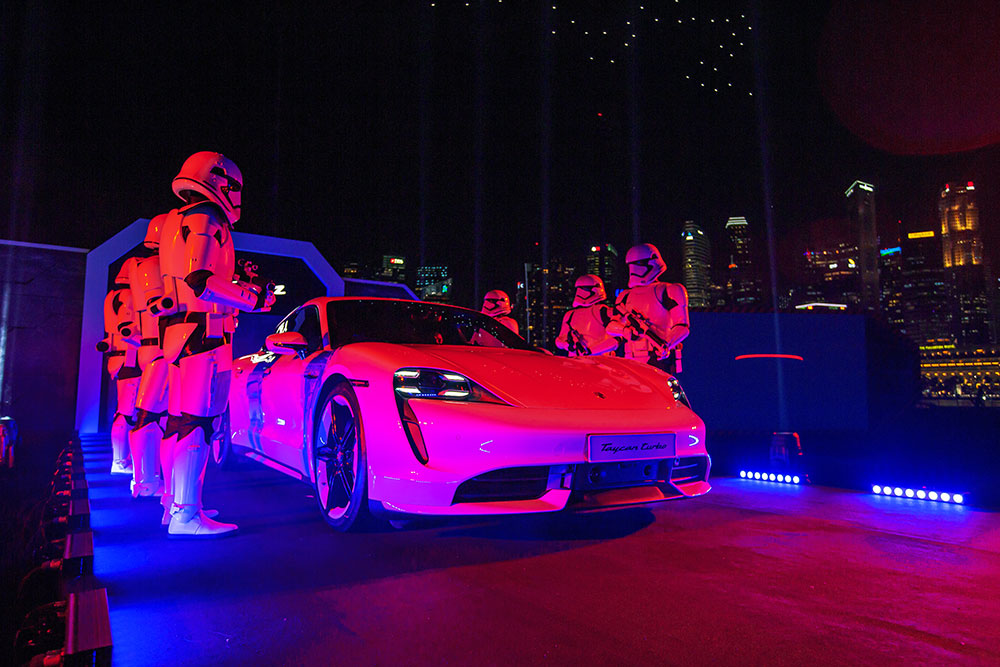 The Force was strong at Marina Bay, Singapore last Thursday, where we were among the Asian Pacific padawans to witness the debut of the new Porsche Taycan in conjunction with an exclusive preview of the marque's collaboration with Star Wars.
Electrifying installations were set up around the spaceport, above which a drone show was orchestrated to highlight the features of the automaker's first all-electric sports car.
There was a sneak preview of Porsche's sketches of a fantasy starship leading up to the premiere of the final Star Wars episode next month, before an army of stormtroopers marched out to make way for the real Star of the night.
Enter a white Porsche Taycan Turbo, marking the dawn of a new era for Porsche as it expands its presence in the field of electromobility.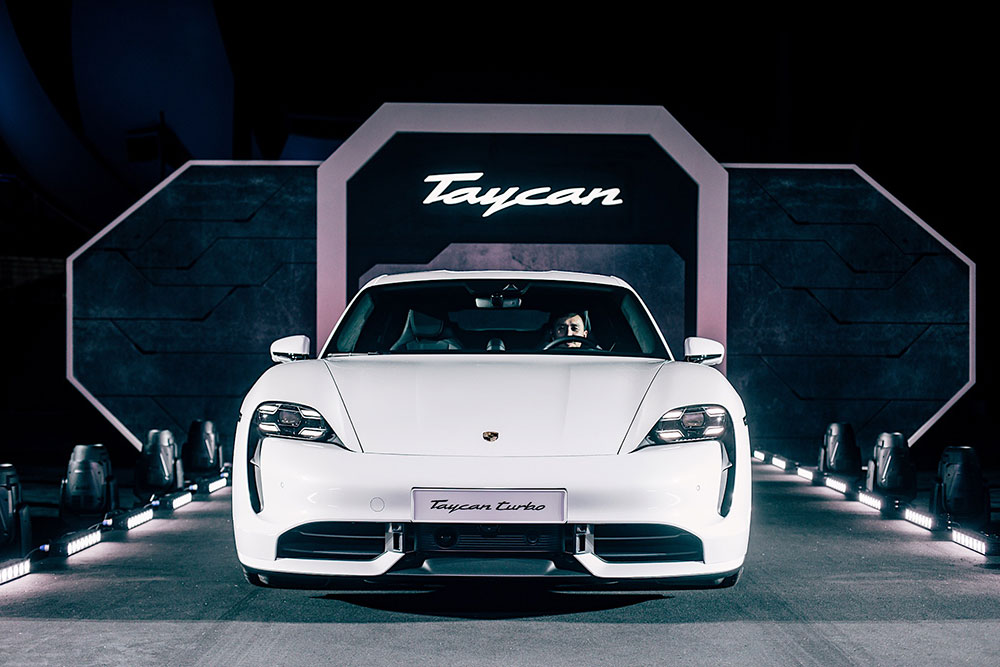 A Force to be reckoned with  
"The Taycan links our heritage to the future. It is a fascinating sports car with exciting driving dynamics, performance and technology – and like every Porsche ever built, it comes with a soul. Something you will feel immediately, once you get behind the steering wheel," claimed Arthur Willmann, Managing Director of Porsche Asia Pacific.
With the flagship Taycan Turbo S packing 761 hp overboost power that takes it from zero to 100km/h in 2.8 seconds, we can imagine what Willman is getting at. The Turbo doesn't fall too far either, with up to 680hp and a century sprint of 3.2 seconds. Both models boast a top speed of 260 km/h.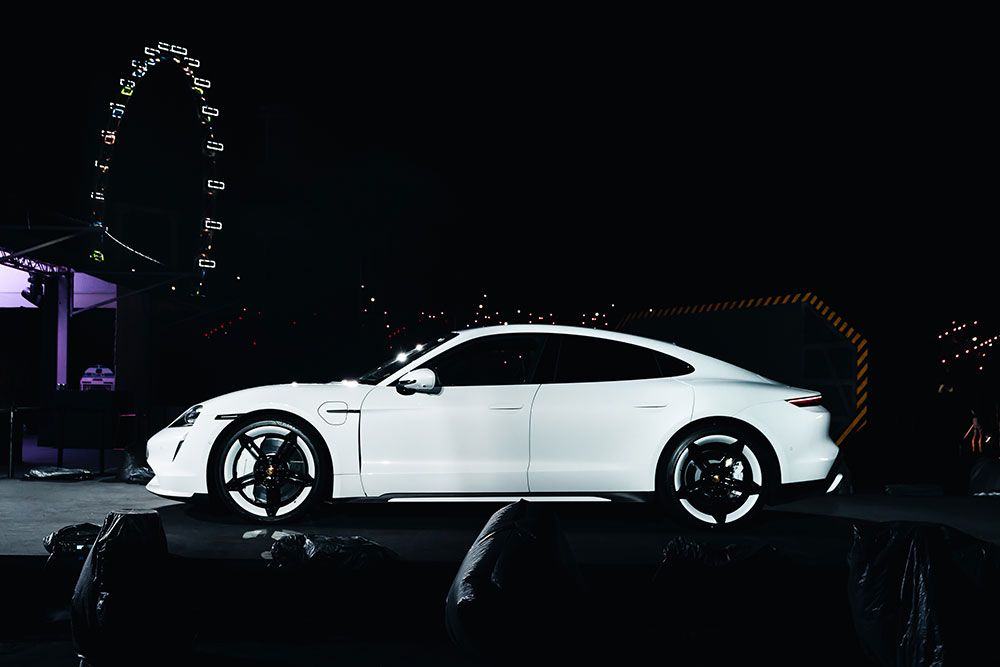 Range has been a weak point of many electric cars, but the Taycan models hold up fairly well. The Taycan Turbo S can go up to 412 km on full charge, whereas the Taycan Turbo tops that at 450 km (according to WLTP in each case). This decent range is owed in part to a system voltage of 800 volts – double that of other electric cars.
It is the first battery-electric vehicle (BEV) in production to feature this advantage, allowing it to reach a range of up to 100 km with a charge of just over five minutes using direct current (DC) from the high-power charging network. Additionally, the charging time for five to 80 percent state of charge (SoC) is only 22.5 minutes under ideal conditions, with a peak charging power of 270kW.
The Taycan Turbo models offer two exceptionally efficient electric machines, one on the front axle and one on the rear axle, making both all-wheel-drive. First gear gives the Taycan more acceleration from a stationary start, while second gear with a long gear ratio ensures high efficiency and power reserves – even at very high speeds.

Designed for a new era
When it comes to design, an all-electric model presents a world of possibilities given the engine makeover. The Taycan embraces this, whilst also staying true to Porsche's design DNA.
"Designing the Taycan was one of the most exciting tasks, because the only certainty was that it had to be recognisable as a Porsche at first glance," said Michael Mauer, Vice President Style Porsche at Porsche AG, during the event.
"And by pursuing the strategy of making it the sportiest in the segment, we have defined a new architecture for purely electric vehicles. Just like what the 911 has achieved, my vision is that the Taycan will become an icon of this new era, a synonym for a purely electric sports car."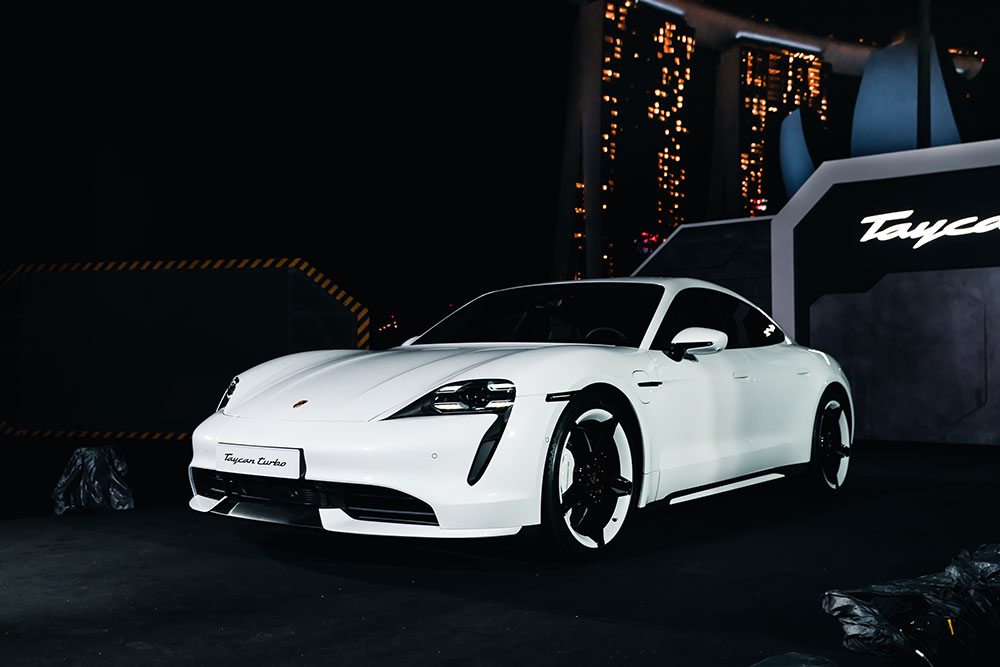 A key feature of this new icon at first glance is the four-point LED headlights on its recognisably wide, flat front. Its sporty silhouette is defined by highly sculpted side sections, drawn-in C-pillar and contoured wings that accentuate its rear – another ode to the brand heritage. The sharp rear also sports a sleek light strip integrated with the Porsche logo – all made out of glass.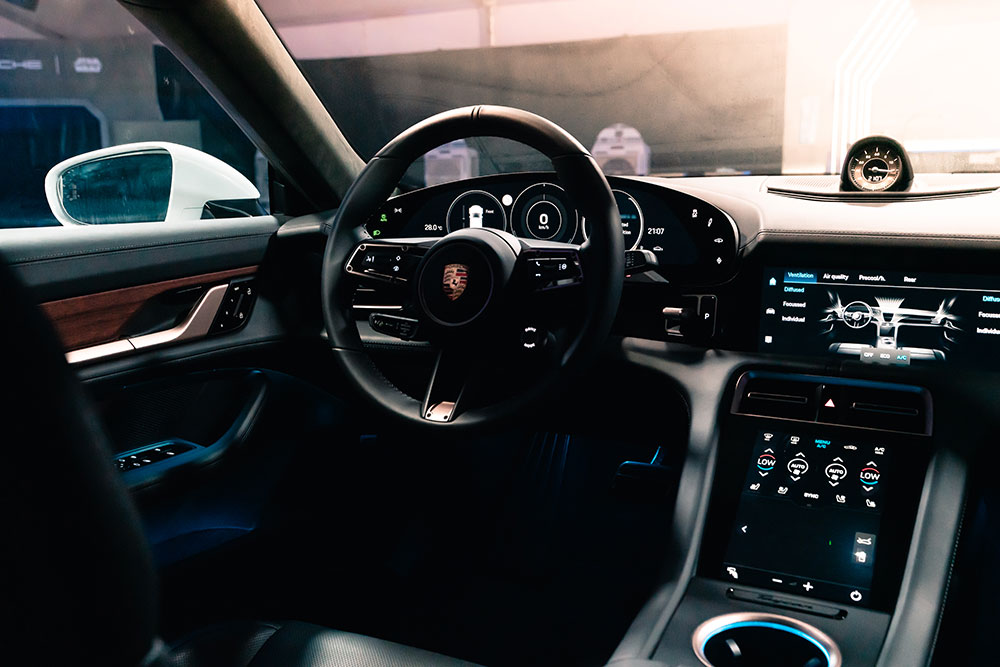 Inside, the cockpit features an innovative new look with freestanding instrument clusters designed to be intuitive, seamless and driver-focused. This translates to minimal hardware controls, replaced instead by touch operations or voice commands.
The four-door saloon also features a leather-free cabin for the first time. In keeping with the sustainability concept of an electric car, the interiors are made from recycled materials. But luxury and comfort are not compromised, with "foot garages" formed by recesses in the battery in the rear footwell ensuring ample cabin space.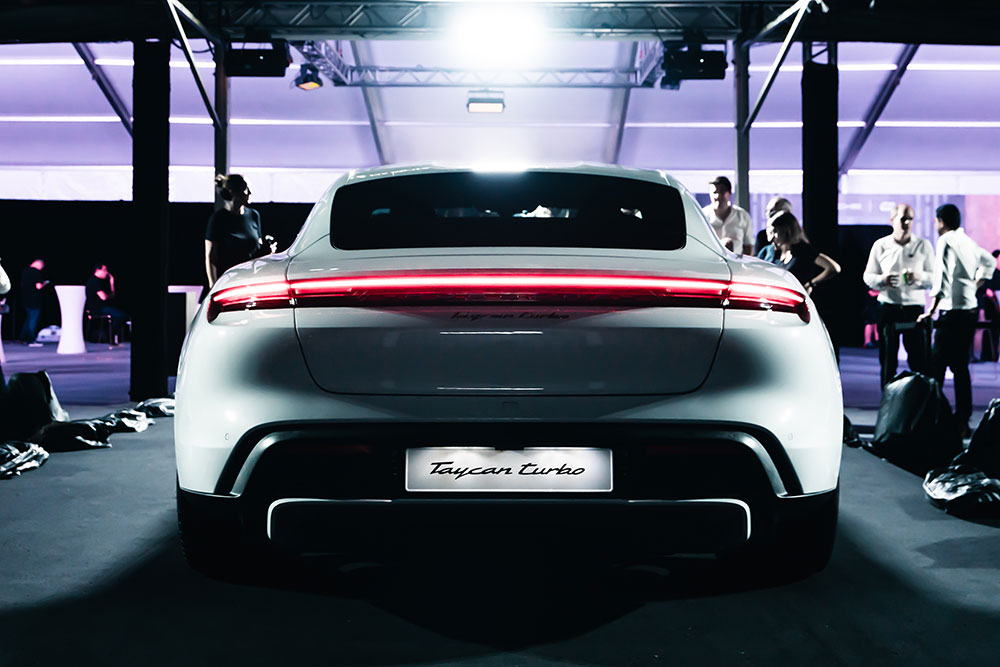 From electric cars to starships
During the Taycan's APAC debut, fans of the Star Wars saga were also given exclusive previews of the fantasy starship Porsche and Lucasfilm have been working on. The starship will be revealed at the premiere of Star Wars: The Rise of Skywalker in December.
"Although one brand is placed in a fantasy universe and one in the real world, it's interesting that both are defined very much by their iconic design principle. The basic challenge of the design brief was to design a starship that would both be true to the Star Wars universe and Porsche design DNA," said Doug Chiang, VP Executive Creative Director of Lucasfilm.
See the sketches below for an idea of how the starship will look like.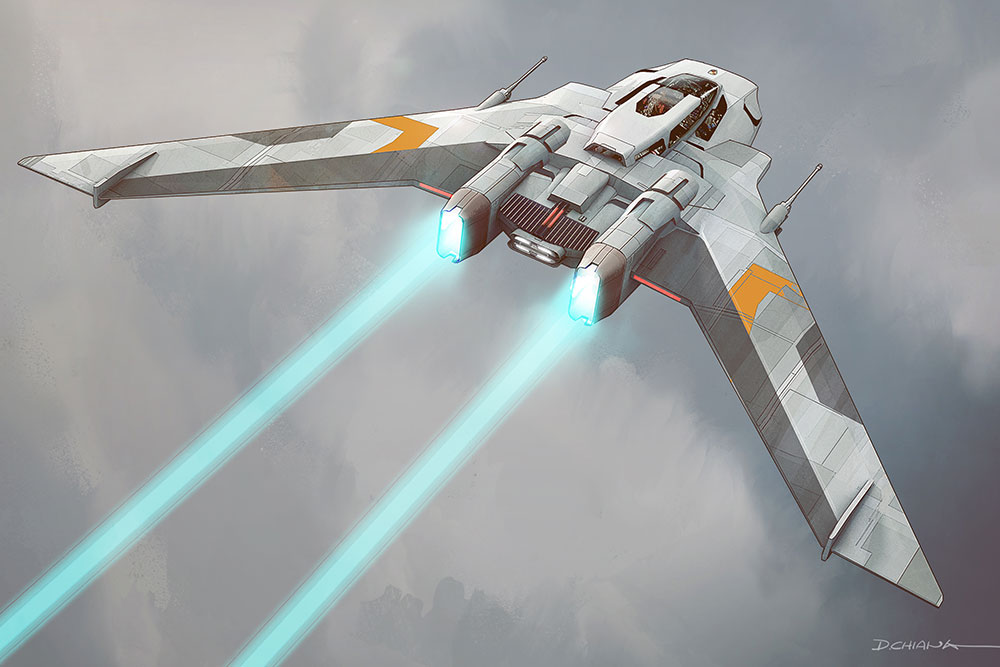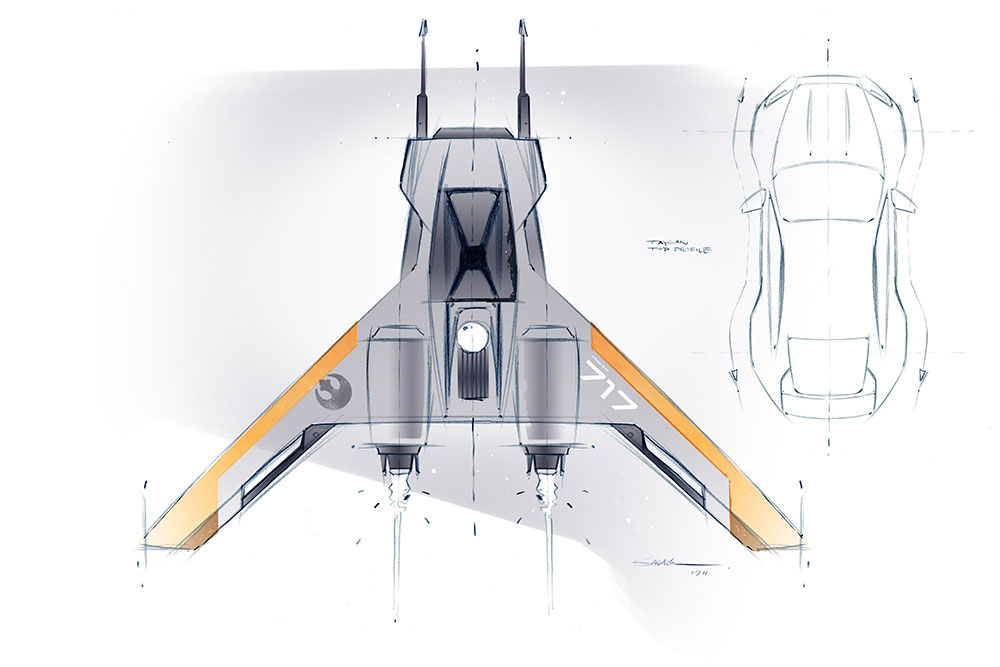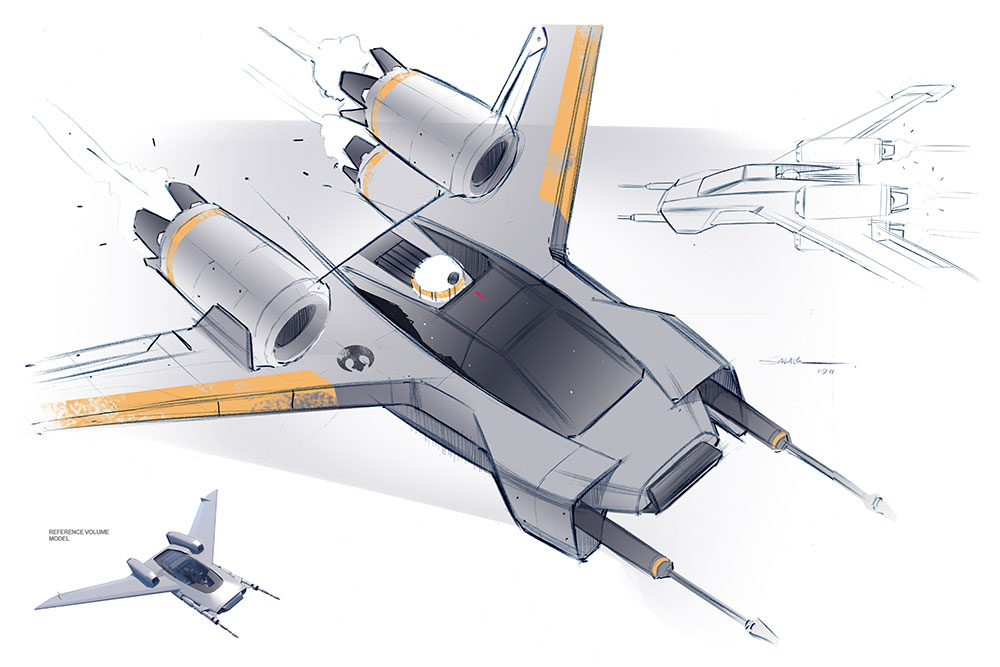 (swipe left for more)
The Porsche Taycan will only be making be making its way into the Malaysian market next year. Prices have not been revealed yet, but interested buyers can contact Porsche's dealers in Sungai Besi, Glenmarie and Penang for further enquiries.
For more information on the Taycan, log on to Porsche's official website here.
Photos: Porsche