Marina Bay Sands Singapore has just the thing for you to usher in your most spectacular, roll-off-the-tongue, once-in-a-lifetime year of 2020.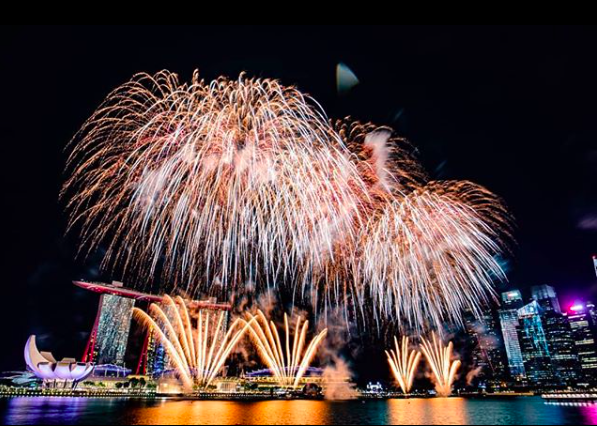 New Year's Eve will soon be upon us and, understandably, there's something about this year's that has us all a little more excited.
We'll be ushering in a whole new decade, a roll-off-the-tongue once-in-a-lifetime year of 2020. You'll want to make it count because it's the New Year's everyone will be talking about for the next ten years (at least!).
Marina Bay Sands Singapore has just the thing, with enough offerings to offer a fully curated itinerary covering dining, shopping and entertainment for the your most memorable New Year's Eve. From the list, it even has enough to make the ushering in of 2020 equally as exhilarating as counting down to it.
Don't believe us? Here are some ideas to take you from 2019 well into 2020:
New Year's Eve Lunch: DB Bistro & Oyster Bar by Daniel Boulud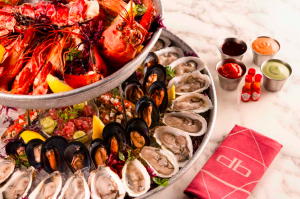 Dine well and good on the last day of 2019 as we all know we'll need the energy for the party come midnight. Enjoy the freshest seasonal catch from around the world, prepared using classic French techniques to create a harmonious symphony of rich and layered flavours at Daniel Boulud's award-winning restaurant. The menu reflects Boulud's intrinsic love for soulful seafood dishes steeped in French tradition. Tuck into a plethora of succulent seafood, including Boston lobsters, Alaskan king crabs, and Singapore's widest variety of oysters. Fish served here are caught wild and sustainably sourced. Choose from Bigeye Tuna, Snapper, Tarakihi, Trevally, John Dory, Moonfish or Blue Cod, and have it cooked your way — grilled, fried, roasted or steamed. If you are not a fan of seafood, opt for the Herb Roasted Organic Chicken, Steak Frites, and other Parisian bistro favourites. Elevate your dining experience with your choice of rare and premium vintages, sourced from around the world.
Check out the lunch menu here.
New Year's Eve Shopping: The Shoppes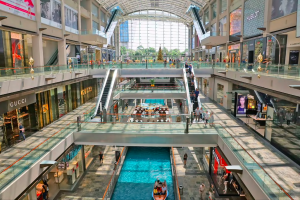 Pick up something new for the new year, or treat yourself to something nice to remember the year by. You'll definitely find what you're looking for at The Shoppes at Marina Bay Sands with its close to 93,000 m2 (1,000,000 sq ft) of retail space with over 300 stores and F&B outlets, featuring boutiques such as Ralph Lauren, Chanel, Cartier, Prada, Gucci, Hermès, Emporio Armani, Chopard, REDValentino, Dior, Dunhill, Vertu, Miu Miu, Saint Laurent Paris, Salvatore Ferragamo and more. Giant glass windows, vast open atriums, and a central water feature make for the beautiful Instagram-worthy backdrops too, especially the indoor canal complete with faux-antique sampan boats which can be booked for a lap of the mall with your own sampan driver to paddle you around – quite like Venetian gondolas.
Peruse its full store directory here.
New Year's Eve Dinner: KOMA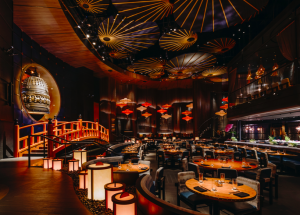 As the day turns to dusk, it's time to up the ante on vibe and tribe. Dig in to dinner at KOMA, the latest dining concept from TAO Group, presenting a Japanese restaurant and sushi bar with  modern interpretations of Japanese cuisine. Featuring original creations from Executive Chef Kunihiro Moroi, KOMA takes a bold and distinct approach in its menu, incorporating fresh and seasonal produce and ingredients from Japan. Recommended dishes include the Aburi Hamachi (Yellowtail) Salad and D.I.Y. Spicy Tuna, while meat lovers can look forward to the Wagyu Beef Tenderloin or the Wagyu Fried Rice. Have it all with signature cocktails that match the ambience and food – and by that we mean highly pleasing on the eyes and palate.
Have a look at the early dinner menu here.
New Year's Eve Drinks and Countdown: Marquee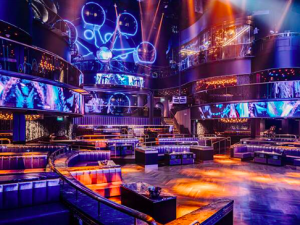 Count down to 2020 in one of the most electrifying ways yet: Take partying to new heights at MARQUEE Singapore, the hotly anticipated addition to Marina Bay Sands' nightlife lineup. Revel in a fully immersive nightclub experience incorporating design, technology and cutting-edge sound across three floors. The crowning glory of Singapore's largest nightclub is the massive Ferris wheel located right inside. Soak in the electrifying atmosphere from 20m in the air from inside one of the eight pods. The club is renowned for having big-name resident DJs and entertainers such as Kaskade, Dash Berlin, French Montana and Travis Scott. For New Year's Eve, prominent trance dup W&W will be taking over the decks to properly usher in 2020.
Get your tickets here.
New Year's Day Breakfast: Adrift By David Myers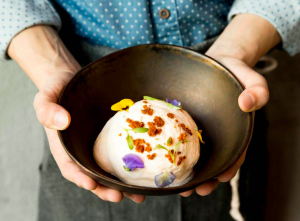 We hope you'll know to pace ourself and not party too hard. Even if you did, reinvigorate with a hearty breakfast at Adrift by David Myers where Asian-inspired dishes present a modern take on the vibrant izakaya. Adrift's flavour-forward menu includes small plates, healthy salads, seafood, and meats grilled over bincho charcoal on a traditional robata grill. Dishes are prepared using fresh Californian produce and paired with wines or cocktails. Just what you need to regain your strength and vigour for the perfect first start of the new year.
Have a look at the menu here.
New Year's Day Inspiration: Art Science Museum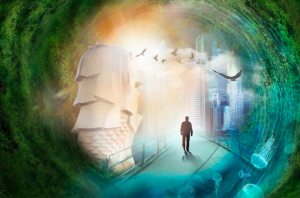 Now that the body is well fed, it is time to feed the mind. The Art Science Museum has a few new exhibitions on show that will leave you inspired to do more, be more, take on more. 2219: Futures Imagined is a thought-provoking journey into possible future worlds created through a series of immersive installations, meditative spaces, films, paintings and sculptures. Step into, and be part of, what could well become our everyday lives 200 years from now. Inspired by the work of Singaporean writer and poet Alvin Pang, 2219: Futures Imagined marks this year's Singapore Bicentennial by looking two centuries into the future. While we cannot be entirely sure what is to come, each section of this exhibition hinges on the scientific certainty that changes in our climate will require us all to adapt. This massive global transformation will act as a backdrop, upon which Singapore's daily life, communities, cultures and traditions will evolve and change. Neither a utopian or dystopian view of the distant future and resisting the clichés of science fiction, this exhibition focuses on small, human-scale acts of innovation and contemplation. The exhibition asks for visitors to reflect on what kind of future they want for Singapore, and what they are prepared to do to bring that future into being. 
Get your tickets here.
New Year's Day Lunch: Black Tap Craft Burgers & Beer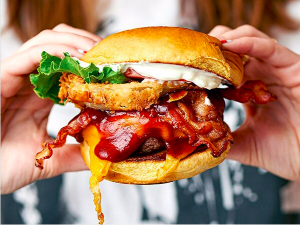 Feast on stacked gourmet burgers, towering milkshakes, craft beers and cocktails at the first Asian outpost of this New York City institution. Black Tap pays homage to the great American luncheonette experience with groovy old-school tunes and a laidback vibe. The menu features a wide selection of craft burgers. Highlights include the classic All-American Burger and award-winning Greg Norman Burger — wagyu beef topped with house buttermilk-dill, blue cheese and arugula served on a soft potato bun. Healthier, lighter options include burger salads and a vegetarian falafel burger. Round off your experience with one of Black Tap's over-the-top CrazyShake milkshakes, made from scratch at the CrazyShake Bar. Go for original favourites such as Cotton Candy, Sweet n Salty and The Bam Bam, or choose classic flavours like Chocolate, Vanilla and Black Cherry. The restaurant also offers a good selection of 18 craft beers – 12 of which are on tap – and cocktails.
Have a look at the menu here.
New Year's Day Unwinding: CATS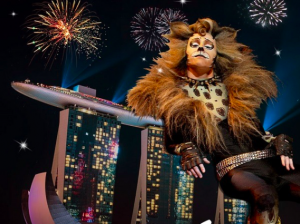 Andrew Lloyd Webber's record-breaking musical CATS comes to Singapore this December for a strictly limited season. Adapted from TS Eliot's 'Old Possum's Book of Practical Cats', this "groundbreaking musical" (Daily Express, UK) comes together in a sparkling fusion of music, dance and verse, and has now taken on a new life for a new generation. On just one special night of the year, all Jellicle cats meet at the Jellicle Ball where Old Deuteronomy, their wise and benevolent leader, makes the Jellicle choice and announces which of them will go up to The Heaviside Layer and be reborn into a whole new Jellicle life… With "timeless music, spectacular sets and a superb cast" (Daily Mirror), breathtaking choreography and of course the unforgettable 'Memory', CATS is a magical musical like no other. Limited tickets are now released for the Gala performance on 19 December!
Get your tickets here.
New Year's Day Dinner: CUT by Wolfgang Puck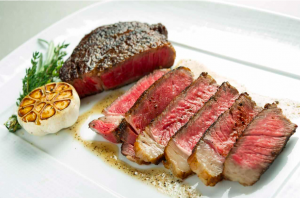 End your first day of 2020 with some Michelin starred goodness with CUT by celebrity chef Wolfgang Puck, which caters to the true steak connoisseur with the finest range of beef selections grilled over charcoal and apple wood. You will be spoilt for choice with Australian Angus, Wagyu selections from USA and Japan, and true Japanese A5 Wagyu from Sendai Prefecture. These excellent meats are complemented by a range of produce and ingredients sourced directly from southern California. CUT also offers a pre-show dinner menu and bar bites.
View the menu here.
All the above are but the tip of the iceberg on the plethora of things to do, taste and enjoy at Marina Bay Sands. New restaurants are still slated for opening (you might have heard of one swanky Mott 32) and more internationally acclaimed shows continue are lined up for the theatre.
Just as 2020 is a new slate for endless possibilities, so is Marina Bay Sands for a very long string of fun that feeds the mind, body and child in you.
For more information, log on to the official website here.
(Photos: Marina Bay Sand)