It's a big year for Louis Vuitton as it celebrates 200 years of the birth of Monsieur Vuitton, beginning with an online adventure game that you can be a part of.
Closer to home, the maison is putting its unparalleled savoir-faire and heritage from across multiple collections on display in an extensive showcase in Singapore called the Savoir-Faire Event.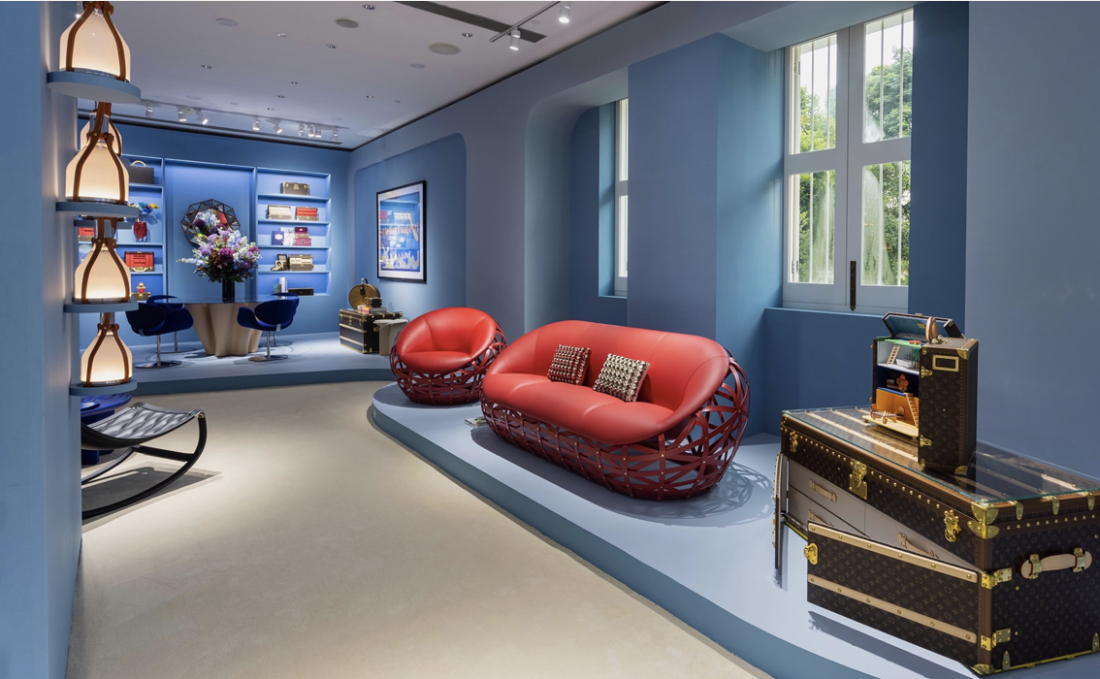 A curated selection of the Maison's trunks, exotic leather goods and collectibles from the Made-to-Order Games and Home collection have been set up in a lifestyle exhibition spanning across 7 sections. The not-to-be-missed highlight is the limited edition Aguacate Objet by the Campana Brothers alongside the Singapore debut of the Lanterne by Zanellato and Bortotto. Also on display are iconic favourites, such as the Bulbo chair by the Campana Brothers, Ribbon Dance by André Fu, Swell Wave Shelf by Andrew Kudless, and more.
Visiting in-person may not be possible for us right now, but we're in luck as there's a virtual tour on the official website here, where we may explore all of the items on display from afar.
Here's a game: spot these 10 favourite items of ours that we laid our eyes on from the tour, no travel necessary.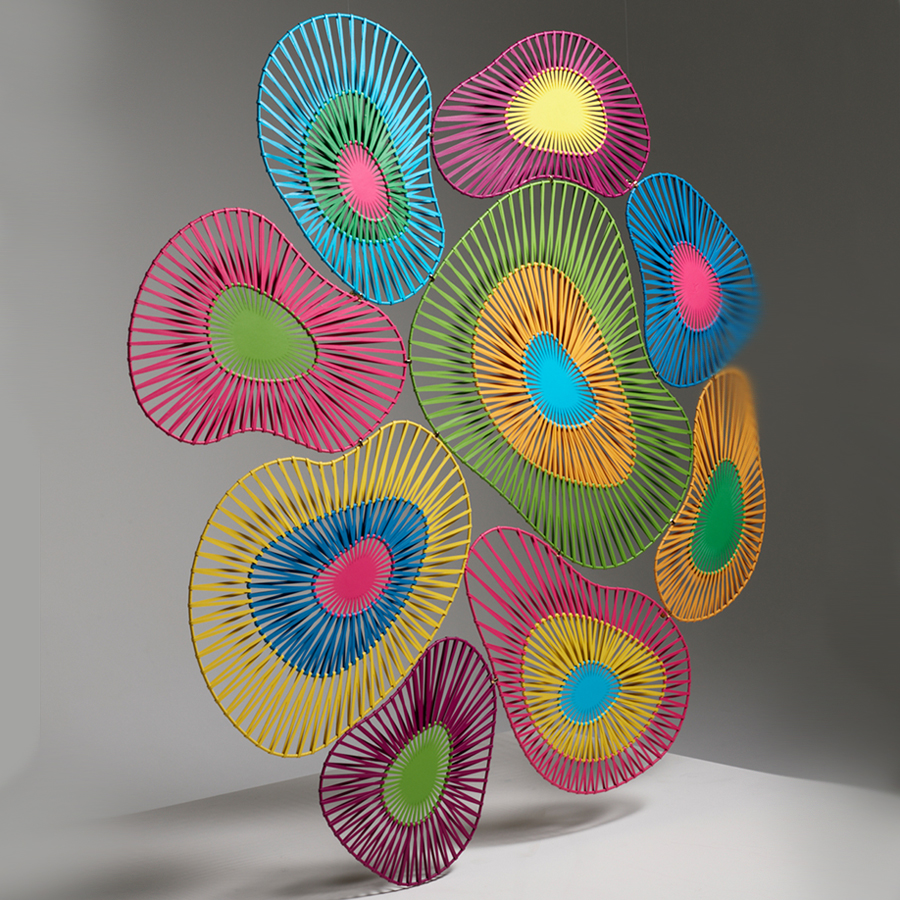 Campana Brothers' Aguacate
Campana Brothers' Aguacate
The Aguacate, which is Spanish for avocado, is like a constellation of brightly coloured suns, radiating with a multitude of handwoven Louis Vuitton leather straps. Available in an extremely limited edition of 30 pieces, each artwork is made up of 9 differently sized, avocado-shaped pieces in 8 vibrant colours, allowing for different configurations. The Aguacate brings a brilliant burst of radiance to a wall, or can be used as a free-hanging room divider. Each module is connected to the next one with polished brass connection pieces holding them firmly together.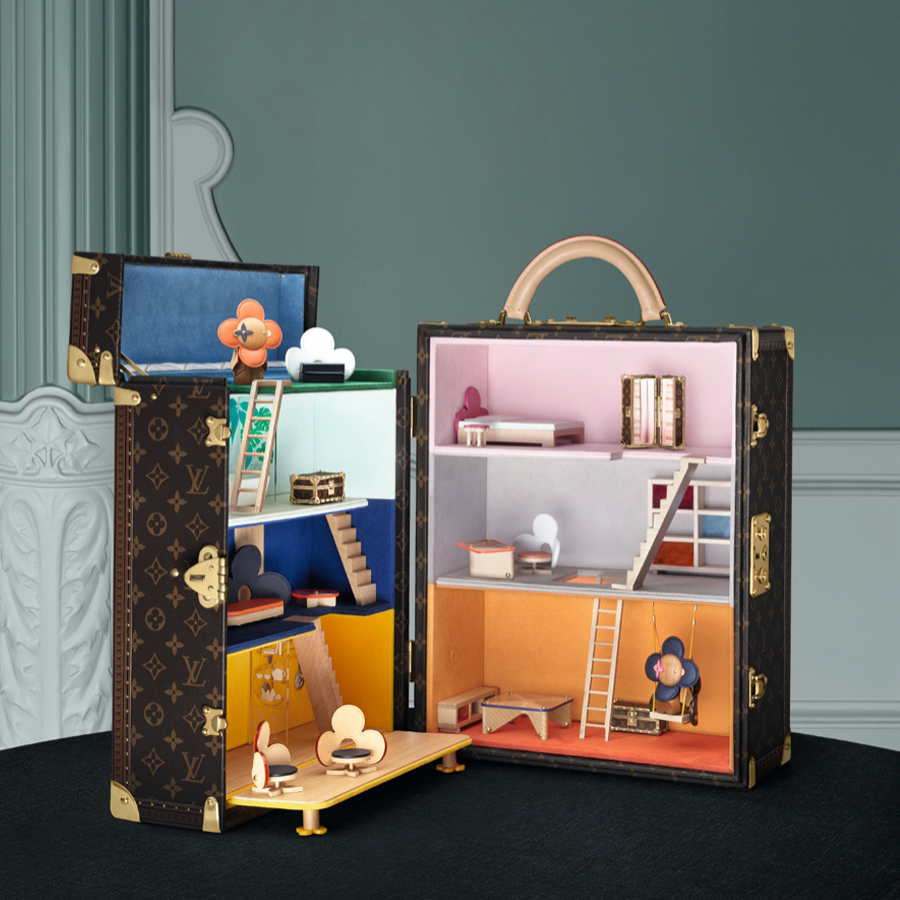 Malle Maison Vivienne
Malle Maison Vivienne
Enriching the exceptional collection of Louis Vuitton's Hardsided pieces, the Malle Maison Vivienne was designed as a collection piece. Iconic Louis Vuitton Courrier Lozine and Wardrobe trunks were identically reproduced in miniaturism to highlight Louis Vuitton craftmanship. The trunk contains a Monogram canvas box that was designed with dedicated storage to protect all the elements during travel. One Vivienne doll can be placed on the top of the box and fixed with a strap to isolated it from the other contents, the other can be securely placed in the box.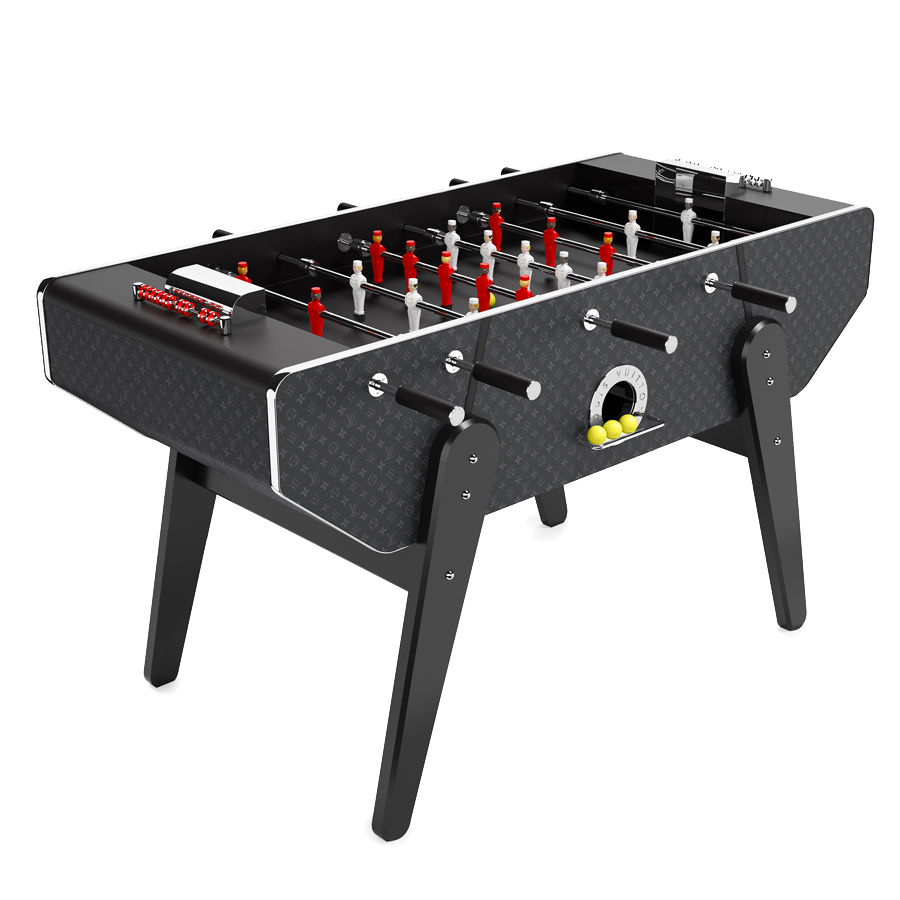 Babyfoot Monogram Eclipse
Babyfoot Monogram Eclipse
Synonymous with leisure, the foosball table gets a luxurious update in this Babyfoot canvas design. The fully functional piece is covered in iconic Monogram and decorated with gold-colour accents. The House's immaculate detailing is reflected in the hand-painted players, inspired by the LV groom illustration from 1921, and the charming enamel counting coins.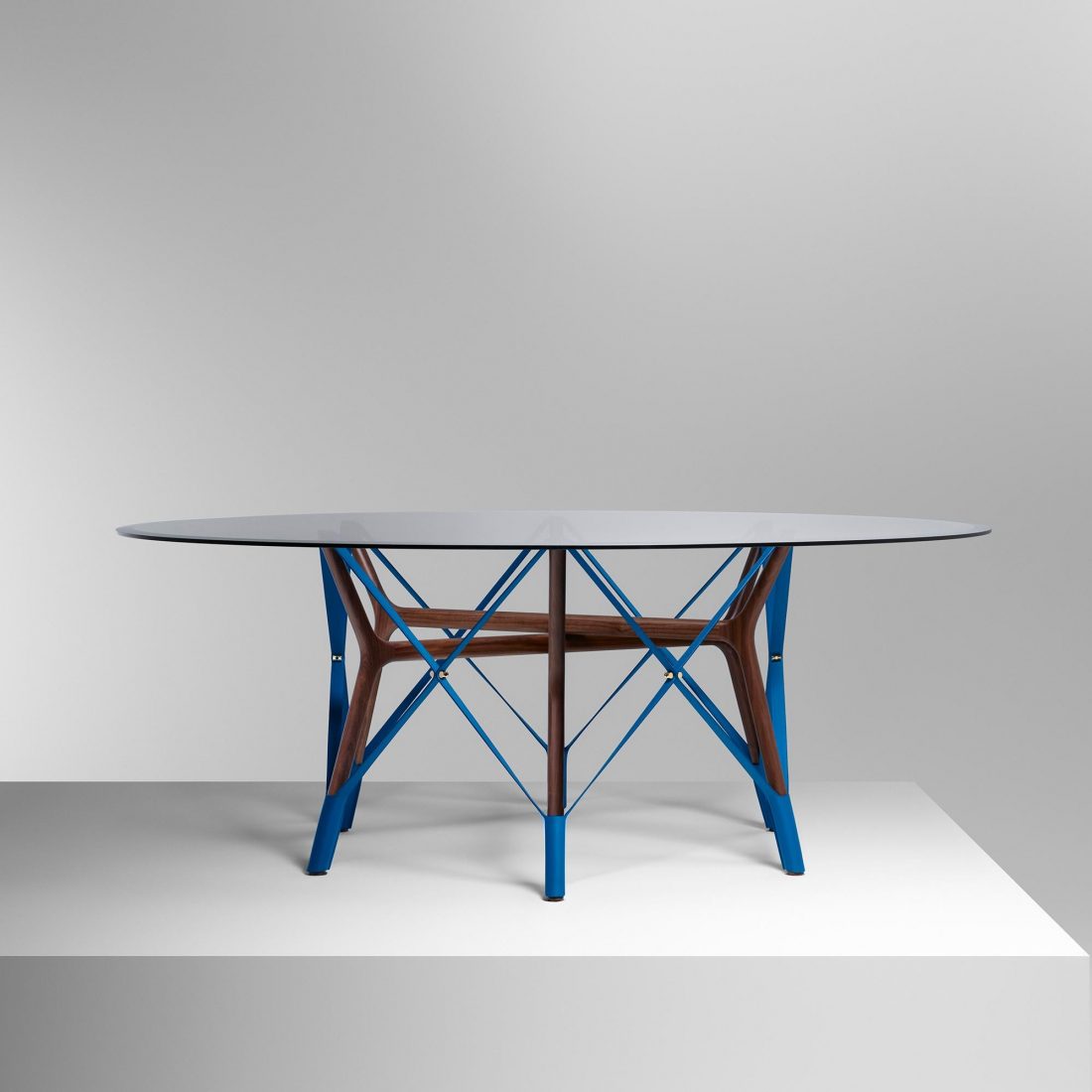 Atelier Oi Serpentine Table
Atelier Oi Serpentine Table
The Serpentine Table, Atelier Oï's latest addition to the Objets Nomades collection, is a conceived and constructed play of weight and tension, inspired by the complex, free-flowing movements of traditional dances. Under a bevelled glass top, the table's criss-crossed smooth American walnut legs are held tight by finely worked straps made of blue Louis Vuitton leather. The table is available as a large dining table or a coffee table, and its legs are foldable for easy storage.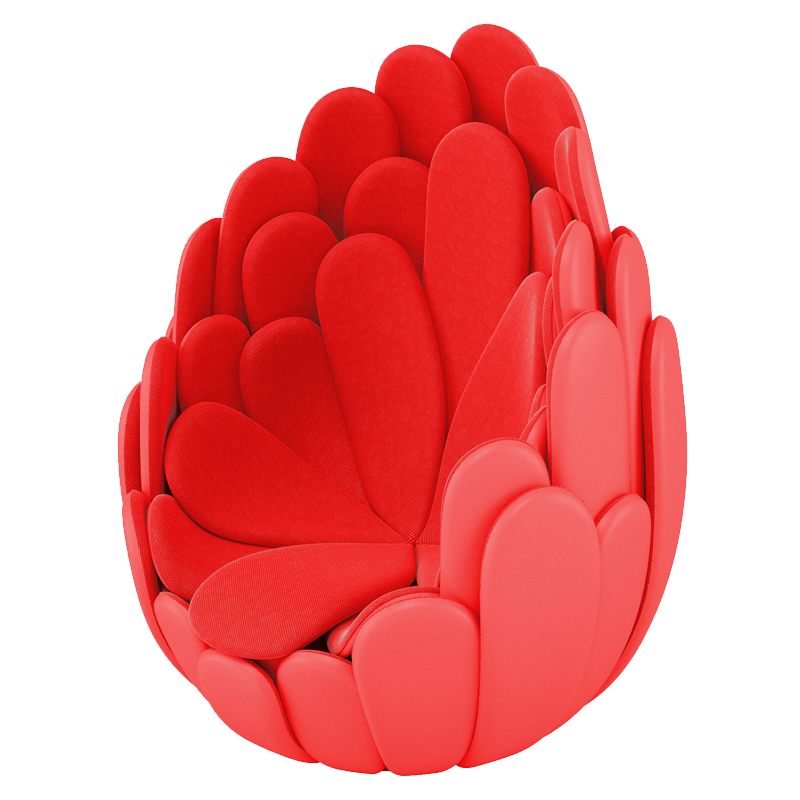 Campana Brothers' Bulbo
Campana Brothers' Bulbo
Like a strange and wonderful tropical flower, the Campana Brothers' nest rises to envelop the sitter as if in an affectionate embrace. Each of its layered petals is lined with elegant Louis Vuitton leather on the outside and an inviting, warming fabric on the inside for absolute comfort.To stretch out or curl up in the nest is to discover a haven that feels created for luxuriant wellbeing, generously spacious for one person and cosy and loving for two.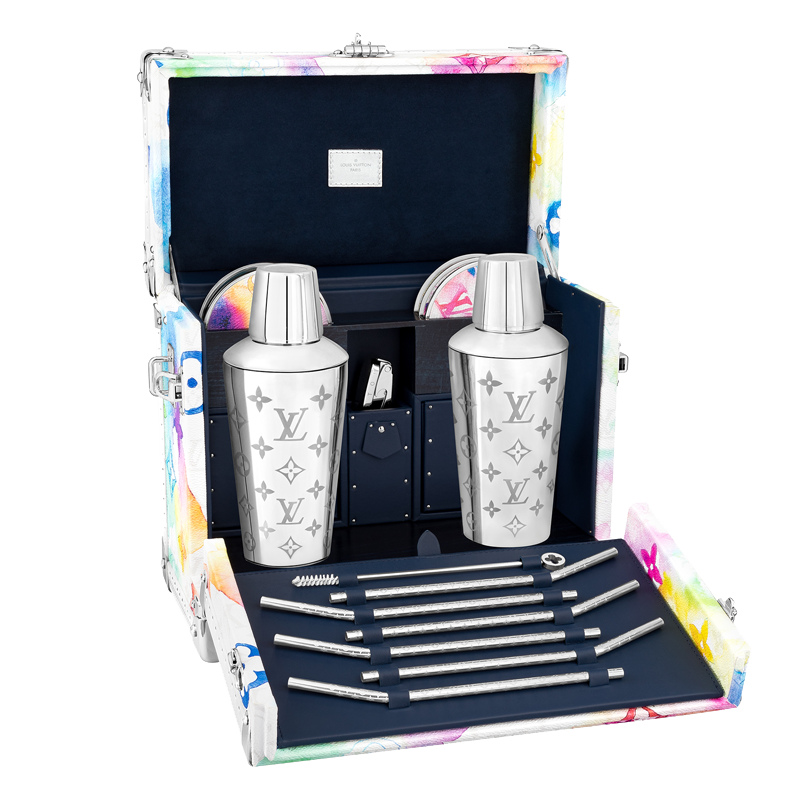 Cocktail Trunk
Cocktail Trunk
Fashioned from multicoloured Watercolour Monogram canvas, the playful Cocktail Trunk is made to transport everything needed for a perfect cocktail. This hardsided case contains two shakers as well as straws, coasters and a bottle opener. It can be carried, thanks to its adjustable strap, or used as decor with the strap removed.
Gibson Guitar Trunk
Gibson Guitar Trunk
Made in collaboration with Gibson, this stylish hardsided case was created especially for a series of unique collector's instruments: the Louis Vuitton x Gibson guitars. Crafted in Monogram Eclipse canvas, it features a plush sheepskin lining for maximum protection, plus a removable shoulder strap for easy carrying. It fits all Gibson Les Paul models and custom shapes can be ordered for any guitar.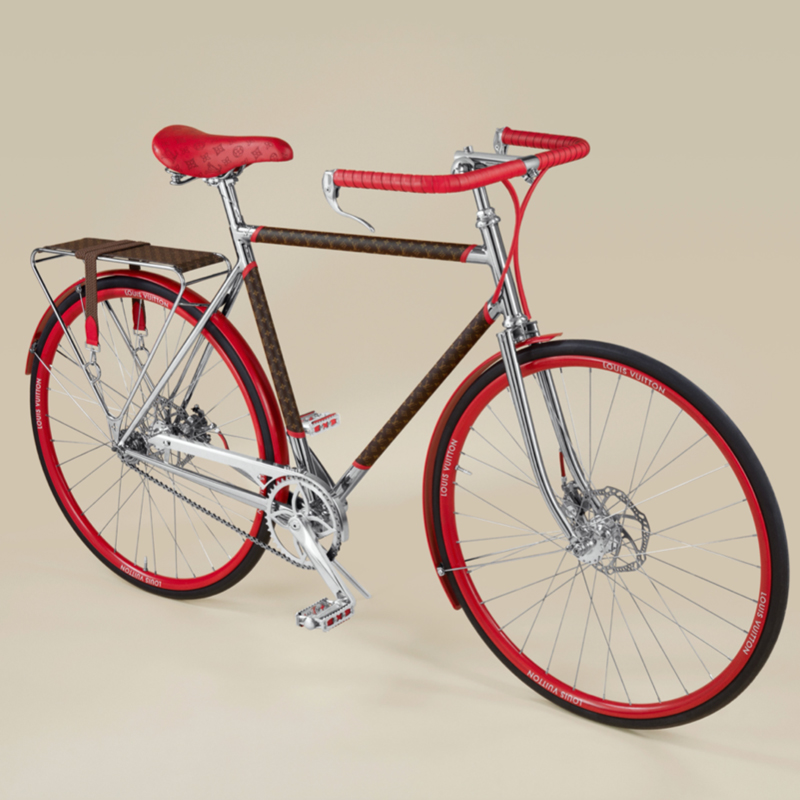 Bike PM Step-Through
Bike PM Step-Through
Meticulously handcrafted and assembled at the Maison Tamboite studio in the Bastille district of Paris, this Bike PM Step-Through epitomises French craftsmanship. In one of a number of thoughtful details, the charming basket at the front features perforations on its base that evoke the pattern of the Louis Vuitton store facade. The gleaming frame is adorned with a multitude of LV signatures.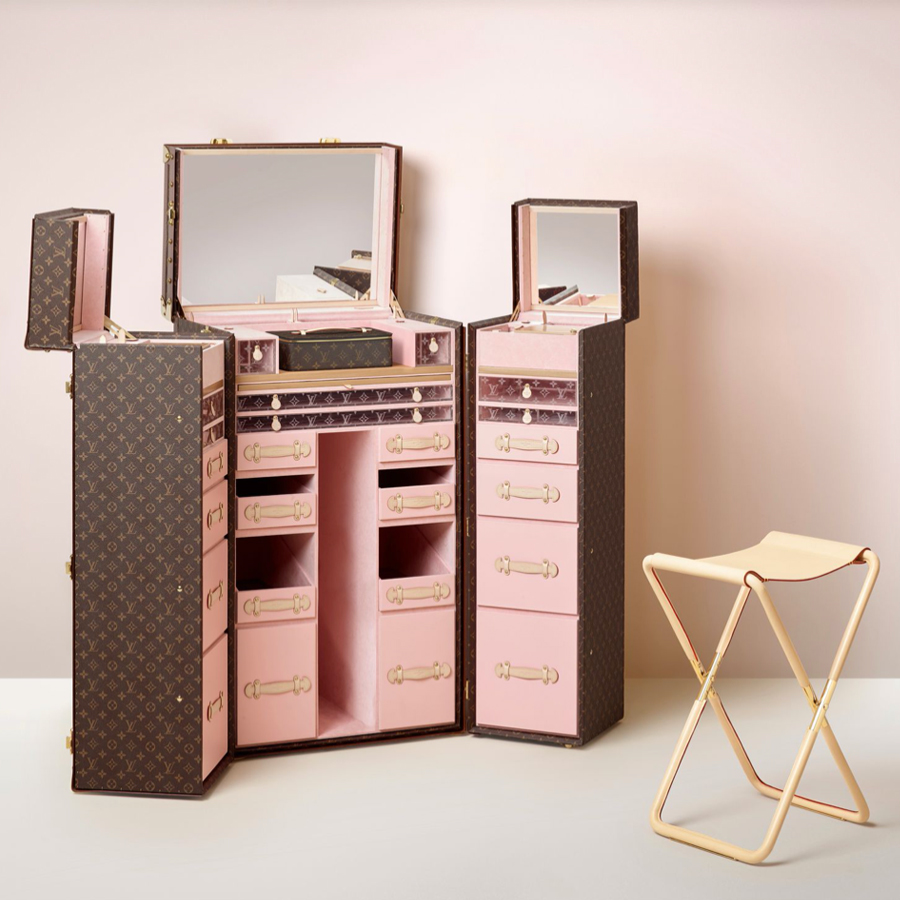 Malle Coiffeuse
Malle Coiffeuse
The Beauty Trunk embodies the encounter between historical trunk know how and contemporaneity, with a creation dedicated to enhance modern beauty by accompanying our client in their everyday beauty routine. It contains several compartments to house complete beauty collections, different sizes of drawers and trays with pouches to store trinkets. It also features handles and comes with a pliable stool, both in natural cowhide leather with its own storage space within the trunk.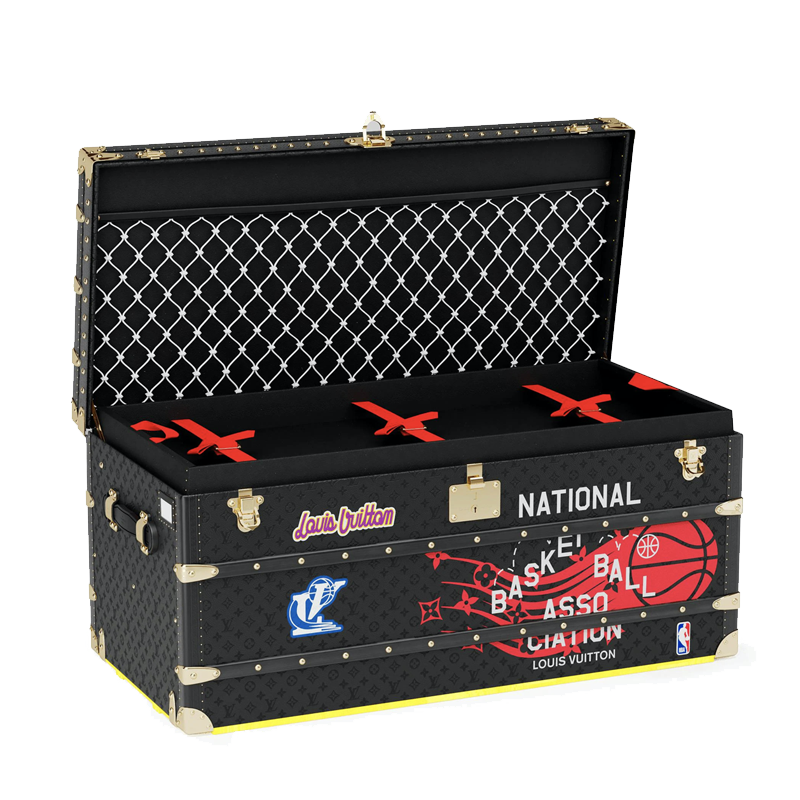 LV x NBA Courrier Lozine 110 Trunk
LV x NBA Courrier Lozine 110 Trunk
The exceptional Courrier Lozine 110 trunk combines Louis Vuitton craftsmanship with designs inspired by the victory jackets worn by NBA players. Made from black leather with a ball logo patch in precious python skin, it contains two inside removable trays with red cotton straps. This piece is part of the LV x NBA SEASON 2 capsule collection.
(Swipe left for more)
See more at the official Louis Vuitton website here. The virtual tour will be available online only until 31 October 2021.
(Photos: Louis Vuitton)