Like the mythological Medusa who turned men who dared to gaze upon her to stone, it is difficult to avert your gaze after a glance of this Medusa.
The associations that come with the name Medusa are varied, from the natural world's mesmerising jellyfish with its trailing tentacles to the Gorgon of Greek myth whose every appearance could turn a man to stone.
In its tenth collaboration with Switzerland's premier clockmaker, L'Epée 1839, MB&F plunges into warm ocean waters where the beautiful and ancient jellyfish proliferate, bringing forth the beguiling beauty to surface.
MB&F's Medusa is a dual-configuration clock, housed in hand-blown Murano glass, that can be ceiling mounted or stood upon a desk.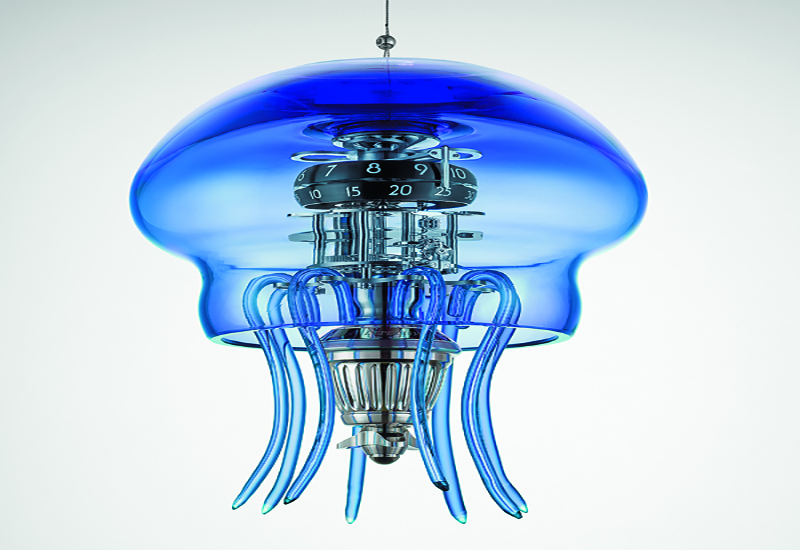 The central mass of Medusa is formed by a large transparent dome of hand-blown Murano glass that evokes the bell-shaped body of a mature jellyfish. Two rotating rings, one displaying the hours and the other displaying the minutes, are visible through the dome, and the time is read off a single fixed indicator that extends over the rings.
Like a jellyfish glowing in the abyss, Medusa glows in the dark thanks to MB&F's Super-LumiNova material. A 2.5Hz (18,000vph) movement beats underneath the time indication, forming the pulsating heart of this mechanical creature.
Medusa can be set on a desk or any flat surface thanks to a special steel frame with curved legs, designed to receive the base of the movement whilst allowing for easy access to the winding and setting mechanism. When hung from the ceiling, Medusa can be further decorated with its hand-blown Murano glass tentacles, which hook onto the movement and sway gently with the slightest motion of the clock – recalling a free-floating jellyfish carried along by the current.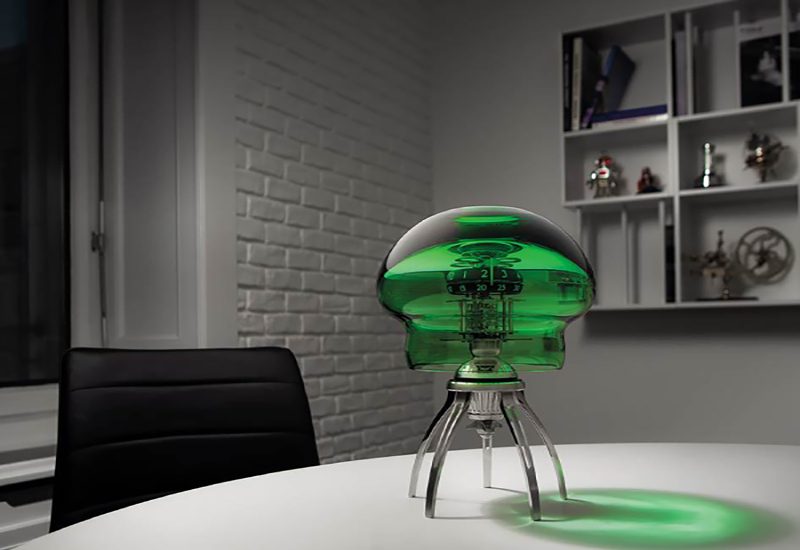 One thing is for sure, once you gaze into the depths of Medusa, it is hard to look away.
Medusa comes in three limited editions of 50 pieces, each in a different colour – blue, green and pink – chosen to reflect the natural hues of a jellyfish.
For more details, visit the website here.
Photos: MB&F