After a two-year hiatus due to the pandemic, the 20th Le French Film Festival has finally arrived, bringing a vast array of programmes that will delight every Francophile.
Kicking off in Kuala Lumpur, the festival featuring award-winning French films, dining and culinary activities, and musical performances, will take place from 9th to 26th June 2022, before moving on to Penang from 30th June to 10th July, Johor Bahru from 7th to 10th July, and Kota Kinabalu from 14th to 17th July.
The weeks-long series of events, organised by Alliance Française de Kuala Lumpur, Alliance Française de Penang, and the Embassy of France in Malaysia, celebrates not only significance and virtues of French film, but also the distinctively French culture of 'art de vivre' that encompasses gastronomy, theatre, visual arts and more.
Here are the events we're très excited for:
View this post on Instagram
The festival salutes the birthplace of cinema with a stunning selection of award-winning French films, from space dramas to 18th century period pieces. Aline, a quirky musical comedy-drama inspired by the life of Céline Dion, headlines the film festival this year, but other standouts include Haute Couture, a movie revolving around the seamstresses behind the creations in Dior Avenue Montaigne, and Annette, an audacious rock opera starring Adam Driver and Marion Cotillard. The films will be shown at GSC cinemas in Mid Valley, 1Utama, Mytown, Nu Sentral, Gurney Plaza Penang, Paradigm JB, and Suria Sabah.
Book tickets at gsc.com.my
Artisan bread baking and pastry workshops
View this post on Instagram
French bakery-café PAUL Pavilion will host a number of bread baking and pastry workshops, where attendees will be able to learn artisanal techniques, tips and tricks from a master baker and perfect their pastry-making skills with a pastry chef. Guests will be guided through the steps for making authentic French-style bread, and take home their very own 'signature' baguette at the end of the bread baking session. At the pastry workshop, guests will get a crash course on the precision, process and science behind a well-made pastry. Light refreshments will also be offered during the lessons. 
Book a session at lefrenchfestival.com.my
View this post on Instagram
KL Shakespeare Players and Damansara Performing Arts Centre (DPAC) present My Words On Your Lips, an original play co-written by Grégory Henno and Lim Kien Lee with the works of Cyrano de Bergerac as inspiration. Performed in English with French weaved in at special moments, the production explores French's reputation as the language of love, society's infatuation with outer appearances, and the effects of the pandemic on the performer-audience relationship. Catch the play on 13th and 16th June at Damansara Performing Arts Centre (DPAC). 
Book tickets at dpac.com.my
Ciné-dîner – Le sens de la fête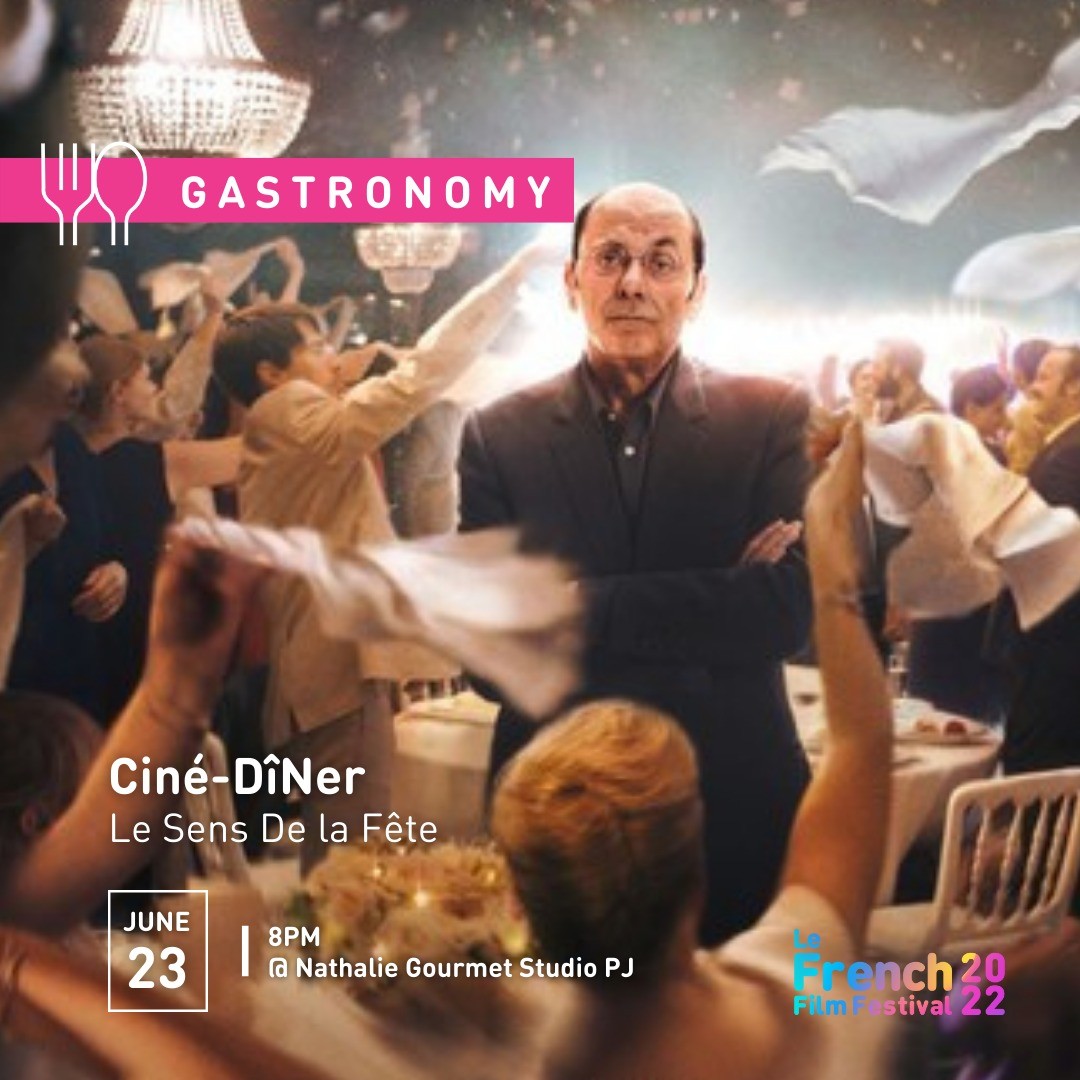 When French food and French film come together, you know you're in for one enchanting evening. At Nathalie Gourmet Studio PJ, Chef Nathalie Arbefeuille has conceived a one-of-a-kind menu inspired by the Eric Toledano and Olivier Nakache's film Le sens de la fête. On this cinematographic voyage of gastronomy, the menu moves along with the storyline of the film, which follows the chaotic behind-the-scenes antics of a team putting together a wedding party in a 17th century French palace. The ciné-dîner will take place at Nathalie Gourmet Studio on 23rd June. 
To make a reservation, call 0179632010 or email sales@nathaliegourmetstudio.com
Élans Radieux – an exhibition by Soh Boon Kiong
View this post on Instagram
For his first solo exhibition in three years, Malaysian artist Soh Boon Kiong presents Élans Radieux, a showcase starring 15 new abstract paintings created during the pandemic period. The artist's preference for larger-than-life canvases continue to shine through the selection of works, along with his signature blend of vibrant colours and textures that transports viewers to lively, complex, and poetic worlds of his imagination. The free exhibition will be held at the Alliance Française de Kuala Lumpur from 10th June to 4th August.
Martell Cocktail Workshop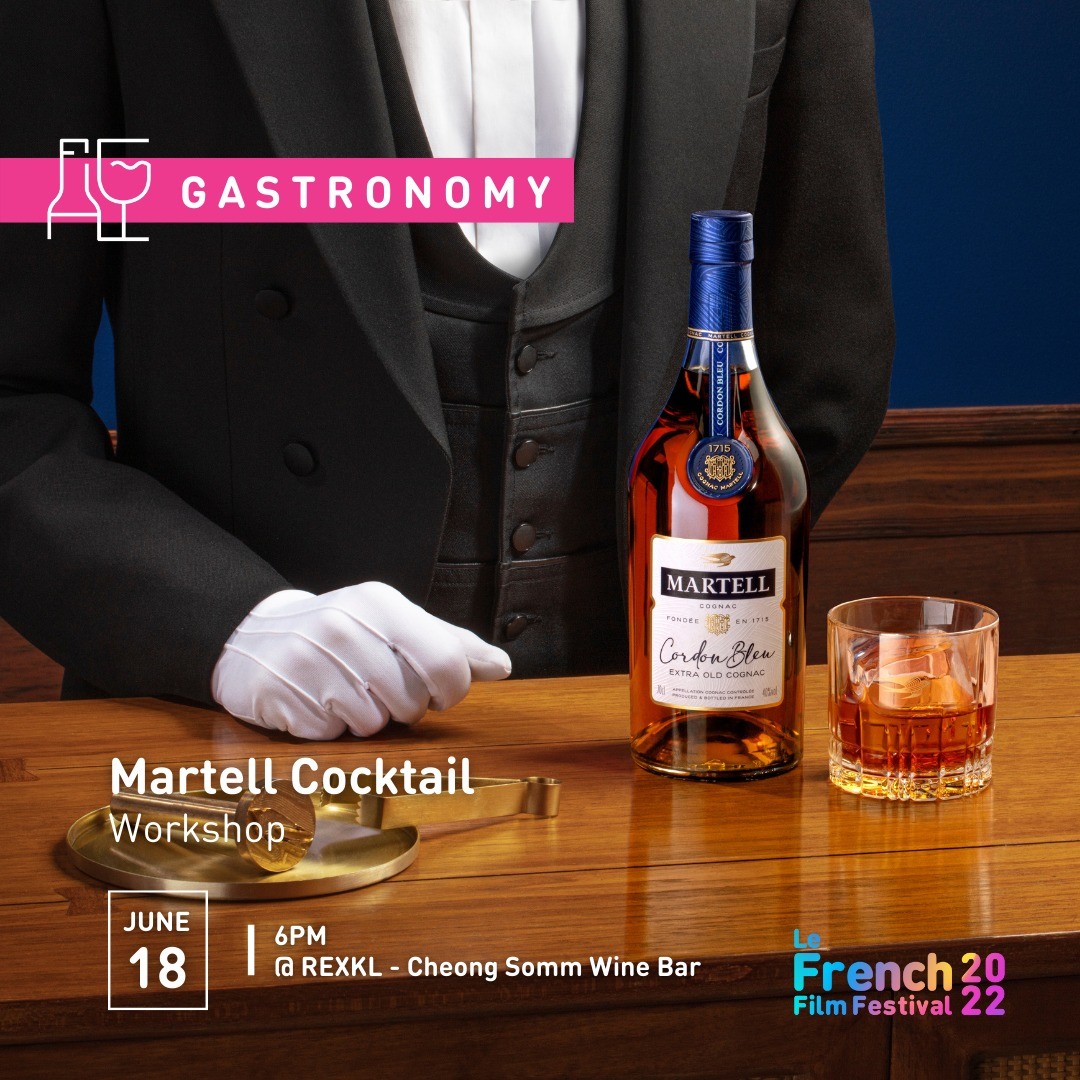 In honour of one of France's many great exports, cognac, Martell delights in sharing its heritage with a mixology workshop that reinvents iconic cocktails with a bold twist. Throughout the centuries of its existence, the exquisite taste of Martell has been savoured in a variety of ways – from neat to complicated concoctions, and enjoyed in a range of settings – from courtly gatherings to hip-hop parties. To showcase this exciting, diverse world, Martell invites guests to join along a thrilling journey where the potential to surprise, refresh, and inspire has no limits. The workshop will be held on 18th June at REXKL's Cheong Somm Wine Bar.
Book a spot at alliancefrancaise.org.my
View this post on Instagram
An annual event first initiated in France in 1982, La Fête de la Musique or Music Day is an event celebrating music by the people, for the people. Today, the Fête de la Musique's dynamic spirit that emphasises music in all its expressions is held in over 700 cities and 120 countries around the world. On 18th June, the joyful, inclusive, rallying event comes to REXKL, offering up an eclectic line-up of artists and musicians for a free festive gathering of music lovers from all walks of life.
French brunch with kids screening
View this post on Instagram
It's a French weekend activity for the whole family at Sofitel Kuala Lumpur Damansara, where Nizza brings a unique brunch featuring delicious French cuisine, two glasses of Mumm champagne, and the chance to win prizes from luxury tableware brand Christofle. Kids will be thoroughly entertained with a private screening of Poly, a French movie about the adventures of a circus pony in the South of France. The brunch will take place on 11th June at 12pm, with the children's film screening starting at 1:30pm.
Make a reservation at sofitel-kualalumpur-damansara.com
View this post on Instagram
Three countries and three continents come together in orchestratic harmony on 25th June in a multi-sensorial concert featuring French harpist and composer Maïa Darmé, Colombian composer and conductor Carlos Andres Mejia Zuluaga, and Malaysian string orchestra Kamerata KL. The concerto for harp and orchestra will be performed for the first time in Malaysia, delivering an unforgettable evening of classical music at the Asia-Europe Institute, University of Malaya.
Book tickets at alliancefrancaise.org.my
Les Arts de la Table Exhibition By Christofle
View this post on Instagram
Since its establishment in 1830, renowned French luxury tableware brand Christofle has been a force of innovation in producing fine gifts, flatware, tableware, decorative items, baby gifts and jewellery. Get a glimpse of Christofle's prime selection of merchandise, displayed on two decorated tables which represent the double-sided identity of the brand. The traditional Malmaison collection adorns one table, while the brand's contemporary component is highlighted on the other. The free exhibition at Sofitel Kuala Lumpur Damansara will be open from 11th to 17th June.
For the full list of events and films at Le French Film Festival 2022, visit lefrenchfestival.com.my
Feature photo: Aline movie