Chocolate Bon Bons and Whisky may seem like an unlikely pair, but in the hands of Chef Nathalie Aberfeuille, it was a pairing that gave her a chance to not only work her magic but to do it with a brand that echoed her own sentiments and values.
Chef Nathalie has always been passionate about desserts, having started baking at an early age. She decided to become a chef about 20 years ago, giving her the opportunity to create her own delicacies. Since then, she has made a name for herself in Kuala Lumpur, where she opened Nathalie Gourmet Studio, a restaurant that specialises in modern, imaginative, and delectable French and Fusion cuisine.
But it's the ideas of sustainability, fair trade, and devotion to selecting the best ingredients for her products that drew her to The Macallan. With the unveiling of The Macallan Harmony Collection Rich Cacao, Chef Nathalie saw the opportunity to craft a menu that would highlight the key notes of The Macallan Harmony Collection Rich Cacao, which are vanilla, dates, spices and honey.
The Macallan unveiled The Macallan Harmony Collection Rich Cacao, at Slate @ The Row, Kuala Lumpur on the 26th of May 2022 and partnered with Chef Nathalie Arbefeuille from Nathalie Gourmet Studio to curate a bespoke dining experience inspired by the tasting notes of The Harmony Collection. 
After sitting through this exclusive experience, we spoke with Chef Nathalie about the inspiration for her curated menu and chocolate bonbons, as well as her thoughts on the brand's sustainability efforts. Here's what she had to say about it.
How long have you been working with pastries and chocolate?
I have always been passionate about desserts as I've started baking at a very young age and it was one of my hobbies. I became a real chef and started to create my own desserts and chocolates 20 years ago when I was living in Bangkok at that time. For French people, desserts are very important, as we need to end a nice meal with something sweet; as a delicate dessert will seal a beautiful moment. It is the final touch, the cherry on the cake as we say in French. It is the same with the Chocolate Bonbons, we like to pair it with a nice whisky and coffee.
What drew you to partner with The Macallan's Harmony Collection?
I like projects that push me to create. There is nothing more exciting than working around the association of flavours and tastes. I am honoured to have been chosen to create a menu that is associated with The Macallan Harmony Collection, so exclusive and delicate. Also, the strong affinity that drew me to The Macallan stems from our common values toward sustainability, fair trade and above all our commitment to sourcing the best ingredients to use in our creations.
When you pair the whisky with your bonbons, do you seek more contrasting flavours or
complementary ones?
The Macallan Harmony Collection is very well balanced with a rich cacao flavour and of course, it pairs exceptionally well when it meets the right chocolate with the right characteristics. So for me, I aim for complementary flavours to seek the right pairing that will highlight the key notes: cinnamon, vanilla, date, honey and chocolate.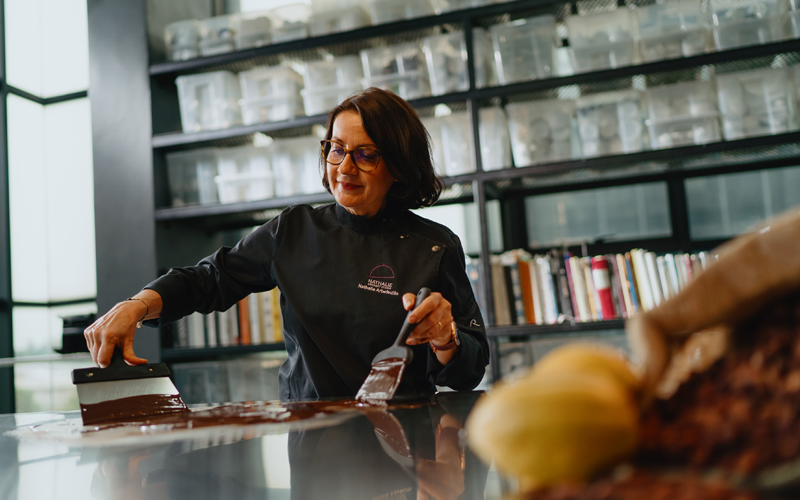 It is said that The Macallan Harmony Collection has distinct notes of chocolate. How has that inspired you in your endeavour to pair chocolate with whiskies?
Yes, it has some very distinct notes of chocolate! Chocolate has a very wide power and flavour palette. Depending on its origin, it can be bitter, fruity, sweet or powerful in the mouth. With the right chocolate selection, the pairing with The Macallan Harmony Collection becomes a perfect combination.
Could you share the criteria you use to pair The Macallan whisky and the different chocolates?
I wanted to highlight the key notes of The Macallan Harmony Collection Rich Cacao, which are vanilla, dates, spices and honey.
Tell us about your inspiration for pairing The Harmony Collection and the customised Bon Bons.
I have been inspired by what nature gives us, walking in the middle of cacao plantations that pushes me out of my boundaries. The colour and design of the bonbons reflect how I see and taste The Macallan Harmony Collection. It is really captivating!
Could you elaborate on how you incorporate your own sustainability beliefs into your culinary practice
? And how is it in line with The Macallan's sustainability journey?
Similar to how The Macallan is committed to sustainability where they have used discarded husks from cacao pods to craft The Macallan Harmony Collection packaging, I have also incorporated sustainability in my culinary journey by using local products. I choose to use local produce as it helps reduce greenhouse gas emissions, contributes to improve our carbon footprint which in turn does not affect the ecosystem biodiversity. Why choose imported fish when you can get some beautiful wild-caught fish from Malaysia and the Andaman Sea? Why buy imported vegetables, herbs and edible flowers when you have amazing farmers locally who offers pesticide-free produce? Choosing what we have next to us is also a way to highlight the richness of what Malaysia can offer.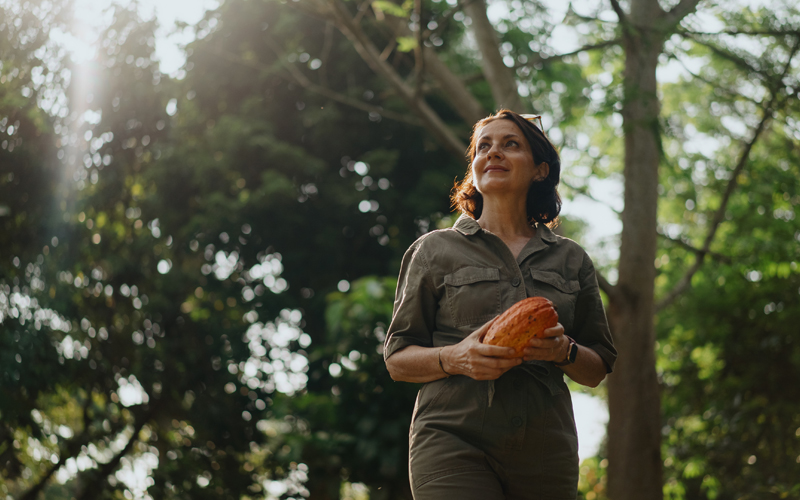 What was your inspiration for the curated menu for The Harmony Collection? How have you
infused your menu with your inspiration?
I wanted today's gourmets to visually understand the relationship of my creations to the land and what it offers us. I wanted my plates to reflect the love I have for our planet and what it offers us. I wanted the colours and flavours of my different dishes to mirror The Macallan Harmony Collection.
Perhaps you could share with our readers some expert tips in pairing chocolate with whisky – for example, what sort of chocolates would you use? What is the best way to pair them?
It really depends on the whisky. Dark and light milky chocolates that have more spice fragrances will enhance the flavours of the whisky. You need to make your own experiments!
What do you think makes The Macallan whisky and your chocolate bonbons pairing a unique experience?
I have used the key notes of the whisky to make it even more powerful. I have no doubt that even if you are not a whisky connoisseur, this pairing will make you love it immediately! And to be honest who would not enjoy a glass of this magnificent elixir?
Learn more about The Macallan Harmony Collection Rich Cacao at the official website here.