It was a moment of passing of the baton and recognition between the greatest player of all time and the most promising hope in the world of football.
They are both legends in their own right – King Pelé is of the past and Kylian Mbappé, the future. Hublot has brought them together at present, uniting them in love, respect for football and a remarkable destiny.
There are 60 years between Pelé's first World Cup and that of Mbappé. In those 60 long years, the impact of these two players on the history and love of football remains absolute. Pelé and Mbappé are two timeless, devoted and esteemed symbols of the world's most unifying sport.
Uncanny similarities
The paths of these two men show uncanny similarities. Do we sum it up to chance or fate?
For starters, they are known for breaking records. Both played forwards who dominated the field with their speed. They were both the youngest players (Pelé was 17 years old, Mbappé was 19) to score and win a World Cup. They took home the Cup while wearing the number 10 jersey.
In the world of football, the number 10 embodies that moment of perfect balance. In 1958, Pelé wore this jersey by chance. For Mbappé, 60 years later, it was a choice.
Now with Hublot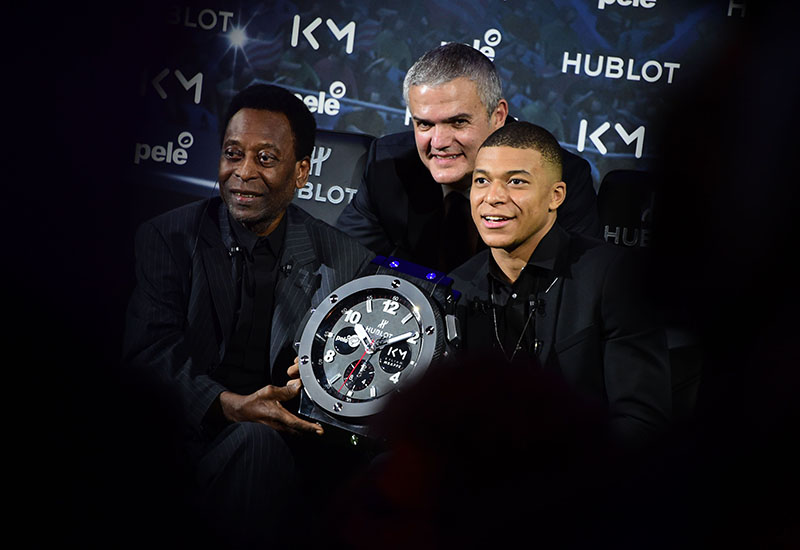 Hublot opens a new chapter in footballing history by bringing Pelé and Kylian Mbappé together for this momentous encounter. King Pelé who has been a Hublot ambassador since 2013 crossed the Atlantic to meet Kylian Mbappé, the watch brand's newest ambassador. It was a truly historic and moving encounter.
"The generosity of Pelé and Kylian can be seen in their eyes, as can their love of football," asserts Ricardo Guadalupe, CEO of Hublot. "This flame, this inextinguishable strength, is what drives these two great champions. Having them in our family is a great source of pride and pleasure because before being football stars, they are above all great men who command respect."
"I am honoured to have the opportunity to personally meet Kylian," says Pelé. "He embodies the new generation of footballers and espouses the values of a sport that inspires and unites the world."
Mbappe, maintaining the low key persona that he is loved for, says, "I have learned that the biggest stars and the best players are the most humble and respectful. Respect, humility, and lucidity are values that I am proud to share with my adopted family, Hublot, and King Pele."
(Photos and video: Hublot)