Born of Zaireen Iskandar's love for jewellery and Athiya Hamid's attention to detail in design and branding, 'KIN is made for the modern day woman, who appreciates a timeless gift that lasts.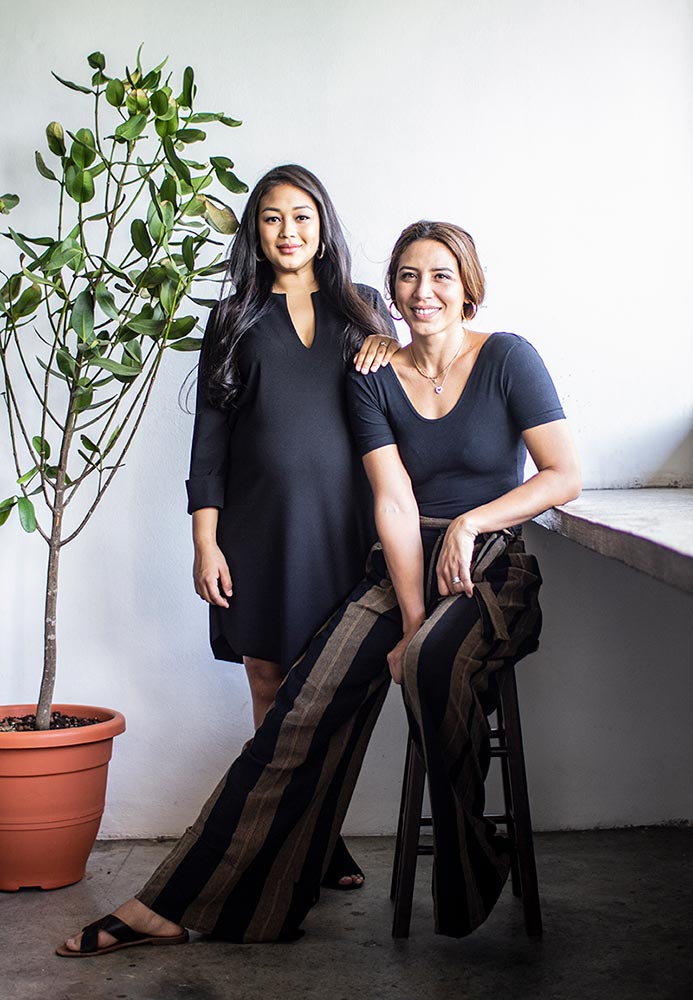 Not so long ago, it used to be costume jewellery or fine jewellery with almost nothing in between.
Take your pick from either copper or brass tinted with gold or silver colouring, or the whole 18-24 karat gold. While cheap, the former can tarnish in a matter of weeks and woe be you if you're allergic to manmade alloys. On the other end, not everyone's pockets are deep enough for pure metals and precious stones of fine jewellery.
Bridging the gap is a new category – demi-fine – which is doing more than just blurring the line of the two. It borrows the best of both, offering a new segment of semi-luxury pieces that are fashionable and personalised without the high pricetag as well as durable and sustainable without the huge commitment.
'KIN, the brainchild of Athiya Hamid and Zaireen Iskandar, serves as among the pioneers in bringing this segment of jewellery into the country. Born of Zaireen's love for jewellery and Athiya's attention to detail in design and branding, 'KIN is made for the modern day woman, who appreciates a timeless gift that lasts.
The two founders know, because it's exactly what they've been looking for for the longest time.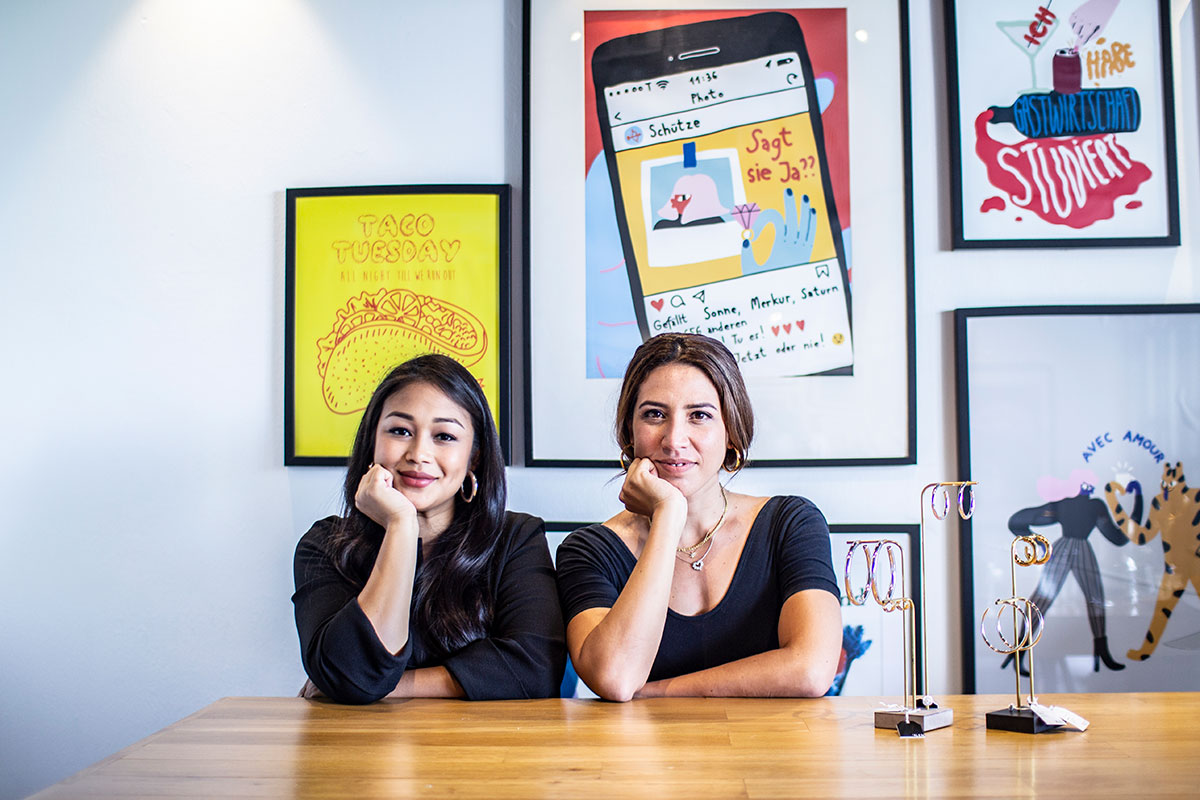 Stylish yet fuss-free, versatile yet timeless
Designed with women exactly like them in mind, 'KIN pieces are stylish yet fuss-free, versatile yet timeless.
'The 'KIN girl is us," tells Athiya without hesitation. "She's someone who cares about fashion, yet someone who's relaxed. She goes on about her day to day like normal women. She has chores, she has things to do."
"She's not dolled up all the time but she puts on hoops and she's ready," Zaireen finishes for her. "She'll go out for dinner and drinks with friends. She's got a kid or two, she's got duties to do, she doesn't have much time to spend on herself."
That could be why the partners decided to go with hoops for their debut collection – a classic staple in every woman's wardrobe. The hoops currently span seven designs in rhodium and gold vermeil versions, are durable, lightweight and as easy to mix and match as they are to put on.
"I've always been a fan," Zaireen tells. "The perfect hoops are actually very hard to find. You can go to many fashion stores and you'll find all the sizes but three months down, they'll wear out. You can go to your jewellers and you'll find your small sizes but they're very expensive and in gold. There's no middle ground."
They pride themselves in perhaps having found that missing piece after a year of market research and supplier sourcing.
"The key thing that we want to do is to use precious metals so that it is longer lasting. We wanted to make sure you don't have to buy the same pair again in three months. It should last years," Zaireen adds.
The biggest challenge in getting it just right was the weight. Their first supplier returned to them hoops that were three times their weight now. A second supplier was slightly more optimistic – it had the perfect shape, colour and weight, but dented too easily.
Finally, they found the perfect partner that managed to solve these problems to make the perfect pair of hoops that will last.
"Our partners make all our hoops hollow and they specialise in making typically heavy and precious metals light," Athiya reveals. "It's very important to us to be in that demi-fine space and there are requirements."
Most demi-fine jewellery is crafted using Rhodium (a family of platinum) plated silver or Gold Vermeil, and it is definitely jewellery that women (and men) can start collecting.
Gold Vermeil is a combination of a very thick layer (at least 2.5 microns) of 14 to 24k gold over sterling silver. The thickness of the gold portion is what really sets vermeil jewellery apart from simple gold plated pieces.
All of 'KIN's hoops meet those requirements.
For comparison, costume jewellery are typically made of copper or brass coloured gold or silver, or flash plated with gold of about 0.25 microns.
"Some demi-fine brands also use solid gold, but they use lower karat gold to be able to be affordable," Zaireen clarifies. "Some use white sapphires and topaz, some even use 0.25mm to 1mm diamonds. Demi-fine is about jewellery you can collect that's not fine jewellery style. It's more modern, but not costume."
A brand of fearless femininity and family
Anyone who knows the ladies will notice the names they've given their hoops. Ava, Zara, Linny and Anna are names of girls and women in both Zaireen and Athiya's lives – their daughters and nieces, among others.
That brings the hoops back to the brand itself. Without the support, encouragement and input from their kin, the brand would not have materialised.
"Our husbands were very involved in the branding and quality control because they're investors in our business so obviously they want to get their money back," divulges Zaireen with a laugh
"They gave us a lot of input on the packaging too," Athiya adds.
'KIN's branding is designed to be bolder and more masculine because it reflects Zaireen and Athiya's personal style.
"There are a lot of brands out there that are dreamy, and we're not like that," tells Zaireen. "We were inspired by a lot of brands with attitude in their design.
"If you notice our logo, it's got an apostrophe before the word 'KIN. It's also meant to be used in a sentence, like rockin', or stackin', amongst other words," Athiya reveals with a wink.
Underlining it all is the friendship between the two women that birthed it.
"It's a little like how she and I have become more than friends," Zaireen says. "We're like family now – our husbands are close, our kids hang out with each other, like a family, hence kin."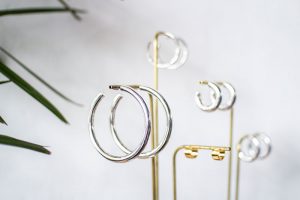 Starting small with an eye on quality
'KIN saw its official launch in April but Zaireen and Athiya are already working on the second collection. Expanding from the hoops, they're adding rings, bracelets, necklaces, chokers and even anklets to the lineup.
"We're doing things you can personalise – engravings, lockets, alphabets in different ways, not the standard cursive," Zaireen teases. "We want to make the brand relatable and collectible. I want to try bring anklets back."
"There's more attention to detail now because of the chains and the charms," Athiya adds.
The two are seeing to the designs themselves, now that they're surer of what the market wants.
"What's important for us was to start small – that's why even with our hoops, it's just hoops," Athiya collects. "We want to put our foot in there and see how people react to it. Support has been impressive."
Offers have come knocking on their doors to stock 'KIN in various multibrand stores, but their focus remains on the online business.
"We're still crunching numbers and figuring things out. We have to see where we stand with being offline and in-stores," Zaireen reveals. "It's all learning, we're all learning."
The duo doesn't mind taking things slow, so long as quality isn't compromised.
"We want to hit KL first, then expand to Singapore and Indonesia but obviously we want to be a brand that people go to for quality pieces. It's about getting your product right first, and then your marketing," Zaireen adds.
That's not something their fans need to worry about as 'KIN offers international delivery from their website.
Check out the full collection on the official website here.
Photos: Gan Yew Chin