We speak to Manuel Emch, CEO of Romain Jerome, to find out more about the latest RJ collections from Baselworld 2016.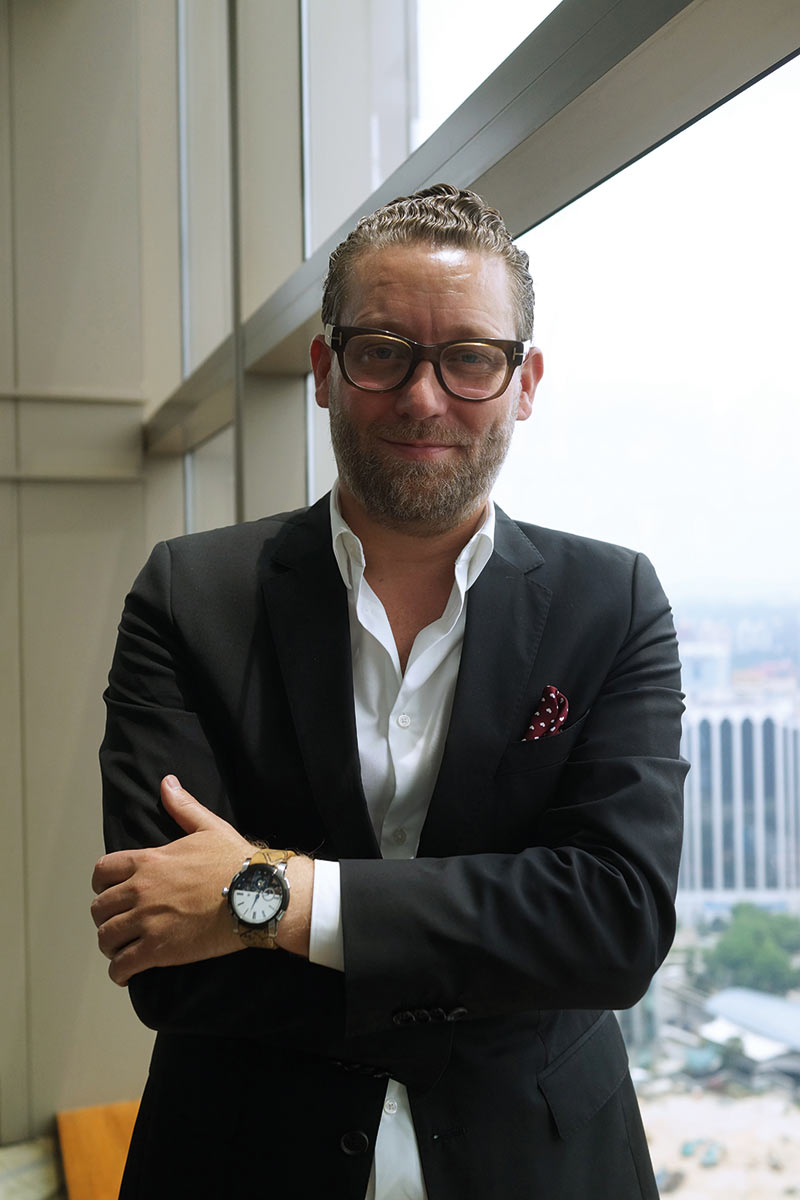 How did you get to know Super Mario?
Well, it was the most important video game for me and the very reason I started the collaboration. When I was 14, my sister was doing a one-year college degree in the States and stayed with a family in Eugene, Oregon, and I'd visited her for the summer. This month-long travel also happened to be my first time out of Switzerland, Europe, so the idea of Oregon sounded exciting and everyone in the exchange family was around 16 to 17! We would go to the drive-in, eat burgers, junk food, ordered pizza plus all the other things that we didn't have in Switzerland, go to the movies and play this game called Super Mario. It was the best summer of my life. The game has a very strong emotional meaning: it reminds me of my youth and gives me positive vibes.
How did you select which characters to put into the watch?
The problem with Super Mario was that we'd always wanted to use the original design, that is the 1985 pixelated character. Super Mario is obviously a character unlike Pac-Man, Space Invaders or Tetris, because he evolved — he changed, became more precise, less pixelated, and became part of contemporary video games. The original pixelated design, however, was not red and blue, and a lot of people don't remember that he was ochre and white-ish. Naturally, we had a big challenge before us because Nintendo and Super Mario were super protective of their brand. So as you can imagine, we were in a very difficult situation because I wanted it in red and blue, but that couldn't be pixelated! Thankfully, it was their 30th anniversary last year and they did a special original character in blue and red.
Now onto Batman; there are two designs, Gotham City and Batman. Why are they a self-winding movement and not a quartz one?
I think there's a very thin line to what we do, especially when it's between the emotional object of our mechanical ingenuity and craftsmanship as well as something that is purely commercial. We could have opted to produce a Batman watch within the USD1,000- 2,000 price range and it probably would sell tonnes, but then the purpose would not be the same. So I think we have to be careful that whatever we do, we do it with the best possible quality, that we even push the boundaries with the best possible movements.
Apart from the Batman movies and comics, what else inspired you to design them?
The thing is, it was not my idea to do Batman (laughs)! We have a great relationship with the French retailer, Colette, and they contacted me one day saying, 'Listen, there's going to be a 75th anniversary special for Batman and we're planning on different collaborations that we'd launch exclusively in Colette.' That meant a lot of things like Berluti shoes, Valextra bags etc but all produced in 75 pieces only. Although I doubted that we could sell 75 watches in Colette alone, I agreed to the deal. I must admit, I was extremely surprised by the success and we had a lot of customers who were super frustrated because they couldn't get the number one piece. That's the interesting thing about Batman — he's the only hero's that an anti-hero.  Batman is a representative icon of humanity, and that's what we are at the end of the day — hence we kept the duality of day and night.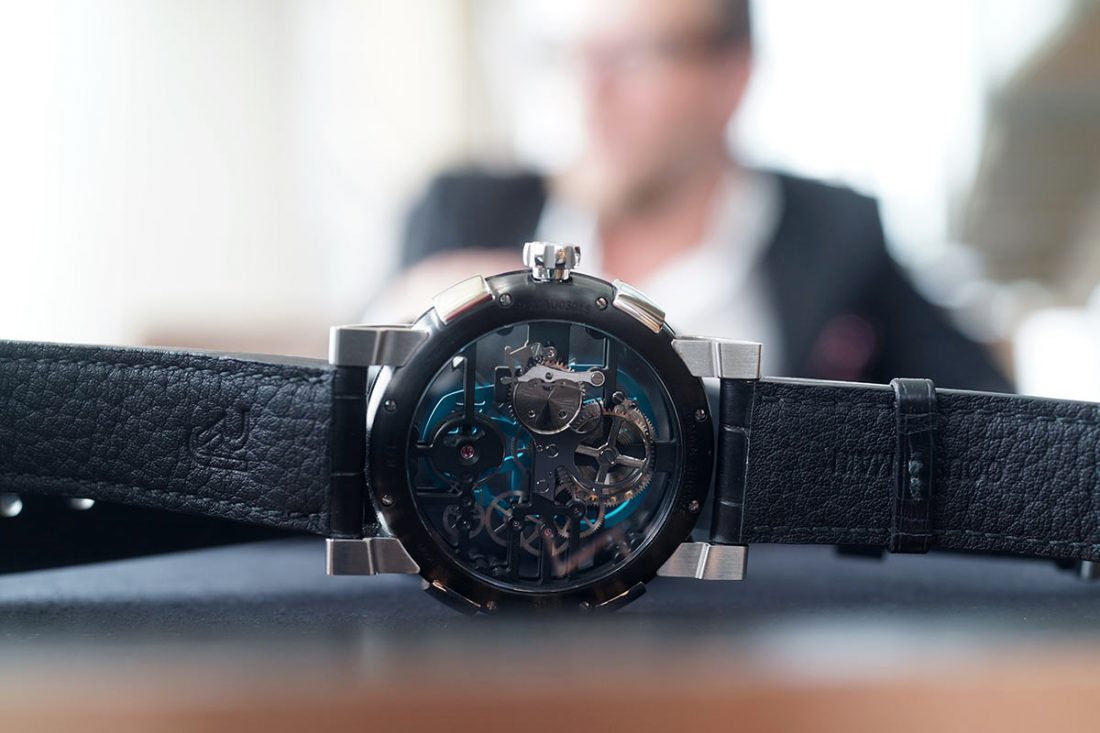 "IN THE PAST, PEOPLE WOULD OFTEN ASK, 'WHO'S YOUR COMPETITION?' BUT NOBODY DOES ANYMORE BECAUSE THEY FINALLY UNDERSTAND THAT THERE IS NO COMPETITION. WE GO IN OUR OWN DIRECTION AND THIS INDUSTRY, TO ME, HAS LOST A LOT OF CREATIVE PROCESS."
For Skylab48, why the metal and the skull?
We already had a Día de los Muertos collection at hand. We do roughly 150 skull watches a year and here are my 3 reasons for it: one, vanity has always been an integral part of the human race. If you'd look in the history of watchmaking, some of the first pieces, even in the Patek museum, were a lot about skulls. It was very especially strong during the 15th, 16th and 17th century, then it disappeared, but came back in the early 20th century and re-disappeared, so it's very cyclical. Second, it's purely part of lifestyle. Skulls are somehow fashionable nowadays — people like them and it gives the just- live-your-lives kind of idea. Lastly, it seems to be coming back in films. Take the last James Bond film as an example. The opening scene was the Mexican Day of Death and as I said earlier, it's in cycles. We always knew that Asia would take longer to accept skulls, but surprisingly, it's changing very quickly.
"YOU SEE, THAT'S THE INTERESTING THING ABOUT BATMAN — HE'S THE ONLY HERO'S THAT AN ANTI- HERO. I MEAN, HE'S THE ONLY SUPERHERO WHOSE PERSONALITY IS LIKE ANY HUMAN; AT ANY GIVEN MOMENT, IT CAN FLIP TO THE BAD OR GOOD SIDE."
Is the watch's movement on the complicated side of things?
You'd find different types of skeleton watches in the industry: you either do it the traditional way whereby you take an existing movement and skeletonise it by hand – which then obviously creates organic angles because of craftsmanship – then you have the very industrial way of doing skeleton watches that basically makes one bridge as skeletonised as possible. We, on the other hand, try to find a way somewhere in between because fully hand-skeletonised watches can turn out to be very expensive due to the number of hours it takes to make. Not only was that something out of line of what we wanted to do, but we also wanted to bring a product to the market within our price range of less than USD 20,000.
There are also 12 colours to choose from. So let's say I only had space for one skeleton watch — how would you advise on the colour to take home?
The logic is simple: to be able to make a watch at that price, we were forced to do 100 pieces. Yet I didn't want to do the same thing 100 times as there was no interest in that. So the closest we got to was 100 divided by 12, but then we said 12 also made sense because then one would have a colour for each month of the year… It's a joke!