Ever since Audrey Hepburn first appeared as Holly Golightly, gazing into the window display of the Tiffany & Co. store on Fifth Avenue in the 1961 film Breakfast at Tiffany's, the iconic store has become a beacon that rouses visions of style, glamour and the endless possibilities that pave the streets of New York City. 
This April, the Fifth Avenue Tiffany & Co. flagship reopens its doors after an extensive renovation initiated by the French luxury group, LVMH. Named "The Landmark", the reopening marks a new era for the storied jewellery house, bringing an immersive retail experience that blends awe-inspiring architecture, design, art and hospitality all under one roof.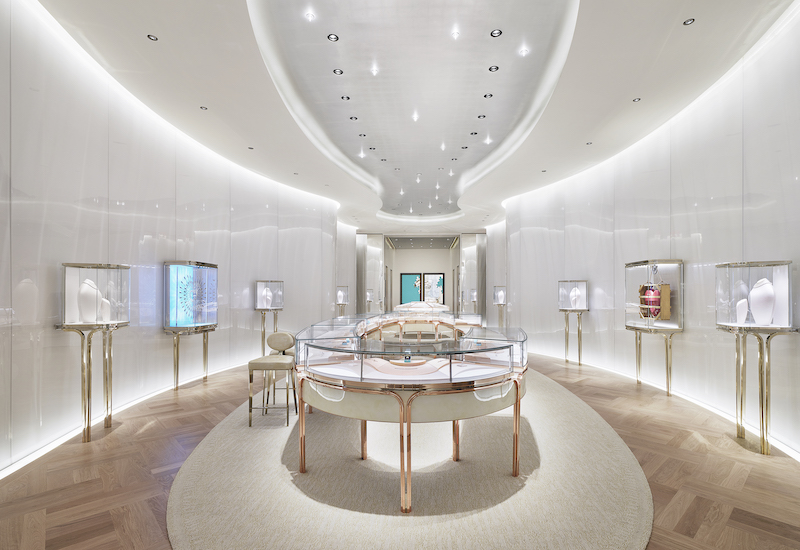 LVMH appointed the expertise of renowned architect Peter Marino to oversee the four-year renovation. First opened in 1940, some of the design and interior elements from the original building structure were kept, while Marino added contemporary touches to breathe in new life to the space. One of these is the bright skylight and ceiling installation that welcomes guests the moment they enter through the front door. As for keeping some of the interiors familiar to the original structure, this can be observed by the charming wood parquet flooring, a pattern similar to the original 1940s interior of the store. 
Spanning an impressive 10 floors, the entire space is filled with rare artworks with some newly commissioned pieces from artists such as Damien Hirst, Daniel Arsham, Rashid Johnson and Anna Weyant.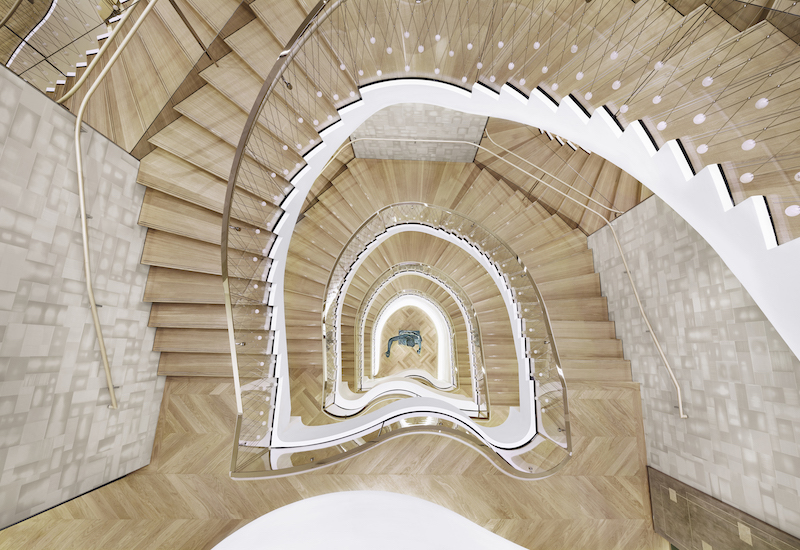 Connecting the third floor all the way to the eighth floor is a remarkable sculptural spiral staircase, an art installation in its own right. Inspired by the structurally sensuous designs of the late jewellery designer, Elsa Peretti who designed some of the house's most iconic pieces, including the Bone Cuff and the Bean design. The staircase captures the distinct organic architectural shapes often seen in Peretti's designs. 
The addition of a new three-storey space above the existing structure was helmed by architecture firm OMA New York and Shohei Shigematsu, who replaced the original office space that was initially added in 1980 into a dedicated museum and exhibition space.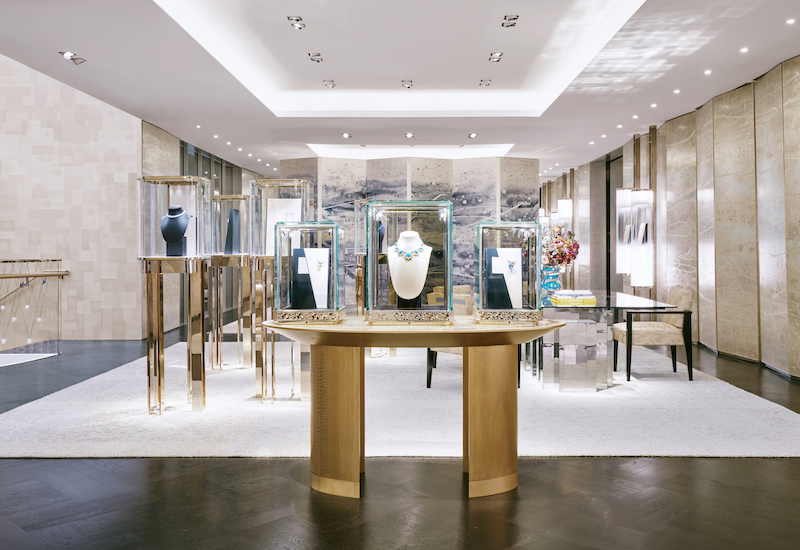 When it comes to welcoming visitors, The Blue Box Cafe helmed by New York's Michelin-starred chef Daniel Boulud brings a seasonally inspired daytime menu so that visitors can drop by for breakfast, lunch and tea with the option of dining in the discreet private dining area or at the art-filled bar area. 
To say this is a refreshing take on reimagining the bricks and mortar retail experience would be an understatement. Tiffany & Co. has proven that physical retail spaces still hold a special place in the world of luxury, inviting new and returning customers to discover and immerse themselves in the world of the jewellers.