Legends collided in Hall 4 of Baselworld this year, courtesy of an equally legendary watchmaker, Hublot.
With only 53 days to go to the FIFA World Cup 2018 Russia and the qualifiers already over and done with, the anticipation for the biggest event in the football world is real and ready.
No one is as ready as Swiss watchmaker Hublot, however, who as early as March, packed out Hall 4 of Baselworld where it unveiled surprise after surprise that included some of the greatest football legends and one football watch that's about to make history.
The Match of Friendship
It was a one-of-a-kind celebration for the most popular game in the world.
Under one roof, Hublot brought together 20 legends and stars from the world of football to play a 2 x 15 minute game with a 10 minute half-time break.
The coaches: Diego Maradona and José Mourinho.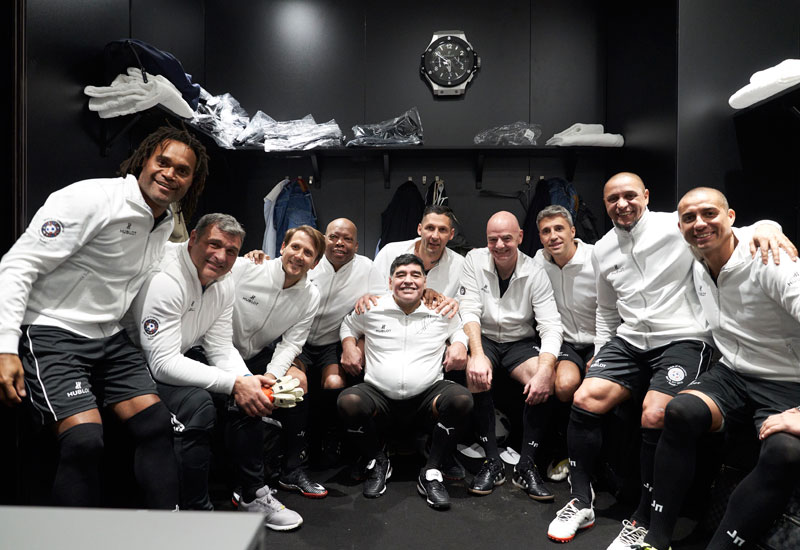 On Maradona's team: Tino Asprilla, Roberto Carlos, Hernan Crespo, Gianni Infantino, Christian Karembeu. Marco Materazzi, Gaizka Mendieta, Angelo Peruzzi and David Trezeguet.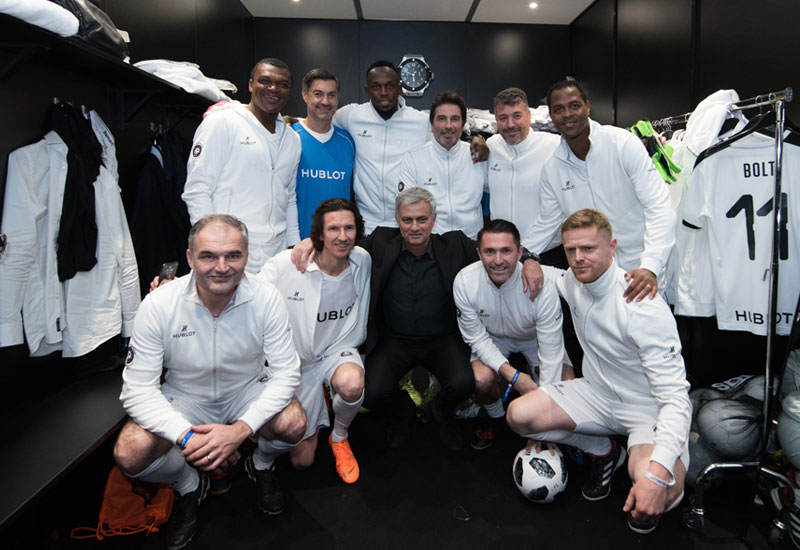 On Mourinho's team: Vitor Baía, Stéphane Chapuisat, Marcel Desailly, Damien Duff, Robbie Keane, Patrick Kluivert, Richard Orlinski, Alexei Smertin and – in Hublot's spirit of always being unpredictably one-of-a-kind – Usain Bolt.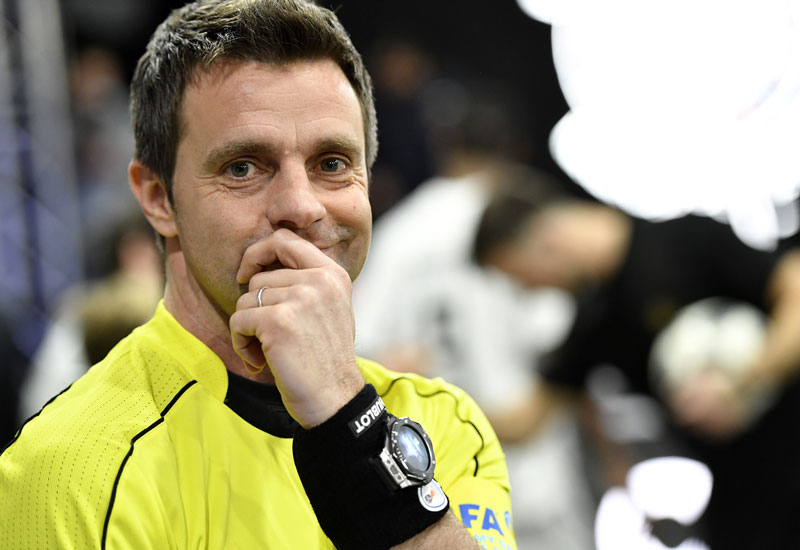 The match is refereed by the one and only Nicola Rizzoli, armed with a novelty announced just moments ago at the press conference – the Big Bang Referee 2018 FIFA World Cup Russia smart watch.
With a big bang that's undeniably Hublot, things kicked off to an explosive start.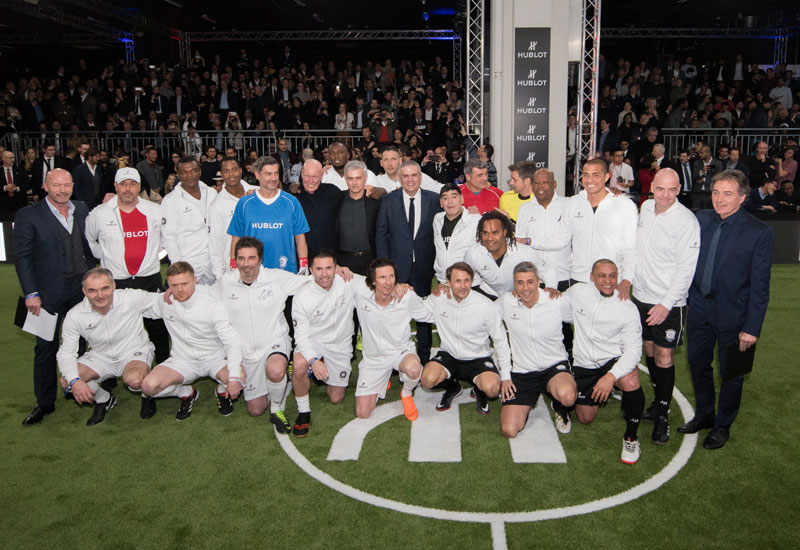 (swipe left for more)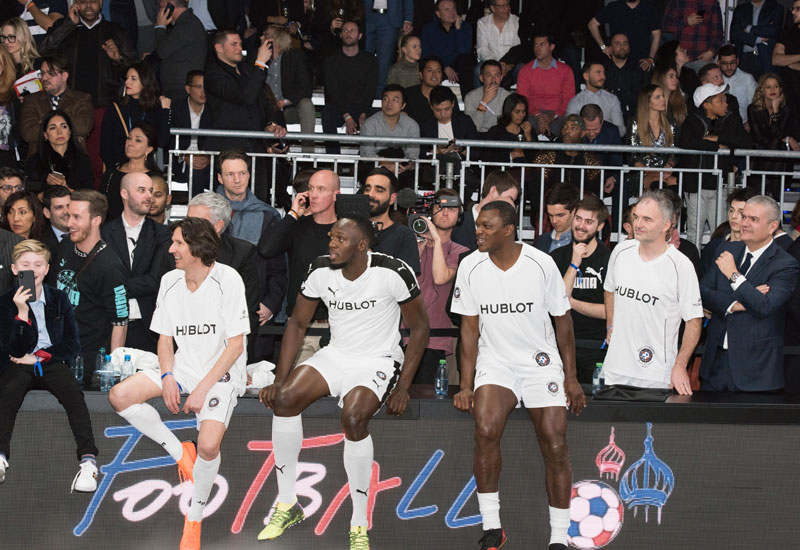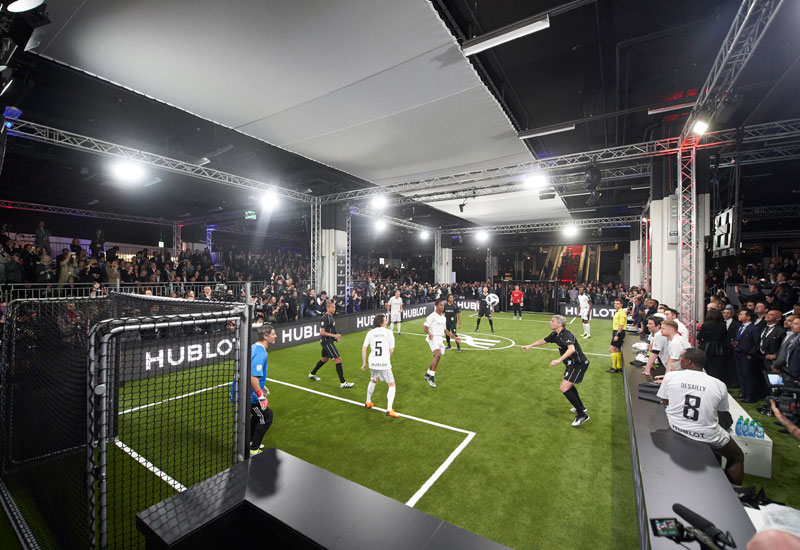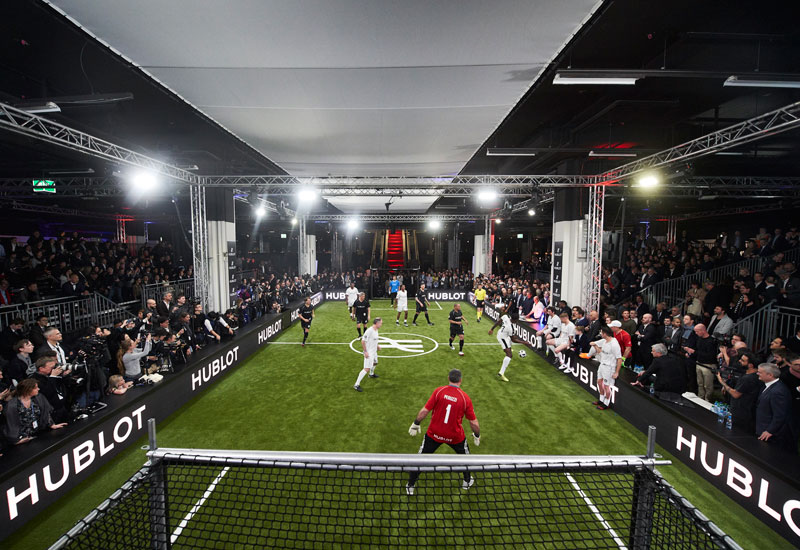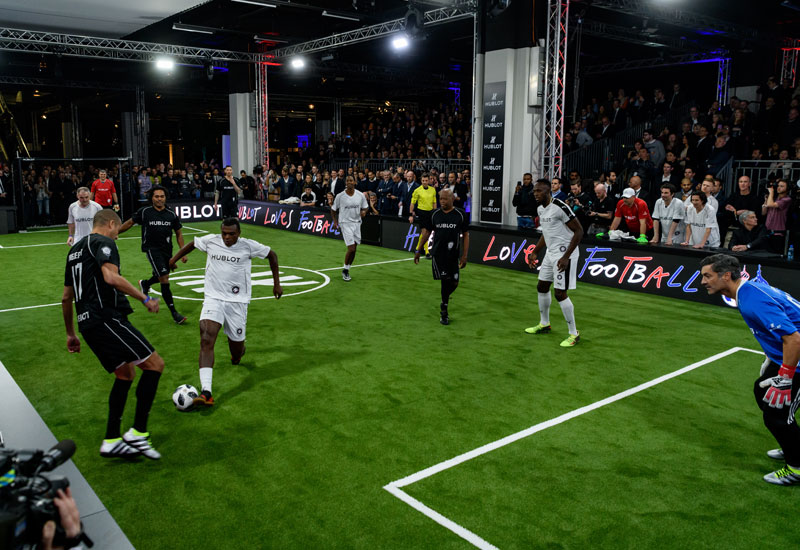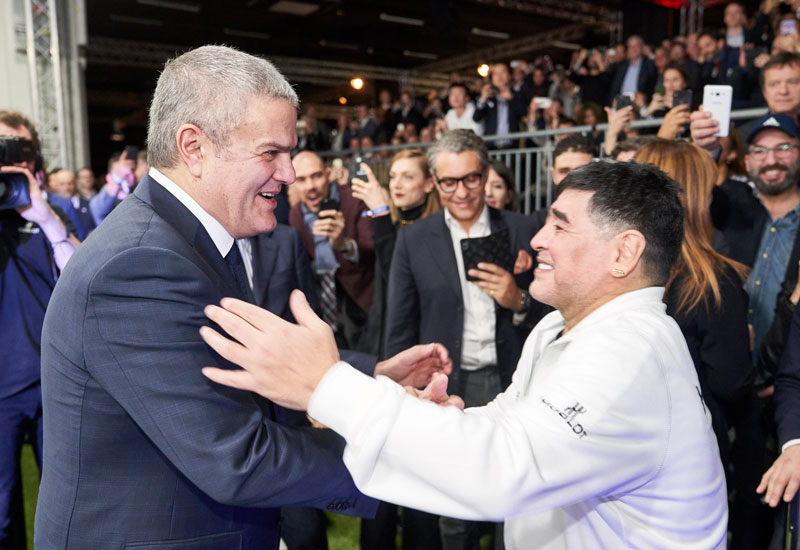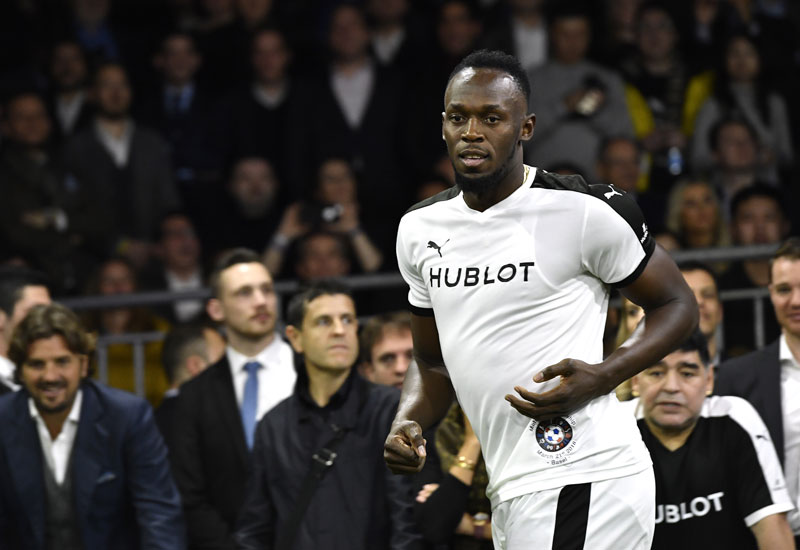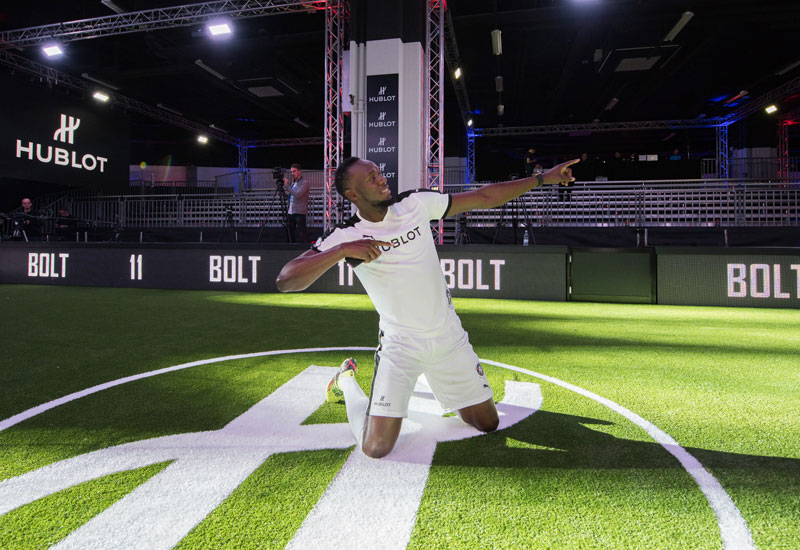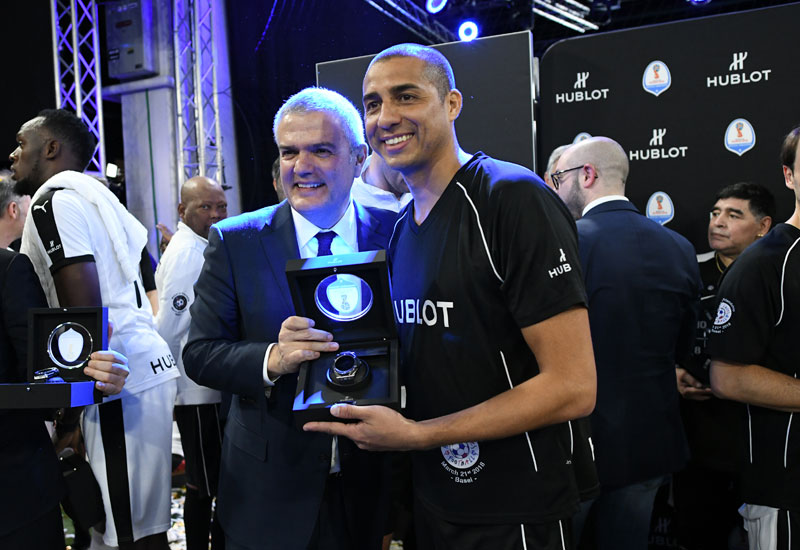 Hublot's Big Bang on and off the pitch
There are some sporting moments in history that live on forever and while this isn't an official match, it probably made a bigger mark than any will.
Everything ran according to protocol, from the 4th official's panel to the appearance of the official FIFA World Cup furry mascot, Zabivaka the Wolf.
The two teams exchanged pennants at the start of the game as a symbol of friendly game held under the banner of friendship – and we're off!
Baía passed, Keane dribbled, Orlinski intercepted, Trezeguet sent the ball flying through the air while Maradona screamed from the side before finally deciding on joining in the match. Golden boy Bolt had everyone cheering each time the ball came to him.
Half-time was equally a breathtaking affair with a performance from the Polish 'Freestyle Football' group who fluidly made their footballs seemingly dance around them.
The master of football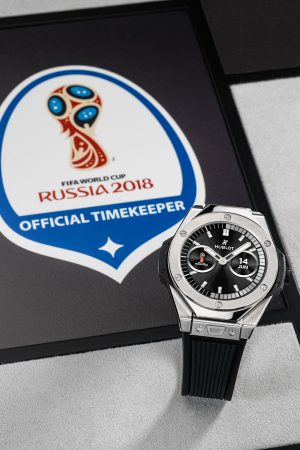 Everything is kept on schedule and refereed to the T by the new Big Bang Referee 2018 FIFA World Cup Russia smart watch, Hublot's first foray into the world of wearables. Limited to only 2018 pieces, it shines unapologetically bold and proud at 49mm in its titanium case with satin-finish.
Its 35.4mm screen is capable of 400×400 pixels display up to 287 ppi with an incomparable AMOLED screen. Its sensor features? Everything you can think of from accelerometer, gyroscope, tilt, microphone, vibration, haptic motor and GPS, powered by a Wear OS by Google specially developed by LVMH.
On the pitch, all the above translated to live notifications for Rizzoli from game minutes and scores to number of penalty cards against players.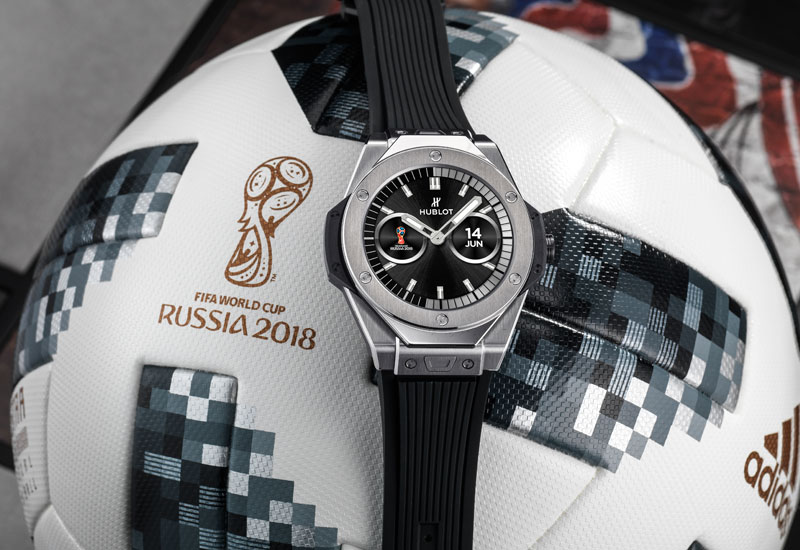 Off the pitch, it has the ability to notify wearers of upcoming matches, keep scores and more so you're always a step ahead of the game during World Cup season.
Hublot's Match of Friendship was an electrifying trial run of just how Hublot will be shaking up this year's World Cup as the official timekeeper with new technology and new styles with the Big Bang Referee. It is a coming together of everything that makes football so great, elevated by Hublot's spirit of innovation – or should we say, spirit of big bang.
The Big Bang Referee comes with a default lined black rubber strap and is exchangable for a sponge sport strap with Hublot logo + the 2018 FIFA World Cup emblem. For the true fan, you can also swap them out for the colours of the flag of your team of choice.
For more information, log on to the official website here.