After equipping its watches with an electronic warranty in 2009, Hublot looks towards innovation once again with the introduction of its new Hublot e-warranty system to verify the authenticity of its products.
Made in partnership with KerQuest, the e-warranty works similarly to facial recognition, where the customer can snap a photo with their mobile phone to activate and access the e-warranty and confirm the original product based on the uniqueness of the materials that make up Hublot's watches, as well as the singularities of each watch's microstructure.
This new system is the product of three years of research and development, working to simplify the tracking and tracing of Hublot watches via points of sale. It stays true to its motto "Be first, unique, and different", by creating a technological first in revolutionising the user experience while preventing counterfeiting and theft.
The main goal of the e-warranty was to develop a technology that relied on the very recognition of the specificity of the watch, namely the microstructure of the materials that make it up. While the recognition of a material in the broadest sense has been studied for several years, the challenge was how to read the materials and process them in a reliable, practical way. Since smartphones and their cameras have greatly evolved throughout the years, Hublot and KerQuest were able to perfect the first visual recognition of a watch.
When a watch is being sold in a boutique, the point of sale activates the warranty using the Hublot e-warranty application – which takes a photo of the head of the watch lined up with a duplicate displayed on the screen. The photo is sent to the computing infrastructure that will process it and automatically active the warranty if the piece has been correctly identified unitarily. After the watch has been recognised and authenticated, the customer will receive their Hublot e-warranty via the channel of their choice: SMS, E-mail, WhatsApp, WeChat, Instagram, Messenger, etc, and will then be able to join the Hublotista community.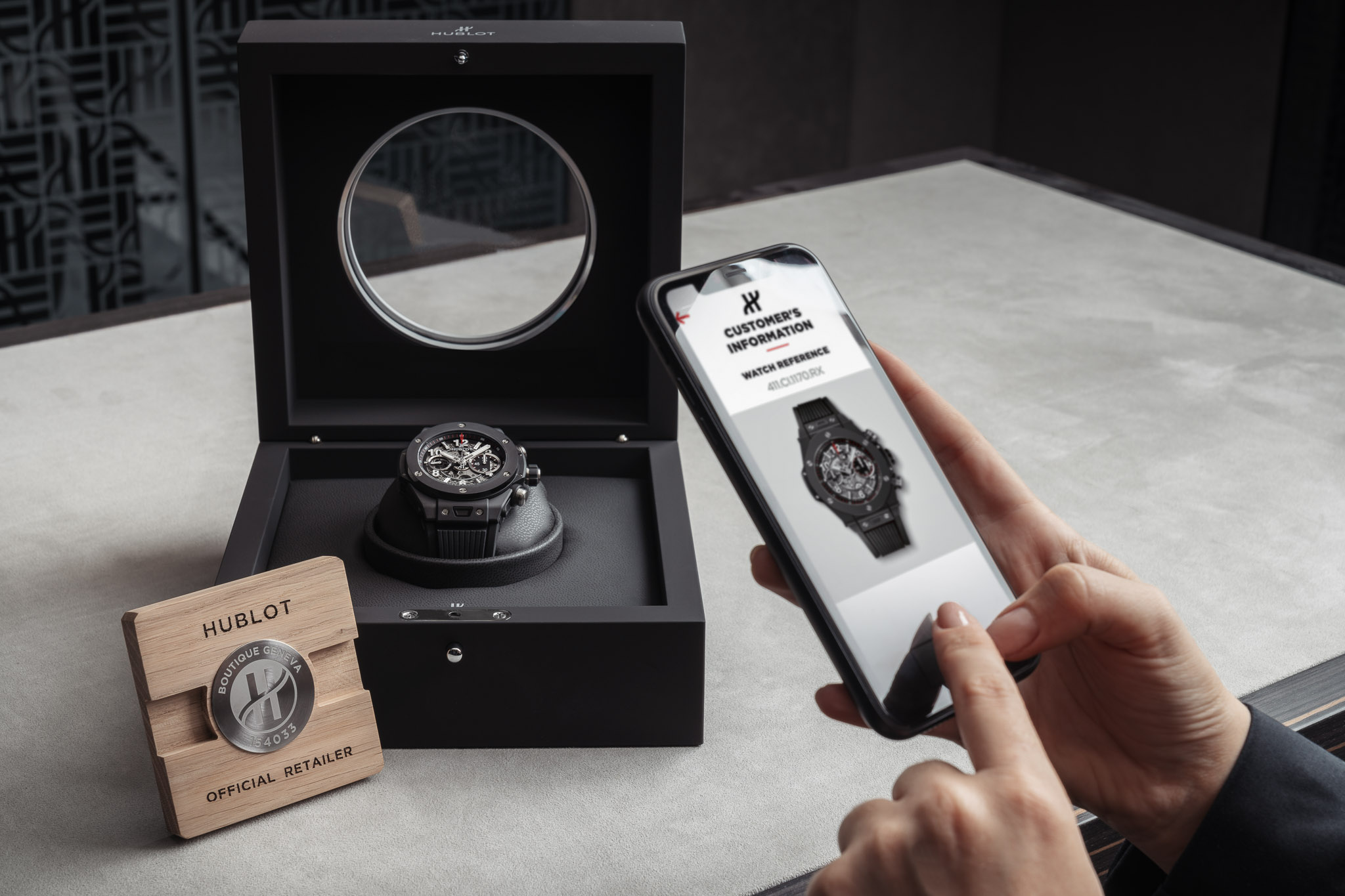 A specific e-warranty application also exists for customers to enable them to access new services, such as verifying the authenticity of a piece, retrieving the warranty status of a piece, or accessing the Hublotista community. If warranty data gets lost or a watch gets transferred to a new owner, the unitary recognition of the piece by the e-warranty application (available on the Google Play Store and Apple App Store) enables access to all information about the watch and its warranty.
While earlier pieces continue to use the electronic warranty card, the Hublot e-warranty technology is already compatible with all the pieces produced by the Manufacture since the start of 2020. This new system will also be stored in the AURA blockchain, intended for use by other luxury brands.
Photos: Hublot