Paraiba tourmalines make a return, as well as a special Hublot ceramic in arresting red.
While SIHH was in full swing in Geneva, a small flurry of activity in the nearby Hotel Kempinski was also worth paying attention to.
Hublot's Geneva Days 2019 took off to no less of a buzzing start, with CEO Ricardo Guadalupe welcoming Hublot's own set of journalists, buyers and fans as well as Richard Orlinski, the sculptor behind the new Classic Fusion Chronograph Orlinski in red ceramic that was just unveiled.
The new watch is one of a series of new pieces specially debuted at the occasion, among them, a Big Bang Unico Blue Magic 45mm, Big Bang Paraiba, Spirit of Big Bang in Yellow Sapphire and more. Accompanying them are also a few new interchangable straps made for spring with breathable materials and equally cheerful colours.
Here are some of the cutest, coolest and most colourful from the 5 days.
The cute: Big Bang Paraiba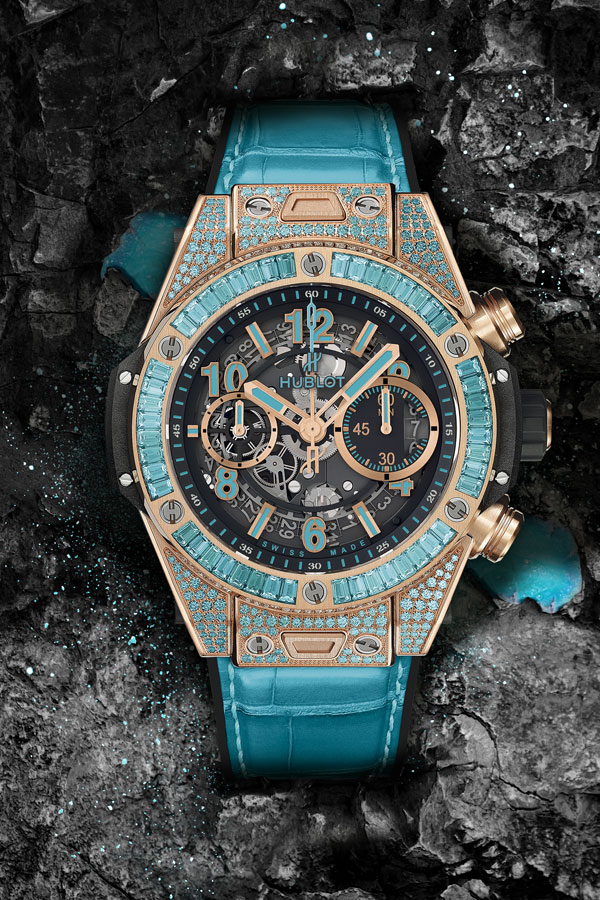 Hublot pushed innovation when it premiered the Big Bang Paraiba, marking the first time the world's rarest and most unique precious stone, the Paraiba Tourmaline, is used in watchmaking. This round, it tests the envelope further by setting baguette cuts of the precious stone on a watch. The stone itself is rare enough, with only one being mined to every 10,000 diamonds. Baguette cut stones require the stones to be perfectly uniformed in colour, taking up five times more raw material in the initial stone selection stage. Of those that get selected, only 70% could be set as about 30% break or amount to insufficient uniformity in colour. The results are worth it though – it's a brilliant blue that radiates green, almost inviting you to dive in. The Paraiba tourmalines used in Hublot's models are also certified by the world's largest gemological labs as ethical, being mined from the Rio Grande region of Brazil. They are available in four models: The Big Bang Unico Paraiba 45mm in white gold or King Gold and Big Bang One Click Paraiba 39mm in white gold or King Gold.
The cool: Spirit of Big Bang in Yellow Sapphire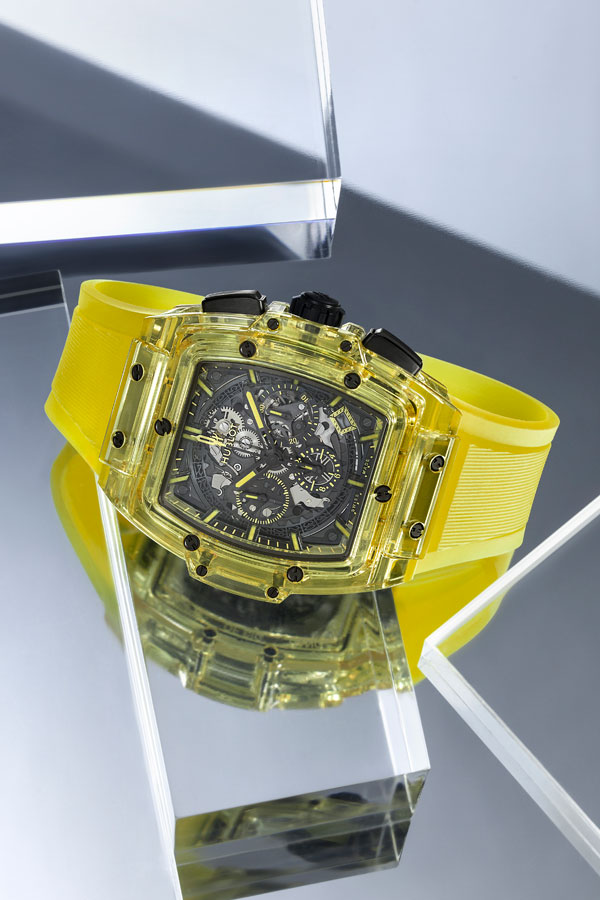 Since 2016, Hublot has been a pioneer in shaping and colouring sapphire. After transparent, smoked black, blue and red sapphires, Hublot continues its colorimetric quest. And as the sky has never been its limit, the watchmaker is once again marking a world first by bringing the colour of the sun into its watches. The Spirit of Big Bang Yellow Sapphire is energising, luminous and brilliant, a watch that is as hard and scratch-resistant as diamond (9 on the Mohs scale, versus 10 for diamond) and as light as titanium,on the wrist. Absolute transparency dressed by the sparkle of a solar yellow that extends all the way to its natural rubber bracelet lined with the colour yellow. Released in only 100 pieces, the Spirit of Big Bang Yellow Sapphire houses a self-winding skeleton chronograph movement, entirely "Hublotised" in its architecture and its finishing, from the legendary Zenith El Primero calibre. Whether it represents a colour of joy, celebration, power, wealth or wisdom for you, the Spirit of Big Bang Yellow Sapphire will shine on your wrist.s and brilliant.
The colourful: Classic Fusion Aerofusion Chronograph Orlinski Red Magic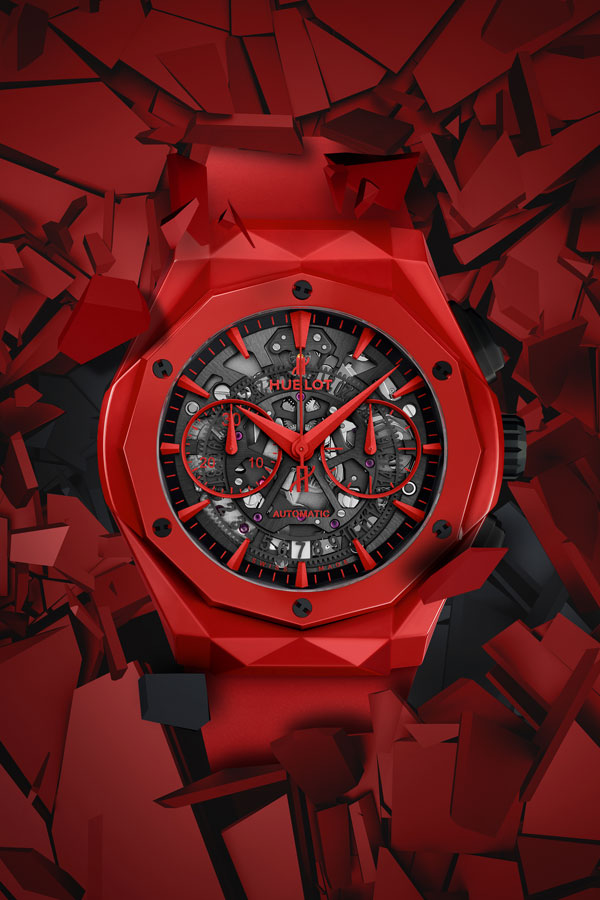 The Classic Fusion Aerofusion Chronograph Orlinski has been paired with Hublot's patented red ceramic this round. The colour of life and of passion, red evokes Richard Orlinski's first Born Wild Crocodile sculpture. Created in 2004, it features this vivid and powerful shade of red, which has since gone on to become the most recognisable colour in his menagerie. This particular model is released in a limited edition of 200 pieces, featuring 45 mm of art and innovation crafted from Hublot's red ceramic. From the seconds hand to the counters and indexes; from the case to the bezel, all the way to the strap, nothing has escaped the vivid glow of Hublot x Orlinski red. Its sapphire case back reveals the HUB1155 self-winding skeleton chronograph movement.
The Crème: Tourbillon Power Reserve 5 Days Blue Sapphire
The crème de la crème of all the new repertoire premiered, this is the best showcase of Hublot's best in one timepiece. It features a tourbillon, power reserve and skeleton dial, all beautifully housed within Hublot's prized blue sapphire case. It art and skill displayed simultaneously, the prime piece for any collector looking for a watch that's quintessentially Hublot.
Learn more about the new pieces at the official website here.
(Photos and video: Hublot)