Halfway to becoming a chemical engineer, Trixie Khong radically switched gears to pursue her hobby full-time, which we know today as online jewellery brand, By Invite Only.
Custom pieces made by hand. Endless hours and painstaking work poured into the crafting of each piece. Nothing spells luxury like something made specially for you. We shine the spotlight on these artisanal brands with this new column that's all about true dedication to one's craft.
---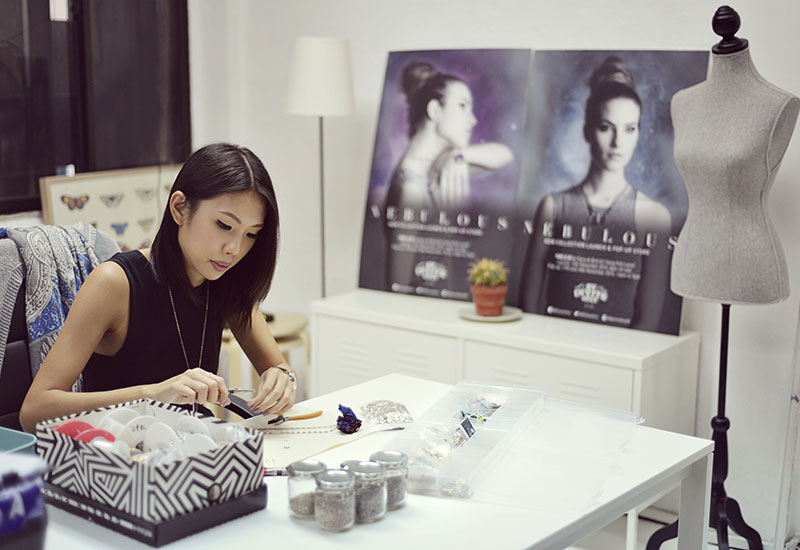 Some of us are lucky enough to enjoy working opportunities befitting our background and upbringing; others may only find their true passion later on in life. Singaporean born and bred Trixie Khong started out on the former path until the latter beckoned her heart.
Having excelled in Mathematics and Science in school, it seemed that engineering was cut out for her. The fact that her family wasn't particularly drawn to the arts also plausibly obviated any interest in creative industries.
It naturally followed that she would pursue a Diploma in Chemical Engineering at Temasek Polytechnic. However, her first day on internship at a Kerosene distillation plant – clad in a scruffy blue boilersuit – unexpectedly changed her mind.
At the time, she had already started a side business selling handmade jewellery online.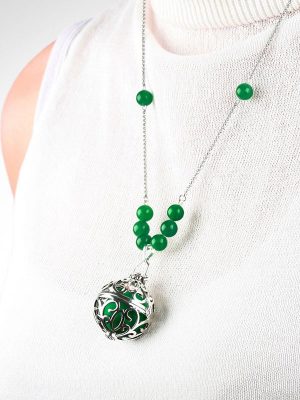 "I was 16 when I first started crafting and playing with my father's pliers," she recollects of her budding love for jewellery, "I would occasionally visit craft stores along Arab street in Singapore to look for parts and baubles I could make into accessories."
"Of course, I couldn't wear everything I made so I had to sell them off to make room for more," she adds.
Her first circle of customers consisted mostly of her family and close friends, but things changed after a graphic designer friend encouraged her to turn her hobby into a legitimate brand two years later. They gave it a name, logo and set up an official website we now know as By Invite Only.
"I was still a student then and there was nothing more thrilling than making things from my own bare hands and then earning more allowance because of it. It gave me a sense of identity and direction as a young girl and made me motivated to do more with my life," she says.
Still, like many others brought up to seek more lucrative career paths – and she knew that oil is where the money is at – she went on to major in petroleum technology.
What really triggered the switch, therefore, was the fear of being caught up in a job that would never truly fulfil her need for self-actualisation. It was upon that realisation that she made the life-changing decision to work at her jewellery gig full-time.
She has never looked back since.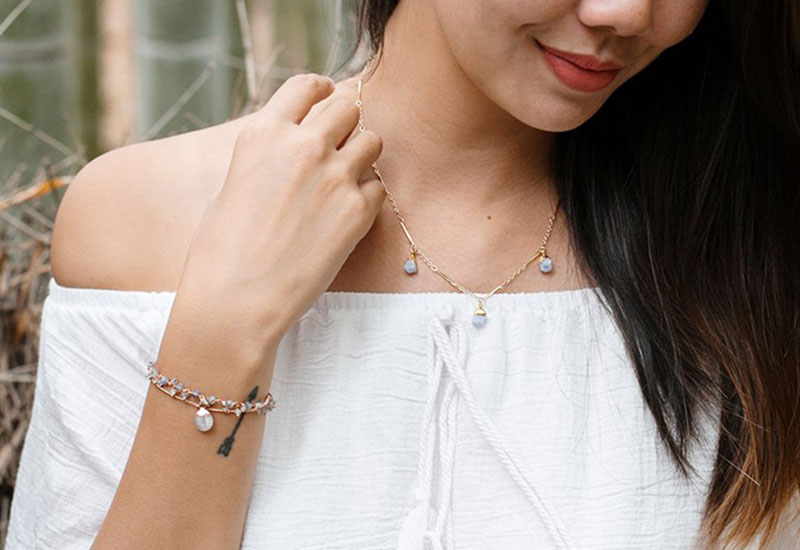 The science behind the art
But change didn't happen overnight, and Trixie had to prepare herself to take on the challenges of entrepreneurship through education.
Switching her course of study to major in Communications, New Media and Public Relations, she began to pick up new skills on marketing and public relations. Combining her talent for jewellery-making and media know-how, it didn't take long for her brand to gain momentum across the region.
Today, By Invite Only is a 9-year-old jewellery brand based in Singapore, grounded on the belief that "jewellery completes an outfit" with designs to "embellish and not clutter".
"We have this idea of 'jewellery pieces for every invite' – every occasion, every place, every girl and we want to be by our customer's side no matter what happens, big or small – birthdays, weddings, work or play!" she tells on the inspiration behind the name.
The full range of jewellery includes necklaces, earrings, bracelets, rings, bridal pieces, and even a jade line designed to repel mosquitoes (the Yu Ahn Mosquito-Repellent Collection)!
Discover how each jewellery piece is handcrafted in the gallery below (swipe left for more photos).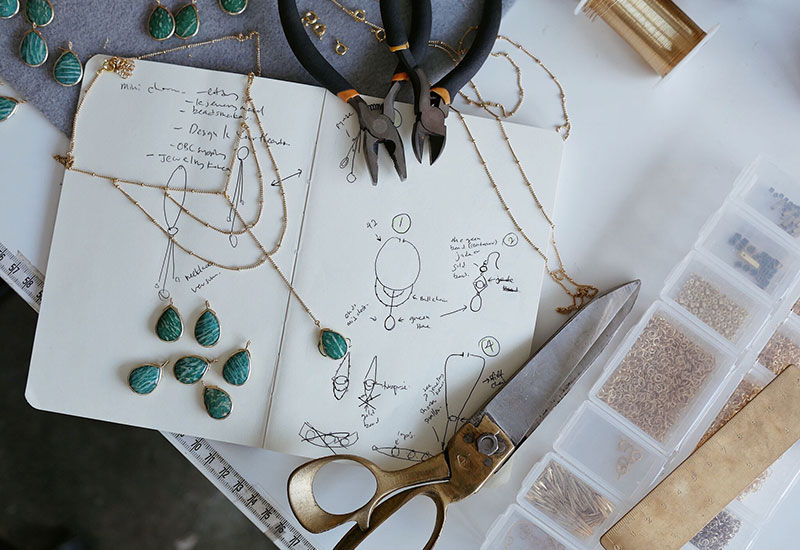 Step 1
Step 1
Trixie finds inspiration from nature or materials that she comes across in her daily life and begins by sketching out her ideas.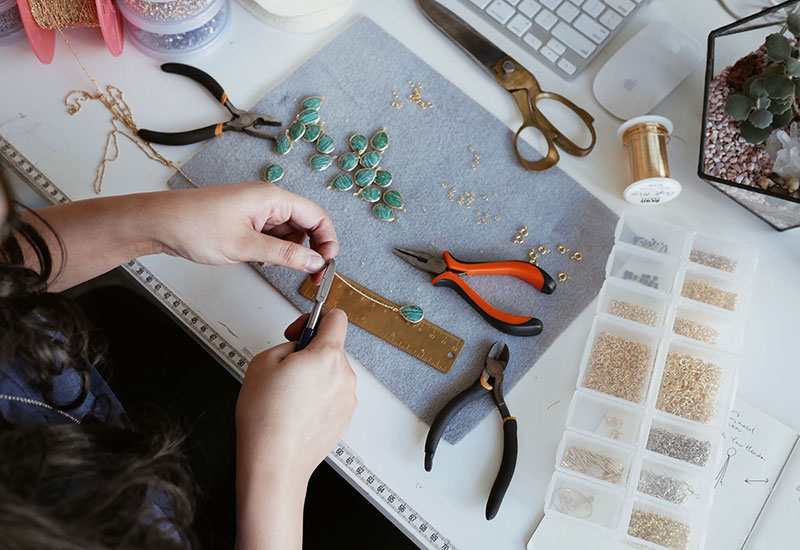 Step 2
Step 2
Once a sketch is complete, she proceeds with creating a few samples of the design.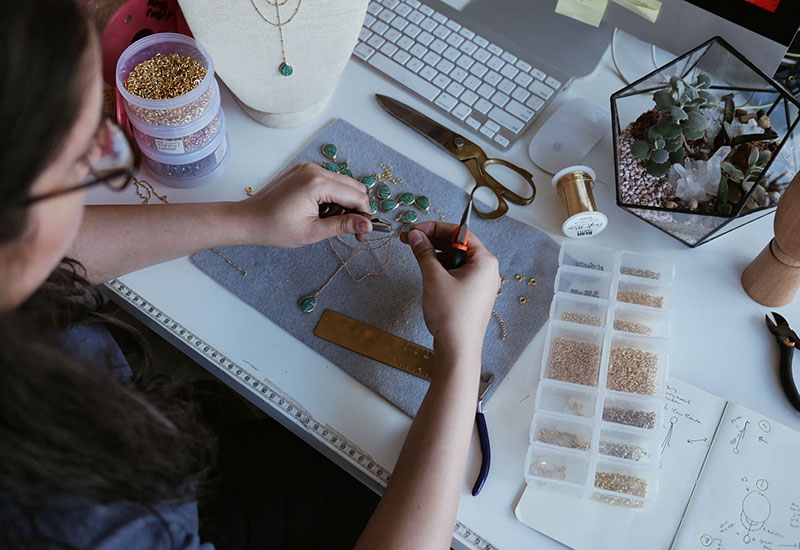 Step 3
Step 3
After testing out the samples, she sends them into production. 40% of the jewellery pieces are made in-house, while the rest are made in Korea to ensure a high quality or finish.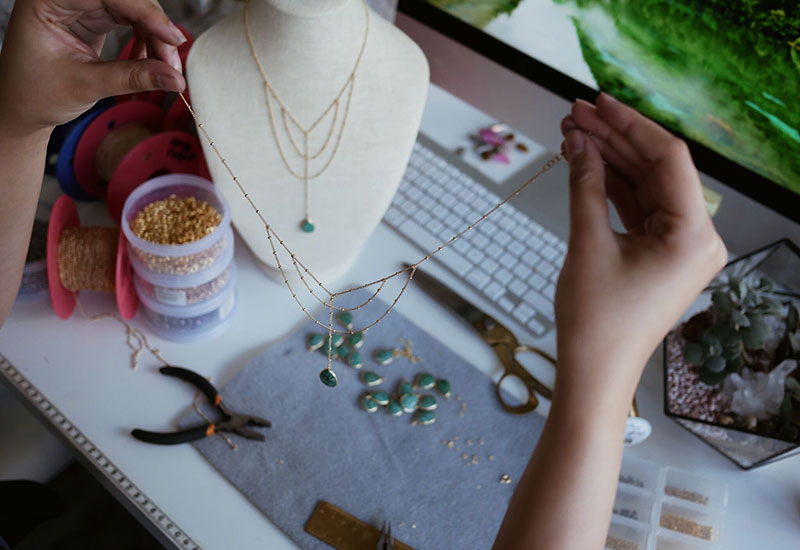 Step 4
Step 4
Finally, she styles and photographs the pieces to be launched online (which she considers the fun part of the job).
The art behind the science
Unlike the traditional retail method of releasing new jewellery pieces in a thematic collection, Trixie prefers to update her brand's offerings as and when deemed appropriate, reserving jewellery collections for collaborations or special occasions. This gives her the freedom to explore more ideas and designs, of which she derives from anything she stumbles upon in her daily life.
"The simplest of things are usually the most beautiful. Nature is also somewhere I draw inspiration from, so traveling is always part work part vacation to me," she discloses.
Since its inception, the brand has amassed a large fan base of nearly 40k followers on Instagram to date. It now ships worldwide, with the highest demand being from Malaysia and Singapore. And while her goal is to establish a bigger presence in the global market, she's in no hurry to do so.
"To be honest, the fact that I am able to do what I love everyday is already, to me, an achievement," she confesses proudly.
"I would love to earn or grow as big as we can but ultimately, we want to scale at a healthy pace and make sure that our growth never compromises our products' quality or customer service."
For more information or to purchase the jewellery pieces, log on to byinviteonly.info. Follow @byinviteonlystore on Instagram for more updates on new releases.