The mountains of Switzerland are among Central Europe's most prized natural wonders and are most impressive during winter time. Its landscape is vast and majestic, crossing glittering blue lakes and charming cities set against the backdrop of snow-capped mountains.
Truthfully, the only way to do such natural beauty justice is to immerse yourself in it for an extended period of time – and what better way to get in the thick of things than on a luxurious train tour?
Whether you're after a romantic getaway or an unforgettable group experience, The Grand Train Tour of Switzerland promises the journey of a lifetime through an extensive cross-country railway odyssey. This journey spans glaciers and lakes among the Alps, through lush luxury abodes, famous landmarks, cultural icons, and intriguing UNESCO World Heritage sites.

Eight panoramic lines, one grand journey
On the Grand Train Tour of Switzerland, you're free to plan your own way based on what you'd like to experience, and where. The epic journey can be travelled all year round and consists of 8 stages, each with unique attractions and sights.
That's right – although its mountains have become a national symbol, Switzerland actually boasts a host of diverse attractions. In addition to icy glaciers and quaint villages, you'll come across 11 huge lakes and 5 UNESCO World Heritage Sites on the Grand Train Tour. For a better idea, here's a section of the journey: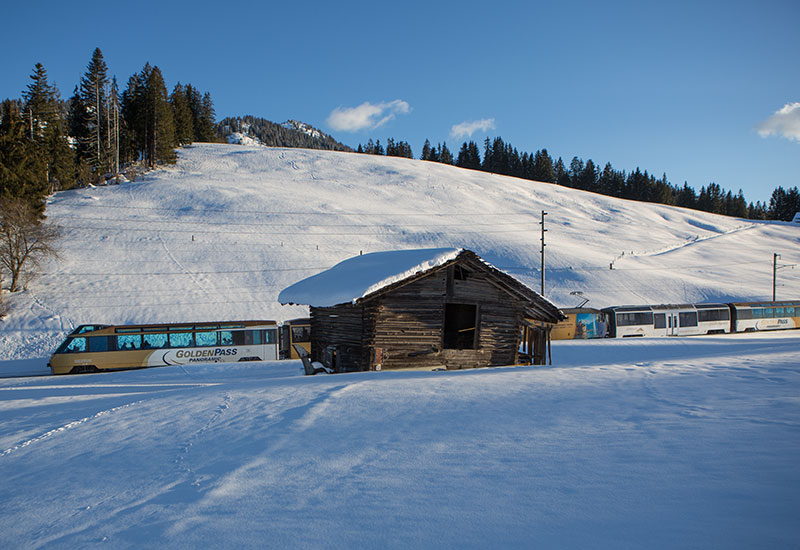 Interlaken - Montreux
Interlaken - Montreux
Interlaken is a stunning town at the foot of the "big three" mountains, where paragliding and river rafting are among the choice tourist activities. From here, you will continue along the GoldenPass MOB Panoramic route along majestic castles, sprawling vineyards, and through the German-French language border. Down the hills towards Montreux you'll go, where Six Queen albums were made right in Lake Geneva. © Swiss Travel System AG, 2015, Fotograf: Marcus Gyger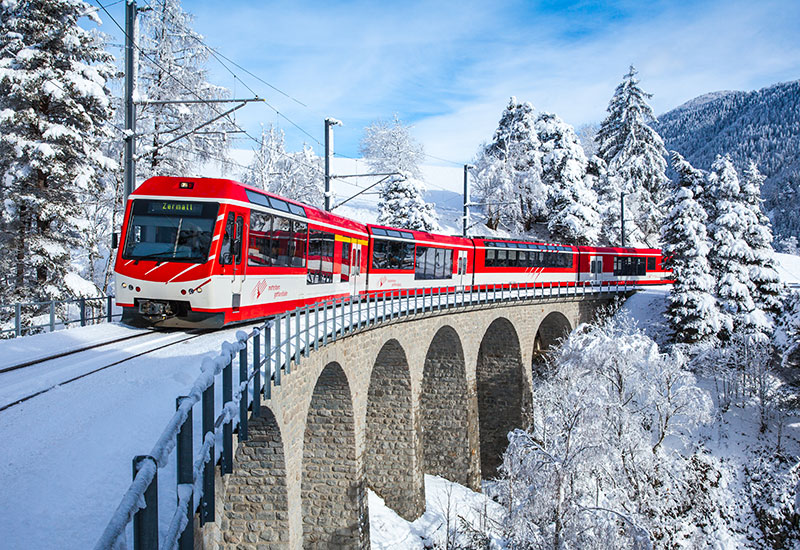 Montreux - Zermatt
Montreux - Zermatt
Through the Rhone Valley and Nikolai Valley (the deepest-incised in all of Switzerland), this leg of the journey elevates almost 900 metres in altitude, towards the world-renowned Matterhorn. This 'mountain of mountains' is located in the car-free village of Zermatt, where you can rest in lovely wooden chalets amidst alpine wonder. Hike, bike, shop or dine at leisure when you stop over. Not to forget, Europe's largest summer skiing area is open all year round here! © Zermatt Tourismus, Fotograf: Pascal Gertschen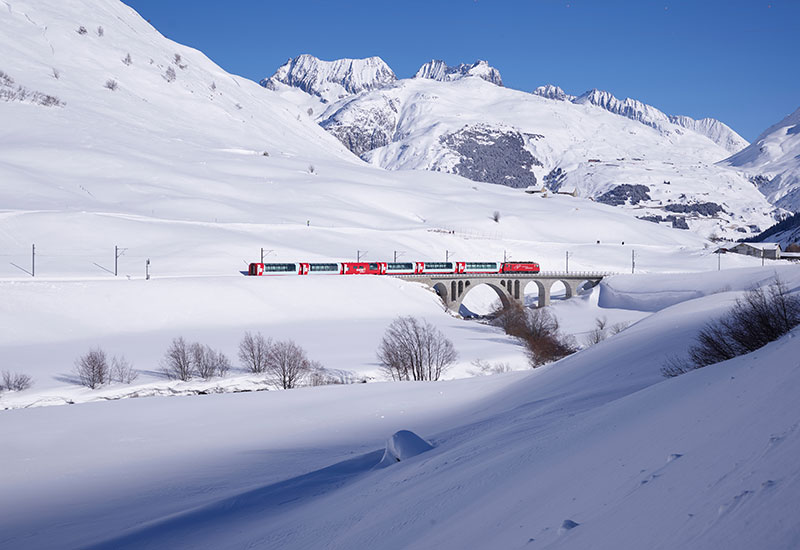 Zermatt - St. Moritz
Zermatt - St. Moritz
Riding the Glacier Express is no regular carriage experience. From the foot of the Matterhorn, in 8 hours through the mountains, it crosses 91 tunnels and 291 bridges across the Alps. Here lies a classy town called St. Moritz, which is part of a UNESCO World Heritage site. Be it summer or winter, there's a hiking trail waiting to be conquered. Mountainscapes, ravines, and valleys on this stretch make for some of the most amazing sights you'll encounter on the Grand Train Tour. Postcard-perfect Engadine scenes of deep blue lakes surrounded by traditional architecture are just icing on the cake. © Glacier Express, Fotograf: Stefan Schlumpf
(swipe left for more)
If you wish to travel the entire Grand Train Tour of Switzerland, you may choose to depart from the urban centre of Zurich, then snake along Interlaken and Montreux towards the high altitudes of the Matterhorn in Zermatt. The journey continues to St. Moritz and Lugano,  then northward to the gentle slopes of Lucerne, making its way back to St. Gallen and Zurich. Should you fall in love with any one location, simply prolong your stay at your chosen accommodation and hop back on the train when you're ready.
Specific itinerary suggestions are also available to check out, Top Attractions, Glaciers & Palm Trees, Stunning Waters and Hidden Treasures, among others.
The best part? You only need one 'key' to unlock all these options.
All-in-one ticket to Switzerland: Swiss Travel Pass
The Swiss Travel Pass is the only ticket you'll need to experience the magic of Switzerland. You can choose a pass for 3, 4, 8, or 15 days. This includes:
Unlimited access to travel the country via train, bus, or boat
Unlimited travel on premium panoramic trains (seat reservation fees and/or surcharges apply)
8 panoramic routes on the Grand Train Tour of Switzerland, with several themed itineraries
Trams & buses in 90 towns and cities
Admission to over 500 museums nationwide, including FIFA World Football Museum in Zurich, Olympic Museum in Lausanne or Patek Philipp Museum in Geneva
50% off most mountain railways.
For ultimate travel convenience, use your Swiss Travel Pass with the Swiss Travel Guide App (free download in the Apple Store or Google Play Store).  It allows you to map out must-see highlights and check public transport schedules, planning your dream holiday with ease, on the go.
Travel your way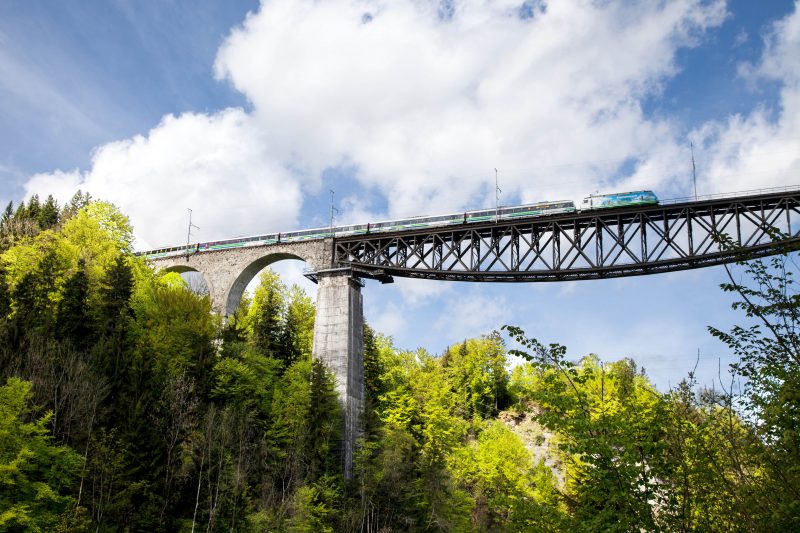 On top of all this, holders of the Swiss Travel Pass also stand to enjoy several perks. For example, parents with valid tickets can bring children under 16 along for free on their travels. All they have to do is collect the free Swiss Family Card, which is valid for any Swiss public transport.
With each purchase of a Swiss Travel Pass comes a complimentary MyTravel Stamp Booklet, where you can collect 9 unique stamps along the Grand Train Tour of Switzerland. This unlocks coupons, prizes, and a treasure trove of travel info.
Luggage services are also taken one step further with a touch of Swiss efficiency. Upon landing at Zurich airport, international visitors can send their luggage directly to their destination via train. Even while traveling in Switzerland, your suitcases can be picked up at your hotel before checkout and dropped off at your next stop the following day.
---
Curious to know more about the Grand Train Tour of Switzerland? Head over to the official website, see the route online or contact any of these rail specialists for bookings and enquiries.
Apple Vacations & Convention Sdn Bhd
Phone: 603 2143 8877
Boustead Travel Services Sdn Bhd
Phone: 603 2912 9788
Pacific World Travel Sdn Bhd
Phone: 603 21413040
Images: Swiss Travel System