Having spent a month with our Fitbit Ionic, we have got first-hand experience of what's good, bad and improvable in the brand's first smartwatch.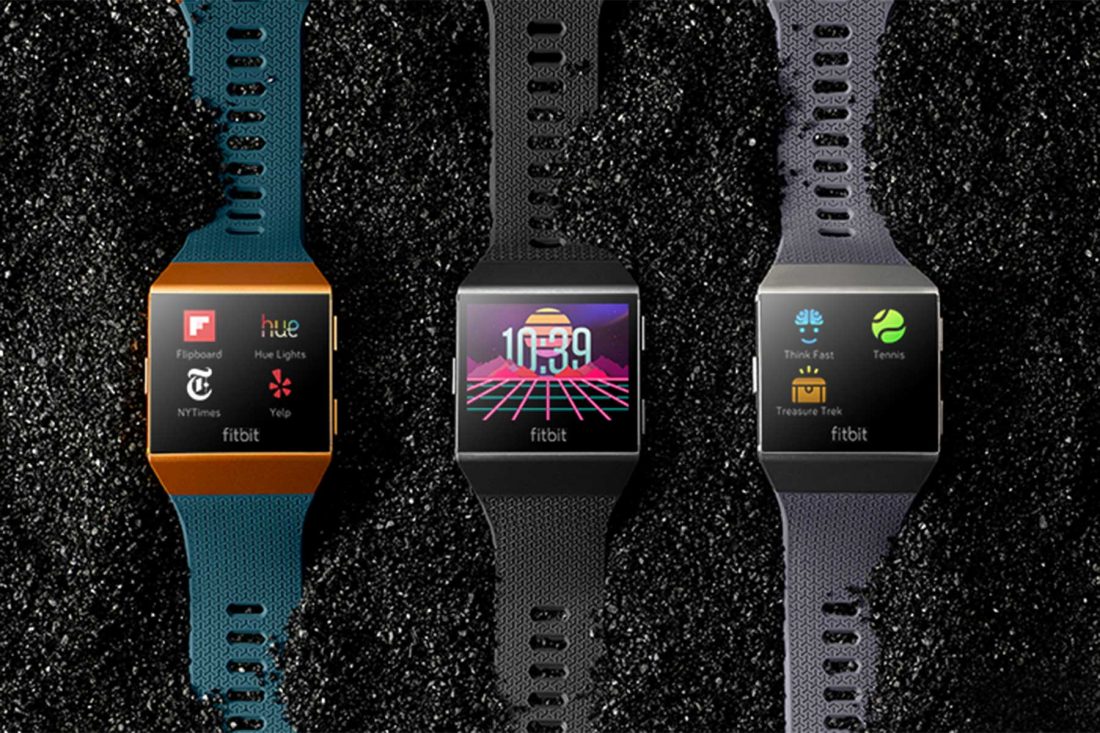 When the Fitbit Ionic arrived on our shores in January, it came with many promises. Branded as Fitbit's most advanced device to date, we naturally had high expectations, also considering the brand's reputation as pioneers in the wearables industry.
Having spent a month with our Fitbit Ionic, we have got first-hand experience of what's good, bad and improvable in the brand's first smartwatch. Did it deliver on its promises? Yes and no.
Comfortable and lightweight design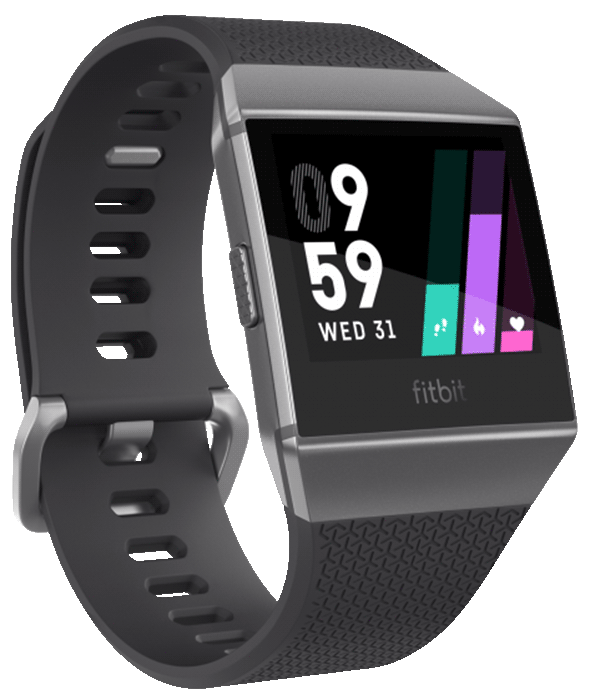 At first glance, we thought the Ionic would sit big on a woman's wrist. After putting it on, however, it didn't take more than a minute to get used to the 1.42-inch touchscreen. We like that it felt lighter than it looked too, which can be attributed to its sleek aluminium build. The squarish design is remarkably similar to the ever-popular Apple Watch, though the actual display is more rectangular and subtly spherical.
There are three colours to choose from: smoke grey with charcoal band (default), silver gray with blue gray band, and burnt orange with slate blue band. Each comes with two band sizes to ensure a snug fit on the wrist – something we appreciate despite the limited range of interchangeable straps. There's also a newer Ionic Adidas model with special wristbands and watch-faces (think Fitbit's version of the Apple Watch Nike+) for those who prefer an even sportier design.
Stunning display, standard personalisation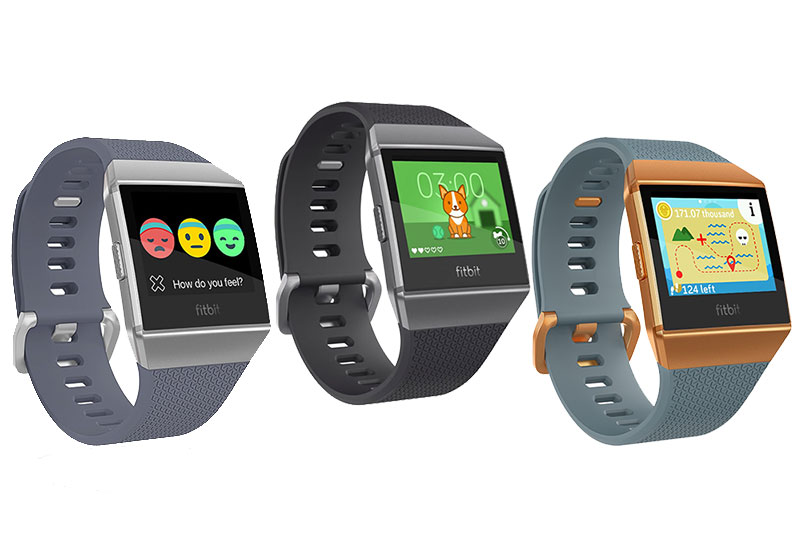 Our favourite features on the visual front are hands down the 384 x 250 resolution and brightness of up to 1,000 nits, giving the Ionic its sharp colours and graphics that are visible even in broad daylight. Some may find the large bezel accommodating the logo at the bottom unnecessary, but that didn't bother us too much.
Unfortunately, there isn't much to shout about when it comes to personalisation. Since the Ionic runs on its own OS, everything is custom-built from scratch. The pro here is that we don't get lopsided watch faces and missing app features like some non-Apple devices do; whereas the con is the lack of apps (more on this later) and watch faces compared to other smartwatches.
That said, we see a lot of potential in Fitbit Labs – the brand's solution for more interactive and adorable watch faces. For example, there's Mood Log, which tracks your emotional state over time; Fitbit Pet, which encourages you to stay active by using your steps to feed a pet; and Treasure Trek, which uses your steps to power your pirate ship on the search for sunken treasure. Though still in its experimental stages, our Fitbit Pet watch face has been working quite well to motivate us fitness-wise and to entertain our love of pets (yes, virtual ones included).
Advanced health and fitness tracking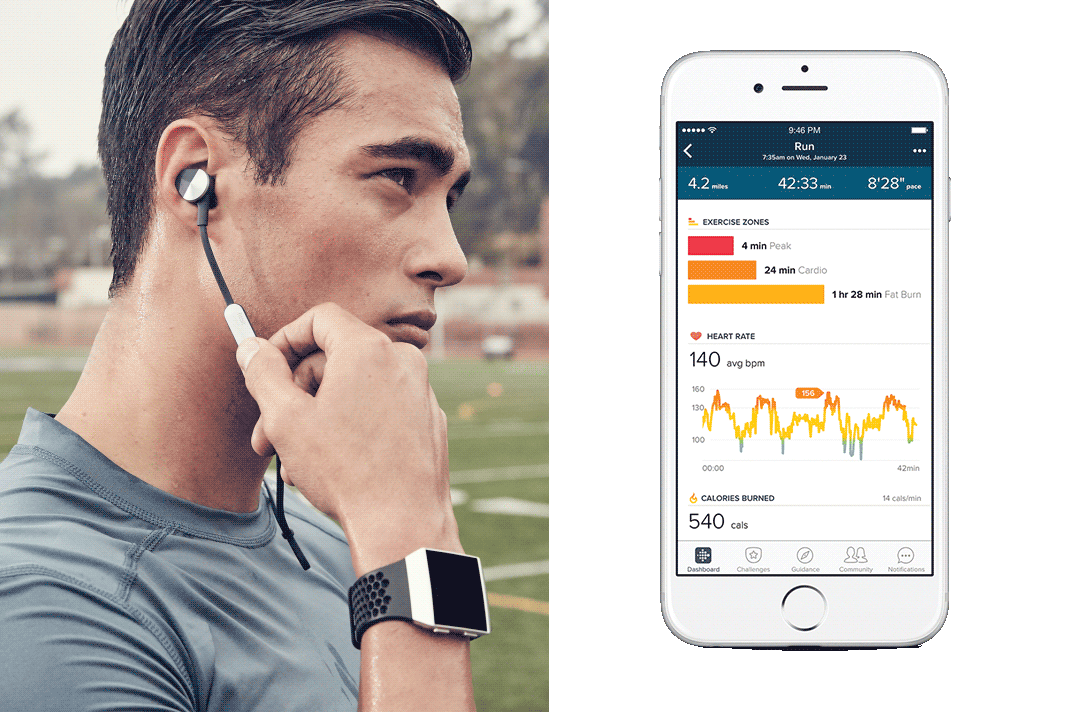 When it comes to fitness tracking, Fitbit sure knows the game. The Ionic comes with improved heart rate sensors, built-in GPS (great for phone-free runs and exercises), and a new Fitbit Coach feature which offers tailored coaching on a variety of workouts. We tried a few of the coaching sessions and found them easy and helpful enough for beginners to follow through.
We also put the automatic activity tracking to the test and found that it worked on two out of three occasions. It was later that we discovered the function would kick in only after 15 minutes of a particular activity – fair enough. The Auto-pause and Always On display features are worth noting too for those who desire real-time, optimised tracking. What's more, it's waterproof up to 50 metres, allowing additional swim tracking features absent in Fitbit's other models.
All tracked activity can be easily accessed on the app, along with relevant tips based on continuous performance feedback.
Lacking in smartwatch functionality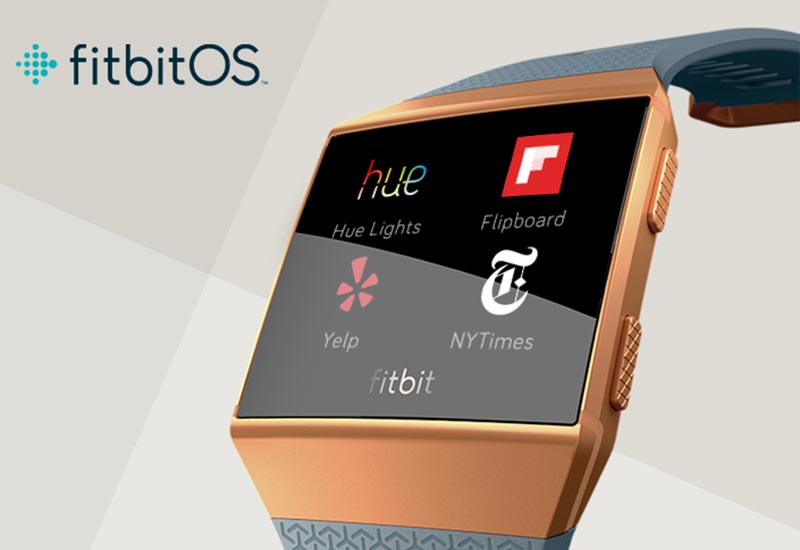 Fresh out of the box, the Ionic comes pre-installed with about a dozen apps including music, exercise, Coach, alarms, and weather. Other third-party apps are available for download via the Fitbit app, but as of now, the options look like a drop in the ocean. As mentioned above, it still has much to work on in the apps department to compete with other Apple and Android devices, both of which have had a headstart in the smartwatch segment. However, Fitbit has indicated that it is continually working to expand its App Gallery, so there's hope yet.
Also, while we can receive call, text and app notifications, there's no option to reply. Older Fitbit models never had it too, but we had hopes the Ionic would be different granted its "smartwatch" label.
Its saving grace comes herewith in the form of Fitbit Pay, which offers contactless payments via the watch's NFC chip. Brilliant, cool, but not yet available in Malaysia. Bummer. Again, this is something Fitbit promised us by the end of the year, so we'll have to keep you updated.
Overall verdict
Taking all things in consideration, we'd say the Fitbit Ionic is a great fitness tracker, but a mediocre smartwatch (if we had to call it that). Whether it's worth owning one depends on your priorities: are you looking for a wearable to help improve your health and fitness or to function hand in hand with your smartphone? It's a very useful companion for the former, whereas the latter still remains to be seen.
For more information, log on to Fitbit's official website here.
Images: Courtesy of Fitbit