The man, the challenge and the machine bring the magic of motorsport racing alive. Here's our account of an evening with Malaysia's latest track icon.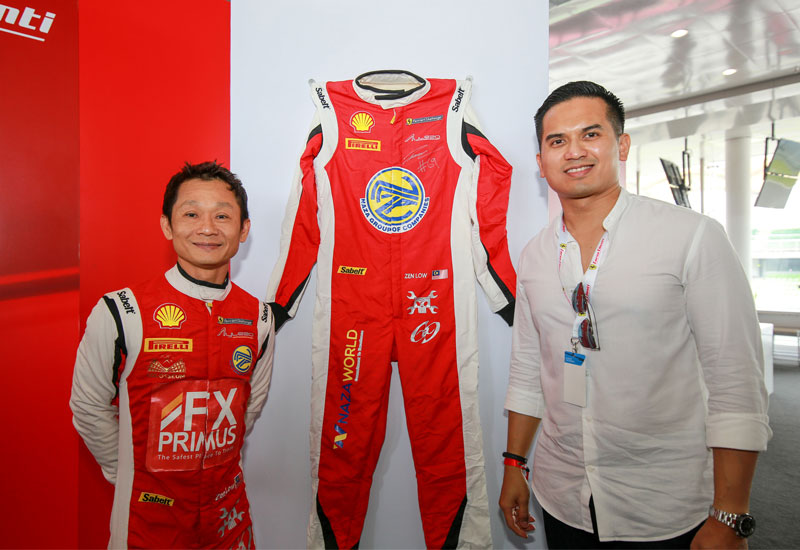 As a boy, Zen Low dreamt of becoming a jet fighter pilot or astronaut, but never a race driver. "A race driver always puts on a helmet, like a jet fighter pilot, and somehow that gave me the vision of being a superhero with a mask and costume on," he relates with candour.
Once he realised his love for competing, the vision was complete for the Sarawak-born businessman.
Zen Low is a growing name in Malaysian motorsports, having recently been named Naza Aylezo's first racer in the Ferrari Challenge Asia-Pacific 2017. Having built an impressive repertoire in both endurance and sprint races, his most memorable track experience was clinching top position at last year's Sepang 12 Hours endurance race – but this did not come without a fair share of hurdles.
"It took me six years to get on the podium, and I finally won it in the seventh year," he shares.
Excitement aside, high-speed action takes a toll on one's well-being, especially as age catches up.
"The most important thing when it comes to endurance races is fitness. Preparing myself the 12-hour race took months; you need to take good care of yourself leading up to the race, and even during the race ensure you've got plenty of fluid, protein and rest," Zen shares.
Having said that, keeping in peak form is not just about staying in shape and eating well. After experiencing endurance races that go on for hours, sprint races barely ruffles Zen's feathers – it's what's going on in his head that makes a difference.
"A lot of mental preparation is telling myself I can do better, but also trying not to overthink. When I'm racing, nothing goes through my mind but focus. A lot of driving is to do with second nature – we just automatically execute. Overthinking can become a problem when you start overanalysing and creating unnecessary pressure on yourself," he says.
The challenge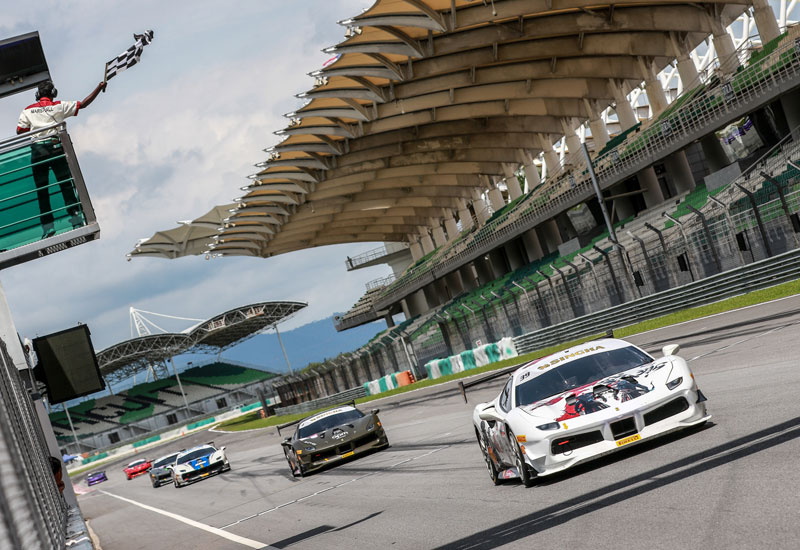 The Ferrari Challenge has brought track novices and enthusiasts together since 1993 in three regions: North America, Europe and Asia-Pacific. This year, drivers are classified under Trofeo Pirelli, Trofeo Pirelli AM, Trofeo Pirelli 458, Coppa Shell, Ladies' Cup and Gentlemen's Cup.
Zen is the first Malaysian in the Ferrari 488 Challenge, competing under the Trofeo Pirelli category under race number 69. He started out strong in the regional leg, but was put out of contention for podium in round 5 when contact with another car cost him a drive through penalty.
Disappointment is inevitable in motorsports – but Zen doesn't let that faze him. This season being his first with Naza Aylezo, he sees a promising partnership blooming that marks an exciting chapter of his racing career – and the feeling is mutual.
"His wealth of experience and passion has shown him to be a strong and worthy competitor. Not only has he done us proud with his performance so far, he has also earned tremendous support of fellow Malaysians," commented Datuk Wira SM Faisal Tan Sri SM Nasimuddin, NAZA World Group Executive Chairman.
The machine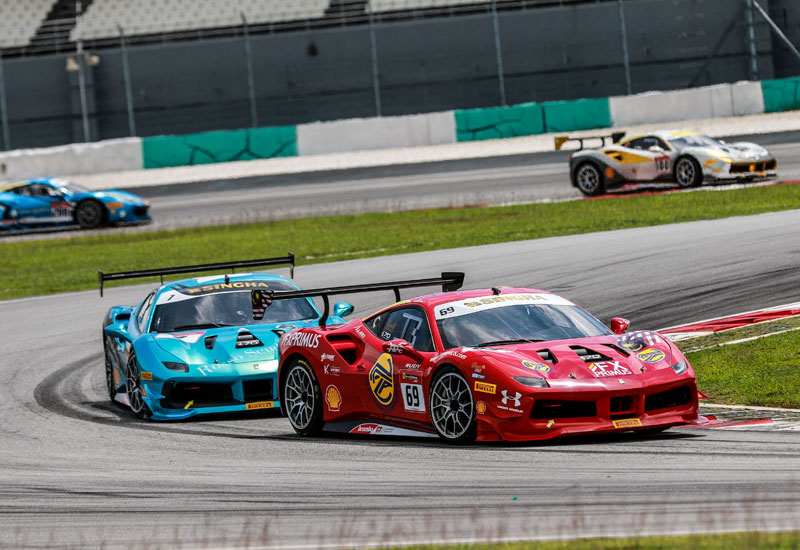 This year's car is derived from the Ferrari 488 GTB. Presenting the first (and most powerful) turbo engine in the one-make series, this model debuts with improved aerodynamics, air-flow, drag reduction, down force, and high-speed stability. The latter is attributed to a bigger rear wing with an air foil – similar to that used on the 2016 FIA World Endurance Championship-winning 488 GTE – which makes it 9% more efficient than its predecessor.
The Ferrari 488 Challenge 2017 churns out 670 hp from a 3.9-litre V8 engine. While this merely matches output of the road-going 488 GTB, the 488 Challenge's drivetrain components have been tweaked for optimal track use. Its F1 DCT transmission also allows this monster to reach maximum revs in fourth gear in six seconds, perform the century sprint in under three seconds, and attain top speed of close to 330 km/h.
After four years with Lamborghini, the timing was right for Zen when the opportunity to race in a Ferrari presented itself.
"Every driver's dream is to drive a Ferrari," he says, not skipping a beat.
Preparing the car for his Sepang win took years with an experienced team, but in the Ferrari 488 sprint race, the cars are only released to teams upon arrival ahead of race weekend. Everyone is assigned the same fate, taking on the task of customising their Ferrari 488 in just two days.
"The car is very well built; Ferrari did a good job of converting a road car into a race car. It's refined and quite comfortable to drive," Zen says.
The magic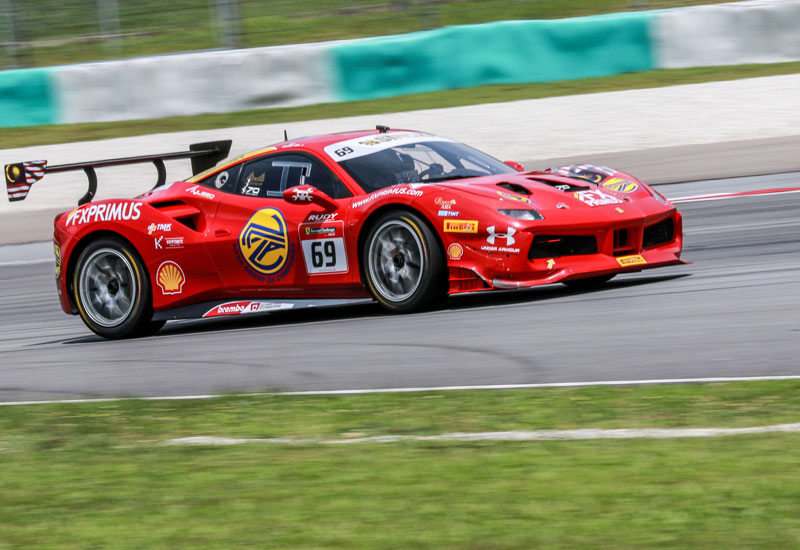 Despite having gone through what must have been a grueling race weekend, Zen took a few lucky ones among us on hot laps in his car the very same evening.
While motorsport racing may be a rich man's thrill, the allure of speed in a refined automobile seems to be universal. Strapped into a four-point seatbelt for the first time in my life, I placed all trust in Zen as he sprinted up to 240 km/h on Sepang's track, navigating corners with the finesse and confidence of a true professional.
Hearing the roar of such a monster from the inside for the first time is guaranteed to give you goosebumps. Zen had his utmost concentration on the road as I enjoyed the adrenaline rush of  the exhilarating experience. As exciting as it is for the passenger, Zen's words about the sheer force exerted upon your physique and psyche was put into perspective for me during those two laps.
His love for racing may be a combined product of passion for motorsports and competing, but charting his name in the scene is a journey that is far from over for Zen Low. He will persevere for a chance to win his dream motorsport event – the famed 24-hour endurance Le Mans Series race. It is a feat that will require his greatest effort and financial coverage yet.
Images courtesy of Ferrari Malaysia.