Home robots are the future, and because of Dyson's relentless pursuit of robotics advancement, we may expect them to assist us with household chores before the decade is done. 
When we talk about robots, we're not talking about T800s or Ultron bots; we're talking about robots that can help with mundane household duties. Worry not if you need a house robot to pick up dishes or other random objects off the floor and arrange them neatly – that technology may be coming sooner than you think, thanks to Dyson, a company that probably is known for its vacuum cleaners.  
However, Dyson is much more than a vacuum cleaner manufacturer. It is a multinational research and technology business that employs 14,000 people worldwide, including a 6,000-strong engineering staff. It offers items at over 300 Dyson Demo stores across the world, 50 of which will open in 2021, including a new Dyson Virtual Reality Demo Store. Dyson has a history of pioneering technologies, such as the Dyson 360 Eye robot vacuum cleaner (2016) and the enhanced Dyson Heurist (2020), so it's no wonder that their continual quest for innovation leads them to think about household robots that will make everyone's life easier at home.
Dyson recently gave its greatest insight yet about the future of household robots at the International Conference on Robotics and Automation (ICRA) in Philadelphia, as it aims to entice the best and brightest in the world of robotics to join its quickly growing team.
It's all been leading up to this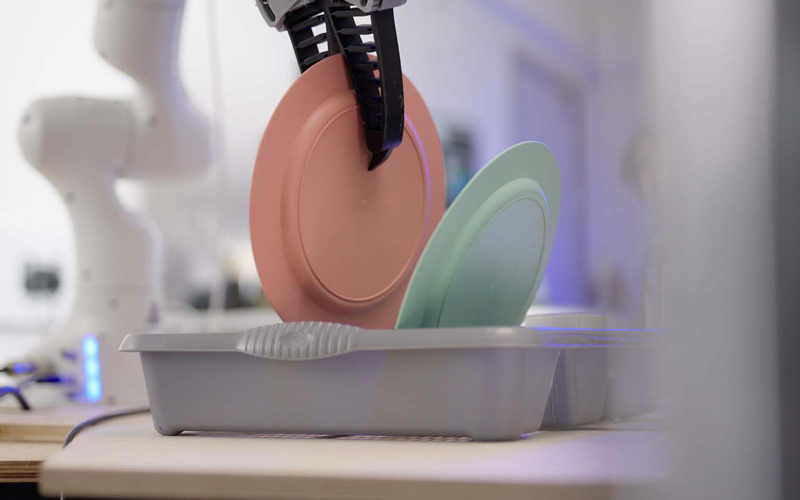 Dyson has always made "big bets" when it comes to creating problem-solving technologies for everyday use since inventing the first cyclonic bagless vacuum cleaner, the DC01, in 1993. The Dyson Zone, one of their most recent products, was designed to filter out urban pollutants such as gas, allergies, and particulate matter, as well as function as a pair of headphones.
Then came the Dyson Heurist, a robotic vacuum cleaner, which used vision-based mapping technology, designed algorithms and a 360-degree camera in order to see, film and interpret – understanding and learn the layout of homes and how to avoid obstacles including humans and pets.
Dyson has posted a video on its social media pages that shows a behind-the-scenes look at Dyson-designed robotic hands grasping objects, indicating that the tech company is moving beyond robotic floor vacuums. With the robotic hands holding onto plates and picking up a child's toy and placing it into a box, the footage reveals Dyson's pursuit of technological improvements with an out-of-the-box vision and a commitment to advancing beyond the norm. 
The future of household robots begins now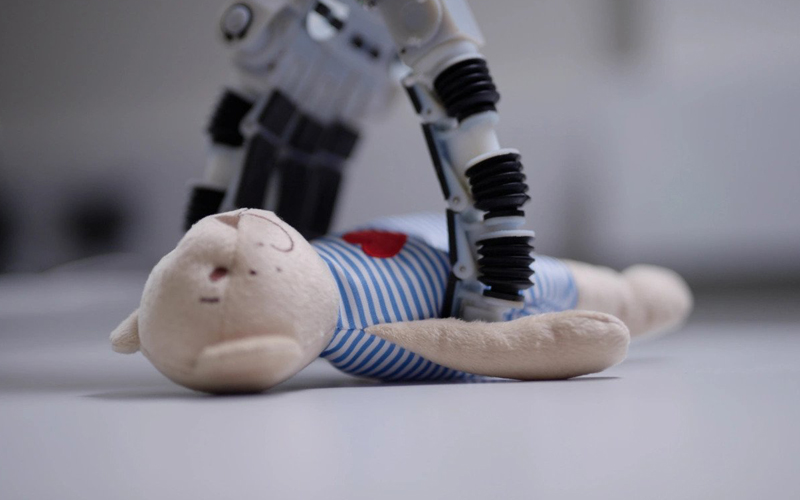 Dyson is investing £2.75 billion in the company to develop breakthrough product and technologies, with £600 million going toward technology, equipment, and laboratories in 2022. Dyson has global teams of engineers, scientists, and software developers working on solid-state battery cells, high-speed electric digital motors, sensing and vision systems, robotics, machine learning, and artificial intelligence investments.
The new Hullavington Robotics Centre (H85) will house 250 robotics engineers who will collaborate with colleagues at Dyson's worldwide headquarters in Singapore, researchers at Imperial College's Dyson Robotics Lab, and a new London laboratory.
Jake Dyson, Chief Engineer at Dyson, said: "Dyson employed its first roboticist 20 years ago and this year alone we are seeking 250 more experts for our team. This is a 'big bet' on future robotic technology that will drive research across the whole of Dyson, in areas including mechanical engineering, vision systems, machine learning and energy storage. We need the very best people in the world to come and join us now." 
No doubt, this is the kind of drive and commitment that will lead us to see groundbreaking advancements in robotics before this decade is out. 
(Source: Dyson)