Hennessy Odyssey returns for its sophomore year this July, steered by Chef Darren Chin of DC Restaurant. We got first peek into what to expect.
After a highly successful debut last year, Hennessy Odyssey returns for its sophomore year this July to bring – as its name suggests – appreciators of fine food and cognac on yet another seafare across exquisite flavours steered by its emblem cognac, the Hennessy X.O.
Charting the waves this time is Chef Darren Chin of DC Restaurant, handpicked by the House of Hennessy to curate and capture the 7 chapters that make up Hennessy X.O.
Through his 14 years of culinary voyage, 2 years of which he trained in France, he will be presenting a 7-course tasting menu, each purposefully crafted to personify the chapters of Hennessy X.O using nature's bounty in its purest form.
Here's what to expect:
Chapter 1: Sweet Notes
Botan ebi with heirloom tomato granite, konbu, lemon basil, chili oil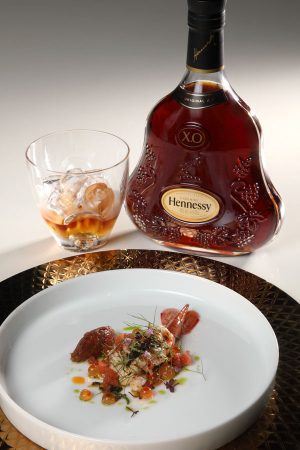 Chef Darren says:  "Botan ebi – spotted prawns from Japan – is one of the most expensive sashimi grade prawns. We just lightly marinate and sear them before serving them on a fennel salad at the bottom. Naturally sweet, it has a silky freshness to it, bringing out the sweet notes of the cognac."
FirstClasse says: As a starter, it encapsulates sweet notes in one of the most comprehensive manners we've encountered. Firstly, the sea sweetness of the sashimi prawns aptly ties in with the odyssey theme of the dinner. Secondly, the fennel salad brings the sweetness of the earth to the palate, bringing you on a full-encompassing exploration of sweetness of both sea and land, and subsequently opening the tastebuds to the full syrupy start of the cognac.
Chapter 2: Infinite Echo
Takao cold somen with Ogawa bafun uni and truffle celeriac cream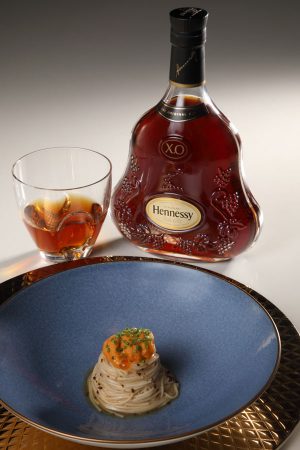 Chef Darren says: "Uni by itself has a high intensity of flavours of the sea hence it lingers in the mouth, like an infinite echo. This dish is our signature which I thought was important for us to feature."
FirstClasse says: Yet another double whammy that beautifully materialises infinite echo, the buttery, oily uni tinges the tastebuds and indulgently trails long at the back of the throat. Its oiliness also helps the robust flavours of the cognac stick, lengthening its tail so we can savour it longer. The cold somen, deliciously silky, comes tinged with a dash of truffle cereliac that also intensifies and adds dimension to a dish which flavours stay on the tongue and mind long after the last bite is gone.
Chapter 3: Wood Crunches
Spring Galician octopus, green gaspacho, burnt leeks in dark rye crumbs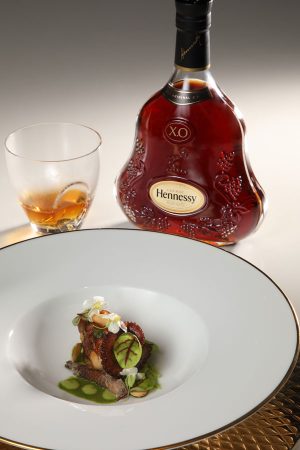 Chef Darren says: "This octopus comes from Galincia, Spain, cooked very long in a water bath before being grilled in Binchutan charcoal. It's white charcoal so it doesn't burn the protein. It gives a nice woody aftertaste."
FirstClasse says: A clever interpretation of wood crunches, the smokiness of the grilled octopus does indeed draw out the earthy woodiness of the cognac. What's more interesting is how Chef Darren also manages to incorporate the texture of wood crunches into the dish – by means of the springy octopus, cooked to the right bite. The accompanying burnt leek and green gaspacho made with green peppers and chili from Darren's own garden also presents extra crunch to truly personify this chapter.
Chapter 4: Spicy Edge
Snow crab consomme infused with lemon balm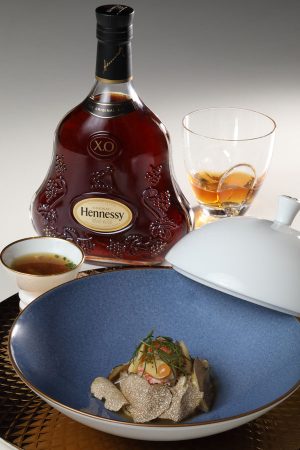 Chef Darren says: "This is a two-part dish –  first we blanche the shells of the snow crab and make a broth out of it. The second part features the crab itself. It uses culantro namjim. Namjim comes from my inspiration from Thailand. When you eat seafood, it's eaten simply with this namjim dipping sauce that's spicy."
FirstClasse says: The first thing that comes to mind upon sipping the consomme is how heart-warming it is. Sweet and flavourful with sharp and refreshing herbal spikes, it holds its own against the cognac despite being an unfussy clear soup. Then things take an interesting turn with the crab dish – the shellfish itself is sweet and fluffy; the namjim sauce further lifts its profile with a sharp sweet-and-sour first punch before mellowing to a piquant spice that leaves the tastebuds yearning for more thanks to culantro, a long-leafed culantro known for its herbaceous spice.
Chapter 5: Flowing Flame
Organic chicken cooked in Bertutu spice, celeriac-carotene sauce, grilled heirloom parsnips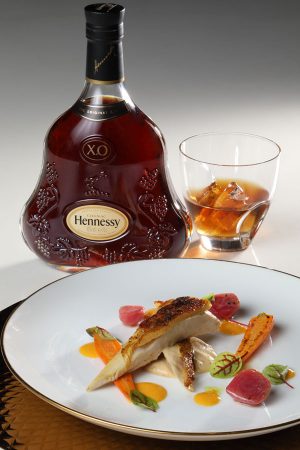 Chef Darren says: "Ayam Bertutu is one of Indonesia's national dish. It's very heavily spiced – our version sees chicken breast cooked sous vide with a marinade made of galangal and chilli that we pound ourselves for an intense heat that represents flowing flame."
FirstClasse says: Completely unsuspecting at first, the chicken proves well marinated with flavours that have seeped right into the meat. The longer you chew, the more intense the flavours – and spice – build, before you eventually find a low subdued peppery heat tingling on the tongue at the end of it that very effectively draws out the spice of the cognac in return. Not to worry if you can't take the heat, the parsnips at the side are juicy and crunchy to put out the flame for those who aren't fans of spice.
Chapter 6: Rising Heat
Italian veal fillet poached in milk and lightly grilled foie gras, red compote pepper emulsion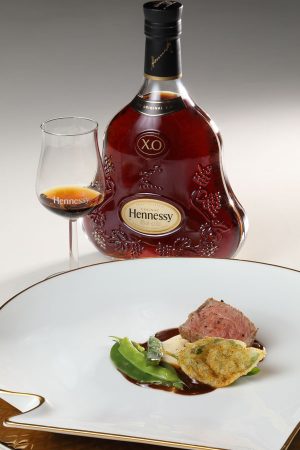 Chef Darren says: "We have incorporated red compote pepper from Cambodia into this dish, that has a one-of-a-kind sweet aftertaste tinged with a slight spice. "
FirstClasse says: Just the idea of veal paired with cognac leaves us a little hot under the collar. That red meat gamey-ness paired with the full-bodiedness of Hennessy X.O? Chef Darren ups the heat game further with said special compote pepper that indeed does as he said it would – it starts of sweet and crisp but the layers of heat kick in fast to accentuate the game of the meat and the ripeness of the brandy.
Chapter 7: Chocolate Lull
100% Arabica coffee ice cream, spiced hairy banana, m'hencha, lemon chantilly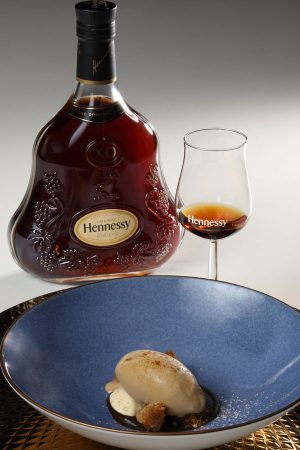 Chef Darren says: "Hennessy X.O pairs very well with coffee so we did a very simple coffee gelato with spice hairy bananas. M'hencha is a Moroccan cake with almonds and nuts. To refresh, we top it off with lemon chantilly."
FirstClasse says: The slight bitterness of the coffee gelato effectively masks the initial complexities of Hennessy X.O to present the most subtle and last of notes – the chocolatey sweetness hidden right at the end. The spiced hairy banana proves the real hero here – its spice intensifies the sweetness of the cognac while making the chocolatey notes creamier. The m'hencha gives a nice bite to a dessert that otherwise may fall flat on the texture front. We think it can do without the lemon chantilly because while it did do as Chef Darren explained – to lift flavours for a refreshing spin – it kills the crescendo that the coffee ice cream and banana worked hard to achieve.
---
This 7-course menu is available for a taste at DC Restaurant from 18 July to 14 August 2017. It is priced at RM888++ per guest and comes inclusive of Hennessy X.O pairings. For reservations, call +603 7731 0502 or +6012 223 2991. DC Restaurant is open everyday except Mondays.