Define:food presents an all-new menu with the same concept of elevated comfort food, and the brunch section highlights it best, if you ask us.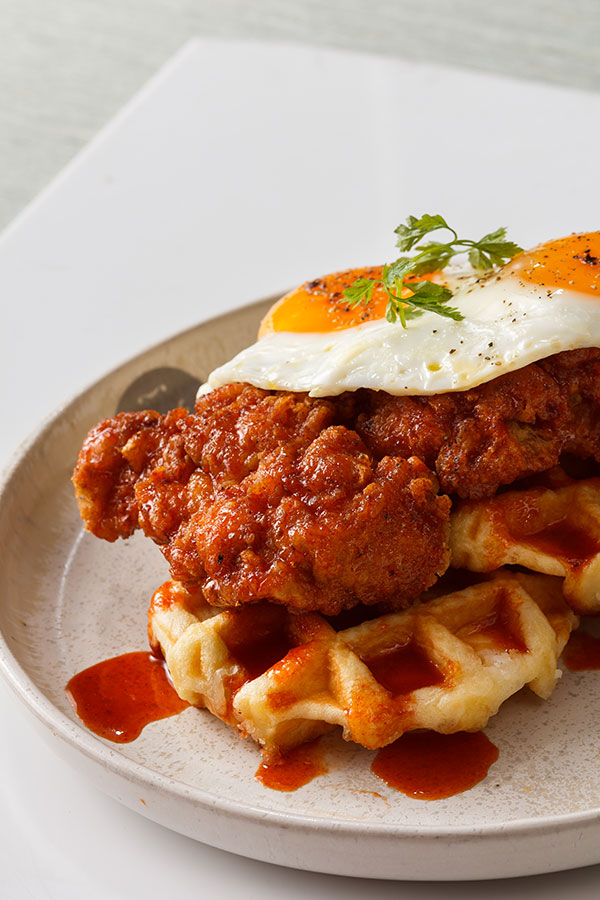 After whipping up innovative dishes from scratch and introducing bespoke menus based on preferred price points, we thought we had seen all of what Define:food has to offer, but we were proven wrong. The brainchild of restaurateur Ryan Yeoh, award-winning Chef Malcolm Goh and F&B entrepreneur Bryan Loo continues to redefine the way we perceive modern-day dining with the debut of its new menu.
Those who have paid a visit will find familiar offerings like the DF Wagyu Cheese Burger and the Pisang Goreng dessert (albeit upgraded versions of the original); along with many new innovations such as the Crispy Chicken and Waffle, Rustic Flatbreads and Southern Chicken Popcorn.
Whilst we're all-round fans of the updated menu, here's why we're particularly excited about having brunch at Define:food.
The comfort food
Since its introduction, Define:food prides itself in elevated comfort food. The brunch section of the menu highlights this best, with classic options like a sausage-and-egg breakfast combo, but with lifted characters that can only be attributed to Chef Malcolm's culinary expertise.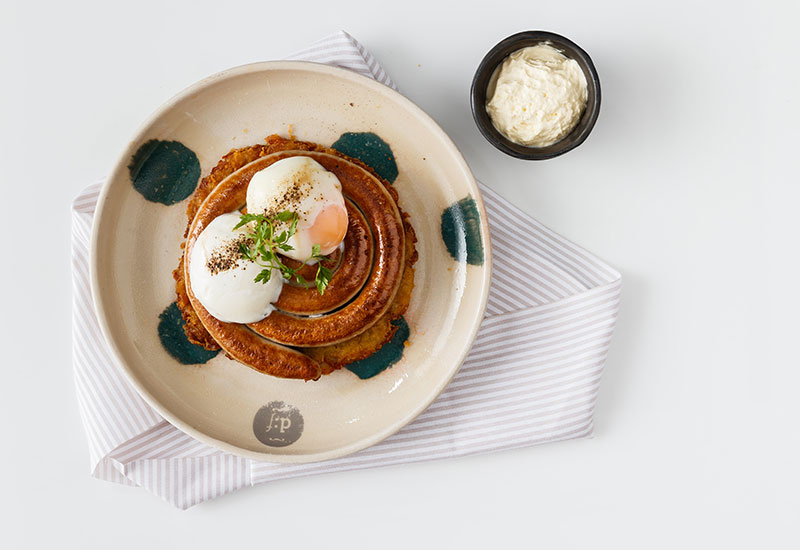 Take for example, the Sausage Pinwheel Rosti – a combination of shredded potato cake, sour cream, chicken sausage wheel and poached eggs, which may sound quite ordinary to the ears, but tastes like home – if home means having a celebrity chef as a dad. The sausage is juicy to the end of the wheel and the eggs fresh and runny, while the potato cake makes for a crispier and more appetising base compared to the usual bread.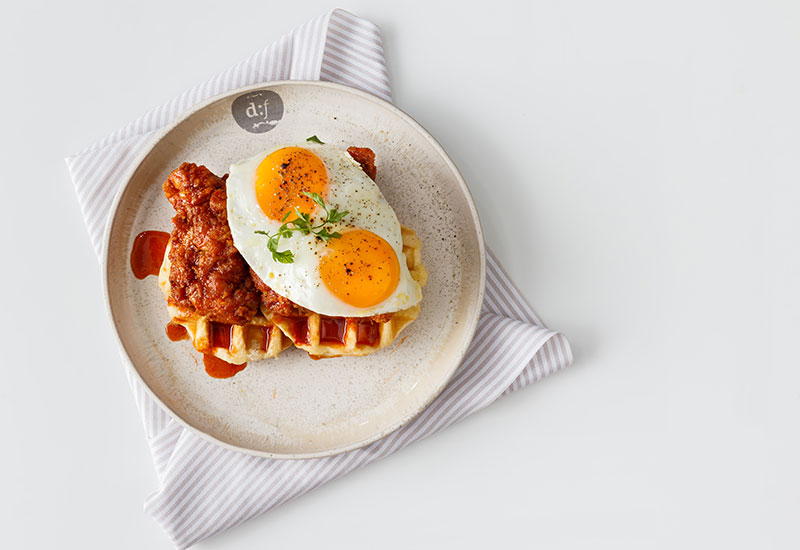 For something more adventurous, there's the Crispy Chicken and Waffle, which satisfies any cravings for fried chicken and dessert in one dish. To our surprise, it's the chicken thigh that offers a hint of sweetness and spice with its maple glaze, while the waffle adds that salted, buttery flavour, giving us the best of both worlds.
The portions
Don't be fooled by the photos here and in the menu, the portions are actually larger in real life. Seeing as brunch means merging two meals into one, we appreciate the fact that we're getting more than the standard dish portion.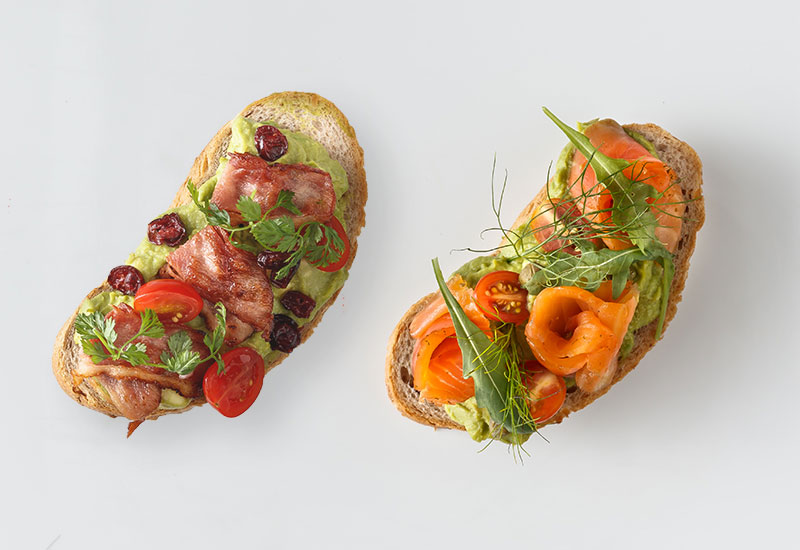 Even the selection of Avocado Toasts gives us our money and appetite's worth. Both the salmon and smoked duck variations we try come with generous helpings of mashed avocado, meat cuts and vegetables. The best part? Each dish comes with two toasts of its kind – perfect for sharing! Being big fans of avocado, this is hands-down one of our personal favourite brunch picks.
Also great for big appetites: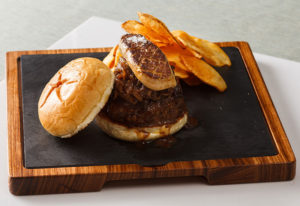 Epicurean Burger – This all-day offering earns a spot on the list of must-tries from the new menu with its thick, succulent wagyu patty, melt-in-your-mouth foie gras, sweet caramelised onions and truffle jus. Oh, and be warned: the potato chips (cut and fried in-house) are highly addictive.
The guilt-free indulgence
Though not necessarily a part of the brunch menu, the desserts here are another reason why we enjoy having our meal at this time of day. With Insta-worthy desserts like these, we'll need the natural lighting to do justice to the photos. On a more health-conscious note, eating dessert earlier in the day beats having it after dinner as this gives us time to burn the extra calories before bed. Need we say more?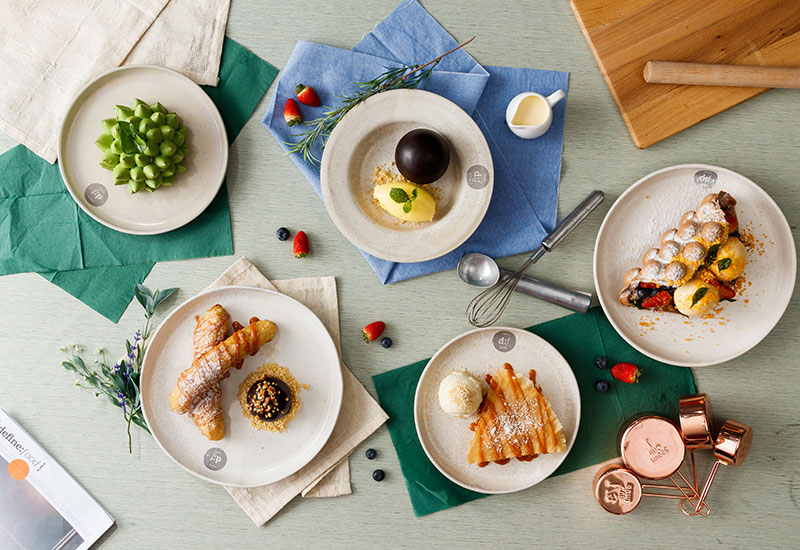 The Pisang Goreng 2.0 is yet another embodiment of Define:food's concept, bringing a local all-time-favourite dessert to the arena of contemporary dining. This remake comes in a bigger serving than before, with hazelnut praline ice cream made in-house from scratch, and salted caramel to top it off. We don't think the banana fritters are that extraordinary on its own, but the honied, nutty ice-cream and fresh hazelnuts take it to the next level.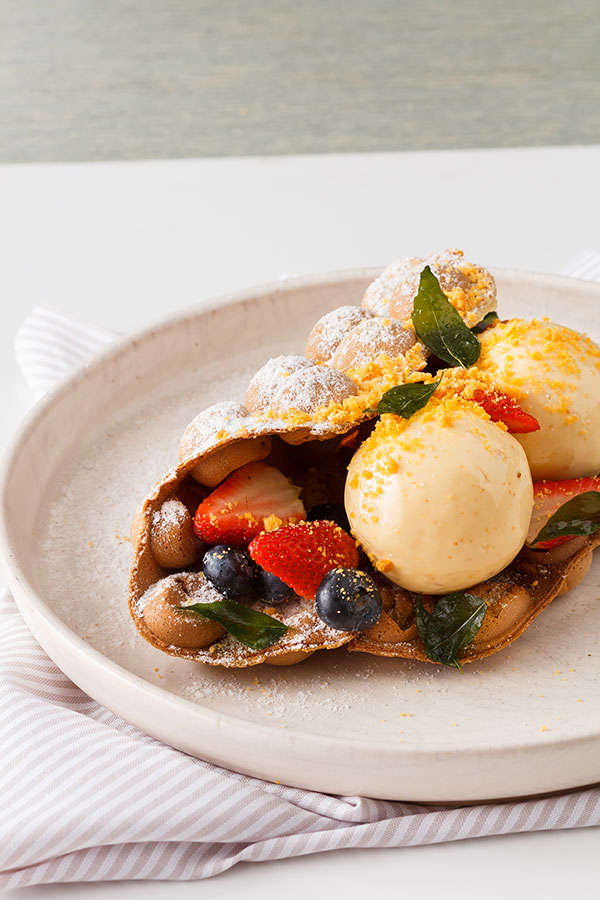 Our final dessert proves a delectable end to a brunch – Salted Duck Egg Ice Cream Eggette. It's not the sweet ending one might expect, but a pleasant mix of savouriness from the salted egg ice cream and natural sweetness from the berries; all wrapped in a warm, soft eggette with crunchy edges.
For reservations and enquiries, call +603 2201 1316 or log on to their Facebook page here.
Images: Courtesy of Define:food