Define: food now allows you to create a bespoke menu of your choice, guided by any pricepoint you're comfortable with.
When Define: food first broke onto the scene, we admit we had some apprehension about how well it will stand out. Comfort food like pasta and grilled chicken at affordable pricepoints sounds like the modus operandi of every other restaurant that are a dime a dozen in Kuala Lumpur, what more the food hot spot that is MidValley Megamall.
But true to any venture that comes from the mind of Bryan Loo, strengthened by the food know-how of Ryan Yeoh and culinary skills of Chef Malcolm Goh, Define: food did indeed manage to carve a niche for itself whilst appealing to the palates of everyone.
First off is the food itself, all of which are completely house-made right down to the sauces, gravies and even condiments. On the bigger picture is the menu, which is constantly refreshed to keep diners on their toes. Recently, it's also seeing an increasing trend in 'bespoke menus' something it is cleverly milking to its best advantage.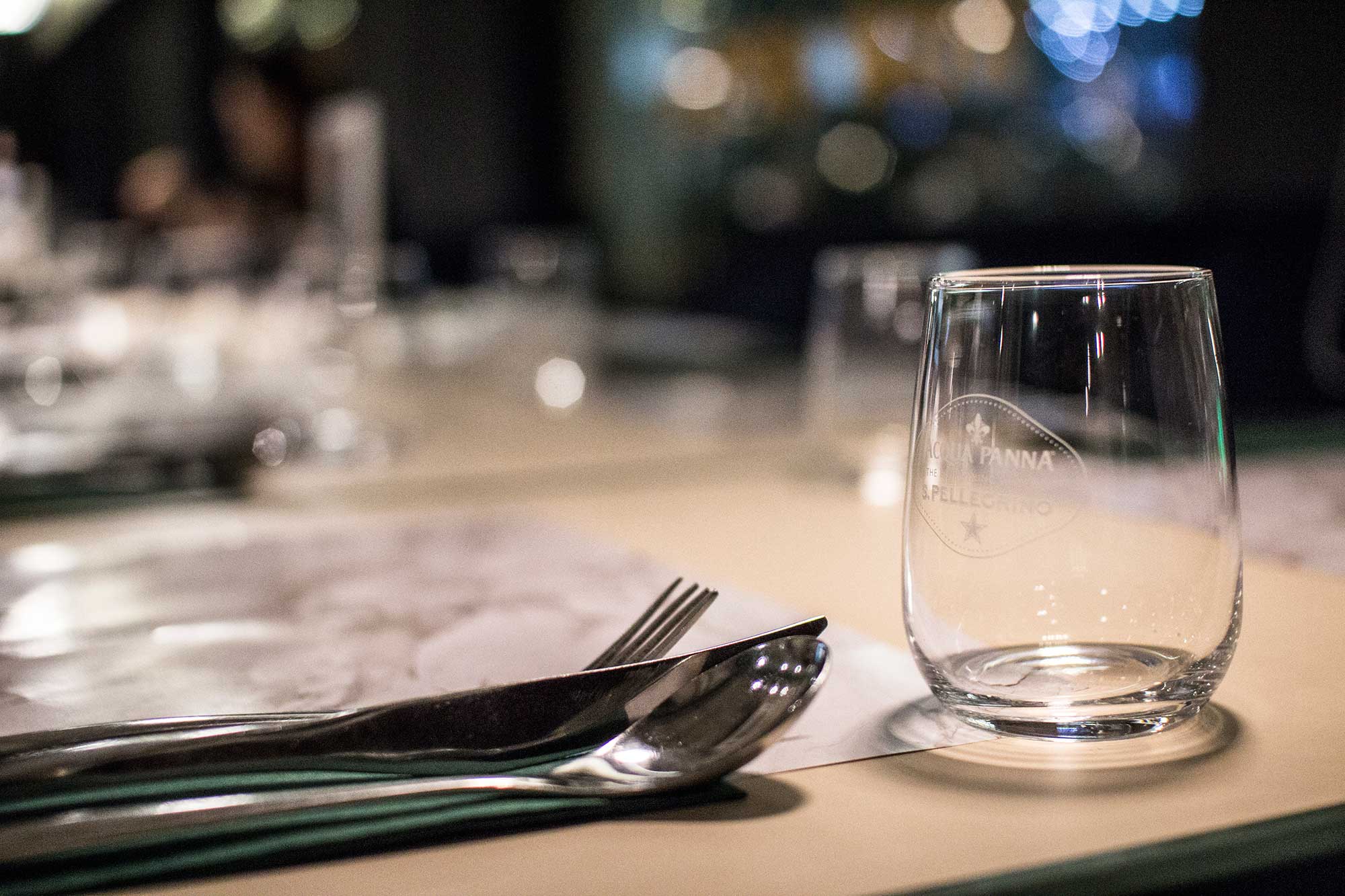 Doing away with locked menus, Define: food allows you to create a bespoke menu of your choice, guided by any pricepoint you're comfortable with. Ask for 3, 5, 7 (or more) courses, costing anywhere between RM100 to RM800 and the restaurant will whip up something to fit it. You can choose from the type of meat (poultry, fish or red meat?) to the style of cooking (Asian, Western or a special fusion, perhaps?) – your wish is their command.
We recently sit down for a 3-course taste of this bespoke menu and are thoroughly pleased.
Appetiser: Steamed siew long pau with lobster bisque and savoury tuille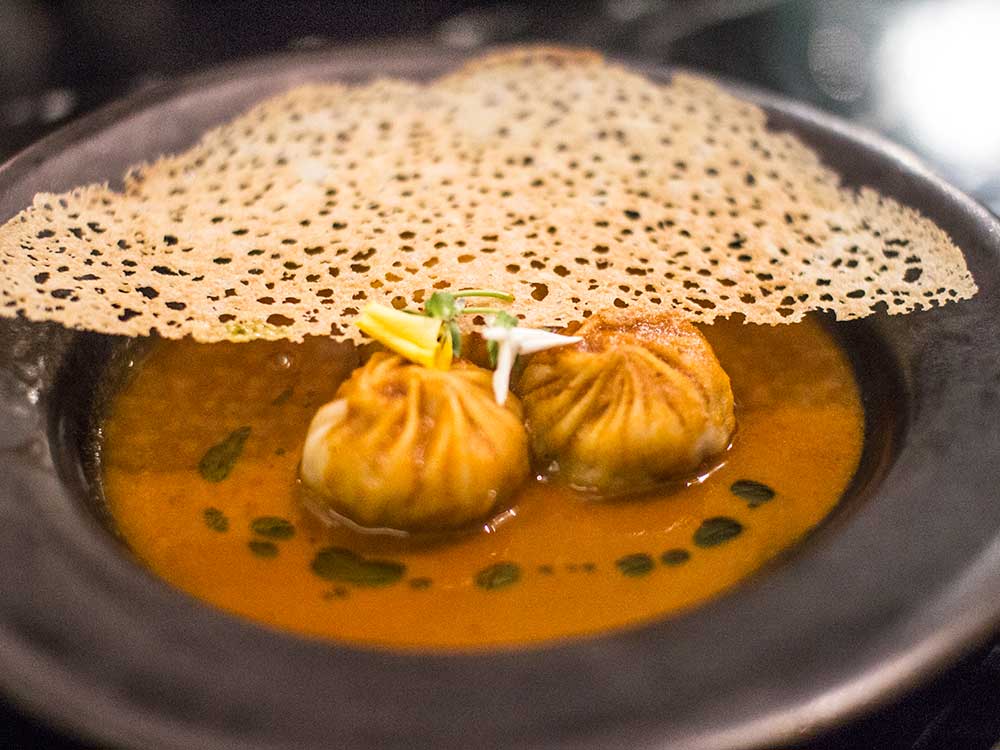 We are delightfully surprised with a little something to bite, sip and nibble for the appetiser. The shellfish siew long pau bursts forth with immense sea sweetness in the mouth and rewards us further with a chunky, juicy medley of prawns, fish and scallops. The lobster bisque of a ravishing coral colour is even more impressive – thick and flavourful, every spoonful is intense with the sweetness of lobster. The savoury tuille is a blessing for soaking up the last drop of the bisque so nothing goes to waste.
Main: Sous vide lamb and lamb ragout springroll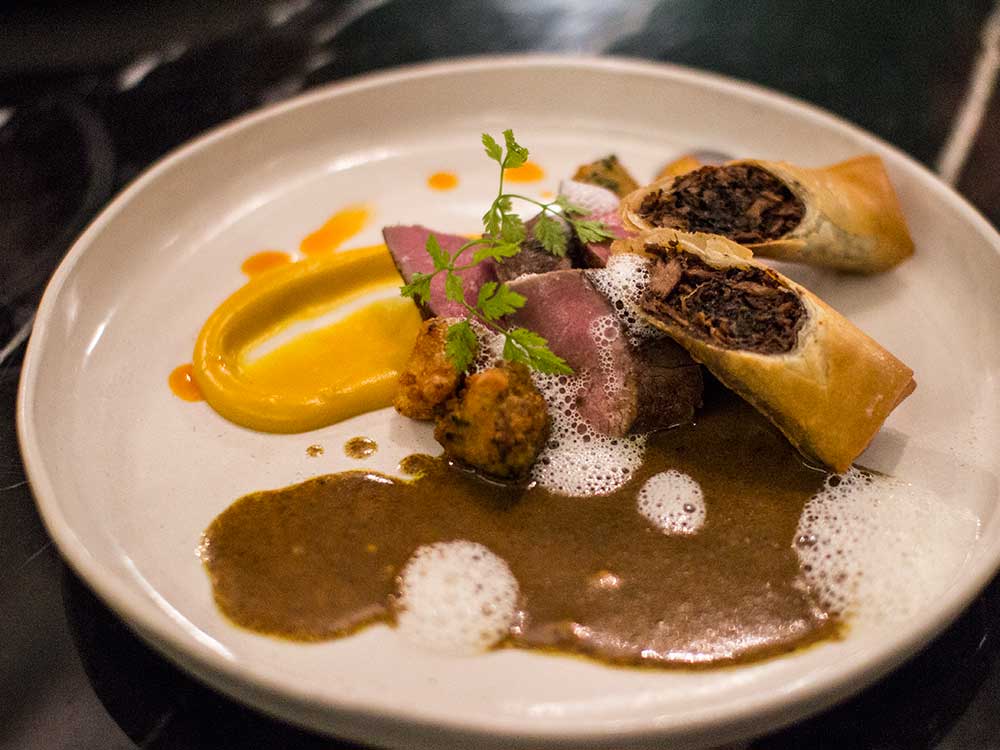 Lamb cooked sous vide to a perfect pink tenderness that you can cut through as easily as butter shows off the skill of the kitchen. On its own, the game of the meat is all of a mouth-watering lace — not at all overpowering — but had with a dash of the curry infused red wine sauce, the jus takes on a different dimension that leaves you wanting more. The lamb ragout springroll balances out the textures with a satisfying crunch while the vegetable pakore is delicious on its own or dipped with the capsicum and pumpkin puree.
Dessert: Molten chocolate cake with salted banana caramel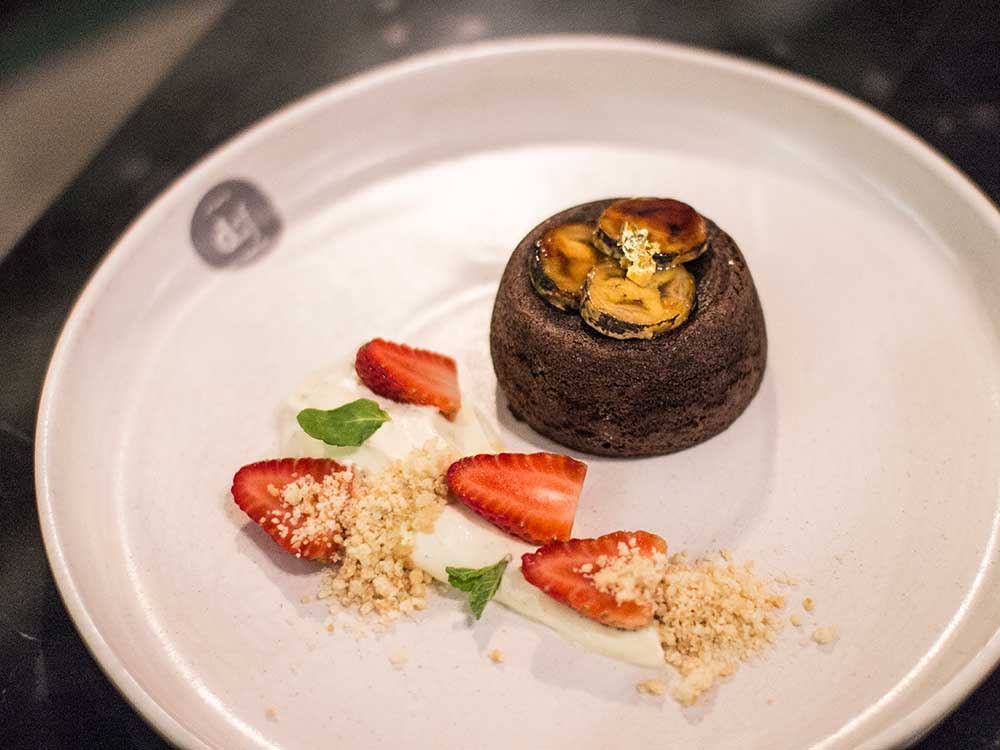 Molten chocolate cake is nothing new but this one is tinged by a touch of salty creaminess adding depth to the gooey molten chocolate thanks to the salted banana caramel. This not only spices things up, it keeps the the overall flavours from leaning too far to the sweet side. Slices of fresh strawberry and an unsweetened yoghurt dressing also help lift flavours so things don't get too one-dimensional on the palate. Here is a dessert that has the perfect combination of sweet, salty, sour and just a touch of bitter thanks to the pure chocolate used in its making.
If you're not ready to commit to a whole set course, Define: food's ala carte menu also has a few new items worth a returning visit.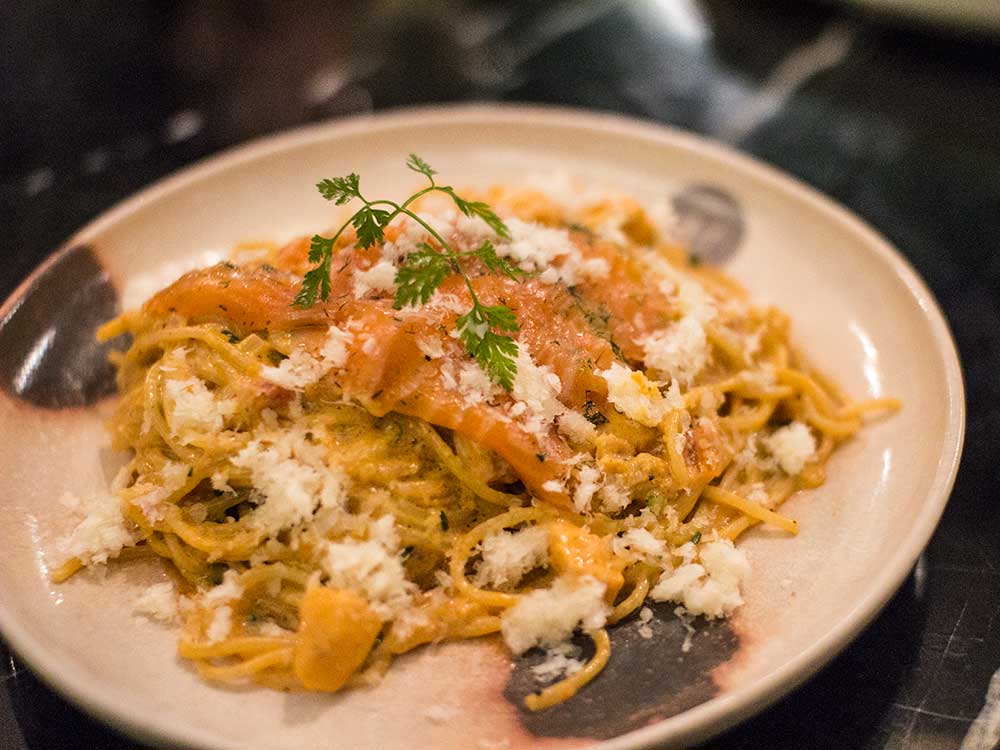 Salmon Rose pasta
Salmon Rose pasta
Cream-based seafood pasta has never been so indulgent as this one with generous ribbons of salmon gravlax, sweetened further by flaked salmon. Adding to the creaminess is grana padano, a hard, slow-ripened, semi-fat cheese from Italy, which sharp strong flavours only lift the sweetness of the salmon. (swipe left for more)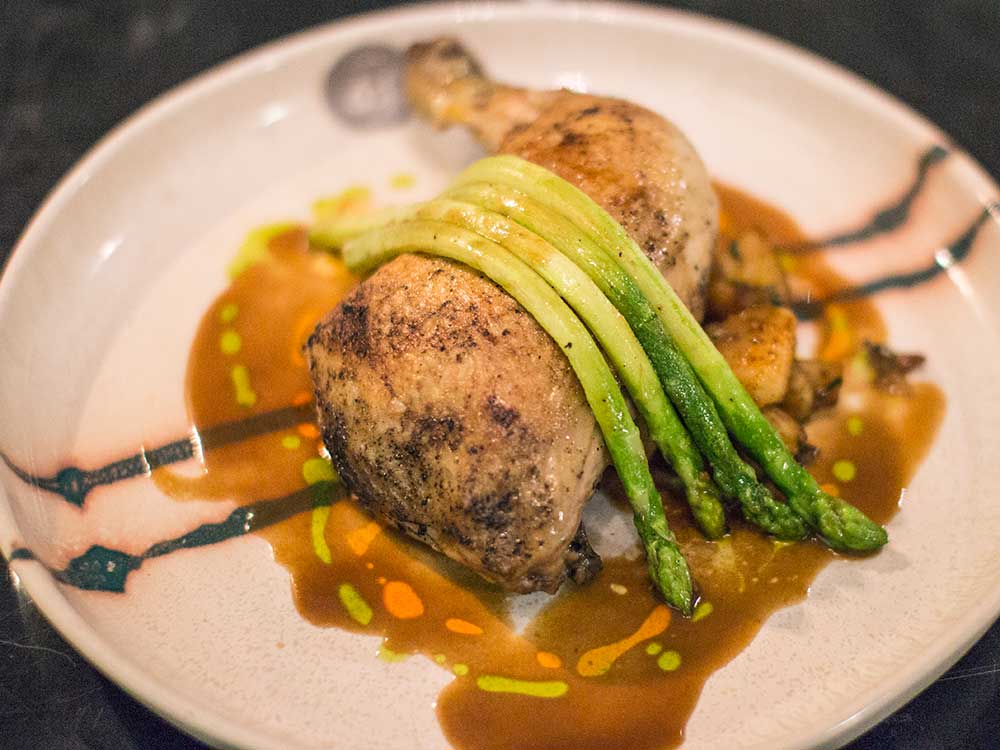 Slow-roasted chicken leg
Slow-roasted chicken leg
Of course the epitome of comfort food - chicken leg - will be on the menu, but this one takes on an almost milky dimension thanks to truffle jus added to its many hours of roasting. Buttered asparagus add a nice green crunch and roasted herb potatoes complete a dish that brings you home to Grandma's on Christmas.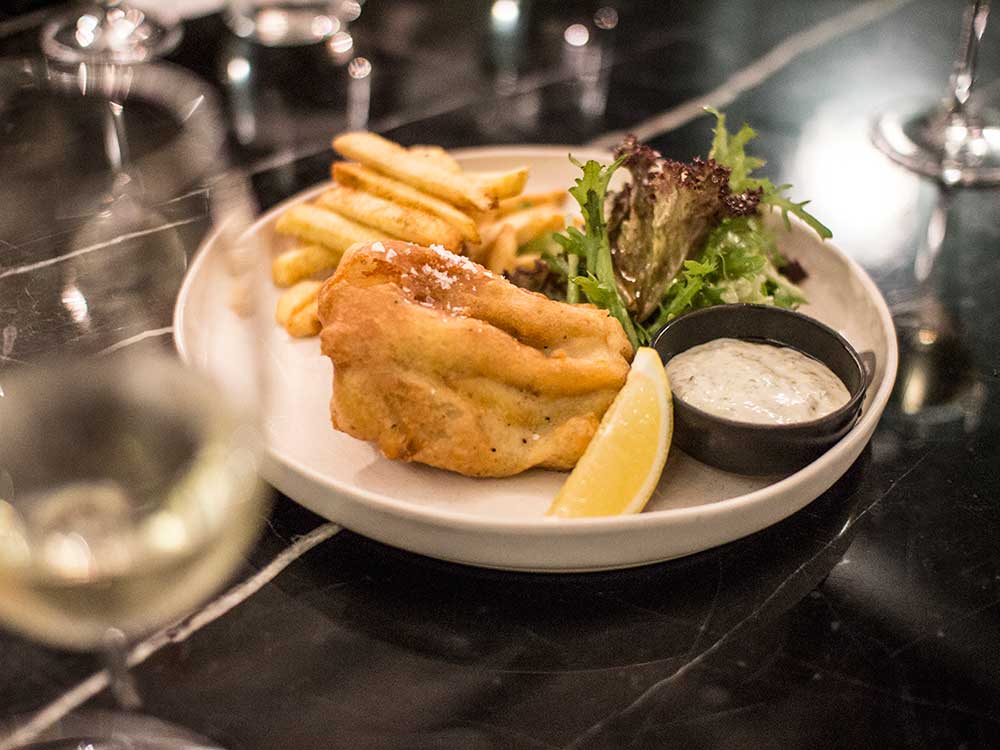 Espuma battered fish & chips
Espuma battered fish & chips
Forgoing cheap dory for the pricier perch, this fish & chips resultantly is chunkier and more solid to the bite. The fish itself takes on a heightened sweetness, with a crust that is especially crispy thanks to the use of espuma in the batter. You'll be craving for second helpings if only to have more of the house-made tartare sauce.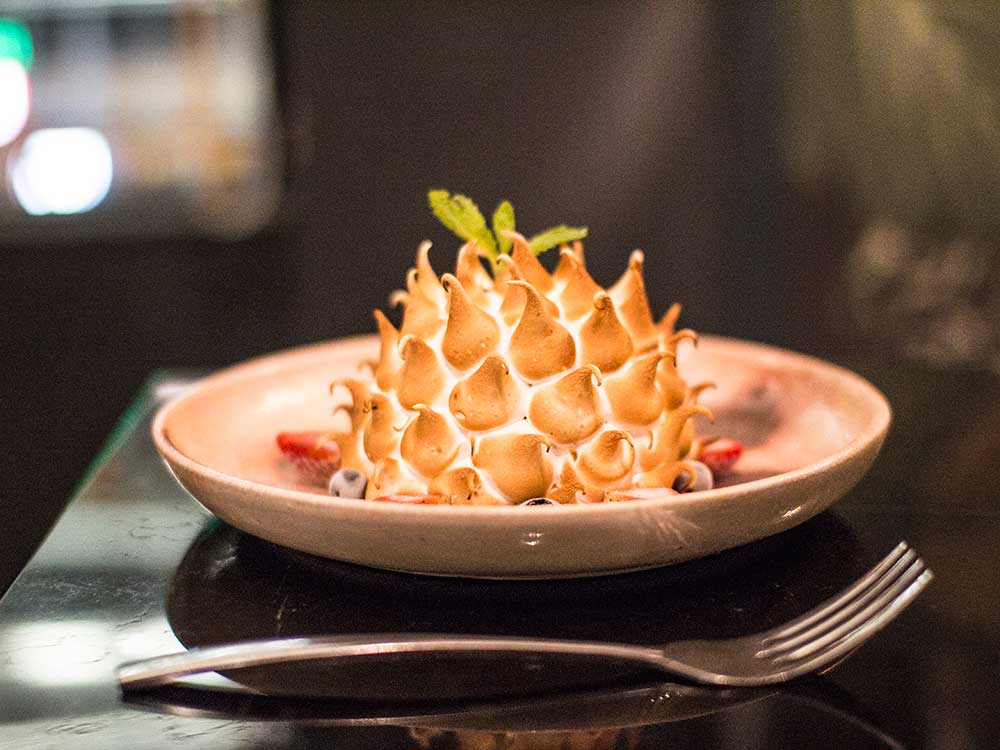 Bomb Alaska
Bomb Alaska
Lending a local touch to the Bomb Alaska, Define: food uses pandan coconut flavour ice cream on the inside. Kaya jam further locks down the nyonya influence for a treat that all at once tastes very Italian and Malaysian.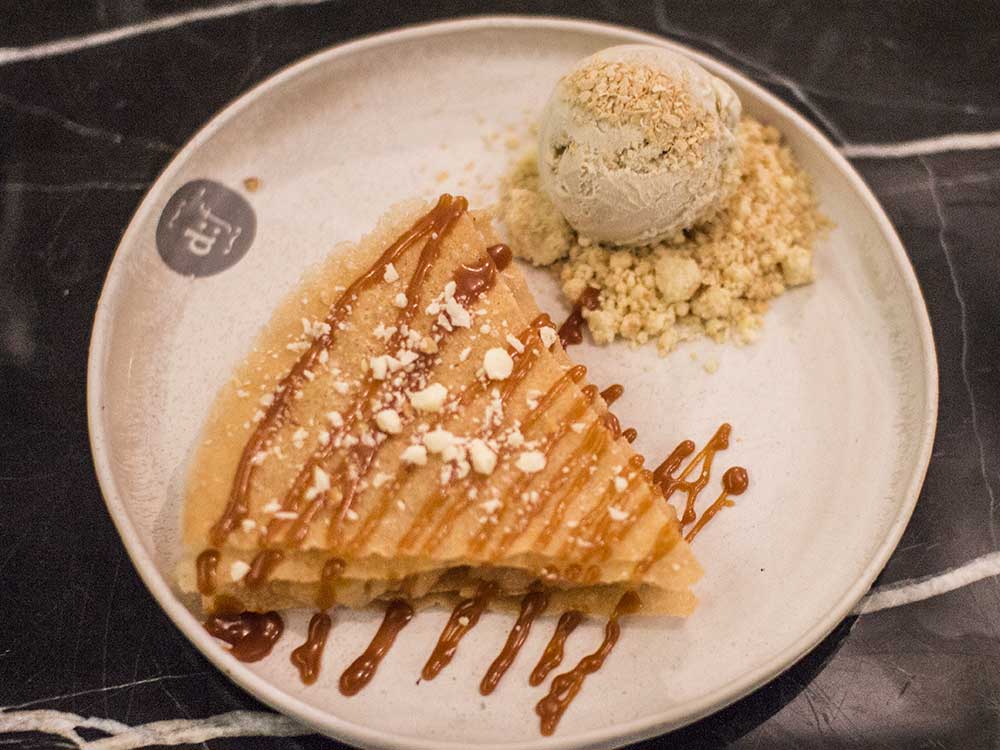 Apple feuille de brick
Apple feuille de brick
Think of this as a light, papery apple pie, serving up the same great sweetness of apple and cinnamon but without the heaviness of a crust. Again salted caramel adds a unique flavour profile to a familiar concoction and on the side, Horlicks ice cream brings the Malaysian influence front and centre.
For more information or reservation enquiries, log on to the official Facebook page here or call +603 2201 1316.